Angle Grinder- Best Power Tool of 2021
Angle Grinder- Best Power Tool of 2021
Angle Grinder considered one of the most important handheld power tools. The function of these tools relies on the attachment or blades. With the help of these tools, you can grind, buff, polish, cut, sharpen multiple materials like tile, metal, stone, concrete, brick, and wood with ease. It is an essential tool for any DIYer who usually works with metal. You can use this machine for different kinds of works like smoothing, cutting, sharpening several materials.
What is an Angle Grinder 
This machine is considered a side or disc grinder. Usually, these are used for grinding and polishing. You can use an electric motor or compressed air to power the machine.
The motor will help it to drive the geared head. The Grinder will do the job at the right angle. At that angle, there presents an abrasive disc or a thinner cut-off disc. The machines also come with an adjustable guard. Besides, it has a side handle that allows you to operate it using two-hands.
However, a few models are there that rely on the speed range. You can use these tools as sanders. In this case, you need to use a sanding disc with a backing pad or disc. The backing system consists of hard plastic, phenolic resin, and medium-hard rubber. But it relies on the required flexibility.
What is It Used for?
You can use these tools to remove extra materials from an object. Several kinds of discs are available in the market. You can use these for different materials and tasks.
For example, you can use them for abrasive grinding discs, grinding stones, sanding discs, wire brush wheels, polishing pads, and so on. This type of machine comes with oversized bearings. These bearings help to counter side forces that are produced while cutting.  In this case, the force is axial.
Most people use these machines in metalworking, construction, and emergency rescues. These tools are primarily used in workshops, service garages, and auto body repair shops. Plenty of models are available in the market.
Therefore, it is difficult for you to choose the right one for your task. However, while selecting the model, one of the main factors you need to consider is the disc size and the motor power. It would be best to consider other factors: a power source (pneumatic or electric), rpm, and arbor size.
In most cases, the disc size and power get increased together. Usually, we measure disc size in inches or millimeters. The standard size of discs is 4, 4.5, 5, 6, 7, 9, and 12 inches.
The discs for pneumatic models are tiny. People use these models for lighter-duty jobs. This type of model is small and weighs light. However, these models are compelling. But these models don't consist of heavy copper motor windings.
On the other hand, it is very challenging to maintain an adequate amount of power in a small size in an electric grinder. These electric models are mainly used for larger, heavy-duty jobs.
Why You Need a Angle Grinder?
The main reason to buy this machine is its versatility and ease of using process. If you choose a suitable model with an exact disc, it can be a great alternative to numerous tools.
Using this tool, you can do multiple labor-intensive jobs quickly and efficiently. Moreover, these machines are easy to control. But make sure that you are maintaining the safety precautions while using this tool.
Which Angle Grinder Disc do I Need?
Most of the manufacturers use discs of 4.5″ (115mm) and 9″ (230mm) size—machine equipped with larger discs is ideal for heavy-duty applications. On the flip side, the models which have small discs are perfect for more refined works.
Construction:
The major components to configure these machines are as follows:-
Electric Motor:
The motor structure depends on the classical theme that includes thermal protection, contact blocks, brushes, stator, and rotors.
Body:
These machines consist of superior quality shock-resistant plastic. It comes with an electric motor, speed control wheels, start buttons, and other components. Grinder mainly has two parts.
These parts remain fastened with self-tapping screws. At the place of the motor, you will get to see slots. These slots are configured for cooking it.
Gearbox Mechanism:
It comes with planetary type-driven bevel gear, two bearings, a few gears, and a flange.
Speed ​​Control Wheel:
The wheel helps to control the rheostatic resistance. With the help of this part, the motor rotates at the exact angular speed.
Start Button:
You can turn the motor on and off using the button.
Disk Quick Change Button:
Using the button, you can change the disc with ease. It will block the gear when you unscrew the discs by securing nuts.
Protective Cover:
A ruptured disc can cause danger. This cover can protect the user from danger as much as possible.
Power Cable:
Through the rheostat resistance, it helps to supply voltages to the motor brushes
Angle Grinder Discs for cutting metal
As per the working ability, these models are mainly divided into two categories: cutting and grinding.
Cutting Metal:
The metal cutting discs are designed in such a way so that they can cut through metallic items quickly. The disc type you will choose depends mainly on the hardness and thickness of the metal.
For instance, you will need completely different discs when you cut aluminum and cast iron. However, a few premium sharper-grained cutting discs are available in the market. While cutting through the metal, these discs can reduce the required pressure amount and offer user comfort.
The cutting discs, which come in thinner diameter, are perfect for cutting metal pipes. For example, you can use discs of 1.0mm and 1.3mm for cutting light gauge metals. You can use these for cutting tubular workpieces also. On the other hand, you need to use thicker discs for cutting robust metal pieces.
Because in this case, you need more stability. You can use the Norton Quantum3 discs because these discs are both fast and effective. The self-sharpening ceramic grain makes the disc comfortable to use and long-term usable.
Grinding Metal:
No matter which purpose you are preparing the carbon steel – whether it's for painting or just completing a weld seam, the grinding wheels and flap discs are essential accessories for this machine.
That's why it can be complicated for you to choose the right grinding wheel. The type of grinding wheel relies on the surface finish required by the user from the metallic workpiece. For instance, if you want to get a highly polished and decorative finish on steel, it needs more steps and a higher degree technique.
Compared to the roughing process of carbon steel surface that you may follow for improving paint adhesion, it is an entirely different process.
Stripping Metal:
Sometimes, you may require to strip heavy coatings from a surface. For example, you may need to strip paint or rust from wood or metal. In that case, you need a coarse grit fiber disc, flap disc, or Norton Rapid Strip disc.
You can choose a coarse abrasive also. But it relies on the amount of coating that you want to remove from metal. If you're going to strip coating fast, use coarse grit, and decrease the disc's loading. But be careful as it can cause deep scratches on the surface.
You can use a 60 or 80 grit flap wheel to remove rust. A rapid strip disc can make your job done.
These discs are suitable for de-burring metal removing rust. Even using these discs, there remains no risk of damaging the workpiece.
Angle Grinder Discs for Cutting Strong Concrete and Masonry Work:
Those who want to cut concrete and masonry should use diamond blades. These blades are metallic products that are different from the cutting and grinding wheels. These blades come with a steel-centered structure.
And some outer segments consist of synthetic diamond fragments. These fragments offer the blades abrasive qualities. Using the parts, you can cut concrete, bricks, building materials, and natural stone.
As soon as you will select the exact grinding disc for your job, ensure that you have picked the correct size. Also, confirm that the model you have chosen fulfills your speed requirements.
Staying Safe Using a Right Angle Grinder
Setting the correct speed: The grinder discs come with a maximum safe RPM. At that speed, you need to operate the machine. Right speed helps to prevent the model from breaking and also ensures that the users won't get injuries while using the device. You need to confirm that the machine isn't crossing the RPM that the model's manufacturers recommend. Keep in mind that most of the machines run at a particular speed near about 11000 RPM.
Personal Protection Equipment: After choosing the suitable machine for your required project, your next job should be preparing the workstation. No matter on which material you are working, it will produce dust.
Moreover, it will generate debris and sparks. That's why you need to keep yourself safe. To do so, you need to wear work gloves, a dust mask, safety glasses, along with a face shield. Besides, make sure that your working place is appropriately ventilated.
You need to use the safety guard also while working. It will keep you protected. The design of the safety guard is such that it can prevent debris from you. It will work even in the extreme wheel breakage event. If you want to get the best safety, check the machine you are buying whether it comes with the feature 'dead man switch' Or not.
While using the device, you need to keep the button on. Besides, if you let go of the machine, it gets turned off automatically. Thus, it will decrease the risk of injuries.
How do You Cut Metal with Your Angle Grinder?
If you need to cut metals, choose an angle grinder. This machine will save both your time and effort. Compared to standard hacksaws, these machines are very effective. But you need to make sure that you have selected an appropriate metal cutting disc. Along with this, you need to confirm that every side of the cut is appropriately supported. As a result, there remains no chance of moving and pinching the disc.
You need to hold the machine straight. Then, your job is to cut the metal. Use light pressure in this case. But make sure that you are not forcing the disc through the workpiece.
Then, you have to move the disc back and forward. While doing this process, you need to make sure that you are not twisting the machine. Otherwise, it may bend the disc. However, sometimes giving pressure too much can be the reason for breaking the discs prematurely.
Cutting Ceramic Tiles, Concrete, and Stone with an Angle Grinder
This machine can be a great alternative to a larger tile saw. You can use this machine for cutting ceramic tiles, concrete paving stones, and other different types of stones. In this case, a cutting disc or a diamond blade is required.
The diamond blades are a little bit expensive. But these can last for an extended period. It helps you to cut metal more quickly. Cutting ceramic tiles is one of the useful works done by the machine. In this case, you need to use a continuous rim diamond blade.
These blades are designed in such a way so that they can cut through hard tile smoothly. But you should not use an ordinary segmented diamond blade in this case. It is because these blades are not ideal for this type of work. Using these blades can make the edges rough and chipped.
If you need to cut stone and tile or paving stones, you need to confirm that the workpiece is secured enough before cutting. Now, you need to move the machine by applying light to medium pressure. Move the device in back and forth motion. It will help to eliminate debris from the cut. Thus, the wheel can cut the metal more quickly than before. While using the machine, you must not twist it.
Restore Cutting Edges
If you are looking for the best grinding tool to restore edges, then an angle grinder is ideal.
If you want to get a sharp edge, you need to follow up with a million bastard files compared to the grinder leaves.
To restore the edge, you should follow the similar technique you used to follow while using other tools. You need to orient the machine. It will help the wheel to spin from the body part of the blade to the edge.
At last, turn off the Grinder. After that, keep the wheel at rest against the blade. Next, your job is to set the machine's angle so that it can match the blade's bevel. If you get the right angle, try to maintain the position. In this case, you need to lift the machine from the edge and turn it on. Then, you need to allow it to get the speed. Do it before it moves into the blade.
Then, you need to stroke the machine across the work. Do it towards the handle direction. After that, you need to lift off the tool. Repeat the process. While doing this, you need to hold the device at a consistent angle. You can overheat metal blades easily using these machines. When metal gets overheated, it turns into a bluish black or straw color.
Therefore, the blades don't remain sharp for an extended period. If you don't want the metal to get overheated, apply light pressure only. After that, you need to keep the machine in a moving position. You can use a water bucket, sponge, or rag to drench the working metal so that you can keep the metal cool.
Purpose of Using Angle Grinder  
Removing Paint:
The combo of an angle grinder and wire cup is ideal for large and flat surfaces. An angle grinder can remove the old paint efficiently without causing any damage to the working metal. After that, the "auto artist" helps in polishing the metal before starting the painting.
Rust Removal:
People use wire wheels and brushes to eliminate rust. If there remains a rust layer and you want to preserve the underneath metal, they can be a great option. These also help to make your job easy. It helps to clean out the oxidized metal. Thus, you will get a clean surface for repairing work.
Stone Cutting:
If you choose a right-angle grinder, it will allow you to cut through stone effectively. Therefore, you will get smooth cutting edges each time. Machines that are small in size come with extra mobility. These models help to do minor cuts easily. Remember that you will require a dry-cut diamond blade for this job.
Polishing Metal:
A metal surface with no shine – really looks very dull. In this case, you need a sanding disc. It will help to remove scratches. If you want, then use polishing discs or buffing pads. These can create perfect shining. It is recommended the user remain careful while using coated or plated metals. However, you can remove the chrome finish using sanding or applying excessive pressure.
Sanding Wood:
Abrasive flap discs usually indicate turbo-powered sanding surfaces. It can make the rough and uneven wood surfaces smooth very quickly. These discs help remove the surface's blemishes in wide grit ranges and add a smooth finish to the metal.
Cutting Rebar-
First, you need to mount a metal cut-off wheel on the Grinder. Then, it would be best if you propped up the rebar's long side. Make sure that you are holding it securely. After that, you need to drop the cut-off wheel piece through the metal. The weight of the machine can do the rest work. At last, you need to drop the short end freely.
Scoring Tile Face-
You have to mark the outline of the cut properly. Do it carefully on the front and back portions of the tile. Now, your job is to clamp this tile with the workbench. Using a diamond blade, you need to score the outline near about 1/8 in. deep on the front portion.
Dry Cut Attachments-
Always carry essential tools and angle grinder attachments when you are doing any DIY project. It will help to save time and reduce frustration. The tools and attachments you need to carry are as follows:-
Dustpan, Extension cord, Grinder
Hearing protection, Safety glasses
Diamond tuckpointing wheel, Grinding wheel, Dry-cut diamond wheel, Metal cut-off wheel, Wire cup brush, and Wire wheel.
5 Best Angle Grinders
Best Overall: Makita Lithium-Ion Brushless Cordless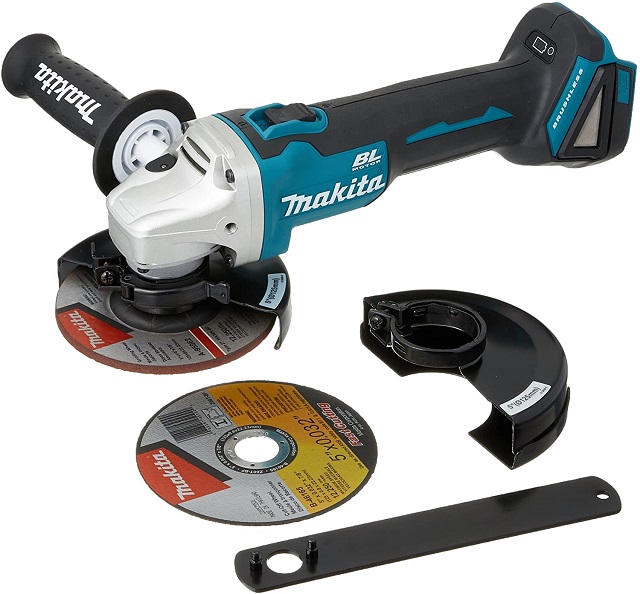 Description: If you buy the best model, it will offer an incredible performance – no matter how you are using it. Makita 18-Volt LXT Lithium-Ion Brushless Cordless Grinder is one of the most demanding and top-notch models that is reigning the market nowadays. This machine is available in a very affordable price range.
A Battery is used to power the device. That means if there is no power cord, this machine can still offer efficient performance and speed. However, the battery is not given along with the machine. It would be best if you bought it separately. The weight of the model is only 5.6 pounds. You can use the device for grinding, cutting, and sanding different materials such as tile, concrete, pipes, and so on.
It comes with an automatic speed change technology. This feature enables you to adjust both speed and torque. By doing so, you can get incredible performance – no matter on which surface you are working. Besides, it comes with a brushless motor that can control electronically.
Thus, it prolongs the battery life by allowing it to last about 50 percent longer in every charge. This superior quality machine is very light in weight. And it can offer impressive power, which makes the model ideal for any job tackling.
Awesome Features:
Active Feedback Sensing Technology: The machine uses this technology for turning off the motor. It does so when the rotation of the wheel gets stopped forcefully.
Brushless Motor: The machine comes with a BL Brushless motor. It helps to remove carbon brushes and allows the motor to remain cool. Thus, the device permits the motor to run more efficiently for an extended period.
Efficient: The superior quality motor makes the helpful model. This can control the motor electronically to optimize the energy use of the battery. This motor uses energy so that it can match torque and RPM. The Spindle Thread of the machine is 5/8 inch 11 UNC.
Auto Speed Changing Technology: This technology helps the user adjust the speed and torque while improving performance.
Pros:
Speed changing function
It comes with a brushless motor
Active feedback sensing technology
Cons:
The coil of the motor burns out after a few usages.
Best Cordless: DEWALT Lithium-Ion 4-1/2-Inch Grinder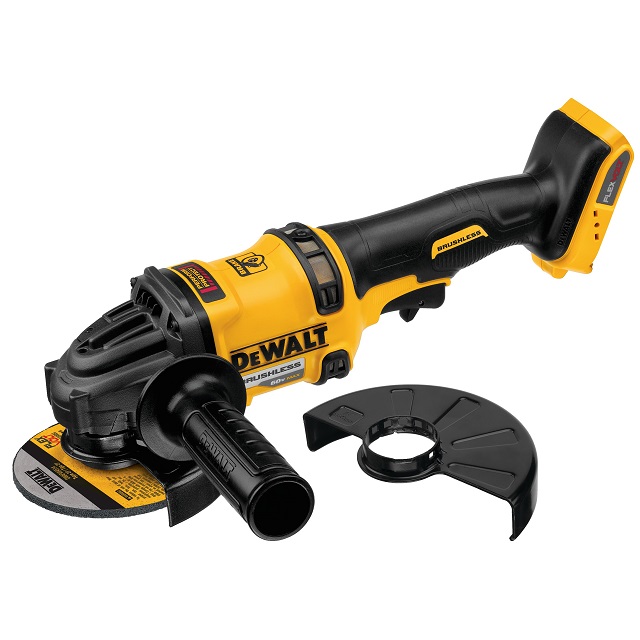 Description: Among the best cordless angle grinders, this one is exceptional. Because you can use this model for several purposes, besides, you can port the machine from one place to another. This tremendous cordless angle grinder weighs very light.
The disadvantage of this DEWALT model is that the chargers and batteries are not given along with the model. Therefore, you need to buy both chargers and batteries separately.
But if it comes to performance, this cordless tool will not disappoint you at all. You can use the model for construction, maintenance, and automotive work.
This machine comes with a quick-change wheel release function. It enables the user to switch discs. Moreover, you don't need to take the help of any tool to do so.
The powerful 8,000-rpm motor offers the same power that is required for cutting and grinding several materials.
Awesome Features:
Quick-Change Wheel Release: This feature allows the tool to remove wheels with ease. In this case, you don't need to take the help of a wrench.
Tool-Free Guard: This angle grinder Dewalt comes with a tool-free guard. It permits the user to adjust and position the guard easily.
2-Finger Trigger Switch: It contains a 2-finger trigger switch along with a lock-off button. The switch helps the tool to activate the machine quickly. Besides, it offers the user easy gripping. The device also comes with a 2-position side handle. It provides you adequate control and comfort.
Pros:
2-position side handle
Quick-Change Wheel Release
Tool-free guard
Cons:
The battery gets overheated easily
Best Variable Speed: Bosch Corded Variable Speed Angle Grinder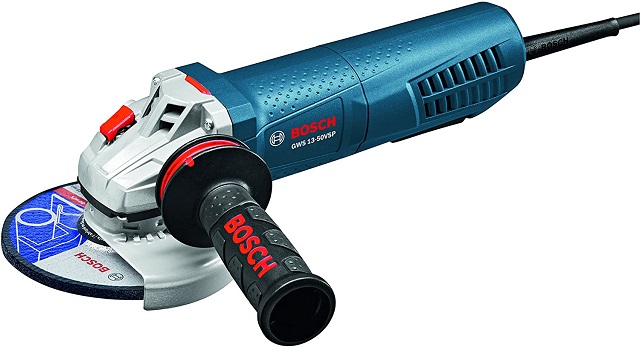 Description: Usually, angle grinders run at a single speed. But if you need a versatile tool, you need to go for such a model that can run at variable speed. Can run this high-rated machine from the brand Bosch between 2,800 and 11,500 RPM.
This speed range makes this model ideal for different types of tasks. Whether you want to use this model for home usage or professional needs, the machine's variable speed makes this model suitable for both kinds of works.
The product comes with praiseworthy and innovative features. The model comes with a two-position vibration-control handle which can provide you comfort. Along with this, it offers directed airflow. This feature helps to eliminate the dust from the components of the machine. Moreover, compared to the previous generation model, this machine contains up to two more power amps.
Awesome Features:  
Adjustable and Burst-Protection: This bosch angle grinder comes with a toolless adjustable guard. This guard is considered a burst-protection one also that is configured for stout operator protection.
It comes with a large spindle lock that offers you extra conveniences. Using the lock, you can change the accessories with ease. The ergonomic design and small-grip of the product offer the user enough comfort.
Speed:  The model is made up of constant electronics. These offer the user a soft start, smooth operation, as well as constant speed under load.
The two-position Vibration Control side handle makes the product extraordinary. You can shift the handle from the left to the right side. Thus, you will get more control than before.
Configuration: This model comes with a robust design. It is equipped with direct-motor cooling.
This motor gives the machine higher overload capabilities. It comes with a restart protection function.
This feature offers a guard against unintended startup. Besides, the carbon brushes of the model are long-lasting.
Pros:
Robust design
Durable enough
Toolless adjustable guard
Two-position Vibration Control side handle
Cons:
A few users reported about the speed regulation function.
Milwaukee 2680-20 M18 18V Lithium-Ion 4 1/2 Inch Cordless Grinder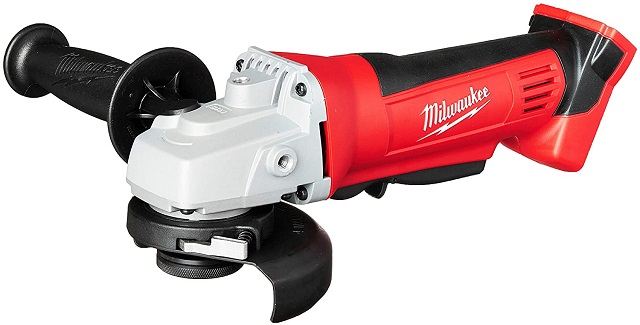 Description: If you need such a tool that can cut through metals, PVC pipes, or sharpen tools, then this machine can be an ideal pick for you.
Among the high-performing and superior quality machines, Milwaukee 2680-20 M18 is another one. This model comes with multiple features that make the product perfect for various works. The powerful motor of the product drives the wheel up to 10,000 RPM.
This angle grinder Milwaukee model comes with a rubber-textured handle and a 3-position plastic handle. Both of these offer the user maximum control while using.
There exists a wheel guard on top of that. You can adjust the wheel guard as per your needs. Therefore, you can use the machine for a variety of applications. The paddle-styled power switch allows the user to turn on the device.
Awesome Features:  
Switch: The paddle switch enables you to turn on the machine. With this switch's help, you can switch on the device even when you are putting on thick work gloves.
Clean Debris: There exists an "L" shape molding. You can see this molding near the grinding wheel. It helps to remove the debris. Besides, it will prevent the debris from clogging up the inner parts of the machine.
Guard: You can adjust the toll-free guard of the product quickly. You only need to push the button. Thus, you can adjust the guard at multiple angles that can use for cutting several applications.
Plastic Handle: The three-position side handle offers maximum user stability. It comes with M18 18v lithium-ion Milwaukee batteries.
Pros:
Three-position side handle
It comes with a tool-free guard
Paddle switch to turn on the machine
Cons:
BEST FOR METAL: Kimo 20V Brushless Cordless Angle Grinder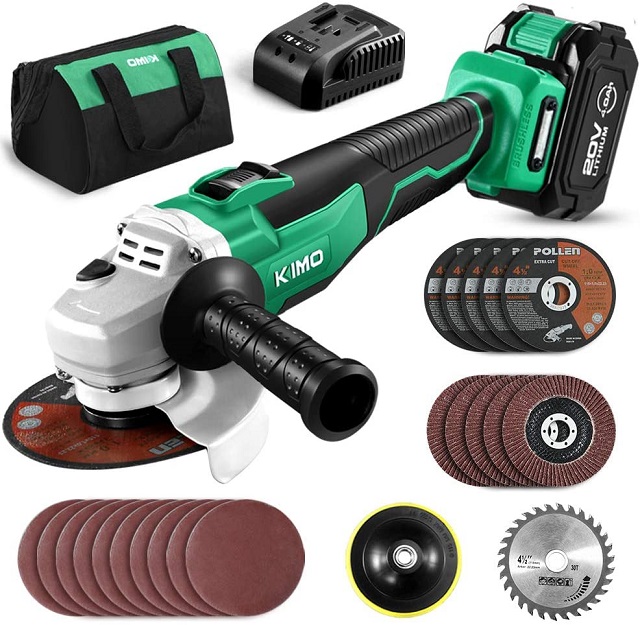 Description: Are you constructing an outdoor fireplace? Or are you making frames for a coffee table? Then, you can undoubtedly go for this model. This model is robust enough.
Whether you are cutting metal in the proper size or preparing metal for a clean weld – the superb 20V battery of the machine helps to produce speed up to 9,000 RPMs. To keep the user protected and safe from any kind of injuries, it uses the sturdiest guards.
The product comes with a push switch function that can prevent any kind of accident. It weighs only 5.3-pounds. Therefore, it won't cause fatigue to your arms quickly. The rubberized, ergonomic grips help to protect the hands from constant vibration.
This machine includes a total of 26 accessories— five grinding wheels, five cutting wheels, ten sanding discs, one wood cutting disc, a fast charger, a battery, a wrench, and a carrying bag.
Awesome Features:  
Cordless: It is a cordless angle grinder.  Do you know? What to do with it.  And how to use this machine? And if you are away from a wall outlet or working in a confined place?
Then you are worried about going to end her since this cordless angle grinder can solve this problem. The corded models are usually more robust and make more noise compared to the cordless models. Even the corded ones are not so versatile as the cordless ones. This brand has come with battery-powered models that can make your job done quickly.
Efficient Motor: The model comes with plenty of unique features. Among all of these, the brushless motor is an impressive one. The all-copper and premium magnet allows the machine to perform any kind of task smoothly. A lot of DIYers and professionals use the brushless motor that offers a 53.5% longer runtime. Thus, the users get a more efficient experience.
KIMO Li-ion Technology: It has been over 25 years since KIMO made huge progress in 1,000-Charging Cycle Tests. These tests guarantee. Each battery of this brand is more robust and serves longer compared to other products. Now, you don't need to worry about dying cells.
Design: The 9000 RPM motor of the model offers high power. You can use this energy to grind metal and cut tile, rebar, and concrete. It comes with a Rubberized and ergonomic 2-position grip handle.
These make the user more comfortable while working in a workshop, service garage, auto repair, or home hobbyist.
Pros:
Ergonomic design
Rubberized 2-position grip handle
Long-lasting battery
Efficient
Cons:
Best Buying Guide
An angle grinder is very helpful if you are going to work with concrete or wood. Are you thinking of starting a DIY home renovation? Then make sure that you are buying a machine that comes with all the advantageous features that can fulfill your project's needs. Before purchasing the best model, you need to know those factors that need to be considered.
Disc Size:
Usually, maximum disc size is used to measure these machines. If you are doing any DIY project, a 4-, 4.5-, or 5-inch disc will be perfect. On the other hand, larger angle grinder discs up to nine inches can cut thick materials with ease. People use larger discs in industrial places. If the discs are getting larger, then the machine needs to be large also. Otherwise, it won't be able to handle the cutting strength. It indicates that a heavier tool can cause hand fatigue more quickly than the small models.
Power Source:
These machines are available in two types— corded or cordless. For power, the corded models use electric sockets, whereas the cordless ones depend on a battery. The corded models can produce more current due to having a direct connection to the power outlet. But while using these models, you need to remain tied to a specific physical location ( near the outlet).
Sometimes, the power of cordless models gets waned when the battery becomes low. However, these models offer a few benefits too. For example, you will get hassle-free mobility using these models. Besides, you can use these in tight spaces.
Speed:
The speed of these machines is measured in revolutions per minute (RPM). Usually, the speed range remains between  5,000 and 10,000 RPM. However, a few robust models have sped up to 12,000 RPM. As the RPM gets higher, the machine can cut metals more quickly and easily.
But if the tool runs at high speed, the disc becomes hot. It can cause the user injury. That's why you need to choose the right disc for the task. Along with this, you need to note the maximum supported speed of the disc. For instance, a disc can be broken if it runs faster than the speed given on it.
Voltage/Amperage:
The tools measure the power output potential, usually in volts and amperes. The cordless ones measure their remaining power in the volt parameter. In most cases, the cordless models come with a voltage range from 7.5V to 24V.
On the other hand, the corded models' voltage readings indicate the power outlets they are rated. In this case, amperes are used to measure the power output potential. It ranges from 5-amps to 15-amps. Most models have a power output of around 10-amps. If you have larger discs, then it will require larger output. For example, a 7- or 9-inch grinder needs a higher power output while cutting or grinding.
Dust Protection:
If you want to use these machines for a long time, you need to consider the feature. If specks of dust started building up, the gears might wear out quickly. Besides, the clogged vents can get overheated. A few models come with dust protection features. For example, these machines come with a dust seal or dust ejection system.
This system prevents the dust from getting in touch with the vents. Whether you need to use this machine in such a place that is not appropriately ventilated for an extended period, you should choose such a model that features built-in dust protection. This feature helps to increase the lifespan of the tool.
Hand Guard:
A handguard will help to keep your hand protected. This guard helps to cover half of the disc. Besides, it will keep away the sparks and debris from flying towards the user. Similarly, it will protect the cutting surface from damage while working in tight spaces. A few models come with moveable guards.
On the other hand, a few models contain fixed guards. You can use the moveable one. These can be used with both left-handed or right-handed and offer better protection from flying debris. But make sure that you have tightened the guard properly. Otherwise, it may fall off the unit. The fixed ones come with a robust design.
Frequently Asked Questions 
For what kind of tasks can I use an angle grinder?
It is a versatile tool. You can use the tool to smoothed metal, cut pipe, carve wood, remove grout, cut tile, and so on.
How are the discs on an angle grinder changed?
First, you need to unplug the machine Or remove the battery. It would then be best if you eliminated the drive bolt used to hold the disc correctly. Your task is to replace the disc and then tighten the drive bolt with factory spanners' help.
How does an angle grinder operate?
First, you need to choose and attach the right disc for your project. After that, you need to hold the machine using your two hands for safety. Then, you have to push down the trigger. Otherwise, you can tap on the power switch. As soon as you switch on the button, the disc will start rotating. Now, your job is to move the machine. Do it till the disc comes in touch with the working material.
As soon as will finish the job, turn off the power button. Now, you need to wait until the discs get stopped rotating. Remember that the discs remain in hot temperature at that time due to the friction.  Finally, remove the power cord. If it is cordless, detach the battery. Then, keep the machine cooling down.
About author