Ice Crusher Machine Buying Guide
Ice Crusher Machine Buying Guide
If you are looking for a gadget that can crush ice perfectly, ice crusher is very effective. These tools can break ice efficiently. That means there is no need to apply physical energy or following any old-fashioned way of crushing ice. You can use this device for home usage and even for small businesses. These devices can break the hard cubes into slush quickly that can be used to nurse sprained ankle or sore muscles.
But make sure that the model you are using is reliable and robust enough. Besides, you also need to decide which type of ice you require. A few people prefer to drink cocktails. For them, those devices will be ideal that can make small complex pieces of cracked ice. On the flip side, a few models make soft snow-like ice for snacks like shaved ice.
Moreover, it would help if you considered how much of a workout you are willing to do. Buying an electric device can save both time and effort. But, these models usually come in large sizes and are costly too.
Those who want to make one drink at a time can go for a manual one. In the article, we have depicted the features of ice crushers and how these devices work. Along with this, we have picked the top best models and elaborated the features of those models. Let's check it out.
What is an Ice Crusher?
This machine is used for crushing ice. With this appliance, you can make ice cubes. Then these cubes use in cold drinks such as cocktails and juices. These tools follow a robust mechanism. By following that, the devices produce crushed ice quickly. Besides, these gadgets are easy to use and also saves time.
The heavy-duty structure of these devices makes the device long-lasting and durable enough. Such configuration makes the tool perfect for constant use. Several commercial ice shaver types are available in the market – hand ice grinder, electric ice crusher machine. Although in both cases, the material differs.
That's why it ultimately depends upon you which type you want to select.  Do you need large volumes of crushed ice that you can use for salad bars, cold food displays? Then you can go for the advanced ice crusher blender models. These devices can crush the ice cubes quickly and efficiently.
FEATURES
Materials:
Mainly, stainless steel and plastic components are used to configure these devices. Almost every model comes with Stainless steel blades. Besides, a few manual models come with stainless steel components such as cranks, bases, knobs, etc. But most of the models that come with such components are made of superior quality plastic.
However, the electric models come with plastic components. But these models come with more metal parts compared to others. These components help the devices to support both function and motor.
Portability:
It is an important feature that you must consider before buying. You need to decide where you need to use the tool most. Choose a manual one if you need to use it outside while doing parties. Choose an electric model if you are going to organize a large party. Logistics and portability are the biggest challenges that you may face with these models.
To run the electric models, you need to have a power outlet nearby. Therefore, you must require enough space to set it up. However, if you want, you can use the device for indoor usages. Otherwise, you can use these models when you need to break a large volume of ice. Then, you can keep the cubes in the freezer until the party begins.
Safety Feature:
These machines come with sharp blades. Therefore, a lot of safety features are there that you need to consider. A few models come with a lid safety mechanism. Those models which come with a lid safety mechanism can be operated only when the lid is closed. These safety features are prevalent in electric models.
On the other hand, a few models contain rubber or suction cup bases. The cup bases prevent the machine from traversing the table while using. This unique feature is common in both electric and manual models. However, this feature can see mainly in the manual models. If the weight of the devices is light, you can move them quickly.
Power:
Do you want to buy a helpful device that can do its job efficiently? Then, it would help if you considered a robust model that comes with a reliable engine. Besides, the device must have sharp and solid edges. This feature allows the device to convert ice into squares and snowflakes. Furthermore, you need to make sure that the device is not so heavy. It would help if you bought such a model to move quickly from one place to another for a party. Besides, you need to check the power of the pulverizing bar blender.
Use of an Ice Crusher
The commercial models are straightforward and also safe to use. You need to drop cubes in the feeder chute. Then, your job is to set the size setting. After that, you need to switch on the device. The strong blades of the tool cut the ice and dispense them into a bucket. You can use a jug also in this case. You should know that the primary purpose of the professional models is not to jam. That's why you should not push cubes using your hand. Don't ever use any other utensils also to push the cubes.
Can follow multiple methods to crush ice. But it depends upon you how much ice you need per hour. The electric ice crushers are primarily used in a busy riverside cocktail bar compared to a village pub.
You can use manual models. These models usually follow a hand-crank-powered mechanism. People use these models mainly for light duty occasional uses. Besides, these are useful in those areas where is no electricity connection.
Compared to the other models, bar blenders are more robust and powerful. These can crush ice and mix cocktails. These models are ideal for mixing large pitchers of drinks.
The electric models can crush most of the ice efficiently. However, you need to make sure that the device has enough space behind the bar in this process.
Ice Crusher Price Range

The average price of these devices remains between $20 and $200.
From $20 to $50, manual and occasional electric models are usually available. If you are willing to make snow cones or occasional drinks, then these models are ideal for you.
In between $50 and $100, you can get standard electric models. If you have a home bar, then you can go for these.
If you want to get sophisticated and well-engineered machines, choose devices between $100 and $200. These models consist of commercial-grade components. Compared to the less expensive products, these models can do their job more quickly.
Working Process of Ice Crushers
The primary purpose of configuring these devices is to break the ice and crush them into smaller cubes. You need to use crushed ice in soft drinks, cocktails, and juices. In most houses, people use bar ice crushers. These devices are available in two types — Manual and electric. Although the working process of these two types is different, both of these offer similar benefits.
Usually, the manual models come with handles. You need to move these handles to break the ice through the blades and the attached grinder. Here, you need to move the handle clockwise. It is because you can break them with ease by following this process.
The main benefit of these machines is that you can control the amount of ice that will feed in the machine. As a result, there remains no risk of getting jammed with the device due to overload. However, in recent days, these are outdated. Because nowadays, people prefer to use electric machines.
Most of the latest bars and extensive commercial activities require electric models. The function of these machines is similar to the manual models. But the benefit of the electric models is that these consume less amount of time. First, you need to plug in the gadget. Then your job is to feed the ice. After that, turn on the device.
These are the three main processes you need to follow to crush ice by using an electric crusher. As soon as the ice is broken, the machine gets stopped automatically. Then, you can use a container to store the ice that can be used later when you need it.
Advantages of Owning an Ice Crusher Machine
There are a lot of benefits that you can get by buying this machine. For instance,  It can lead you to become a fantastic mixologist. You can do experiments by making several cocktails or mocktails using crushed ice.
During the summer season, you can create snow cones.
This device can serve as a situation-changer at any barbeque party. This machine can add a significant element of fun to any party.
If you want to impress your guests during summer, make delicious and refreshing frozen desserts.
5 Best Ice Crushers
ZENY Ice Shaver Machine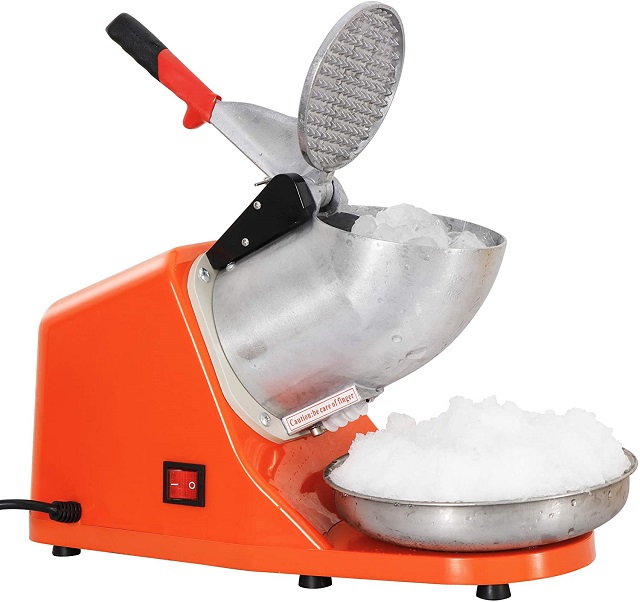 Description: If you are on a tight budget, you can go for this one. This model from the brand ZENY is available at an affordable price. The mind-grabbing features and extraordinary performance makes this model one of the most demanding ice crushing machine in the market. This machine comes with a powerful motor which makes the product ideal for small businesses or restaurants. It is an excellent choice for those who want to shave a large amount of ice quickly. What makes the tool unique is that it can handle 143 pounds of ice in each hour.
The device usually comes with a single blade. However, you can get this machine with two blades also, which is helpful for larger jobs. Besides, it is corrosion-free, hygienic, and rust-proof. It is made up of stainless steel and allows you to clean the machine quickly. Moreover, it has an automatic power shut-off button. As soon as the hopper opens, this feature stops the blades from moving.
Awesome Features:  
Used for Different Applications:
You can use the tool to make quick and refreshing drinks at home. This ZENY Ice Shaver Machine is perfect for producing hand-made slush. Using this automatic ice crusher, you can also prepare frozen drinks that are ideal for commercial use. For example, you can use these machines at fast-food stores, snack bars, cafes, school canteens, clubs, restaurants, carnivals, banquets, or festivals. It can fulfill various requirements efficiently.
Waterproof: It comes with stainless steel waterproof construction. This construction can last for long years. Due to such fabulous construction of this model, there is even no risk of rust issues. The model comes with the latest design and can give your kitchen an attractive look.
Efficient: The high efficient motor of this industrial ice crusher allows the machine to create 143 lbs of shaved ice. Thus, you can get a large amount of ice very quickly. This model comes with a commercial-grade Stainless steel shaving blade. With this blade's help, the machine can produce softer, finer ice, a massive amount of fluffy snow ice.
Safety: The machine consists of a heavy cast base which provides a fully stable workstation. It will make you sure that the vibration and noise will get reduced. The model comes with a water-resistant on/ off switch that makes the machine easy to control. Besides, the device will shut off when the hopper remains opened. It will give you a safety guarantee and ensure no risk of getting any wound or injury.
Easy to Clean: It comes with an ergonomic design that allows the model to operate efficiently. The crusher machine comes with Food grade stainless steel bowl. Using this bowl, you can serve food with ease. You can clean it easily after every crush.
Pros:
Easy to use
Awesome performance
Waterproof construction
Cons:
While crushing throws large chunks of ice
Ninja 400-Watt Blender/Food Processor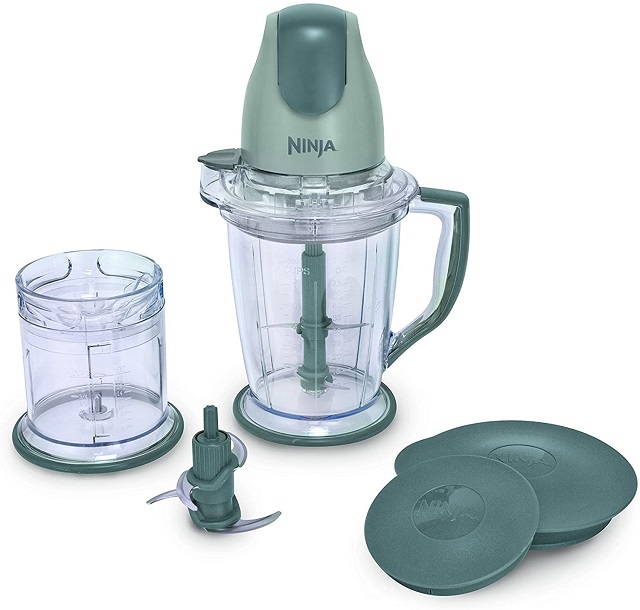 Description: Are you willing to enjoy the features of three products in one model? Then go for this Ninja 400-Watt. This machine can work like a blender, food processor, and ice crusher. The device can blend foods and crush ice also. If you want to make smoothies and frozen drinks, then this model is exact for you. It contains a one-touch pulse that helps mince, dice, chop, blend, puree, and crush food with ease.
The Ninja 400  model includes an anti-spill splash guard and two containers. The unique features of it make Ninja ideal for blending a drink. It also contains a 48-ounce pitcher along with a 16-ounce chopper bowl.  You can clean the containers, splash guards, blades, and storage lids easily, as all these are dishwater safe.
Awesome Features: 
Easy to Use: The ergonomic operation having one-touch pulsing makes the product easy to use. Besides, it comes with two conveniently sized jars, an Anti-spill splash guard, easy flip pour spout, etc. There doesn't exist any slip base. This machine comes with a superior quality processor that helps mince, dice, chop, blend, and puree.
Safety: You must not immerse the powerhead into water or other liquids. In this case, you are recommended to use a damp sponge. Besides, it comes with containers, splash guards, blades, and storage lids. All of these parts are safe for dishwashers. You should always keep the blades, splash guards on the top rack of the dishwasher.
Make sure that you are maintaining extreme caution while handling the blades and cleaning the machine. You should store the blades in any safe area or containers. Sometimes, it happens that the motor is not getting started. In this case, you need to check whether the plug is inserted correctly into the electrical outlet or not. Moreover, you need to check if the bowl splash guard and power pod are at their place.
Accessories: The model includes a 400-watt power pod, 48 ounce Pitcher, stacked blade assembly, pitcher splash guard, 16-ounce Chopper bowl, chopping blade assembly, chopper splash guard, etc.
Pulse Technology: It comes with an interchangeable and ergonomic 400-watt power pod. Can switch these pods change between the 16-oz chopper bowl or 48-ounce pitcher. The pod contains a one-touch pulsing button. It gives you ultimate control and impressive performance.
Pros:
One-touch pulsing button for ultimate control
Easy to use and dishwasher safe parts
It can be used for chopping, dicing foods along with crushing ice.
Cons:
A few users reported that the motor stops working after a few usages.
Opal Nugget Ice Maker 
Description: This model comes with a dimension of 10.5 inches by 15.5 inches by 17.25 inches. If you want to install it for the sides and back, you need to consider three extra inches. Besides, always remember that you need to place the model in a well-ventilated area. Don't keep the machine near any heat place. However, the device is quite heavy. The weight of the model is 44 pounds. However, it comes with a simple and elegant design that adds a complementary look to any kitchen decor.
Usually, there is a light ring that gives information about the status of the machine. In total, seven various combinations are there. Each combination comes with its separate meaning. Flash green means that the machine is on, whereas falling white indicates that the device is preparing ice. When the container is complete, and the machine stops, the light becomes solid white. It turns into swishing blue while the device needs more water.
On the other hand, when it needs draining, it turns into pulsing yellow. It is in cleaning mode. The rotating yellow color indicates that the machine is rinsing. Whereas slowly failing in white indicates that the device is in the defrost mode for thirty minutes.
Awesome Features: 
Design: The elegant design of the model grab the mind of the buyers quickly. It comes in a perfect size that makes it ideal for any countertop in your home.
Fast Performance and Robust Design: The device can make ice within twenty minutes. As a result, you can enjoy soft, crunchy ice. This machine can crush ice so efficiently, just like the ice that you get in any restaurant. The device can produce 24 lbs every day, whereas the bin can carry 3 lbs at a time.
Bluetooth: What makes the machine attractive is that it comes with Bluetooth connectivity. Therefore, you can make ice-making schedules from your phone and create ice whenever you want. The free FirstBuild app is helpful in this case. It informs the user when the bin gets fulled of ice.
Portability: In this case, there doesn't need any water hookup. You only need to plug the gadget into a 120v grounded outlet. Then, your job is to take water, and after that, you need to fill the reservoir with water. As soon as the ice bars start melting in the machine, the water comes back to the reservoir. The capacity of the reservoir is 2.5 quarts. You need to use potable water, 205 ppm. And the operating temperature should remain between 55°F – 90°F temperature.
Warranty: The authorized resellers offer a one-year limited warranty on the parts of the machine.
Pros:
One year limited warranty
It comes with Bluetooth connectivity
Elegant design
Cons:
A few times, the lightening indicator indicates wrong notifications
Not long-lasting
IKICH Portable Ice Maker Machine for Countertop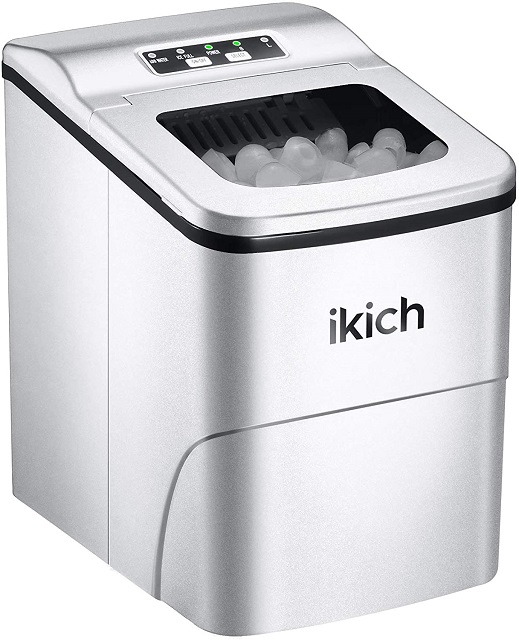 Description: Are you in need of such a machine that can crush ice very quickly? Then your searches are going to end here. The IKICK Portable Ice Maker Machine can produce nine pieces in just 6 minutes. Besides, this device can make 26 pounds of ice every day. This feature makes the product ideal for parties or significant events.
It comes with a two-liter water reservoir. Besides, the product has a straightforward control panel using which you can choose the ice quantity. You can clean the machine easily. The convenient plug and drain at the bottom section of the machine help the user clean the device quickly. The model includes an ice bucket and a serving spoon also.
Awesome Features:
Performance: The machine runs at less than 45dB. It indicates that you won't be disturbed by the gadget while enjoying your party. The model comes in 8.7 x 12.3 x 12.6 inches measurement. The small size of the machine allows you to set it on most countertops. Besides, you can store the device easily. It can be a great alternative to the noisy and bulky old models.
Smart Indicator: It comes with a simple control panel. You only need to add water and then switch on the device. After that, you need to press the ON button. Next, your job is to choose the ice size. There is an outlet and drain plug at the bottom part of the machine—these two helps empty water quickly. Even you will not face any issues or complexity while installing the appliance.
You can get two sizes of ice cubes using this best electric ice crusher for home use. IKICH Portable Ice Maker can produce bullet-shaped ice very quickly. Moreover, these pieces don't melt easily. This machine comes with a translucent window that allows you to observe the process.
Configuration: The manufacturers offer a 2-year policy on this portable machine. This model consists of food-grade material which is free from odor. The product is ideal for health as well as safety. Besides, the device doesn't consume too much space. You can use this machine at the home, office, outdoor parties, or basement bars.
Pros:
Works very fast
Perfect for large events
Superior configuration
Smart indicator
Cons:
Hawaiian Shaved Ice Machine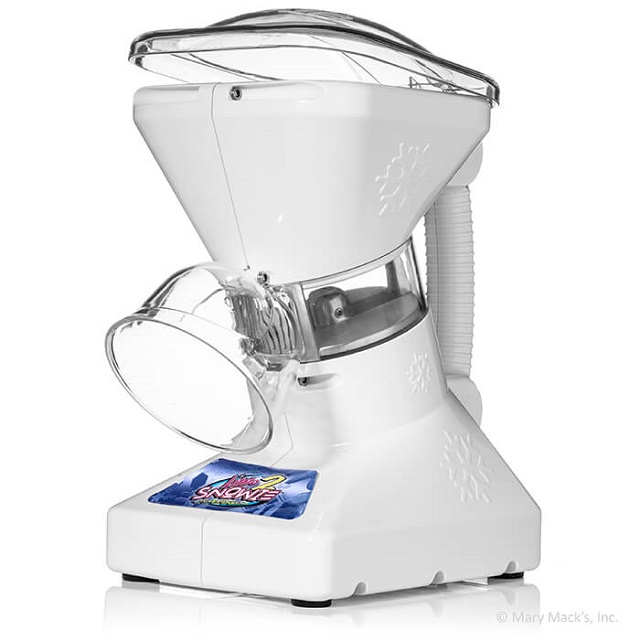 Description: The final product in this list is from the brand Hawaiian. The compact design of it is very pleasing. It includes an adjustable blade. Hawaiian Shaved Ice Machine model can produce fine ice using its snow-cone consistency. As per the manufacturers' instructions, those who want fluffy ice should add the ice made in the given ice molds. Adding five regular cubes from the refrigerator can provide a good consistency.
The product is straightforward to use, which makes the model demanding among the customers. You only need to add ice to the machine. Then, tap on the gray button, which is available at the top part of the device. Continue pushing the button until the entire ice is shaved. The adjustable blade height gives the model versatility. You can use a screwdriver to adjust the blade height. However, make sure that you are careful while performing such an operation. Otherwise, it may cause injuries. The model weighs very light as it is made of plastic. It weighs only 3 pounds. You can store the machine with ease.
Awesome Features:
 Accessories: The snow cone machine comes with three pieces of design. Even you will not face any difficulties while assembling it. The model includes two round block ice molds, a non-slipmat. Moreover, the manufacturers offer a one-year warranty on this machine.
Various Usages: The product is perfect for preparing shaved ice, snow cones, snowballs, slushies, margaritas, and so on.
Easy to Use: Using this machine, you can make cool drinks very quickly. Whether it is small pool parties, sleepovers, birthday parties, or any get-together, this best electric ice crusher for home use can come to your benefit.
Compact Design: It comes with 5.5″ width, 8″ diameter, and 12″ height. This ideal measurement makes the model easy to tuck in a cabinet. Make sure that you have gone through the user's manual and instructions before using this model.
Pros:
Compact design
Easy to use
One year manufacturer warranty
Light-weight
Cons:
Best Ice Crusher Buying Guide

Before buying Ice Crusher machine, you need to decide first which type of ice you require. A few devices are there which are used to produce small intricate pieces of cracked ice. You can use such pieces for mint juleps. On the other hand, the other devices make soft and snow-like ice which are ideal for making snacks. Here, we have given a few points that you need to consider before buying the best model.
Material:
When you will buy the best one, you need to consider the kind of material used to configure the machine. If you are one of those who use these machines too much, you must go for a robust model. In that case, you need to pick such models made of steel alloy instead of plastic. But the plastic models are cheaper compared to the other ones.
Capacity:
The machine's capacity is also an essential factor that you need to check before buying. However, this feature depends on the number of parties held at a place. When there are plenty of gatherings, you must need such a machine that comes with high capacity. However, you can go for such a device that comes with a small capacity. If you are arranging a small party, these small capacity machines can come to your use.
Footprint:
While buying, ensure that there is enough space to place the equipment. In this case, the footprints play a vital role. It would help if you bought the equipment which comes with such impressions that match the available space. If you have a too large appliance, then it won't fit. On the other hand, if the machine is too small, you need something to fill the cups with ice.
Amount of Ice Required:
You need to decide first the amount of ice you need. The necessary amount of ice in your home may not be the same as required by the bar or restaurant. Those who need large amounts of ice can buy those machines that come with a high output speed every minute or every hour. The amount of ice depends on the type of drink you prefer to have. A few drinks need a particular size of ice cubes. On the other hand, to prepare Margarita drinks, you may require various-sized ice cubes.
Easy to Clean:
You should easily clean the machine that you are buying.  Choose those models which you can clean after breaking the ingredients and ice.
Ease of Use:
The machine you will choose must be high-speed working and easy to use. Always select those models which are easy to set up and break ice efficiently. Most of the machines come with an easy on/off button. You only need to press the button to start and stop the machine's working process.
Durability:
The product you are buying must consist of superior material. These materials allow the product to last for many years. Make sure that you do not purchase such models that consist of low-quality plastic. It is because these can crumble quickly when you use them continuously under pressure. You can choose the models that consist of quality housing. Such models usually come with stainless steel blades. A stainless-steel product can easily bear the pressure, even doesn't rust. Thus, it can offer you a long life.
Performance:
This feature relies on the power of the machines. Always choose those models which come with sufficient power. Like the vehicles, the performance is judged by the engine power. In this case, the motor helps to determine the performance of the machine. Try to select such a model that comes with a powerful motor. It helps to break the ice quickly.
Mostly, the devices come with a range of motors from 300 to 1,500 watts. However, the capacity of the motor is also an essential factor to consider. But it is not the single thing that helps you to determine the performance of a machine.
If you want a machine for home usage, then you can go for such devices that come between 300 to 600 watts. However, many people wish to get high-performing machines in their homes. For them, we will recommend such models that have higher motor power.
Manual or Electric:
There are two types of ice crushers— manual and electric. The manual ice crusher relies on your physical energy for producing crushed ice. Manually grinding consumes too much time and is less efficient. The manual models are not so demanding nowadays. If you live in such a place where electricity issues occur, you can go for these models.
On the flip side, the electric models are quick and efficient. People who are looking for such devices that can use easily can choose this type of model. The reason is that these are fast working and save your precious time. Along with this, these models can produce perfect sizes and shapes of ice cubes.
Conclusion
Plenty of crusher models are available in the market. Among these, it's challenging and confusing to choose the right one. A few models of crushers are available in the market using which you can break and shave ice. However, a few models come with water reservoirs. In the case of those machines, you are not required to feed the machine with ice cubes. A few models have insulated layers. These layers allow the user to store ice for an extended period. So, it's all up to you and your needs to determine the best model for you.
Frequently Asked Questions: 
How could one make homemade ice crushers?
If you want to make a homemade one, then you need to use a clean tea towel. Then, lay it down on the working surface. Next, your job is to place some ice cubes in the towel. After that, you need to fold the four corners of the towel. Then, tight them together. Use a rubber band to do so. You can use a big rolling pin. Now, whack the ice bundle for a few minutes until these get crushed.
How do you clean an ice smashing machine?
Follow the below steps to clean the machine. You should not immerse the device. Always remember that you must not use soap for cleaning the machine. Take precautions while cleaning the blades and the dispensing chute.
The most important thing you must remember is to unplug the machine. Do it before the device maintenance.
About author