Best Zester- Kitchen Gadget Buying Guide
Best Zester- Kitchen Gadget Buying Guide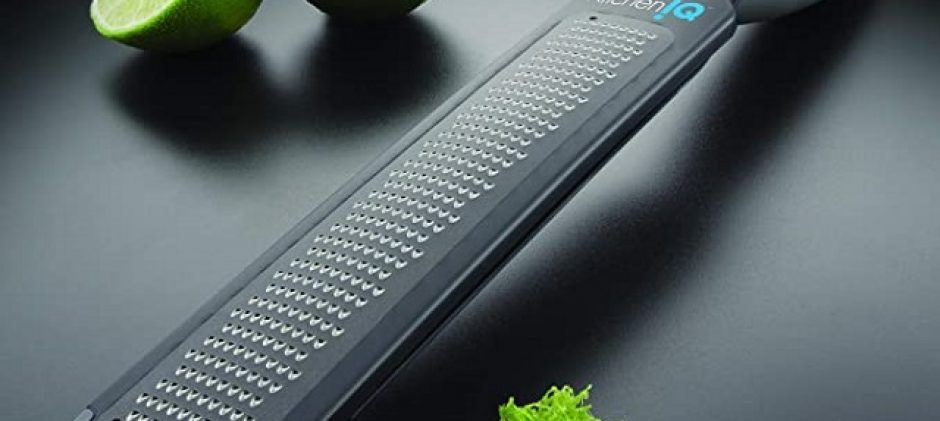 Zester is such a tool that is must-have equipment in your kitchen. From professional chefs to home cooks – this kitchen equipment can be very beneficial. It doesn't matter whether it is for a fruit's rind or a chocolate bar – using this tool, you can boost a dish's flavor. But when it comes to selecting the best model, you will find multiple models in the market. But all these items don't come with similar features. We have given here the best Zester models and an elaborated detail of them.
It is a kitchen utensil used to obtain zest from citrus fruits like lemon, etc. We know it as citrus or lemon zester also. The usual length of this tool is about four inches. It equips with a handle and a curved metal end.
The top portion comes with a row of round holes and sharpened rims. You need to press the tool against the fruit by applying moderate force. Then, draw it across its peel.
The rims will help to separate the zest from the pith by cutting it. After that, it will cut the zest into ribbons. When it comes to traditional one, you can find a single row of holes.
These are designed in such a way so that you can only use them for peeling different citrus fruits. However, if it comes to deal with chocolate or more complicated items like nuts, these models are not so effective.
Best Citrus Zester
A citrus zester is known as a lemon zester. By using the citrus ones, you can extract the outer rind from citrus fruits. These kitchen tools are basically a combination of two engineered tools for similar functions, but in both cases, the process is different. The first one is known as a Microplane that sometimes comes with a handle. Along with this, it remains equipped with a steel piece. This stainless steel piece resembles the woodworking rasp. Only the difference is that the holes of these tools are finer.
The second one indicates a zester. It comes with a steel or plastic-made handle. Along with this, it is equipped with a bladed hole row.
Both of these types are available in a wide variety of colors, sizes, and shapes. But stainless steel is used to engineer the blade. Whereas to configure the handle, plastic or steel is used.
Difference between Zester and Grater:
It is the size of the holes that differ between these two. The graters come with larger holes. With the help of these, this tool can cut things into ribbons or strands. You can use this kitchen equipment to shred cheese or garnish with citrus peels. Besides, you can use it to shred different things. For example, by using it, you can shred vegetables, fruits, and nuts. Compared to the zester, using a grater, you can cut a little deeper. Thus, it helps to add more flavor to your dishes than simple zesting.
Zesting is a kind of grating.Compared to the grater, this tool is less rough and has much smaller holes. Although both of these work and function almost similarly. Usually, a zester generates a sort of sprinkle effect. But it is unable to create shreds like a grater.
Do you need just a tiny pinch of a particular ingredient? Then, it would be best if you used a zester rather than a grater. The reason is that you can't get a small pinch using a grater. If you are experienced in cooking, you know that a few spices, peppers, or herbs come with a very potent flavor.
In case you use a grater with these particular items, it can excess the flavor. Thus, it will overwhelm or ruin the dish. On the other hand, a Zester can offer you the exact flavor you need. Using this tool, you can add sufficient flavor to your dish.
Why does your kitchen need that one?
Both of these tools can help to boost the flavor of the dishes. Besides, it can save both time and effort. It is because these are simple to use. Similarly, these tools can help you to add a complementary look to your meals. If you want, you can use these for:-
Citrus fruits (grapefruit, lemons, limes, and oranges)
Chocolate
Hard cheeses
Fresh ginger
Coconut
Fresh nutmeg
Garlic
Citrus Zester Vs. Microplane- a Multipurpose Tool
You may want to add lemon, lime, or other citrus zest in different dishes. The outer side of the peel is known as the zest. There resides a bitter white part underneath the zest which is known as pith. This zest helps to add a potential concentrated citrus flavor to the zesting fruit. But if you don't have the proper tool for zesting, then the task will become annoying for you. But if you want a large amount of zesting, then a citrus zester is not an exact tool for you. Because it will take a considerable time to zest a large amount, moreover, you will get the zest in long strips that you need to chop finely. Not only this but also there remains a chance for getting some pith.
However, having many tools in the kitchen that can use for one purpose is very problematic. Therefore, you want such a tool that you can use for multiple purposes.
Always try to choose such a tool that can zest fast yet efficiently. By using such a tool, you will get fine little zest grates even without pith. In past eras, a few geniuses said that a common woodworking tool could use in the kitchen. Woodworkers use a plane for shaping wood. It is traditionally a tool that comes with a flat surface. Besides, this tool features an angled blade set.
However, the newer plane type is known as a Microplane or a Microplane rasp. This plane is like a sharp grater. The sharpness of the tool allows the user to shape the wood perfectly.
Microplane Graters:
It is an ideal Zester Grater that is perfect for finely grating different hard things. For example, it can grate ginger and Parmesan cheese efficiently. But if you want to get little curls of zest, this is not an exact tool.
You know how much you need to put while grating hard cheeses on the back of the box grater. In that case, a Microplane can make your job easier. Besides, this tool is precise as well as easy to use. Thanks to this feature for enabling the user to grate things right into the pot.
Microplane is a registered trademark of Grace Manufacturing, Inc. They produce multiple Microplaning tools that can use for both kitchen and woodworking. Usually, they are three basic types— a Zester Grater, a ribbon grater, and an extra coarse grater. All of these are the parts of the "classic series."
If you are looking for grating chocolate, carrots, and semi-soft cheeses, the 40021 Classic Ribbon Grater is ideal. The model 40022 Classic Extra Coarse grater is perfect for grating apples, potatoes, and soft cheeses. The manufacturers produce spice graters too, which can be used for nutmeg and cinnamon. This type of grater comes with a curved blade instead of a flat one.
Brief History of Microplane Grater:
To explain the history of the Microplane, we need to recall a story. It was 1994 when a Canadian housewife was preparing an orange cake. As she was frustrated, the grater was tearing and shredding. Then, she took a woodworking tool from the workshop of her husband. As soon as she used the device, the blade slid easily across the orange.
Then, the zest fell from the outer part just like snowflakes. This discovery helped to build up the foundation of Microplane creation. From this discovery, not only Microplane but also a few revolutionary graters were produced. The Microplane applied photo-etching technology to graters. This method is unique and designed mainly for creating ultra-sharp cutting edges.
Very first, It was invented in the United States of America. It helps to cut ingredients with precision and doesn't tear or shred like stamped graters. The blade of the product confirms that the foods will not get stuck into it. Thus, you can get a perfect result each time. It has been more than 50 years since the tool has been invented. And nowadays, most professional chefs and cooking enthusiasts prefer to use this tool.
This Microplane consists of surgical stainless steel. The razor-sharp holes of the tool help the user to get precise grating. These holes are very sharp. As a result, you can easily remove the zest of citrus; even you don't need to touch the white pith beneath.
As per the description of the Microplane, the holes are made chemically. Ferric chloride mainly etches the holes. On the other hand, most of the graters come with such teeth stamped out and not so sharp. The sharpness of Microplane graters enables the user to grate both hard and soft foods easily.
Types of Zesters:
Mainly, these tools are available in two types — traditional and grater-style zester. The traditional ones come with a single row of holes.
These holes are designed in such a way so that they can eliminate citrus zest even without grabbing the rind at that time.
When it comes to a grater-style zester, you will find its similarities to a cheese grater. But the only difference is that it comes with miniature holes.
Compared to a traditional model, it is much more versatile. Always try to choose those which consist of durable 18/10 stainless steel. These are equipped with sharp, rust-resistant, and long-lasting blades.
Features 
Ease to Clean:
If you don't rinse the tool off after using it, foods will start getting dry fast. As soon as food gets hardened, it becomes pretty impossible to clean out the holes.
You need to select a model which is dishwasher-safe. These models help the user from scrubbing out the small holes.
Hole Size:
Tiny holes can help to get the more delicate zest. It depends on whether you need fine slivers or something that can help you get a chunkier result. However, a few models come with different hole sizes.
Handle:
While using this tool, you need to ensure that you have a firm grip on the equipment. If you feel uncomfortable while using this tool, or the device starts slipping while using, you may face difficulties. Always try to choose such a model that comes with rubber handles.
Blade Length:
Tools that have long blades enable you to zest more at a time.
Hanging Loop:
If your drawer space is small or you want to store this tool in an easy reach place, then this hanging loop feature is very effective. Using this hanging loop, you can keep the utensil on a hook anywhere in the kitchen.
Protective Sheath:
A cover is always advantageous as it can protect hands from getting sliced when you are finding it in the kitchen drawer.
Knife:
Want to buy a traditional zester? Then, you need to select those models which contain a channel knife. With the help of this built-in blade, you can peel strips from citrus fruit.
Maintenance:
You need to wash it  and dry it before putting it away. Thus, you can prevent rust from forming. You must not use any harsh scrubbing pads for cleaning the tool. Otherwise, it can dull the blades. Besides, rinse the device instantly so that no food will get stuck in the holes.
Price:
The cost of this tool remains between $5 and $15. The in-expensive models come with flimsy plastic components. To get ultra-sharp blades and an ergonomic handle, you need to pay more.
Usages of a Zester:
This is a very versatile tool. If a recipe requires adding finely grated cheese or zest, then don't ignore that step. If you do so, you may miss the freshness and flavor you can get by adding these things.
Now you may think for which purpose you need to use this tool? Here, we have given a few points when this tool can come to your help.
For getting Citrus Zest – Mainly, people use this tool to zest your citrus. And, for example, you can use this equipment to get the zest of limes, lemons, oranges, and so on.
For Grating Cheese – You can use this tool to grate the cheese finely, mainly the hard cheese like Parmesan, Romano, or Asiago.
Shaving Herbs & Spices – You can add more flavor to the recipe by cooking with fresh herbs and spices. A Microplane can be ideal for shaving fresh garlic, ginger, and other herbs. So, bid goodbye to mince or grating, and start using Microplane.
Chocolate Shaving or Grating – Do you need chocolate garnishing or add fine chocolate to a recipe? Then, you can use a Microplane to shave the chocolate. Thus, it will add more flavor and a complementary look to your dish.
Moreover, with a Microplane's help, you can shred new and challenging things such as coconut and nuts. Compared to a grater or knife, this tool can shred things finely.
How to use a Lemon/ Citrus  Zester:
Use your dominant hand to grip the tool. Then, using the other hand, you need to hold the lemon over a cutting board, mixing bowl, plate, etc. You need to apply a little bit of pressure for dragging down the lemon against the blades.
After doing that, you will get to see the colorful portions of the rind coming out. You need to continue this procedure until the white part gets exposed and most of the peel gets eliminated. Check under the blades if there remains any residual zest. At last, you need to tap the tool gently against the cutting board for breaking the peels free.
Is it possible for Cheese Grater to Zest Lemon?
Yes, you can use a grater to zest fruit. However, we will not recommend the user to do so. The reason is that most of the graters are unable to pull the peel from the pith perfectly. Also, there remains a risk of moving the hand down the grater. It can cause serious injury.
Using Lemon Zest:
By zesting a lemon, you can get the full flavor of the fruit. Moreover, lemon zest also helps to boost up the flavors of a dish.
A good lemon zester must be able to pull the rind from the fruit perfectly. Thus, it can produce colorful curls of rind zest. You can spread these on top of several dishes and desserts. You can enhance the flavor of vanilla ice cream by adding lemon zest to it.
Cleaning a Lemon Zester:
Always buy such a model that is made of high-quality rust-proof components. A zester that made up of stainless steel requires little maintenance. However, it would be best if you ascertained that you are cleaning this tool carefully. As a result, the chromium coating remains intact for an extended period. Along with this, the device remains bacteria-free.
Put the tool in the dishwasher after every use ( but make sure that the device is dishwasher-safe). However, you can do a pre-cleaning before using this tool. To do this, you can run it under hot water and scrub it using dish soap. Sometimes, zest gets stuck on the blades. If it occurs, then use a kitchen or vegetable brush to remove them.
Don't use scouring pads or stainless steel wool to clean the tool. These materials are very abrasive. As a result, these can strip the protective coating on the tool.
If you clean it by hand, use warm water and dish soap. Then, you need to use a clean towel to dry the tool (before storing it). No matter whether you keep it inside a drawer or hang it in the kitchen –  you should always keep the equipment inside of a protective cover. The cover keeps your fingers protected from the blades and helps to keep the blades clean. Try to keep the tool inside a cool, dry place.
Is It Safe to Zest a Waxed Lemon?
Compared to zesting such a lemon that comes with a protective wax coating, Zesting a wax-free lemon is much easier. A few methods are there that you can follow to remove the wax coating.
Method-1:
First, you need to keep the lemons inside a colander. Then, you have to pour the boiling water over the lemons. After that, you need to scrub the peel with the help of a vegetable brush. At last, rinse these and allow them to get dry.
Method-2:
You need to take a microwave-safe plate in this case. After that, your task is to put the lemons on the plate. Then, you need to microwave it for at least 20 seconds. After that, you have to scrub these under cold running water. At last, you need to rinse and dry these.
Method-3:
Wash fruit and vegetables with a combination of white distilled vinegar and water (1:3). Keep the mixture in a spray bottle. Then, spray it over the lemons. Now, wait for two to five minutes. Next, you need to scrub these and rinse under cold water. At last, dry them. If you want, you can use organic unwaxed lemons.
Preserving Lemon Zest
If you store the zested peels, you can get the citrus zest whenever you want.
Procedure:
First, you need to collect the zest on waxed paper. However, you can use a piece of parchment paper for arranging the zest.
Then, you have to place it in the freezer.
As soon as it gets frozen, keep it in a zip-top plastic bag. Next, your job is to label the bag with the date and type of zest.
Now, you need to store it in the freezer. Keep it there for around three weeks. Usually, Frozen zest holds the flavor. That means there is no need to thaw it before use.
Reasons to Have a Zester in Your Kitchen
In this kitchen gadget post, we have elaborated on the top models in 2021. There are a few reasons for which you should buy this tool. Let's check out these reasons.
These tools help to create thread-like strips from the citrus fruits. By adding the zest fruits, you can enhance the flavor in your meals.
This equipment is very affordable. Besides, you can quickly produce garnishes that can help you decorate the dishes or drinks using this tool. Moreover, zest items can add extra aroma to your foods.
Most of these tools are available in a variety of constructions. Besides, these don't have any moving parts. Therefore, there remains no risk of breaking down of the working parts on repeated use.
Using this tool, you can make zest of any amount you want. Thus, these tools help to make your cooking process more manageable.
Best 5 Zesters for Your Kitchen 
Deiss Pro Citrus Zester & Cheese Grater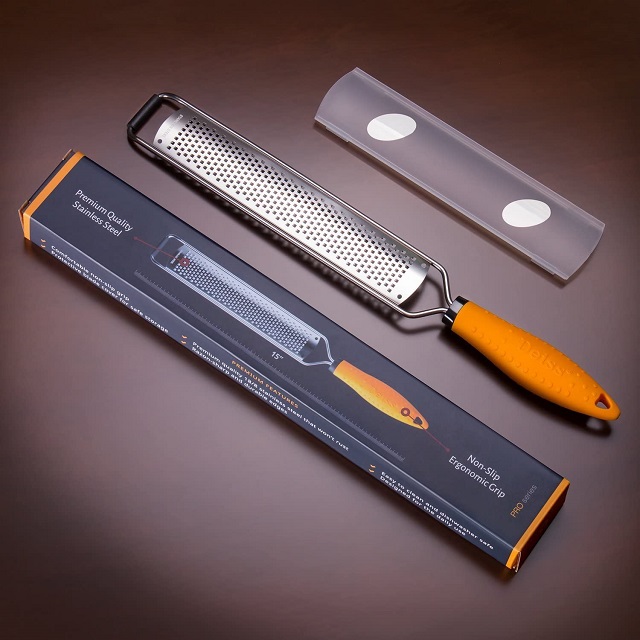 Description: This tool comes with a stainless steel rust-proof blade. The size of the blade is 8" x 1.5". Besides, the non-slip handle of this product ensures that you will get a secure and comfortable grip. Besides, the tool comes with unique curved edges.
This feature makes the tool both safe and rigid. When you grate, the edges enable you to apply more pressure. Therefore, you can grate a hard block of parmesan within just a few seconds using this product.
It comes with sharp teeth that are mainly for picking up the rinds of citrus. It is a very vital design aspect. You know that the pith of the fruits is very bitter and can ruin a dish's taste.
The tool is straightforward to use. Besides, the metal teeth are designed in such a way so that these won't be clogged. It indicates that you can clean the tool easily. You just need to run the blade under the tap. Moreover, this model is dishwasher safe.
It is a multi-tasking kitchen tool. That means you can use this tool instead of other kitchen appliances. For instance, it can replace the hard-to-clean food processors for a few tasks. Moreover, it can work as a box grater. The product also has a plastic sheath for safe storage.
Awesome Features:  
Long-lasting and easy to use: It is equipped with a  stainless steel blade that is rust-resistant. Besides, it comes with a non-slip handle that offers the user a comfortable grip. The unique curved sides of the model make it too rigid. Therefore, you can apply more force as per the need.
Save space in your kitchen: Now, you don't need to use the bulky, unsafe, hard-to-clean box grater or heavy electric food processor. This tool can make your job easier. Unlike the other models, the teeth of the metal grater don't get clogged up. Moreover, you can clean this kitchen equipment easily. You only need to pass the tool under running water.
Enhance the flavors: Using this tool, you can prepare new palatable recipes. Thus, you will be able to impress your friends just by preparing restaurant-like dishes at home. The freshly zested ingredients will help to enhance the flavor of your dish. Using this tool, you can grate hard cheese quickly.
Easy to use: Using this kitchen equipment, you can turn the hard cheese into a grated fluff without applying too much pressure. You only need to zip the cutter-knife across oranges, lemons, and limes. Within just a few seconds, this machine can give you finely grated garlic or ginger. You can use this tool for grating chocolates and use it on the top of desserts.
Warranty: This product comes with a lifetime warranty. That means the customers can get a hassle-free experience using this product.
Pros:
Dishwasher safe
Lifetime warranty
Long-lasting
Cons:
Challenging to clean slanted sides using hands.
OXO Good Grips Etched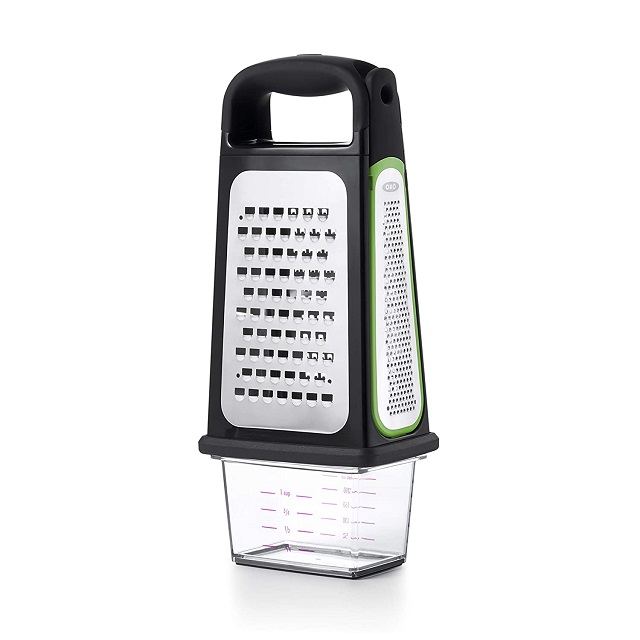 Description: It is a combination of zester and grater. The tool is equipped with a non-slip handle that offers a comfortable grip. Therefore, you will be able to zest and grate fast on a stable surface. Besides, this utensil comes with a cover. This cover will help to protect the sharp edges when you are not using the tool. Moreover, this cover will protect your hands while you are finding the tool in the kitchen drawers.
This tool is designed mainly for citrus and dense ingredients. For instance, it allows you to grate chocolate, hard cheeses, ginger, garlic, etc. The dimension of the model is 15" x 1". It comes with an extra-sharp stainless steel blade. Therefore, it can easily cut through tough foods.
Awesome Features:  
Zest fruits: Using this tool, you can zest or grate chocolate, citrus fruits, garlic, ginger, and hard cheeses perfectly.
Sharp surface: It comes with a sharp etched stainless steel grating surface. Using this product,  you can get zest and grate easily.
Cover: The cover helps to keep your hand protected while the product is not in use. The Non-slip foot of the tool offers control while using. On the other hand, the Soft, non-slip handle gives an additional comfortable grip.
Warranty: It has been more than 25 years since the company has innovated this tool. The manufacturers offer a refund policy on the purchase of the product. If a customer is not satisfied with the product, they can replace it or get a refund.
Pros:
Replace or refund warranty
Easy to use
Sharp surface
Cons:
Converts softer foods into mush.
Poor plastic cover.
Microplane 40020 Classic Grater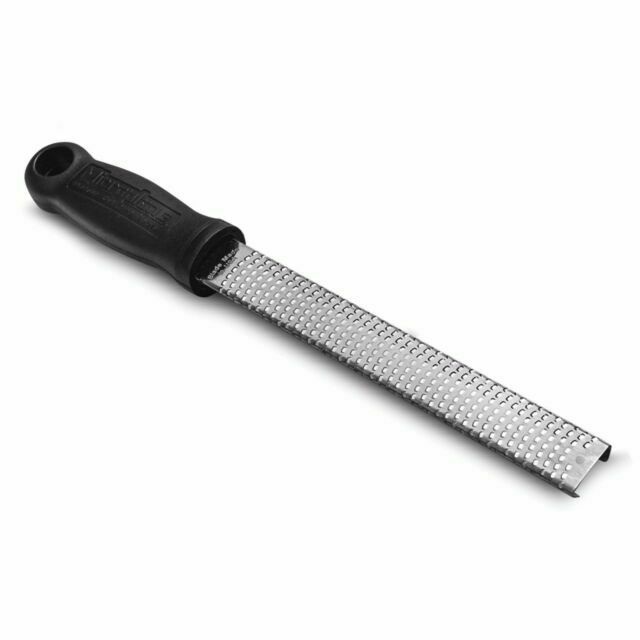 Description: Do you want to add more flavor to your dishes? If yes, then it is one of the best models for you. The blade of the tool consists of surgical-grade stainless steel. It comes in 1″ width and 12″ length. Besides, it features a plastic BPA-free handle. The device is dishwasher safe also. However, you should rinse the blade after every use.
This handy citrus zester is ideal for removing the rinds of lemons and limes. Moreover, the product can quickly grate cheese to a fluffy one. You can sprinkle over the small-sized pieces over salads to enhance the flavors. Microplane 40020 Classic Grater comes with such an excellent blade that has been photo-etched instead of stamped or cut.
Awesome Features:  
Ultra Sharp Blades: The manufactures have used photo-etched technology for making the blades ultra-sharp. Besides, the tool comes with a BPA-free plastic handle.
Zest Citrus: The blade of this tool comes with an incredible tooth set. It helps to remove the rind directly from the citrus fruit. After this procedure, only the bitter white pith remains behind. Simultaneously, the zest ingredients help add flavors to fries, baked foods, and salads.
Grate Cheese: With excellent efficiency, this tool can grate parmesan into fluffy mounds. You can sprinkle the fresh parmesan on the eggs, salads, and other dishes.
Surgical Grade Stainless Steel: The material used to configure this tool is rust-free. Moreover, it will not lose its sharpness over time. You can hang the tool on your magnetic knife strip.
Dishwasher Safe: You can clean the product quickly. Just rinse it after every use. You just need to use a kitchen brush for cleaning hard-to-reach particles. However, you can use the dishwasher to clean it.
Pros:
Dishwasher safe
Rust-free
Ultra-sharp grating blades
Cons:
No protective cover is available
Hard to grate softer cheeses.
Mueller Ultra Bi-Directional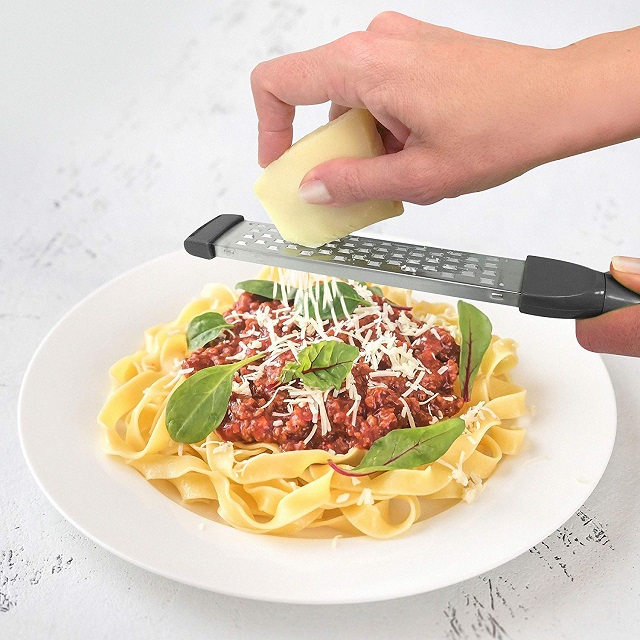 Description: It comes with ultra-sharp blades that make zesting easier. The product is equipped with rust-resistant stainless steel. Moreover, the product is robust enough and durable too. Besides, the unparalleled curved sides of this product make the tool rigid.
This kitchen equipment is BPA-free. It comes with superior break-resisting ability. Compared to the other brands and zester types, the quality of this product is unmatched. The product is small and compact also. It is an excellent option for those who don't have too much space in their kitchen. Besides, you can clean the product easily. It is safe for dishwashers. You just need to rinse the tool under hot water while gently rubbing soap.
Awesome Features:  
Unmatched Quality – This best zester consists of professional-grade and heavy-duty reinforced food-grade ABS. It comes with ultra-sharp German 420-grade hardened rust-resistant stainless steel blades. With the help of the blades, you can quickly chop or dice the vegetables/cheeses easily. At the same time, the curved side of the product makes the product rigid. Besides, the non-slip handle offers a comfortable grip.
Space Saver – Now, there is no need to use the bulky, unsafe, and hard-to-clean box grater or heavy electric food processor. Replace these with this model. Even you don't need to worry about clogging up the metal teeth of the grater.  To clean the product, you only need to keep it under running water.
Warranty: This brand offers a replacement or a full refund policy on the product.
Pros:
Space saver
Ultra-sharp German 420-grade hardened stainless steel blades
Cons:
A few users reported that the model is flimsy.
Kitchen IQ 50259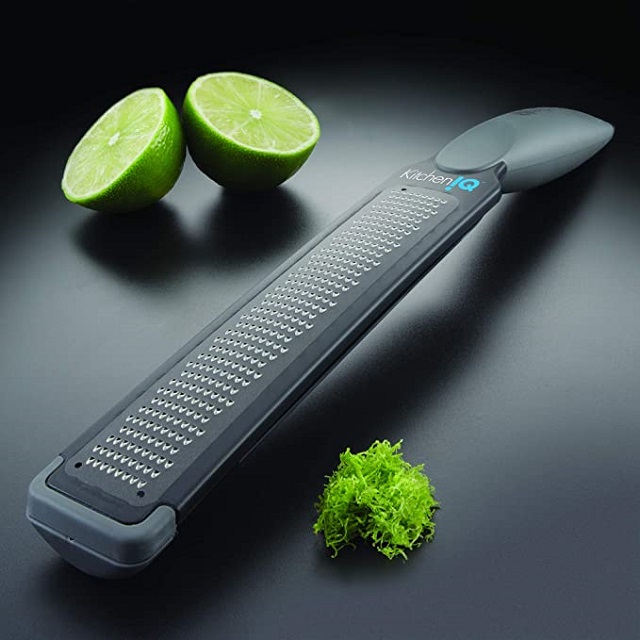 Description: This model is the upgraded version of the 50196. The measurement of the tool is 12.8" x 1.5". The product contains a squeegee for mess-free zest removal. Besides, the tool comes with the same storage container.
Besides, it comes with a cover that will end before the bottom. Kitchen Iq 50259 offers you a non-slip tip along with adequate control. Similar to the predecessor, it is equipped with the same v-shaped teeth. The product comes with an etched stainless steel blade that offers enhanced performance and sharpness.
Besides, just like the 50196 model, the product comes with a similar non-stick coating. But this upgraded model has improved the flaking issues that the previous model had. Therefore, the layer can last for an extended period.
Awesome Features:  
Blade: The tool comes with Patent pending V-etched Blade. It helps you to zest all types of citrus.
Smooth Zesting: The Patent pending non-stick coating of the product makes it ideal for smooth zesting. Besides, the tool is very easy to clean up.
Container: This model comes with a new zest storage container.
Pros:
Patent-pending non-stick coating
Smooth Zesting
Patent-pending V-etched Blade
Cons:
Best Buying Guide
Before buying the best one for your home, a few factors are there that you need to consider. Here, we have given all these factors. Let's check these out.
Quality:
Always follow this rule while buying "quality over quantity." Choose those models which are well-made. Tools that are made of high-quality material always last longer. It indicates that you don't need to replace the device as often. Thus, you can save money. You always need to check the material while buying a quality citrus zester. Moreover, you need to confirm that your buying model comes from a trustworthy brand and manufacturer. You should also remember that expensive models don't equate to quality always.
Storage:
These tools are very sharp. Choose such a model which comes with a cover. It will keep your hands protected. A few products come with loops. With the help of this, you can hang the tool while it is in no use. If you are not experienced with this tool, you need to put on the cut-resistant gloves to offer enough protection to your hands.
Grip:
Generally, sharpness is the main feature of this tool. But you should not overlook the gripping system of the product. A good quality handle offers enough grip and helps to zest and grate easily. Always choose such models that come with non-slip handles.  A good grip ensures that it doesn't cause any injury to the user.
Sharpness:
The tool's sharpness level relies on which type of food you are going to zest. Graters that are equipped with one blade are sufficient for soft edibles such as fruit and some spices. On the flip side, you will require multiple blades for coconut, chocolate, and cheese. If you use multiple sharp blades, you don't need to put too much effort. But be careful while using this.
Zest Type:
This factor relies on what you're cooking or baking. This tool is available in different blade strengths, sharpness, and design. Every style can produce a specific kind of zest. For instance, a few models are engineered only for zesting citrus fruits ( lemons and limes). These models are not so effective on chocolate.
If you want to zest soft foods, you need to use such models mainly designed for those items.
On the other hand, buy a zester-grater combo if you need to grate foods like Nuts, cheese. This combo must have a sharp & durable surface that consists of stainless steel. A few models are also there, which can be used for multipurpose.
Washing Methods –
Check the model you are purchasing, whether safe for the dishwasher or not. Moreover, you need to check how much effort it requires for cleaning.
Durability –
Always buy such a model which can last for a long time. No one wants that his or her tool will break while using. Therefore, you should purchase a durable and reliable one.
Size –
You can find these tools both in short and long length. So, make sure that the product you are buying can easily get fitted in your kitchen drawer.
Final Thoughts:
Nowadays, multiple Zesters are available on the market. So, it is difficult to choose the best one. After going through the product reviews in our top 5 best Zesters list, and the buying guide, select your desired model.
Frequently Asked Questions: 
Is a Microplane the same as a Zester?
Microplane is a kind of grater that resembles a traditional woodworker's rasp. Compared to the conventional Zester, using a Microplane, you can get fluffier results.
What is the best way to zest a lemon?
The best way to zest a lemon is that:-
First, you need to keep the fine, sharp-edged holes at a side of citrus. Follow the fruit curvature in this case.
Then, you need to push it into the fruit. After that, you have to pull it down to the other end.
Continue it till the lemon peel is obliterated.
How do you sharpen a Zester?
You can use a round file and knife to sharpen a cheese grater. However, if you want, you can use a diamond file to sharpen each hole. After that, you need to use the knife and poke these back to the original shape.
Can you use a Zester for garlic?
You will get an incredible garlic paste by using it to grate garlic. You can also incorporate this paste into your favorite dishes.
About author