Wireless Doorbell- Best Buying Guide
Wireless Doorbell- Best Buying Guide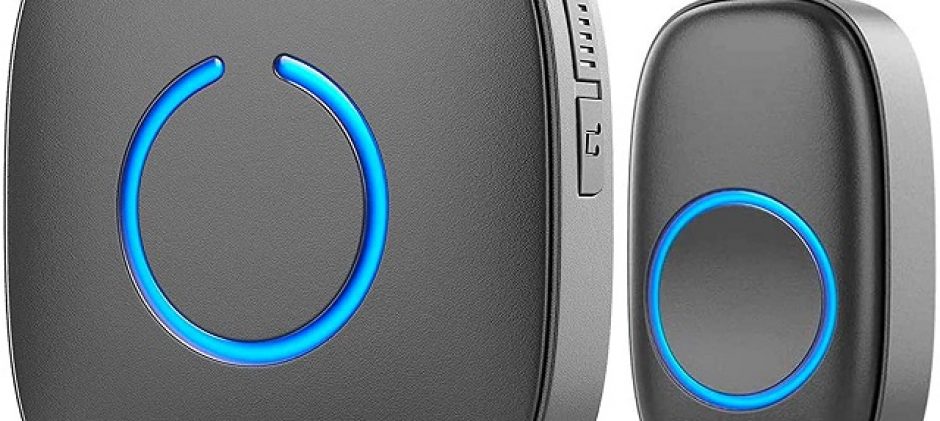 A Wireless Doorbell system comes with a chime box receiver and a transmitter. The transmitter or the button is connected to the outside of your home. It transmits a radio signal to the inside part of your home, where the receiver is. It is because the cordless ones don't need wiring. You can use two or more receivers also.
About the wireless doorbells:
It is about a few decades when doorbell technology has come into its existence. The wireless ones send information through transmitters and receivers. Radio waves are helpful in this case. All of these are battery-powered.
You can easily install these. In this case, you only need a few screws or some double-sided tape. However, sometimes these are not battery-powered. If it happens, then you need to plug it into an outlet. The receivers are powerful on most of the gadgets. These can receive radio frequency signals from a distance of more than 300 yards.
People prefer to use them for their flexibility, simple installation, and versatility. Nowadays, a few models use telephone technology for sharing signals to the speakers. These new models that come with upgraded features will let you know who is at the door.
Even these allow you to open your door using a remote. In a word, it can be said that by using those models, you can turn your home into a smart home by enhancing the security system as well.
Advantages of selecting a wireless doorbell
The very important use of this doorbell is an easy installation process. When you install a regular model, it needs proper wiring and installation. Even a few homeowners need the help of professionals in this case. Unlike the wireless one, you need to connect the receiver first on a power outlet. You just have to hang it outside your door. Most of the homeowners prefer to use it because of its easy installation. These are portable and allow you to switch it to another place when you are shifting to another house.
How to Install a Wireless Doorbell
Here, we have given a few tips and tricks that you can follow to install this doorbell.
Instructions for Wireless Doorbell Installation
First, you need to determine the location of the receiver. It is the inside part of the system. It is a kind of a speaker that will chime to let you know when any person pushes the button. But here, you need to ensure three things.
Receiver within the range: The receiver must be within the range of the transmitter. You may have a few transmitters, one at your house's entrances. And for this, you should have a receiver within the range of the specific doorbell model.
Receiver within hearing distance: You need to ensure that you hear the sound from any place in your home. You may want to purchase extenders so that you can hear from anywhere in the house.
Get extenders to increase signal range: People who have large homes can choose an extender. It gives you a longer signal range. The additional transmitter helps you, in this case, to "forward" a signal. It can cover from the front door to the back. Thus, it can cover all areas.
How to Install Wireless Doorbell Buttons
● First, you need to insert the battery. These products usually come with long-life batteries. The buttons usually need small round lithium batteries.
● Then, you need to look for location markings.
● After that, you have to choose a place where everyone can see the button. You should place this product almost 4 feet above the floor.
● Now, choose the surface where you place it. Wood, vinyl, aluminum are preferable surfaces in this case. You can place a wooden shim for metal doors. In that case, you have to place it behind the button. It will help to prevent signal interference from the metal. You need to use a plastic shield for brick installation.
● At last, you need to fix it firmly with screws. You need to attach it with adhesive strips or screws. You can install the doorbell using two screws.
Installing Wireless Doorbell Receivers
The receiver is also a vital part of the system. These receive the radio waves coming from the transmitter as soon as a visitor presses it. Here is the process that you can follow to install the receiver.
● First, choose the batteries as required. Usually, this product needs 3 AA batteries. And you need to replace the batteries after one or two years of usages.
● After that, you need to sync with the transmitter button. Then, you have to push the chime control button. Next, choose the chime module. You need to press the button at that moment. But before doing that, you need to push the button outdoors. It synchronizes both the indoor chime unit and the outdoor push button. The receiver allows you to pair multiple push buttons.
● Now, choose any sound for both the front and back door. The receiver has a small visual icon that can light up when the door is activated. But it depends on the products and the brand.
● Next, you need to set the volume.
● At last, you need to plug the receiver into an electrical wall outlet. However, you can find a few models that can run on battery power.
5 Types of Wireless Doorbells
1. Wireless Video Doorbells
Most people use these smart devices for security purposes.
The Process to Use: These models come with high-tech video cameras and speakers. The speakers help you to project your voice. It has a microphone system that helps you to hear the person standing in front of your door. You will get an alert on your smartphone when someone rings the door chime.
But it depends on the device that you are using. You can hear an audible chime also. It allows you to set-up a video feed connection. You only need to touch the button. When the link is set-up, you can talk to the visitor. In this case, the device transmits the details via Wi-Fi. That's why it doesn't matter how far you are from your home.
These can capture the interaction that you have with the person. A few devices are there that have connections to the cloud. These devices enable you to store more details. You can access the details from different places and store them for a long period.
Benefits: 
● You can see your kid if they are alone or someone is with them.
● The doorbell camera allows you to monitor also. By using it, you will be able to know who enters and exits from your home.
● You can track those things brought in and taken out of the home. It will give you advanced security also. Like, it enables you to pretend that you are in your home, but you're not.
2. Wireless Video Doorbells With Motion Sensing
These had a connection with the internet for a couple of years. Older ones were usually clunky. At the same time, the newer versions can help you to control the access to your home. You can find multiple models that use motion sensors. These sensors can make your home more secure. It can detect when someone is walking into your yard.
The sensor gives you an alert on your smartphone. A camera is also there that records the videos and audios. All the details are stored in the cloud. And you will be able to review it in the future.
Working Procedure:
The motion sensors remain right next to the camera. These ones alert you when anyone is going to touch the chime. In many cases, you can see your delivery boy leave the order. And they don't even need to ring the doorbell. It is the motion detector that helps to activate the camera.
These will start recording before anybody gets to your door. It is one of the great features that makes your home more protected. Multiple wireless video doorbells are available in the market using which you can monitor specific zones. As a result, if you get too many false alarms, you can reduce the monitored area.
Benefits:
1. You can download the audio and videos when someone comes near your home.
2. It gives you an alert that notifies you if somebody is lurking near your home.
3. Wireless Video Intercom Doorbells
These are the most-demanding ones due to multiple security concerns. With the help of this product, you can identify a visitor. You can use intercoms for communication purposes only. It enables you to talk with others from one area to another of your house.
Working Procedure:
Most of the chimes come with a handset, a monitor, a camera, the intercom system, and the monitor. Even these have energy sources for handsets. You can speak and view with the help of these handsets.
The advanced ones contain infrared illumination. It indicates that you can see even at night and become aware of who is at the door. LED lights on the camera help you to do so. A few units are there that come with color cameras. These can make black-and-white images at night and color images during the day.
It offers a picture memory with date and time stamp. You can control the speaker volume and the chime volume, sharpness, and brightness of the unit. These feature door status monitoring. It helps to view the outside of your home.
Benefits: 
1. The home intercom systems are straightforward to use.
2. You can install them with ease.
3. These can capture video, record video, and allow you to give live feedback. That's why many high-end companies prefer to use these.
4. You can move these from one place to another easily.
4. Long Range Wireless Doorbells
Working Procedure:
The transmitters and the receivers of these chimes make these models unique. Both of these are designed in such a way so that they can transfer details over a massive area. These can penetrate through thick materials.
You can find many units that can transmit signals over 2,000 feet. Several units are there that permit you to add extra wireless buttons and receivers. Many of these come with changeable codes. These can prevent interference in the home, office, etc. The units come with a volume control option.
Even it allows you to select different sounds. In this case, lithium batteries are used. These batteries play a vital role in terms of supplying power to the push button transmitter. You only have to set-up the chime button in front of the building. Then, you need to plug the receiver into an outlet.
Benefits: 
1. These enable you to hear sounds while someone is near your home entrance.
2. You need not worry about missing your deliveries when you are not at home.
3. These are the smart options for those who want to enhance their building's security system.
4. The chimes are inexpensive compared to other ones.
5. Flashing Strobe Light Doorbell
It is perfect for those who are unable to hear properly or who are deaf. It is an excellent option for those who work in a loud and noisy work environment. Those persons need a visual indicator that can send the alert.
Working Procedure:
The strobe will flash a bright light while a person presses the button. At this time, these models make loud sounds. The combination of the high decibel sound and flashing lights make it attractive. It notifies you when someone is at your door. Most of these models contain a user-selectable channel setting. It makes the unit easy to replace the channel on both transmitter and receiver.
Benefits: 
1. You can install these wireless doorbells very easily as they don't need wires.
2. It is perfect for people who live in a noisy environment.
Top Eight Wireless Doorbells
1. Best Overall: AVANTEK Wireless Doorbell
2. Best Budget-Friendly: SadoTech Model C Wireless Doorbell
3. Best Video Doorbell: Remo+ RemoBell Wi-Fi Video Doorbell
4. Best Smart Doorbell: Ring Video Doorbell 3
5. Best Battery Life: Honeywell Series 9 Portable Wireless Doorbell
6. Best Plug-In: Hampton Bay Wireless Plug-In Door Bell Kit
7. Best Dual Receiver: SadoTech Wireless Doorbell
8. Do it Yourself Doorbells: WDK-ERA-STROBE Warehouse Wireless Doorbell Kit / Entry Alert & Strobe L
8 Best Wireless Doorbells
1. AVANTEK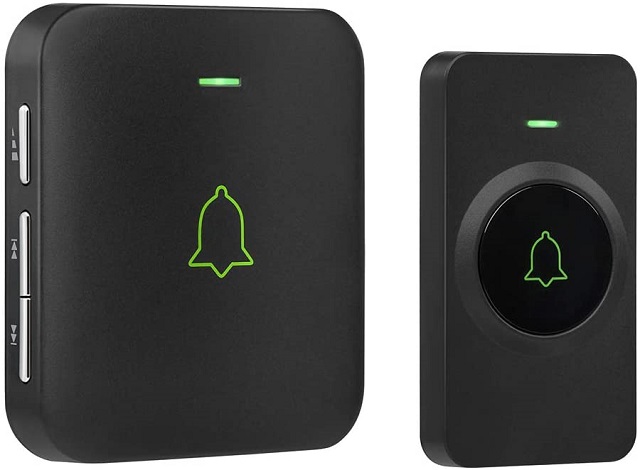 Description:
If you are looking for a high-rated model, then it is the exact one for you. This model comes at a very affordable price. You can install AVANTEK easily.
As it is waterproof, you can place it outside of your house easily. There exist two plug-in receivers that allow you throughout your home. The receivers of this best wireless doorbell have over 1,000 feet range. Therefore, you can put these anywhere you want. Moreover, it has five volume levels that allow you to adjust the sound as per your requirements. It offers 52 different sounds. You can choose your desired door as per your needs.
Awesome Features:
100% Satisfaction: The AVANTEK model comes with the approvals of FCC, CE, and RoHS. You get the best customer support service and support from this brand.
Great Performance Transmitter: It comes with ultra-low power consumption. The product has a CR2032 lithium battery, which has a maximum three-year lifespan. It is both IP55 dustproof and waterproof. These can work in range from -4°F – 140° F. You can use them in different harsh weather conditions.
Great Range: It contains two plug-in receivers. This AVANTEK product can cover a range of about 400 M or 1312 ft. These don't usually interfere with other equipment in your home. The model ensures the users that they will not miss any visitors – no matter if you are several rooms away.
Various Music Tones: The model comes with a 52 tunes collection. You can choose any of these as per your need. Besides, there is a built-in 40 mm stereo speaker. It gives you a clear sound of up to 115 dB.
Memory Function: AVANTEK can store the last volume level after the power is cut off. You don't need to reset the last settings.
Simple to Set-Up: The model comes with two screws, 2 anchors, 1 key, and 1 adhesive patch. These help you to install it with ease. It allows you to add more receivers for increased coverage.
Pros:
Easy to set-up
Built-in stereo speaker
Covers a long-range
FCC, CE, and RoHS approved
Cons: 
Not suitable for steel doors
Not waterproof
Doesn't last long
2. SadoTech Model C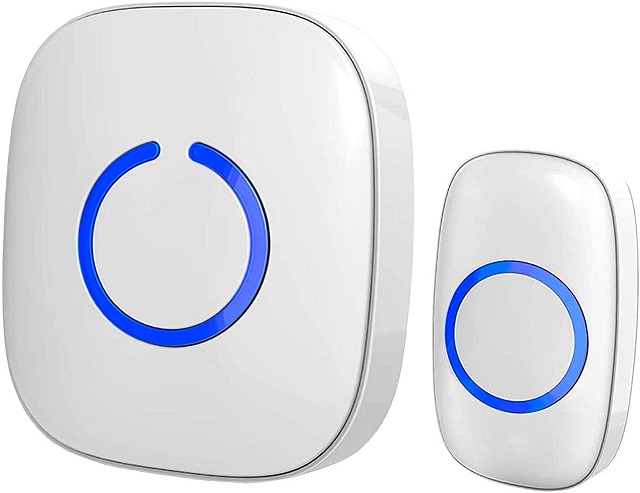 Description:
This is one of the most budget-friendly chimes. SadoTech Model C comes in 14 different colors.
The product allows you to operate about 500 feet. You can find here four volume levels. The button of the model is waterproof. That's why you can use it outside of your home. It has a very simple set-up.
Awesome Features:
Nice Quality and Longer Battery Life: The SadoTech Model C contains high-quality microchips. These have longer battery life. The built quality of the item is superb.
Easy to Set-Up: This one is very simple to set-up. You don't need to hire any expert electricians now to install it. To install this model, you don't need any drilling holes and tangled wires. The installation process of this battery-operated one is straightforward and convenient.
Excellent Sound Level: The chime doesn't carry only a single sound like the traditional ones. The product comes with 35 chimes and 17 music tones.
Multiple Usages: It can be used as a classroom doorbell for teachers. A remote is helpful in this case. The SadoTech Model C gives you a loud and distinct sound. This one is ideal for the hearing impaired and the deaf.
Smart One with Add-Ons: When you buy the set, plenty of options are there that you can customize. Also, You can add extra receivers now. It can act as a security system also. These have motion detectors, a door chime, and a window alarm.
Pros:
Several usages
Easy to set-up
Outstanding sound level
17 music tones
Cons: 
3. Remo+ RemoBell S WiFi Video Doorbell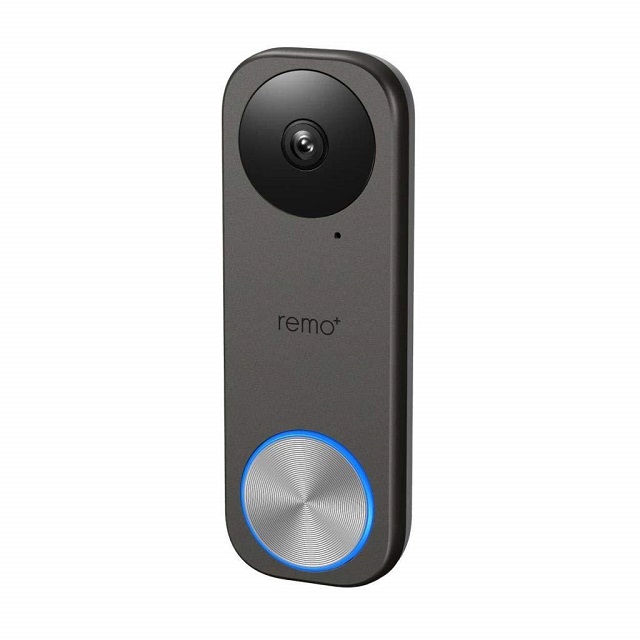 Description:
If you haven't any problem to spend a little bit more money, then go for this model. Remo comes with a camera that allows you to see who is in front of the door. This battery-powered model gives push notifications to the mobile whenever anybody rings the bell.
The wireless doorbell with the camera model enables you to pull up a 720-pixel video stream on the mobile. It comes with two-way talk capabilities. Even you can know about the rings which you missed. Remo is both water and weather-resistant. You can sync it up to five different phones.
Awesome Features:
Easy Set-Up: The model is very easy to set-up. You only need to download the free mobile app. And then, you have to follow all the on-screen instructions to register it. After that, you need to screw the mounting bracket. Next, place it into the bracket. And then, you need to tighten all the security screws.
Activity Log: This function notifies the user about every missed and answered ring. Even these can record the motion videos and save them onto the activity log. You can see all the events on the timeline— camera, times and dates of each video, people who answered or declined, and so on.
Advanced Motion Sensor: Remo has a passive infrared (PIR) sensor that can identify heat radiated off subjects. These give you push notifications while motion is sensed. The sensor can detect body heat and therefore distinguish the body movements. It decreases the amount of getting false motion alerts.
Battery Powered: The product comes with 6 AA batteries that are rechargeable. And the batteries have four months of battery life. But the lifespan of the batteries depends on how you use them. You can check the battery life in the RemoBell app. The device gives you reminders when the battery is low.
Pros:
Advanced motion sensor
6 AA batteries
Rechargeable batteries
Record motion videos
Cons: 
Image quality is not so good.
4. Ring Video Doorbell 3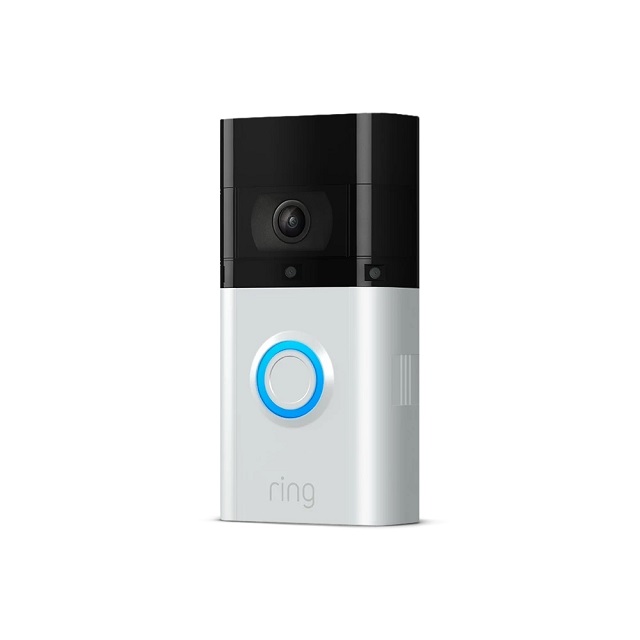 Description:
Do you want to install a smart doorbell in your home? Then, it is the best option for you. The Ring Video Doorbell 3 model comes with motion-activated smartphone alerts. These can offer HD recorded videos.
You can install it within a few minutes. The camera of the model offers a 1080-pixel video stream to the phone. This product will give you notifications whenever anyone rings the bell. It allows you to use the Live View features.
Thus, you can get on-demand video and audio. This model offers two-way talk capabilities and motion-activated alerts. What makes it very special is that this model supports Amazon's Alexa. When someone rings the chime, Alexa gives you alerts.
Awesome Features:
Monitor from Any Place: The Ring Video Doorbell 3 allows you to see, hear the person and speak with him or her standing at the door. You can get real-time notifications as soon as the visitors push it. It can give you alerts when you trigger the built-in motion sensors or customize the motion settings. Therefore, you can mainly focus on the main areas. And you will get notifications only when you want.
Ring App: It creates a Ring of Security using the Ring app. You need to connect all the Ring devices to see what is going on from a single dashboard. Along with this, you will be able to customize the motion settings.
Ring Protect Plan: The Ring Video Doorbell 3 protects the product's plan and gives you more details about the missed rings. You can see the videos, save them, and share them as soon as you activate video recording and photo capture.
Security and Privacy Controls: With the help of a control center, you can easily add and remove authorized client devices. Even, you can remove the shared users and chosen linked accounts. All things can be done through your phone, tablet, or PC.
Supports Alexa: The device allows you to connect it with selected Alexa-enabled devices. As soon as the device detects motion, the Echo device will give you alerts. It lets you know who is there.
Smart Security: The product offers an enhanced security system to your home. These have customizable motion zones and dual-band (2.4 and 5.0 GHz) Wi-Fi connections.
Pros:
Wi-Fi connectivity
Supports Alexa
Ring protect plan
Ultimate control
Cons: 
5. Honeywell Series 9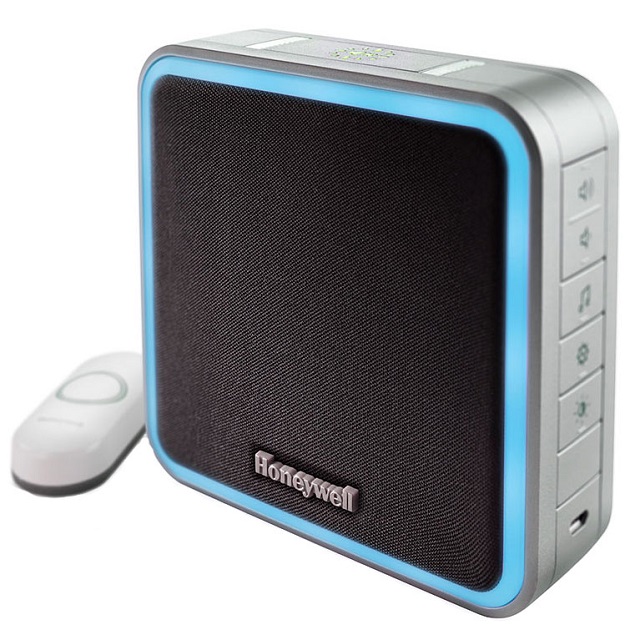 Description:
Most of the doorbells are required to change the batteries only after a few usages. The product is beneficial in this case. This Honeywell Series 9 model has long battery life. It comes with a sleek design. There remains an illuminated halo available on the button. The LED strobe gives you alerts in seven colors.
The range it can cover is up to 450 feet. It comes with eight sounds, adjustable volume, sleep mode, as well as mute options. Besides, the lifespan of the battery is about five years. Honeywell Series 9 ensures that you don't need to change the power source. These can work incredibly while transmitting through several walls.
Awesome Features:
Design: It comes with an outstanding design. This model is equipped with a few innovative features such as downloadable tunes, custom visual alerts, mute timer, and so on. It allows you to connect it with Honeywell ActivLink to get more range and versatility.
Downloadable MP3 Tunes: Honeywell Series 9 contains multiple downloadable MP3 tunes. The device has 8 tunes, and seven custom LED halo alert colors. The colors are— Red, green, yellow, purple, white, blue, and light blue. The model has an assignable halo and strobe that gives you alerts. There are multiple color options available also.
Adjustable Volume Settings: These come with adjustable volume, sleep mode, and mute timer. There are many mute timer options available. For example, you can mute for 3, 6, 9, 12 hours, or you want to mute permanently. It enables you to connect up to 6 transmitters like push buttons, door contacts, etc.
Portable: The product is very easy to install. It comes with a wall mounting kit. There are 4 C alkaline batteries.
Push Button: The product is weather resistant. It comes with an 'E' push-button that is very compatible. Honeywell Series 9 comes with a CR2032 battery.
Pros:
Portable
Adjustable volume settings
Downloadable MP3 settings
Cons: 
The warranty period is not specified.
6. Hampton Bay
Description: 
The product comes at 4.30 inches in height. The shape of the button of the product is rectangular. It comes in white color and offers three numbers of sounds.
Awesome Features:
Easy to Install: You can easily fix this Hampton Bay doorbell model outside of your home. In this case, you only need to plug-in the chime inside.
Plug-In Chime: It comes with a traditional Ding-Dong sound tone for the front entrance. And the sound dong is for the back entrance.
Sound Volume Level: It gives you 85 dB volume. These allow you to hear the chime in your entire room.
Pros:
Easy to install
Excellent sound level
Cons: 
Chime doesn't support these doorbells.
7. SadoTech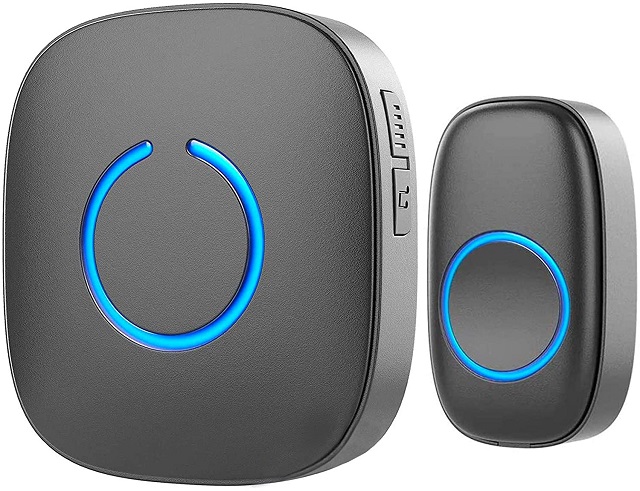 Description: 
It comes with a plug-in chime box. There are two installation options available. It has four volume settings. The thickness of the product is 29 millimeters.
The weight of the product is 4 ounces. Sado Tech needs 3.25 x 1.5 x 3.5 inches of space. In addition, It is equipped with 1A batteries. It comes in classic white color. This model consists of ABS plastic.
Awesome Features:
Perfect for Big Homes: The product comes with a transmitter button that can trigger two chime units.
Additional Accessories: This is one of the best wireless doorbells comes with one cordless transmitter, two plug-in smart receivers, double-sided mounting tape, wall anchors, screws. It is equipped with an A23 battery that can last up to three years.
Range: It can cover a long-range of around 500 – 1000 feet in open areas. The Sado Tech product is both waterproof and weatherproof, casing from -4 to 140 F degrees. It comes with LED indicator lights. Besides, it has four volume levels.
52 Chime Sound Available: This model comes with a high-tech memory chip. It holds over 50 unique chime sounds. It can maintain the selected chime tones when it is unplugged or turned off.
Multi-Purpose Usages: You can use these as standard security to improve your homes and apartments' security. You can use this product in offices, warehouses, and classrooms.
Customize System: It enables you to pair with more than twenty receivers and transmitters.
Pros:
52 chime sound
LED indicator lights
A23 battery
Cons: 
Push-button doesn't work properly
8. Warehouse Wireless Doorbell Kit / Entry Alert & Strobe L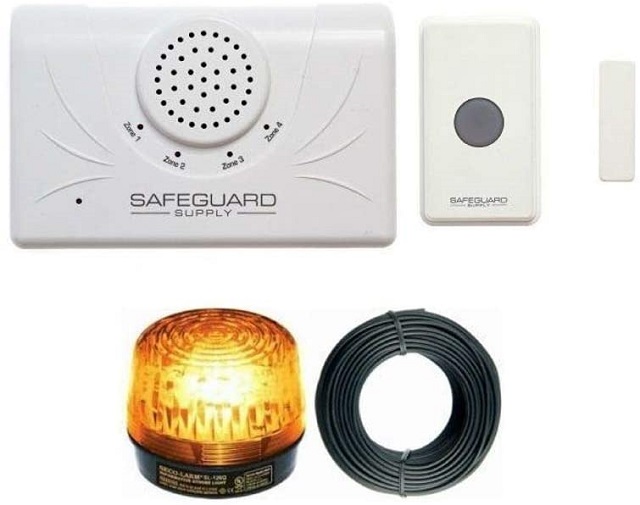 Description: The product can transmit a blanketing 360-degree signal. The range it can cover is 3/4 mile. It comes with a Heavy duty IP55 waterproof rated transmitter. The transmitter consists of shatter-resistant ABS.
The receiver contains a high quality 2 1/2″ speaker. It can offer you a distortion-free sound. The product comes with 12 pleasant tunes. You can choose your desired door bell as per your needs. The diameter of the UL listed bright strobe light is 4″.
You can connect these to the 12V DC terminals with ease. It allows you to see it in bright light conditions. This model is budget-friendly also. There exists no complicated wiring. Therefore, you don't need to take the help of an electrician to install it.
Awesome Features:
Loud Noise: The chime with a 95db sound along with a flashing strobe light makes the product exceptional. The flashing strobe of the model can give you an alert under the loudest industrial conditions.
Innovative Design: Wdk-era-strobe warehouse wireless doorbell kit is perfect for use in business environments. This one is the epitome of the industrial grade. These can transmit a signal up to 4000″ through wood, brick, stone, glass, metal & reinforced concrete.
Give You Alerts at Any Place: The model enables you to add transmitters & receivers as much as you want. The receivers come with 12V DC outputs. These allow you to add 12V DC devices such as— sirens, buzzers, bells, strobes, etc.
Multi-Purpose Usages: You can operate it like a standard doorbell push button. As soon as anyone presses the button, the chime will make a sound. You can use it as a magnetic door chime also. Those include a contact sensor that alerts you whenever anyone opens the door.
Budget-Friendly: This Warehouse Wireless Doorbell Kit comes at a very affordable price. You can easily install this product.
Pros:
Multi-purpose usages
Affordable price
Exceptional design
Loud noise
Cons: 
Buying Guide
A few factors are there that you need to consider before buying the right doorbell.
Range
It is one of the crucial things that you need to determine first. It would be best to consider the distance from the transmitter, i.e., the distance from the push button to the receiver. Keep in mind that you will never get the range in your home printed on the device you are buying. It is an important factor that you should know.
Manufacturers give the range after testing these in ideal conditions. But there are batteries and walls in your home. These will interfere with the range of your unit. Standard residential units have about 150 feet range. You can choose the longer-range chimes that have up to 2,500 feet range.
Power Source
There are two types of power sources— battery-power or plug-in power. Battery-powered ones use C or D size batteries. But the plug-in ones need connections with an electrical outlet. It depends upon you which type you want to buy for your home.
Ease of Installation
The wireless ones are easy to install as they don't have wires. But it would be best if you were careful while installing it. Ensure that you are not dropping the unit or handling it roughly because rough usages can damage internal components.
Waterproof and Heat Resistant
Make sure that you have checked whether the unit is waterproof or not. You can see many products are there that can't work properly when the temperature reaches 110°F. A few units fail to work under -14° F. As a result, it can be a problem for using it in certain parts of the country ( the Midwest). These products are unable to work if the temperature remains over 100° temperature or under -20°.
Technology
Not all devices transmit information similarly. A few use radio frequency, whereas some use Wi-Fi. Nowadays, the latest ones use telephone signals to transmit information. That's why you should know the type of unit you are going to use. It is because these depend on the environment where you are living.
Sound Options
Multiple models are there that come with various sound options. These models allow users to increase and reduce the volume as per their needs.
Security Accessories
It is an essential part of a home automation system and overall home security. For instance, you can set the unit up for making different sounds. You can set up a sound when someone pushes it and another sound for when someone walks.
Frequency
In recent days, most people use wireless doorbells. And you are not the one who is using it in your area. Therefore you need to choose such a model that enables you to select the frequency that you will use. Along with this, it should permit the user to block out other frequencies.
Visual Alert Indicators
In case you have a hearing impairment in your home, it's a critical factor you need to be concerned about. The visual alert helps you in this case. It works with the chime and notifies you when someone is at the front door. It is a nice choice for those families where the newborns are sleeping. Hence, parents can easily disconnect the chime. And then, use the visual indicator to get alert.
Style and Design
The stylish design of the doorbells can give a complementing look to your home. Along with enhancing your house's security, you can make your home attractive by using the doorbell. Try to go for the portable one so that you can carry the speakers wherever you want.
Conclusion
There are plenty of things to consider before buying a wireless doorbell. However, the main benefit of this doorbell is the easy installation process. This one is portable also. By using this doorbell, you can enhance your home's security. It can record any suspicious activity also. After going through this article, we hope you will be able to fix your mind and pick the right one.
Frequently Asked Questions:
Q. What are the best wireless doorbells?
The best wireless doorbells are as follows:-
1. Best overall: Honeywell Series 9.
2. Great smart doorbell: Ring Video Doorbell 3.
3. Most popular: SadoTech CXR.
4. Low-cost option: 1byone Easy Chime.
5. Weather-resistant: PHYSEN Wireless Doorbell.
Q. How do I choose a wireless doorbell?
When you are going to select, you need to choose the one which has varying frequencies. Wireless ones transmit signals with the help of radio waves. That's why you need to pick the one that supports multiple frequencies.
Q. Do wireless doorbells need Wi-Fi?
These need a radio signal that is used to transmit information. As soon as you push the button, the signal gets transmitted. There remains a push button on the outside of the door. And there is a battery-powered ringer which you can carry from room to room.
Q. What is the range of a wireless doorbell?
A few long-range chimes can increase the range of sound from 300- to 500-feet.
Q. What is the best wireless doorbell with a camera?
The best chimes with a camera are:-
1. Nest Hello— Best overall.
2. Ring Video Doorbell 3 Plus— best for wireless installation.
3. Ring Video Doorbell— best for value.
4. Ring Peephole Cam.
5. Ring Pro.
6. Maximus Answer DualCam.
About author