Best Sewing Machine- Ultimate Buying Guide
Best Sewing Machine- Ultimate Buying Guide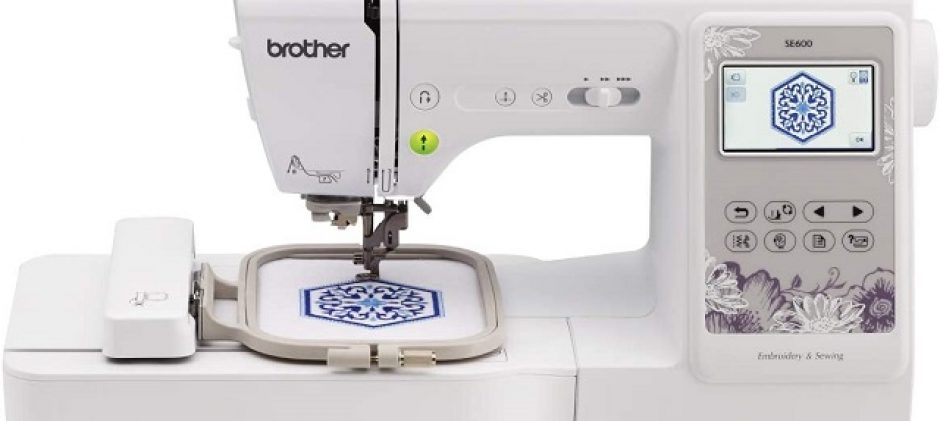 The sewing machine has become an integral part of most households. Back then, the traditional sewing machines were either hand-operated or leg-operated. With the development of technology, a sewing machine can also perform embroidery, button-stitching, hemming, quilting, etc. Buying the best sewing machine can be a one-time investment that will last longer.
How to find the best sewing machine that suits you:
Getting to know about the different types of sewing machines:
Before buying a sewing machine, you need to know about all those different types of sewing machines available in the market. Besides, you also have to figure out your needs. If you want to embroidery with your machine, you will first have to know about all those sewing machines with the embroidery function. And then compare all those to find the best sewing machine that will suit you.
Budget:
First of all, you need to figure out how much money you can afford to buy a sewing machine, i.e., figure out your budget. Calculation of budget is something crucial for any purchase. If you want to buy a machine with a high-end feature, you must have a large budget. In case you don't have that much funding, you can buy a sewing machine from a second-hand trader.
Style and number of stitches:
Straight and zig-zag stitches are the most basic stitches that beginners will need. If you are a beginner, you can buy a basic model sewing machine. But if you are an expert or an experienced sewer, you will have to buy a machine that will offer different stitches. You can't add the features later on in the machine. So before buying your machine, you must carefully note the styles and number of stitches that the machine can offer.
Attachments and Feet:
The attachments and feet are specific to your requirements. Sewers who sew just garments will need zipper foot, overcast stitching foot, buttonhole foot, and button attaching foot, while quilters will need walking Foot, spring action foot, and a 1/4″ foot. Most of the machines will come with all the attachments. Expensive and high-end sewing machines will come with most of the attachments, while low budget machines are restricted to a few.
Additional features:
Apart from all the above, sewing machine these days come with extra features. Some are:
Free arm
Thread cutter
Blind stitching
Automatic needle threader
Lights
Speed control
Knee lifter
Needle position adjustment
After buying the machine that suits your requirement, read the user manual, and start sewing. Every machine will have different use and care instructions.
List of Best Sewing Machines- Latest
Singer Start 1306
Brother L14S
Janome J3-20
Brother CS7000i
Janome MC6650
Juki TL-2000qi
Juki HZL-F600
Janome 4120QDC
Brother SE400
Brother SE600
SINGER Quantum Stylist 9960
Best Sewing Machine for Beginners:
Singer Start 1306: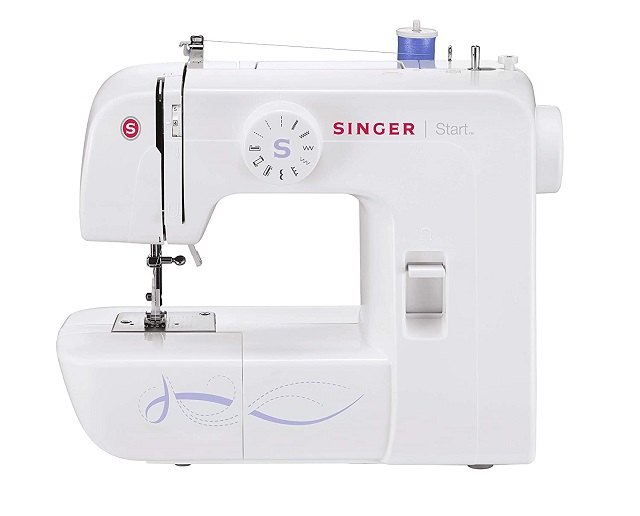 Singer Start 1306 is a lightweight and portable sewing machine that is easy to store and transport. The Singer Start 1306 comes with six built-in stitch options and 4-step buttonholes. The basic stitches include straight, satin, zig-zag, blind hem, and scallop. The Singer Start 1306 is one of the best sewing machines for beginners because of its user-friendly attributes.
The product comes with three presser feet. And they are buttonhole feet, zipper feet, and all-purpose feet. The machine's removable free arm provides easy access to collars, sleeves, cuffs, pant hems, and other difficult-to-reach areas. The Singer Start 1306 also comes with LED lighting that illuminates the entire sewing area.
Singer Start 1306 Features:
57 stitch patterns
Three presser feet
Six built-in stitches
Easy 4-step buttonholes
The machine is printed with quick and easy threading diagrams that make it easy to set-up the machine for sewing
Additional features:
Removable free arm
LED lighting
Dual spool pins
Extra-High Presser Foot Lifter
Brother L14S: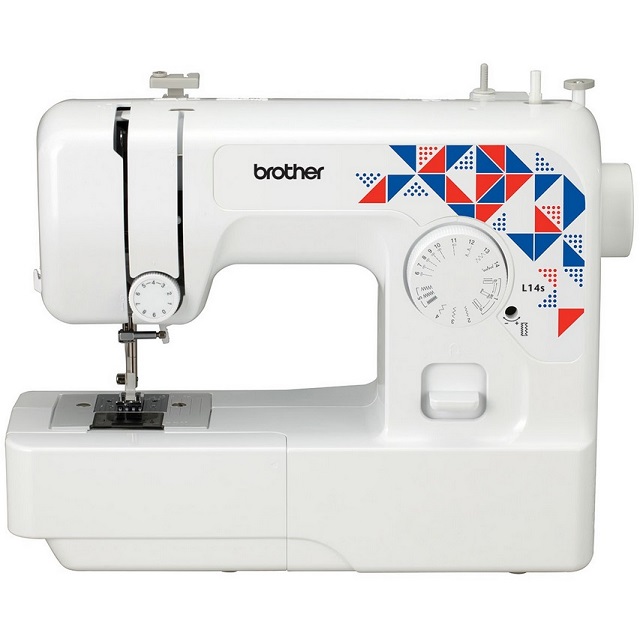 Brother has been providing the best sewing machines. And their Brother L14S has been one of the best sewing machines for beginners. The machine is mainly designed for dressmaking and alterations. The Singer Start 1306 is primarily intended for beginners. Also, the manual explains the basic functions of the it. Also, they provide you a DVD for a visual demonstration. You can use the stitch selection dial to select one from the 14 stitch functions.
The 14 built-in stitches include- Straight stitch, six different types of zig-zag stitches, elastic stitch, double-action stitch, 4 step buttonhole, blind hem stitch, over-edge stitch, stretch blind hem stitch, and bridging stitch. The LED light lights up the sewing area and makes it easy for the user to work. This best sewing machine for beginners comes with a warranty of up to 3 years.
Singer Start 1306 Features:
14 built-in stitch functions
4 step buttonholes
Four presser feet
Set of 3 standard needles
Electronic foot controller
Forward and reverse stitching
Automatic bobbin winding
Top loading bobbin
Additional features:
Free arm
LED light
Darning plate
A screwdriver is also provided in the box
Extra spool pin
Instructional DVD
Janome J3-20:
The Janome J3-20 possesses all the necessary properties that the beginners will need. The 6kg lightweight machine has 20 built-in stitch applications and an automatic 1 step buttonhole. Besides, it also has two extra decorative stitches. The Janome J3-20 has a drop feed for freehand embroidery and quick foot conversion.
Features:
20 in-built stitch applications
Automatic one-step buttonhole
Freearm sewing
Quick foot conversion
Variable stitch length
Automatic needle threader
Front-loading bobbin case
Included Accessories:
Foot control
Automatic buttonhole foot
Satin stitch foot
Zipper foot
Seam ripper
Standard Foot
Adjustable blind hem foot
The above-listed features and accessories included with the machine make the Janome J3-20 one of the best sewing machines for beginners.
Best sewing machine for quilting
Brother CS7000i Computerized Sewing and Quilting Machine: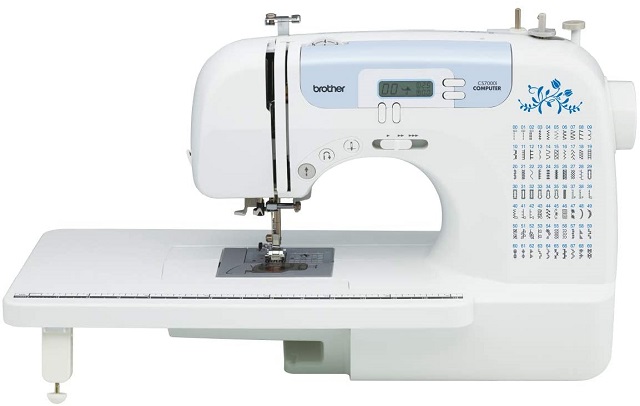 The Brother CS7000i  is one of the best sewing machines for quilting. The features and the quality provided make it easy for the users to sew and quilt with the same machines. The CS7000i comes with 70 built-in stitches and seven different buttonhole styles. Brother CS7000i also comes with a LED light that lights up the stitching area and makes it easy for the sewers to concentrate and sew. Also, the automatic needle system makes the threading the needling process easy. Eight hundred fifty stitches per minute is the sewing speed of the machine.
Included accessory feet:
Buttonhole Foot
1/4 Inch Foot
Zipper Foot
Overcasting Foot
Blindstitch Foot
Monogramming Foot
Zigzag Foot
Walking Foot
Spring Action Quilting Foot
Quilt Guide
Button Sewing Foot
If you are looking for a value-packed machine, we highly recommend the Brother CS7000i. Like said before, it is the best one for quilting.
Janome MC6650 Computerized Sewing and Quilting Machine:
This computerized sewing and quilting machine has 170 stitches and two alphabets. Also, it has 6 LEDs in three places. Moreover, it is included with 12 accessory feet. The Janome MC6650 is the best for quilting. The features and accessories of the MC6650 provided make sewing and quilting easy and more fun. The machine also can recall the last stitch that was used. The Aluminum Interior Frame makes this best sewing machine for quilting more durable. However, the machine is a bit heavy that makes it quite tricky for shifting.
Included Accessories:
Blind Hem Foot G
Buttonhole Foot
Convertible Freemotion Quilting Foot Set
Darning Foot
Free Motion Quilting Holder
Free Motion Quilting Zig-Zag Foot
Open Toe Satin Stitch Foot
Overedge Foot M
Rolled Hem Foot
Satin Stitch Foot
Seam Ripper
Straight Stitch Needle Plate
Zig-Zag Foot
Zipper Foot E
Juki TL-2000qi Sewing and Quilting Machine: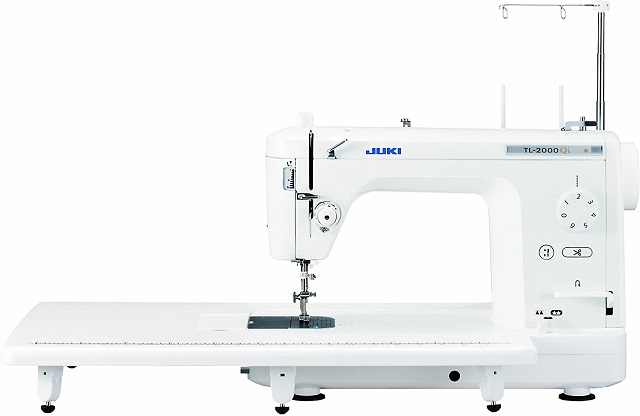 The Juki TL-2000qi is a semi-industrial machine and has lots of power and functions. This heavy machine is also a bit costly, but it worth it. The machine is not built for beginners but advanced users. However, the minimalist range of stitches and long-arm functions makes these best sewing machines for quilting and easy to use. This machine's ample workspace and extended table help the user stitch and work without any inconvenience. Besides, the Juki TL-2000qi is one of the fastest top speed home sewing machines. The speed of this machine is 1500 stitches per minute.
Juki TL-2000qi is one of the best sewing machines for quilting comes with only one built-in stitch and does not provide any decorative stitches. This limits the range of use of the machine. However, it makes the user understand the machine's working and doesn't complicate the uses and confuses the users/sewers. Juki TL-2000qi is excellent for quilting.
Features:
Presser Foot Adjustment
Thread tension scale
Advanced thread trimming
Automatic needle threader
Easy bobbin replacement
Needle up/down button
In-built LED lights
Extension table
Knee lever
Included Accessories:
Standard Presser Foot
Even Feed Foot
Foot Controller
Auxiliary Table
Exclusive Screwdriver
Screwdriver (Small)
Machine Cover
Power Cord
Knee Lift Lever
Cleaning Brush
Bobbins (4)
Oiler
Needle Set
Spool Cap
Best sewing machine for making dress:
Juki HZL-F600: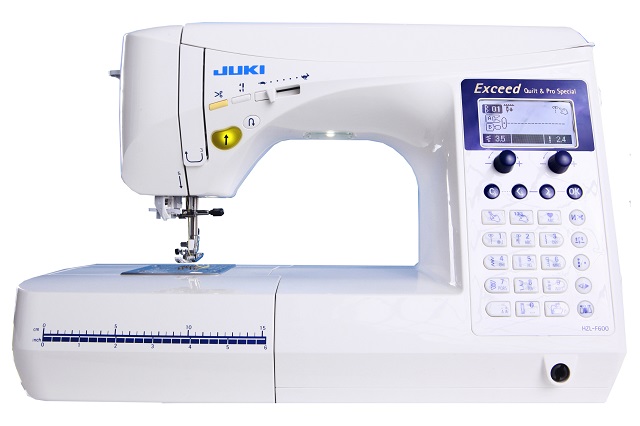 The Juki HZL-F600 is a high tech sewing machine loaded with 225 built-in stitches and 16 buttonhole styles. The machine is also best suited for quilting. It has an extended work table and intuitive controls that impresses quilters. The machine is pretty easy to handle. The functions and adjustments are relatively straightforward. However, it takes time to learn everything about the Juki HZL-F600, which will be difficult for beginners.
The large LCD in the Juki HZL-F600 displays all the built-in stitches and fonts. The large display helps you to select and customize the stitches as per your wish. The LCD also records the most used stitches, and you don't have to search the whole menu to find your favorite stitches. The machine is a bit heavy and weighs 33 pounds, but still, it is lighter than other machines of its size. The stitching speed of the machine is 900 stitches per minute.
Features:
Automatic needle threader
Pressure foot adjustment
Easy bobbin thread winding
Quick bobbin preparation
LCD
Wide sewing space
Knee lever
16 buttonhole styles
Included accessories:
Four bobbins
Three sizes of spool caps
A special screwdriver for maintenance
Knee lifter lever
Lint brush
Eyelet punch
Seam ripper
Twin needle
A needle pack
Janome 4120QDC: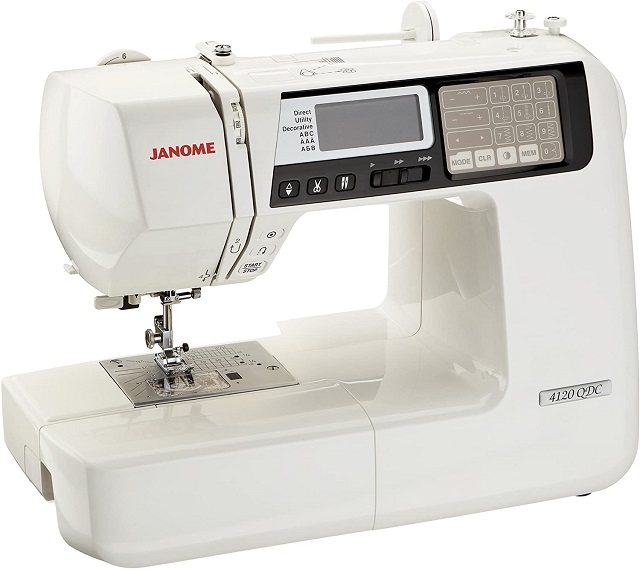 The Janome 4120QDC is a high end computerized quilting and sewing machine. It is one of those machines with which you can do any type of project. The 120 built-in stitches include regular, quilting as well as decorative stitches. Besides, it has seven one-step buttonholes. The machine comes with a 7-piece feed system, which helps you work with delicate fabrics and multiple layers. The LCDs all the stitches, and it is relatively easy for the sewers to select the stitch of their need. The Janome 4120QDC also comes with an extension table, which is great for quilting and big projects.
The features and functions of the Janome 4120QDC is designed for quilters, professionals, and advanced seamstressers. However, this is the best sewing machine to choose from if you are a serious hobbyist. But still, this machine will not suit you if you don't like computerized machines.
Janome 4120QDC Features:
120 built-in stitches
Seven one-step buttonholes
LCD Display
Twin needle guard
7-piece dog system
Needle threader
Needle cutter
Locking and reverse stitch buttons
A DVD
Included Accessories:
Extension table
Zig-zag Foot
Satin stitch foot F
Blind hem foot
Seam ripper
Needle set
Zipper foot
Bobbin
Overedge foot
Buttonhole foot
Sliding buttonhole foot
This Janome 4120QDC is the best sewing machine for intermediate and advanced sewers.
Brother SE400 Computerized Sewing and Embroidery Machine: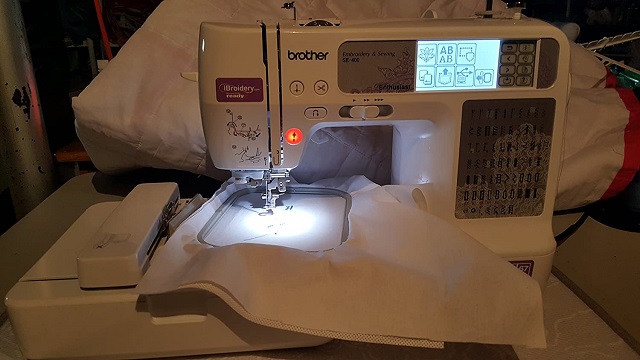 The brother SE400 is one of the best sewing machines in the market. It is computerized and has an LCD and a stylus pen. You can choose from the 67 stitches on the LCD screen. Besides, you can choose from the 70 designs available for embroidery. In case you want more designs, you can download designs from iBroidery. And then import them directly from your computer. The designs can be purchased on a pay-per-design basis.
It is the best sewing machine for making clothes and embroidery. Brother SE400's workspace is quite spacious and is lit up brightly that you can see how the embroidery is done. The computerized functionality of this machine makes it perfect even for beginners.
Brother SE400 Features:
67 built-in stitches
70 in-built embroidery designs
Easy computer connectivity
Free arm
Spacious brightly lit up workspace
Automatic threading system
LCD and stylus pen
Quick set bobbin
Automatic thread cutter
Included accessories:
Zipper
Zig-zag
Overcasting
Buttonhole
Embroidery
Button fitting
Free-motion monogramming
Blind stitch
Best sewing machine for advanced sewers:
Brother SE600: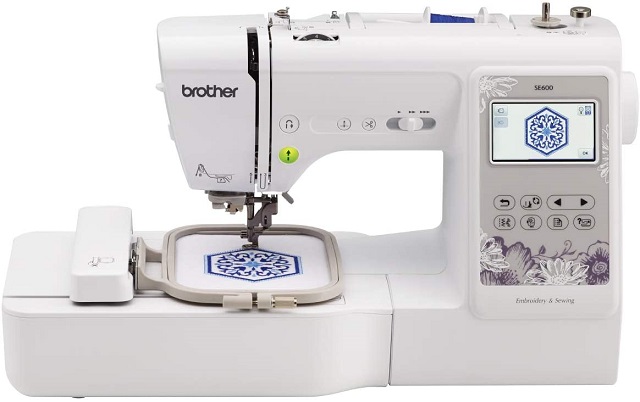 The Brother SE600 has computerized functionality and includes an LCD. Besides the built-in designs, you can also import your virtual designs. The machine has a USB port through which you can import your designs. The machine already has 80 built-in designs and 103 different types of stitches. It also includes decorative stitches like scallops, Greek key, waves, decorative scrolls, feathers, waves, hearts, stars, and many more. The machine also had a 4″ x 4″ embroidery field, most of the sewers prefer. You can easily switch between regular sewing and embroidery.
Brother SE600 Features:
80 built-in designs
103 built-in stitches
Computerized functionality
LCD
4″ x 4″ embroidery field
Automatic threading system
LED-lit workspace
Free arm
Jam resistant
Included accessories:
Zig-zag
Monogramming
Buttonhole
Overcasting
Blind stitch
Zipper
Button
Cleaning brush
SINGER Quantum Stylist 9960: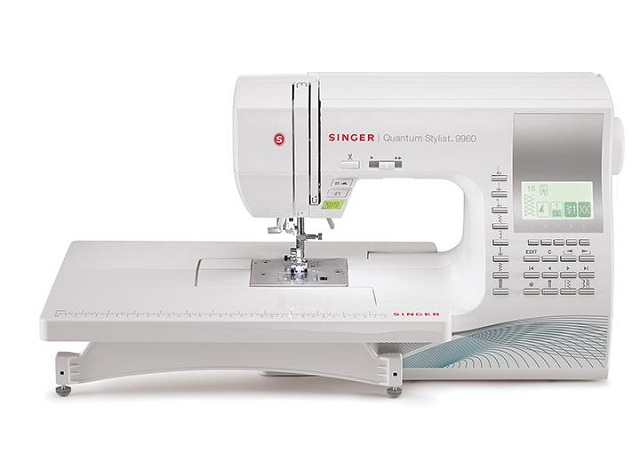 The Singer Quantum stylist 9960 is a computerized advanced sewing machine. This SINGER Quantum Stylist is the best for advanced sewers. The functions and features of the device take your entire project to the next level. The machine has 820 built-in stitches, and these include ten basic stitches, 13 one-step buttonholes, 21 stretch, five alphabets and numbers, and more importantly, 776 decorative stitches. You can even customize and edit your designs and stitches. Besides, you can even keep track of these personalized designs and stitches.
Singer Quantum stylist 9960 Features:
820 built-in stitches
Automatic stitch locking
Extra high-pressure lifter
LED lights
Needle control
Seven segment feed system
Automatic threading system
Automatic thread cutter
Included accessories:
Auxiliary spool pin
Needles
Seam ripper
Bobbins
Lint brush
Soft-sided dust cover
Edge/quilting bar
Thread spool caps
Screwdrivers
Spool pin felt
13 presser foot
Conclusion
After going through our best picks and their features, you can select your best one out of these for sure. If you have specific budget and specifications then you decide accordingly. If we missed any of the best sewing machine then do not forget to add your thoughts in comments.
About author