9 New Features for Android and Wear OS
9 New Features for Android and Wear OS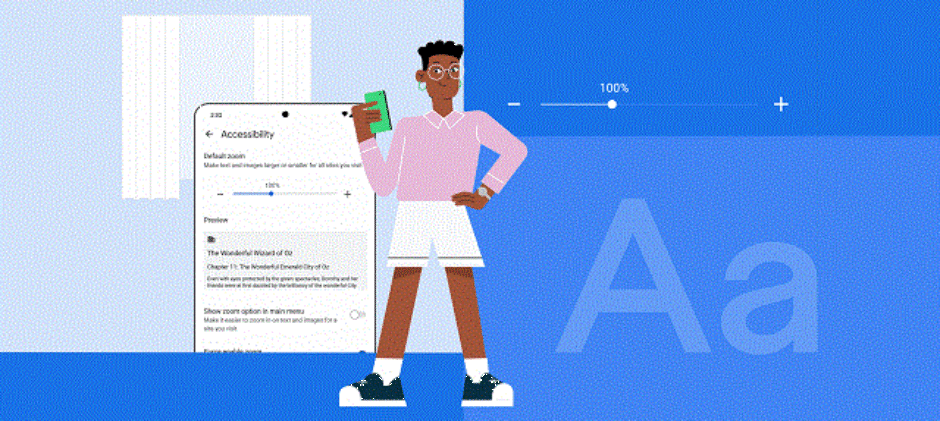 At CES in Las Vegas, Android started this new year by showcasing how to connect mobiles to watches, laptops, TV, and cars easily. It is going to introduce some new updates at this week's MWC Barcelona to improve productivity, accessibility, connectivity, etc. Let's see the nine new features for Wear OS and Android.
Nine new features for Wear OS and Android:
These are the nine new features for Android and the Wear OS.
Fast Pair With Chromebooks:
The upcoming updates will allow you to connect Bluetooth headphones to your Chromebook only by tapping once. There is no need to scan for new devices. If your preferred audio device is connected already to the mobile, you can easily connect this to the Chromebook. If this feature gets implemented smoothly, it will be as easy as pairing AirPods to Apple devices.
New Google Keep Widget:
Soon, you will be capable of adding a single note as a widget on the home display. The widget's function is to add user actions dynamically and follow the colour of the note. Now, you can add an ever-present widget for any grocery list.
Take Notes Using Your Smartwatch:
Users can create & browse notes with the help of the updated Google Keep for Wear OS application on a supported smartwatch using a nifty shortcut. However, you can use voice for taking notes. Otherwise, you may take the help of the on-screen keyboard when you are up for a few finger gymnastics. If you are willing to access the shortcut, your job is to apply the new default Wear OS Watch Face.
Better Readability on Chrome:
Ensure that you are giving the most of your attention to the accessibility features to get the fine-tuning software experience. If you boost the font & icon size to make the Android mobiles eco-friendly, it indicates the blown-up webpages with a broken layout.
In the Chrome browser, increasing the content size for Android is possible. It enables you to adjust the content size up to 300% to play around with readability. You can do so when you preserve the layout of most web pages. If you are willing to examine the feature, you must install Chrome Beta and navigate to the Accessibility options.
Magic Eraser for Everyone:
When the Pixel 6 was launched in 2021, it introduced several fun things, including the Magic Eraser feature. Using the software wizardry, with just a tap, you can make your pictures new & fresh without any unnecessary objects or photobombers. Since the launch of the feature, it has been Pixel-exclusive, because of which it pushed people to use alternative apps. The Magic Eraser feature is now compatible with Android & iPhone as long as you have the subscription to Google One.
Fun Google Wallet Animations:
Whenever you use the Google Wallet app to make payments, you will get to see a few fun animations. The feature is expected to come out quickly with an app update soon. So, you can expect your day to be a little brighter after each transaction.
New Emoji Combinations:
Suppose, you are using Gboard as your default keyboard app. Therefore, you still have not experienced the Emoji Kitchen feature, which can create new emojis. If so, remember that you missed a lot of fun. Users will get the chance to enjoy the new mix-and-match emoji combinations which the Spring update brings. Once you choose two emojis, you can view fun variations that can be sent as stickers.
Noise Cancellation in Google Meet:
The Pandemic has made permanent changes like how people work, and therefore people depend on Google Meet and Zoom platforms for remote meetings. If you want to bury disturbing background sounds, use the new noise cancellation update in Google Meet for Android. With this update, it is possible to bury noise in the background when you talk.
Annotate PDFs in Google Drive:
Now, it will be possible to annotate PDFs directly for Android in the Google Drive app. You need to click on the screen. Then, you should choose the Annotate feature to start highlighting text or other areas in the PDF.
Do you have a stylus? If yes, then you should know that using different ink strokes, you will be able to add various layers of information. Later, it is possible to edit, delete, or save the PDF version to the Google Drive account.
These are the nine new updates in this spring season for Android and Wear OS.
The bottom line:
You should always try to keep yourself up to date to enjoy the new Android features. The wide variety of new announcements in this Spring's Android and Wear OS update, offers a little bit for everyone to enjoy. While a few updates have begun to roll out, a few updates are still underway. By downloading these new updates to your apps, you will be able to get these new and interesting features on the Android device as soon as these will be available.
Frequently Asked Questions
What is meant by Wear OS?
Wear OS refers to the smartwatch Operating system which connects you to what matters most. Wear OS by Google allows the users to write apps that help them in tracking their health as well as fitness goals, staying connected, executing tasks.
What is the latest version of Wear OS?
Google announced a big update in May 2021 at Google I/O to the platform called Wear OS 3.0. It helps to incorporate a new visual design which is inspired by Android 12 and Fitbit exercise tracking features.
How do you install Wear OS on your smartwatch?
If you are going to install this on your smartwatch for the first time, you should follow these steps:
Your first job is turning on the watch.
After that, your job is to open the Wear OS on the mobile.
Then, you have to click on Set it up.
When you use the watch, you should follow the instructions on the screen to select a language and accept the terms of service.
It is essential to follow the on-screen instructions on the mobile until you get to see the watch's name.
Finally, your job is to click on the watch's name. Thus, you can install Wear OS on your smartwatch.
About author