Best DSLR Cameras in 2021: Top 6 Cameras for Any Budget
Best DSLR Cameras in 2021: Top 6 Cameras for Any Budget
Do you love to get started with the DSLR? Or maybe you're a photographer who is looking for the best DSLR to simply rely on all kinds of photographic tasks? Then this post can help you out, whether you are a beginner or pro-level photographer you can find out the best DSLR Cameras of 2019 in this special post.
Usually, DSLRs has been the best and first choice of professional users who love to take excellent high-quality images with the terms of manual control and by taking flexibility in terms of its lens options. Over the years, people often love to get hands-on DSLR mainly because of its helpful photographic features. Even the beginners are more curious to test the automatic functionality of DSLR cameras as it captures the best image.
DSLR cameras generally let you capture sharp & detailed photos, especially in low light areas. So, people love to use this DSLR (Digital Single-Lens Reflex). In DSLR you can use the lens from all angles to take the picture. Its wide-angle lens expands and adjusts according to our settings. That's the great feature of the DSLR devices.
Previously DSLR used to have lots of crazy but modern day's mirrorless cameras are growing incredibly popular as they have more features and offers great benefits in lesser package. But this device will not have a mirror-like DSLR so they mostly replace the optical viewfinder with electronic alternatives. So, it reduces both the size and weight as it uses light lenses. But still, the popularity of DSLR hasn't totally faded yet. Still, lots of pro users love to use these DSLR cameras.
Best DSLR Cameras list of 2019:
As you are searching for the best DSLR cameras you make use of this special post. In this post, we have listed out all the best DSLR cameras after testing dozens of DSLRs which are available in the market.
We've sorted out this best DSLR Cameras list by trying out dozens of DSLRs. This list consists of the best cameras list which is useful for both beginners and pro photography users.
Best DSLR Cameras for Professionals-Nikon D850:
Nikon D850 is one of the best DSLR cameras which fits for most of the users. This model isn't the newest model like other version but it has great features which made this top the list. Its high-resolution sensor, solid body and speedy burst rate have impressed lots of users. Nikon D850 is still the best option for lots of users because of its great benefits and features.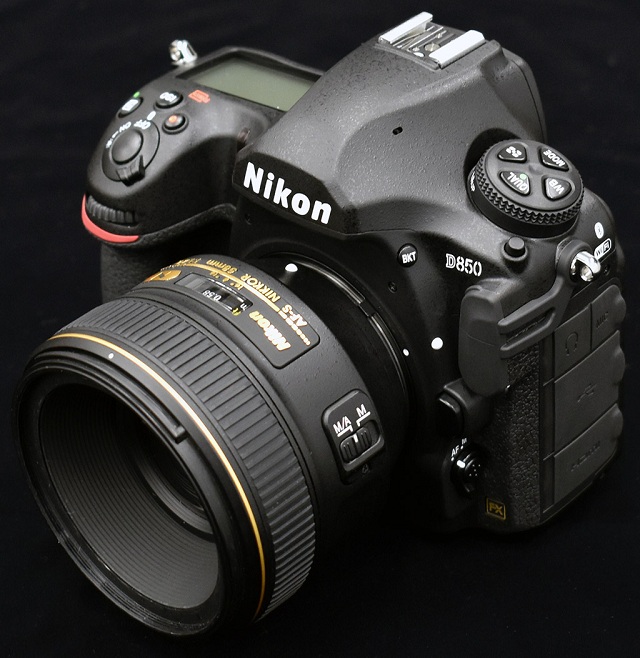 Nikon D850 is a DSLR that can handle just about everything. This special DSLR has even surpassed mirrorless cameras in some aspects. D850 camera is filled with lots of special features which can help capture the best shorts.
It is having a 45.7 Megapixel frame sensor so taking 4k videos at 30p is now easier for video shooters. This device offers an excellent level of accuracy wit 153 points. Along with that its 3D tracking autofocus ability helps you to shoot up 7 frames per second. This is the area where it stays far ahead of mirrorless cameras.
This Nikon D850 is fully sealed so you can work on all climates, whether it may be rain, snow or even dust. It's also having the pentaprism viewfinder so it offers 0.75X magnification. Along with that, you can see the LCD touchscreen as well. Nikon is having Snapbridge 2.0 wireless option so you can use wifi or Bluetooth to handle all the low-level functions like transferring photos, sharing online and so on with your smartphone.
The other notable feature of Nikon D850 is its XQD flash memory which means its faster than SDs cards. This can be used by experts or even beginners as well.
Features:
Mega Pixel: 45.4MP
Auto Focus: 153 point AF, 99 Cross-type.
Sensor: Full Frame CMOS
Screen type: 3.2 inch
Continuous shooting speed: 7fps
Movies: 4K
User Level: Experts.
Key Points:
This camera has stunning image quality.
Blazing performance makes us love this device.
Slow live view 7fps AF Speed.
Second Best DSLR Cameras- Canon EOS 5D Mark IV Camera:
Canon is one of the most popular DSLR brands similar to the Nikon. Now, as we are talking about the best DSLR cameras in 2019. Canon has its own model on this list. It's nothing but the Canon's EOS 5D series DSLR camera. This is a feature-rich camera which has a full-frame photography option which reaches the masses.
The Canon's mark II has unleashed this full HD video capture DSLR for the first time. So, it has been quite popular among photographers. The latest EOS 5D Mark IV is version is far better than the older version with lots of tweaks and updates.
Canon has 30.4 MP Sensor and has advanced 61-point AF system. It also supports the 4k video recording and it's one of the best alternatives for lots of cameras. But the introduction of Nikon D850 has made this device slips a bit. Still, it can be listed on this special list of best DSLR cameras in 2019.
More About Canon EOS 5D
It's the latest member of EOS 5D family and has great design and control layout. With this device, you can capture great images and it also has great performance. This DSLR is well supported with Dual Pixel Autofocus in the live view mode. You can take stunning images in the dim light of evening or morning as well.
Similarly to the Nikon D850, the canon's mark IV version can also shoot continuously at the rate of 7fps but it's not that great as Nikon. This device has dual card slots and supports SD and compact flash devices. Canon has wifi option and inbuilt GPS option for geotagging photos.
Canon 5D series DSLR camera helps filmmaking easier. Although the 5D is not having great features than Nikon but it has dual pixel autofocus features which make it good. However, its lacking 5D LCD screen and other vital features which you can see in Nikon.
Features:
Megapixel: 30.4MP
Sensor: Full Frame CMOS
Auto Focus: 61 point, 41 cross-type.
Continuous shooting speed: 7fps
Movies: 4k
Users: Expert
Key Features:
Canon captures stunning visuals with blistering performance.
It has 61 points advanced AF system
You can shoot 4k videos seamlessly.
Best DSLR Cameras for Beginner -Canon EOS Rebel T7i:
If you are a beginner who is striving to find out the best DSLR cameras for basic level? then this Canon EOS Rebel T7i app will help you out.
The Canon's EOS Rebel T71i is not a newer version but it remains the most effective model for beginners these days. This device is built with the same sensors and autofocus systems like its other expensive version EOS 80D but the only variant available in this version is that it has serious features which are best for a basic level user.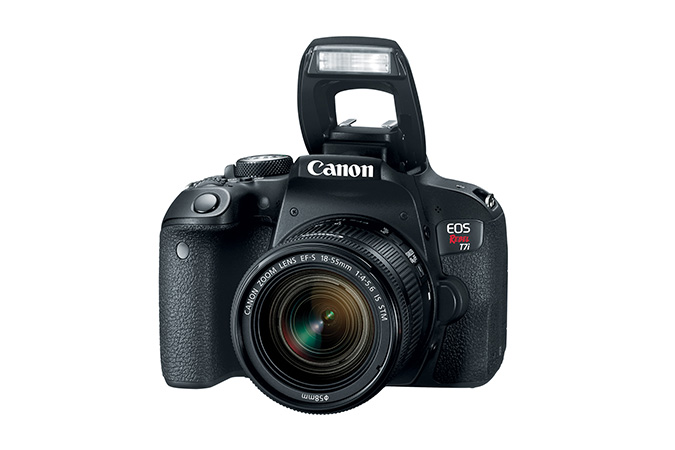 Canon Rebel T7i is having 45-point viewfinder with autofocus and it also has on-sensor dual autofocus which effectively works to shoot videos. This device supports 6fps burst rate and it also keeps its performance higher than other devices. The battery life of this camera is good as you can take around 2000 plus photos.
The performance of the camera isn't the only factor for listing this device in the best DSLR cameras list of 2019. Along with performance, it is great in adding new features assistant menu with various modes. With this device, you can set your exposure settings, effectively with ease. It's a budget-friendly device and best for photo enthusiasts.
Features:
Mega Pixels: 24.2MP
Sensor: APS-C CMOS
Autofocus: 45-point AF, 45 cross type.
Continuous shooting speed: 6fps
Movies: 1080p
User Level: Beginner.
Key Features:
Great Camera for beginner level user.
This camera has a shooting speed of 6fps.
It doesn't support 4k but it gives 1080p.
Canon EOS 80 D:
The Canon EOS 80D is another model of Canon which is great to use. This has a great live view autofocus setting, touch screen, and good battery life.
Canon EOS 80D can't shoot the 4k movie similar to the other version but it can shoot the full HD 1080p with autofocus. This cool device is one of the best for users who don't need 4k. It has some great features such as Dual Pixel Autofocus, Smoother video recording, and more features.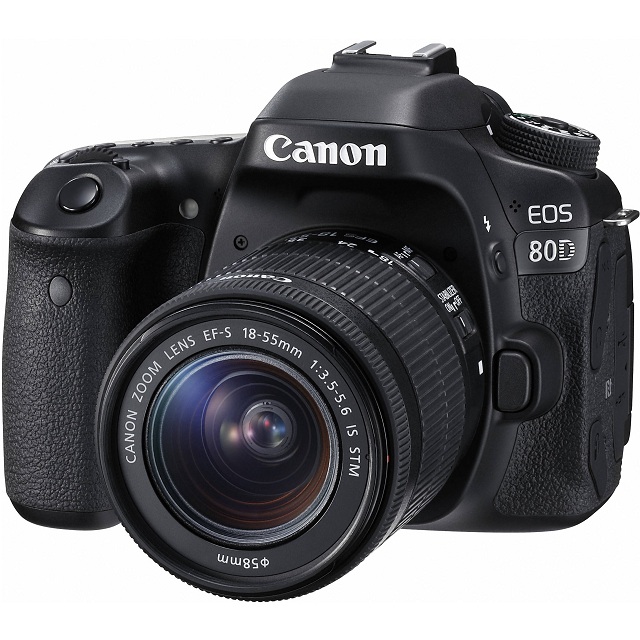 This device has good video quality and has some flexible functionalities. So, it will be helpful for basic users to seamlessly use the device. Although some of the best features are missing in this model but still it stands in the best DSLR cameras list because of its quality and some outstanding features.
This device is having a high capacity battery so it means you have to spend less time while swapping batteries.
Features:
Megapixels: 24.2MP
Autofocus: 45-point AF, 45 cross-type.
Sensor: APS-C CMOS.
Continuous Shooting Speed: 7fps
Movie: 1080ps.
User: Intermediate.
Key Features:
This device can take some great pictures.
You can use this easily with its automatic modes.
Shoot slow-motion videos at 7fps rate.
Nikon D500:
Nikon D500 is one of the most popular cameras which is loved by lots of photographers. It has some great features such as Autofocus of 153 points AF, and 99 cross-type. Along with that, it has 10fps continuous shooting speed rate which is good among the other devices.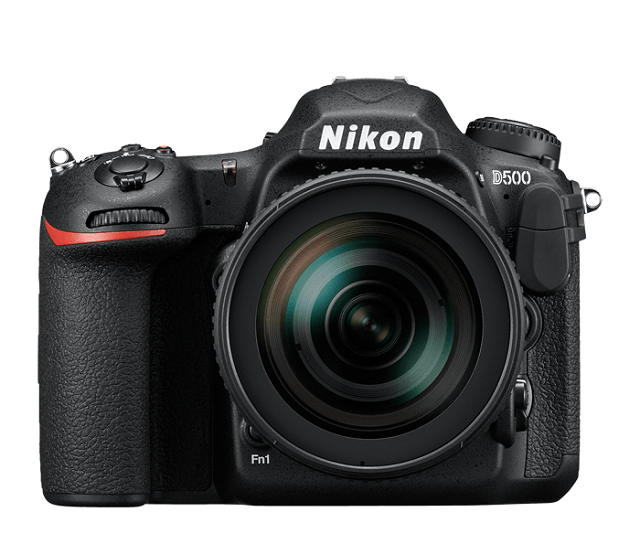 This device is a flagship killer and it has great high-end features for affordable prices. It looks smaller in size but its body is very durable. This is a full-frame sensor camera which is replaced with the 20.9 MP and has brilliant ISO performance.
Nikon D500 can be called as the all-rounder because of its high-performance 153-point AF system. So, you can take action shots on your camera with ease. This is thus far the best camera for action photographers who love to capture actions. The cost of this is slightly lesser than another version so you can make use of that.
Features:
Megapixel: 20.9MP
Sensor: APS-C CMOS
Autofocus: 153 point AF and 99 Cross type.
Continuous shooting speed: 10fps
Movies: 4k
User Level: Expert.
Key Features:
Experts love its 153 point AF system because it can take stunning autofocus pictures.
Its has decent rugged metal body which is harder to break.
This version is relatively having a low pixel count.
Budget Friendly Best DSLR Cameras- Nikon D3500:
If you're searching for a beginner-friendly budget DSLR camera? then Nikon's D3500 is one of the best DSLR cameras you will find out in 2019. Nikon D3500 is one of the lighter cameras in portable DSLR versions. It's even lighter than the Canon's Rebel SL3 camera as well. The design of D3500 is pretty simple and effective so it's loved by lots of photographers.
Nikon's D3500 will still fit in with a 24Megapixel APS-C sensor and it offers great image quality than your normal phone camera. Along with these, it is a budget-friendly camera suitable for lots of people.
This camera is having 5-fps bursts and it also has 11 point viewfinder system which autofocuses with a 151 point system. With this camera, you can take full HD 1080p quality videos. Along with these, it offers great features for starters.
If you think the size and portability is your primary factor then you have to own this best DSLR camera in 2019.
Feature:
Sensor: APS-C sensor
MegaPixel: 24MP
Movie: 1080p
Continuous shooting mode: 5fps
Users: Starters, Intermediate.
Key Features:
Best budget-friendly camera for starters who know nothing about photography.
It has some great automated features for starters.
Conclusion:
These are the best DSLR cameras you can get in 2019. I have mainly concentrated on the World market so i have given two main companies in this list. Pick the best one according to your level of photography skills.
About author