Best Epilator for a Perfect Finish
Best Epilator for a Perfect Finish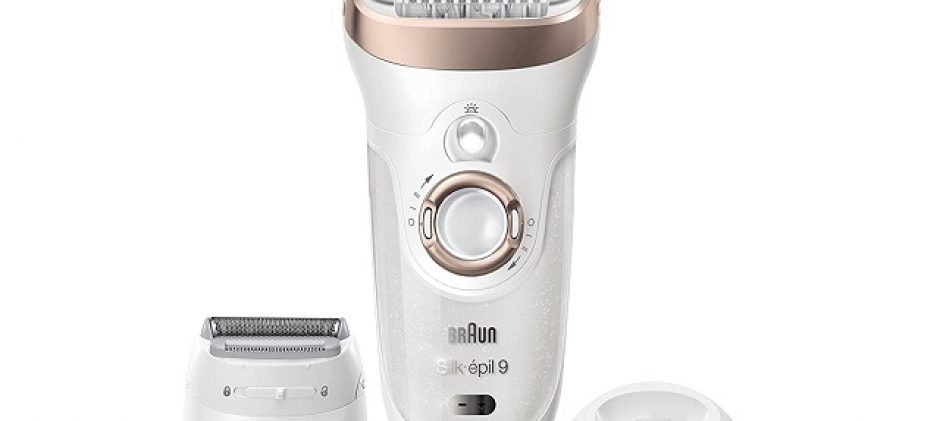 Usually, people use three methods to remove hair that is: shaving, waxing, and lasers. While using these three, we have overlooked a method that is epilating. If you have sensitive skin, then it may not be ideal for you. But if you can tolerate a little pain, then you should go for the epilating procedure. But in that case, you need to use the best epilator. By using these ones, you can remove unwanted hairs from face to bikini.
List of 5 Best Epilator
Braun Epilator Silk-épil 9 9-890
Philips Norelco Satinelle
Braun Silk-épil 5 5-280
Braun Silk-épil 9
Philips Satinelle Advanced
Ranked and Reviewed Best Epilators
Here, we have elaborately described the top five best epilators.
Braun Epilator Silk-épil 9 9-890
If you are willing to buy the overall best epilator, then Braun Silk-Epil 9 SensoSmart  can be the perfect pick for you. It has a unique pressure sensor technology that helps to remove extra hair in one stroke.
It can remove 4x shorter hair. You can use this Braun Silk-Epil 9 SensoSmart even after taking the bath or shower. This body and face trimmer is very effective to remove the hair from the sensitive areas.
Features:
Ultra-fast results: It has a wide epilation head that offers a quicker epilation. It comes with extra features that allows the users to shave, and trim as well.
Epilation in one stroke: Braun Silk-Epil 9 SensoSmart can remove hair promptly even at one stroke. The Micro-Grip technology helps you to do so. Therefore, you will get more efficient epilation.
Gentle Shave: Whether you want to use it to remove hair from the bikini area or underarm, it can offer you the best results. Now, you can remove extra hair from any part of your body with the help of this gadget. It allows you to remove hair from the most sensitive areas such as the knee and underarm.
Shave and Trim: It has a shaver head that makes this best epilator a fully functional shaver. This electronic gadget is complemented with a trimmer cap.
Pros:
Perfect shave in the bikini area
Quick epilation
Cons:
Can create irritation on skin
Philips Norelco Satinelle Cordless

Are you going to a party? Then, you must wonder how to remove body hair quickly without having a skin problem. Philips Norelco Satinelle  can come to your help in this case.
This Philips Norelco Satinelle is the best substitute for waxing and shaving. It can remove hairs from the roots along with reducing hair growth. Now, you don't need to use any razor or hot wax burns.
Features:
21 tweezers:
This hair remover comes with 21 tweezers. With the help of it, you can remove hairs as short as 0.5mm.
Efficient:
Philips Norelco Satinelle  is very efficient to remove body hair. It works as a women's shaver and razor, women's hair remover, bikini hair removal, and so on.
Ergonomic handle: It has an ergonomic handle that is round in shape. It is perfect to handle.
Easy operation:
The main advantage of the Norelco Satinelle is that it can deliver an ideal clean-up. And you can operate it easily. It comes with a round shape that can easily fit in the palm of your hand.
Even you don't need to apply a moisturizing cream to the skin after going through the epilation process. By using it, you can prevent the growth of ingrown hair.
Pros:
Works as a wax alternative
Offers a smooth and stubble skin.
Good for dry skins
Comfortable
Easy to handle
Cons:
Braun Silk-épil 5 5-280
Now, you don't need to go to a parlour to remove the unwanted hair from your body. Now you can do it yourself by sitting in your room. Braun Silk-Epil 5 5-280 Hair Removal, Bikini Trimmer can come to your favor in this case. This gadget has a Close-Grip 40 Tweezer Technology that can remove even 0.5 mm small hair. It is designed especially for dry skins.
This Women, Silk-Epil 5 5-280 is both efficient and long-lasting. It removes hairs from the root of the skin so that you can get a smooth skin. This best epilator comes with massage rollers and a cooling glove.
Features:
High-frequency massage system: It helps to remove hairs with its high-frequency system.
SmartLight: It comes with a SmartLight that can help to detect every small hair and to remove it from the root.
Shaver head: You can see here a shaver head and trimmer cap. These two accessories make it as a superior electric shaver.
Pros:
Comes with a trimmer cap
Works as an electric shaver
Cons:
The motor doesn't work properly.
Braun Silk-épil 9
It is one of the fastest and easy to use one. After using it once, you don't need to shave your body for one month. Let's have a look at the imposing features of it.
Features:
Remove hair in one stroke: Coming with a 40% wider head can offer the best epilation. It has a MicroGrip Tweezer technology that can remove hair 4x shorter than wax. Even you can remove the hair at a length of 0.5 mm.
Pulsating vibration: It has an active pulsating vibrator. With the help of it, the Braun Silk-épil 9 9-561 Wet and Dry Cordless can offer an extra gentle skin sensation.
Pivoting head: It comes with a pivoting head that can offer the best comfort to the users.
Pros:
Can be used for multiple purposes.
Cons:
It takes a lot of time to remove hair.
Large and heavy compared to others
Philips Satinelle Advanced Epilator
Are you searching for an epilator that you can use   to remove extra hair from legs, body, and face? This best epilator contains unique ceramic discs that have excellent rotation speed. You can use the tailored hair removal method to get smooth skin.
Features:
Trimming Comb: When you are going to use it, you can see a bikini trimming comb here. The Philips Satinelle Advanced allows you to use the comb with the shaving head.
Wide epilation head: With the help of an extra wide epilation head, it can grab more hair on the first stroke. Therefore, it can remove the hair quickly.
Delicate Area Caps: The Philips Satinelle Advanced comes with a delicate area cap and a facial area cap. Thou can use these on the upper lip, sideburns, and chin as well.
Pros:
Recharge battery within ninety minutes.
Easy to handle
Cons:
Can't offer excellent performance when the skin is wet.
Conclusion: Our article will let you know about the top five best epilators of 2020. Now, it's your turn to pick your preferable one and be your own salon expert at home.
Frequently Asked Questions: 
Which epilator you should use— wet or dry epilator?
If you have a sensitive skin, then you can use a wet epilator. Whether you want to get a better epilation result, then using dry  will be beneficial. 
How should you prepare your skin before epilating?
You need to wet your skin with warm water for at least ten minutes for wet or bath epilation. For dry epilation, you can use a towel. Here, you need to wipe the skin in the opposite direction of hair growth.
Which one is better to use: an epilator or waxing?
You can use both of these two as these are excellent hair removal methods. However, in case you are very sensitive, then you should not use an epilator. If you can tolerate a little bit of pain, then epilation should be the best option for you.
About author