Kitchen Faucets- Faucet Buying Guide in 2021
Kitchen Faucets- Faucet Buying Guide in 2021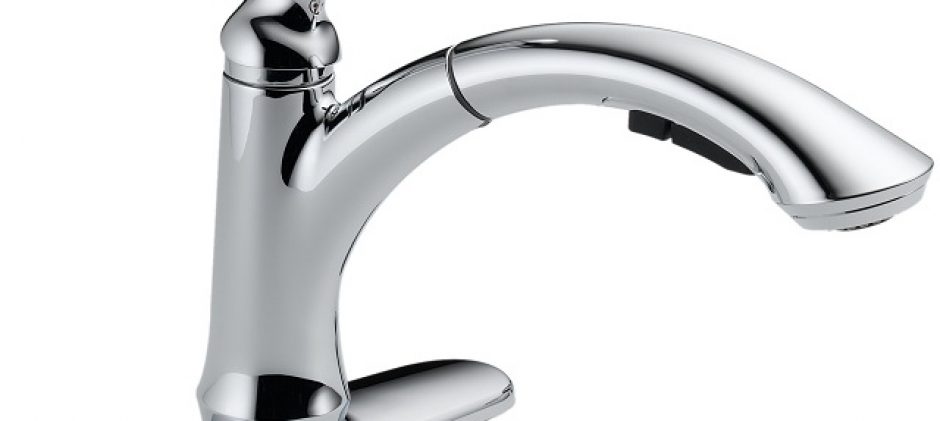 What is a faucet? A faucet is a hand-operated device to regulate the flow of water other than starting or stopping the water flow in a plumbing system. The faucet or a tap is a delivering end device of a plumbing system. Most of the kitchen faucets are larger with a higher arc than the regular faucets, Whereas the Tap can start and stop the flow of water in a pipe-line. Both of them work almost in the same capacity to control the liquid flow through the pipe. With the help of a tap, you can only provide hot or cold liquid but not both at the same time.
Every model of faucet has many different parts based on the need usage etc. The common faucet has the following parts: –
They are:
Spout
Handles
Lift rod or Knob
Cartridge
Aerator
Mixing Chamber
Inlets for both Cold and Hot Water
Most of the faucet body is made of brass, and the external body is chrome plated for an elegant look. Now a day's plastic is also used in the manufacturing process of a faucet. Mostly; body parts of a faucet is made up of brass mainly because it offers high resistance to corrosion and hard water calcification.
Do you know?
The faucets must comply with WaterSense certification and abide by the conservation laws of the country. Currently, the kitchen faucets should not discharge, not more than 2.2 gallons per minute. The average kitchen faucet runs 2.2 gallons per minute, and some good models run 1.5 gallons per minute. Moreover,  the international environmental protection agencies advocate the WaterSense program to use our water resources through more efficient water-saving technologies. Therefore, this will ensure a reliable, sustained water supply for today and tomorrow.
Types of Faucets Based on Cock:
There are various types of Faucets based on their cock, and they are
Angular stop cock
Big Cock
Central Hole Basin Mixture
Concealed stop cock
Concealed stop cock exposed parts kit
DEUTSCH Mixer
Concealed Basin Mixture Wall Mount Exposed
Flush cock
Medical Series (pillar Cock, Bib Cock, and Basin Mixture)
Bath Spout
Mixer Faucet
Pillar Cock Short
The Pillar Cock Tall
Pillar Faucet
Pressmatic BiB Tap
Recessed
Sensor Faucet
Single Lever Diverter
Sink Cock
Sink Mixer
The Single Lever Bath and Shower Mixer
Single Lever Basin Mixer Faucet
A Single Lever Basin Mixer Faucet Tall
Wall Mixer
Based on Application Area:
Anatomy of Kitchen Faucet
Main parts of Kitchen faucet are: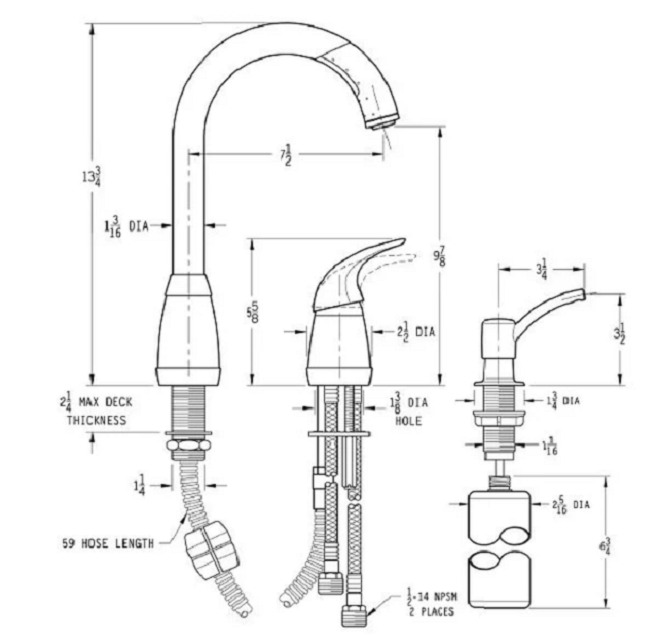 Faucet Lever/ Handles
Cartridge
Cartridge cover or Dome
Spout O rings
Spout
Aerator
Escutcheon
Cartridge/Valve
Faucet Lever/ Handles:
The handle or the Lever controls the flow and turns on and off. The primary purpose of the faucet lever is to open and close the valve. There are various models with Lever on the spout's top, either side of the spout or at the front, or beside the spout. It all depends on the convenience and to add extra charm to the kitchen. Some of the compression-type faucet has double handles. The compression faucets are nothing but a faucet, which has separate handles for hot and cold water.
Cartridge Cover or Dome:
The Dome encloses all internal components like valves and other movable parts of the faucet.
Spout O rings:
The O rings are various types that ensure the joints are against water leaks.
Spout:
The spout is the part that delivers water from the Faucet body. There are distinctive and elegant models in spout shape and design. There are various types of spouts. They are straight and long spout, short spout, gooseneck spout, shepherd crook spout, and more. The straight spout delivers water to the long reach with a low profile, while the short spout provides water to the low reach with a high profile. The gooseneck or high arc shape spout is best suited for filling deep pots. The shepherd crook design offers extra clearance. There are some spouts of elegant design with multiple joints. These multiple joints help the user to turn the water stream to their convenience.
Aerator:
Typically, the aerator is a small mesh screen fitted at the spout nozzle's edge. And, these wire mesh screens regulate and spill the water stream into multiple streams. The aerator reduces the volume of water that flows out the spout. In addition, the volume of water increases the pressure of the water flow and minimizes the splashing of the water in the sink.
Escutcheon:
Escutcheon or the Escutcheon plate is a coated metal plate fixed around the faucet base. Its primary objective is to maintain an elegant and aesthetic look with a neat finish. The Escutcheon rings and plates cover the gaps and give a clean and tidy finish to the fixture. These fixtures come in various shapes, sizes, and finishes.
Cartridge/Valve:
Valve is an internal component of a typical faucet. It regulates the flow of water. In some models, it regulates the temperature too. The regular faucet valve contains two parts. One is moving, and the other one is fixed. The moving part is called the stem, and the fixed part is named the seating washer—both of them working together to regulate the flow of water flowing through them.
There are four types of valves:
Compression valve
Ball valve
Cartridge valve
Ceramic Disc valve
Compression Valve Type
The compression faucet valve is the very oldest type of one. However, they are used in single lever faucets.  In the compression valve, only one seat washer is there. It tightens or loosens against the seat to regulate the water supply in the plumbing line. The more you turn the valve, the open greater the flow of water in the line. In addition, they are very inexpensive, and you can replace individual parts of the valve.
Ball Valve Type
The ball valves were initially meant for the kitchen faucets. They were designed by Delta very first. How ever, they are washer-less valves. Besides, they regulate the mixing of hot and cold water part from controlling the flow of water. They have O rings, balls, and washers to do the job. Since they are having plenty of moving parts, the wear and tear are high. Therefore the leaking of the faucet may happen. The minute debris and mineral deposits may also make the faucet leaking.
Cartridge Valve Type
Cartridge valves are used in most modern faucets. And they were invented by Moen. Besides, cartridge employ in both single and dual lever faucets. Moreover,  the cartridge valve contains a cylinder-shaped part instead of balls. The cartridge is made up of brass or high-quality plastic. There are O rings and channels within the cylinder to regulate the flow of water in the plumbing line. The cartridge valve has more advantages than the other types of valves. Replacing the valves in the cartridge-type faucet is very easy. The main advantage of the cartridge valve is it can work on both single and dual lever faucets.
Ceramic Disc Valve
The ceramic disc valves are the latest ones with more advantages. The ceramic disc valve has two rotating discs. When you turn the lever, they align the channels for the free flow of temperature-controlled water. Though they are costly, they are leakproof because of the properties of Ceramic.  The latest model valves are come up with anti-scald properties.
Popular and Luxury Kitchen Faucet Brands:
Some of the popular Brands are:
Delta
Kohler
Moen
Pfister
Hanggrohe SE
Grohe
Kraus
Glaciers Bay
And more…
Delta Faucet
Delta Faucet is a subsidiary company of Masco Corporation. They are one of the famous American manufactures of Plumbing fixtures. Most of the handle movement of their faucets is in the Greek letter Delta's shape, therefore, the brand name. The worth mentioned product series are here as follows:
They introduced their most successful products Touch2O and Touch2Oxt series, in 2011. The Touch2O came with touch sensors, and the later versions of Touch2O were of hand-free operation faucets with captive sensors. In 2019 they introduced VoiceIQ kitchen faucets that can respond to the user's voice commands with voice assistants like Google Assistant and Alexa.
Even Touch2O faucets can be upgraded to the VoiceIQ module with voiceIQ functionality. Delta Faucet sells the most novel faucets, both with single and double levers. Delta manufactures and markets faucets, bath/shower fixtures, and toilet fixtures.
Kohler
Kohler is the company founded by John Michael Kohler in the year 1873. It is an American plumbing manufacturing company based in the village of Kohler, Wisconsin. In CES 2018, Kohler introduced Kohler Konnect, smart connected plumbing fixtures for domestic purposes. Kohler Konnect uses voice-activated technology to activate your bathroom fixtures, faucets with voice commands.
Their sensate smart faucet dispenses a measured amount of water at the user's voice command. Moreover, in addition to the voice control, the touchless faucet includes a motion sensor that turns the water on and off with the hand movement without touching it. Kohler Konnect smart technologies monitor the water usage and notify the user if there is any unusual water flow.
The faucet's temperature memory stored the temperature of the prior use and turned on the faucet at the prior use of the temperature. Kohler uses premium metals for the durability and reliability of their fixtures that resist corrosion and tarnishing.
Kohler offers premium touch-less faucets, futuristic style pot fillers, Single-hole installation, and bold gooseneck 360-degree swiveling designs to help with all kitchen applications. Their MasterClean Sprayface features do an easy-to-clean surface that avoids mineral buildup.
Moen
Moen is one of the largest manufactures of Plumbing fixtures, including faucets. They are the leading manufacturer of single lever faucets. The company Moen is named in honor of Al Moen, the inventor of a single handle faucet. Most of the Moen faucets are of single-handle design.
From 2010 on words Moen starts using ceramic disc valves. In 2017 Moen introduced Smart Shower Voice Controlled System. They can be controlled with the help of Apple Homekit, Google Assistant, or Alexa.
In 2020 they introduced a Smart faucet with a motion sensor controlled manually and with voice assistants. With their novel designs and state-of-the-art technology, they aim to save 1trillion gallons of water by 2030. Moen's mission is dedicated to designing and delivering beautiful plumbing fixtures that last a lifetime – all over the world. They create a brighter future for water by innovating developing plumbing products that utilize very little water. Moen faucets are the most popular number one product in Northern America.
They offer a diverse selection of thoughtfully designed kitchen and bath faucets, showerheads, bathroom accessories, bath safety products, and kitchen sinks. Moen products deliver the best possible combination of complete innovation, trending style with lasting value products to their consumers. Their best-performing fixtures deliver low lifetime costs for today's best ones.
Pfister:
Pfister, formerly called Price Pfister, is one of the famous manufacturers of bathroom and lavatory faucets, shower systems, showerheads, bathroom accessories, kitchen faucets, and other plumbing fixtures. Now Pfister is owned by Spectrum Brands Holdings Incorporated Hardware and Home Improvement Group.
Pfister kitchen faucets with Xtract technology deliver distinguished-tasting filtered water and regular tap water from a single faucet. They double-time faster than typical water filter products; Xtract uses GE 2X High Flow Filtration, which reduces pollutants such as pharmaceuticals, chlorine, mercury, and lead. They are the First faucet company to be certified by EPA WaterSense technology.
Pfister is the first to market with ceramic discs in shower body sprays that function separately from the diverter valve, helping you save your money. They are committed to manufacturing the best quality plumbing fixtures. Pfister is constantly making improvements through advanced manufacturing techniques and meticulous product testing, make their competitively-priced fixtures even more of value.
Pfister designs their faucets at their laboratory in California. Their products are stylish, of good quality, reliable, and protected by a limited lifetime warranty.
Hansgrohe SE:
Hansgrohe is a German plumbing fixtures manufacturer. In 1901 Hans Grohe founded it in Germany. It is one of the world's largest manufacturers of Bathroom fittings and plumbing accessories.
Since 2012 they have been awarded various design awards, including the Design Award of the Federal Republic of Germany. iF design award, red dot design award, etc.
Their novel-designed kitchen faucets are a gift of a tap with bold charisma. Their minimalist designs add the touch of elegance with state-of-the-art technology to any modern kitchen.
Hansgrohe offers Up to a 5-year warranty by Hansgrohe Products you a long certainty from the purchase date.
Hansgrohe markets its products under Focus N, Joleena, Croma, Pura Vida, and some more. Axor is one the best designer brand delivered by them.
Grohe:
Grohe is one of the top leading global companies for complete plumbing solutions that include bathroom fixtures and kitchen fittings. It develops new products since the inception. Grohe received more than three hundred awards for the designs and innovation in the short span of ten years.
It is the first company that owns the CSR price offered by the German Government itself. Grohe products are a perfect blend of style performance. Grohe uses their disc mixer cartridges Eurodisc in their single-handle faucets. They use their SilkMove technology in the latest single lever faucets cartridges.
Kraus:
Kraus was founded in the year 2007 by two guys Russell Levi and Michael Rokhlin. And, Kraus is a manufacturer of bathroom and kitchen fittings. Their products are beautifully carved reliable and versatile products. Kraus is committed to providing outstanding value to their customer satisfaction in all respects. They are the importer of Chinese-made faucets.
How Kitchen Faucets Differ from Other Faucets?
The difference between the Kitchen faucets and any other faucets is based on their purpose, the sink requirement, and the size. Most of the kitchen faucets are taller for reaching the larger area to wash the utensils more comfortably. Generally, most of the center set kitchen faucets are 8 inches long. At the same time, the bathroom faucets are only 4 inches long. Besides, the kitchen faucets have additional accessories like sprayers, soap dispensers, etc.
The kitchen faucets and sinks come in more style, shape, and sizes based on the Kitchen working area and budget. The purpose of kitchen faucets and bathroom faucets are the same. But their size, appearance, and usability are different. Each type of faucet is designed for a specific purpose; therefore, they are not interchangeable.
The kitchen faucet is slightly larger than the bathroom faucet. Besides, the bathroom faucets have a smaller center set compared to the kitchen faucets. Generally, Kitchen Faucets are taller than bathroom faucets. They are larger than the multipurpose taps with higher arcs.
You have a minimal kitchen area, and you need to wash anything and everything from vegetables to the cooking utensils. But bathrooms are pretty large, and a standard-size faucet can fit into most of the bathrooms.
The critical difference between kitchen faucets and other faucets are the following:
Functionality:
In most kitchen faucets, the water stream from the spout can reach the center and all the edges of the sink. An aerator is a more important one in the kitchen faucet than the bathroom or the laundry faucet.
The bathroom faucet is a straightforward one based on the purpose. But the kitchen faucet is multipurpose, from washing vegetables to cleaning utensils. Therefore, they have many options such as 360-degree rotation, elbow outlet, pull-down spout, pull-up spout, single handle dual handle, pot filler, gooseneck, Bridge model, etc.
The kitchen faucets handle often spaced wider, but it is the opposite for other general-purpose faucets.
The kitchen sinks are designed solely for the purpose of the kitchen utility and match with the kitchen's custom style. Bathroom basins are designed to match the bathroom vanity. Kitchen sinks are having bigger bowls than the bathroom basins.
Installation:
Lying down of the supply lines is pre-installed during the construction. Therefore installation of fixtures and faucets is not a much more challenging job. Replacing or installing a kitchen faucet is a very and straightforward one when compared to the bathroom.
Supply Line:
In kitchen faucets, the supply lines run below the sink. And these lines are passed through the hole on the sinks. Supply lines are open below the sinks for easy access. You can reach them easily on or off the flow of water.
The bathroom supply lines run from the top of them. In most of the bathrooms, the supply lines are laid within the fall, and they are below the bathroom tiles, and you cannot see them other than the fittings.
Size and Height:
The kitchen faucets come in various styles and décor to enhance the kitchen's look and appeal. On the other hand, the bathroom faucets are focused on utility than appeal. Therefore the bathroom tabs long last. Bathroom center sets are smaller, and the taps are 4 inches. Whereas the kitchen faucets are 8 inches long, and the center sets are much larger than the bathroom. The Kitchen sinks are designed for the convenient reach of day-to-day use.
Addition Special Features Some Kitchen Faucets Have:
Apart from the features mentioned above, so many unique features are available for the kitchen faucets.
Can add a soap dispenser to the tap to pump the soap liquid quickly.
Can include a special button knob to adjust the flow of water and the water pressure.
Could include a Garbage Disposal button to trigger the disposal as and when needed.
360- Degree spout swivel can help you to reach out to all parts of the sink easily.
In some Kitchen faucets, you can adjust the angle of the faucet at your convenience.
You can change the stream to any of the best-suited ones, from rudimentary, regular, or spray stream based on the necessity.
Besides, it can include an in-built water filter to get the filtered water for the kitchen faucet itself.
Types of Kitchen faucets:
A best-suited kitchen faucet can transform the appeal of your kitchen. Here are some details to help you to select the correct type of faucet for your kitchen.
Types of Kitchen Faucets based on Handles:
Single Handle:
Peoples live in moderate climate areas mostly prefer single lever faucets. The single-handle kitchen faucet is a popular and more traditional one. This type is the most common one of kitchen faucet control in use today. The single valve faucet has only one handle to regulate the water stream and regulate the temperature of the water.
When you turned on the handle, the valve wide opens the cold water and turn on the hot water and regulate the mixing of them both. When the handle is turned on more, the valve wide opens the hot water line and controls the cold water line to a minimum. By turning the lever, you can regulate the water flow out from the spout and the temperature of the water stream.
Therefore the single lever faucet controls the temperature and the flow of water with the turning of the lever. Most single-lever faucets need one or two holes, requiring only one hole in the countertop for installation. But some latest models come with a mounting plate to cover the additional holes.
The users of single-handle faucets often unknowingly waste energy. In tropical countries, the cold water taps are sufficient, but the users leave the lever in the center for aesthetic symmetry, and a large amount of heat is wasted for no use.
The price of them vary from 25$ to
750$ or more depending on the models and unique accessories like spray type, arc, water-saving feature, the material with which it is made, and the finish.
Double Handle: 
A two-handle kitchen faucet is always used with a three-hole sink. The double lever has two separate handles for controlling the temperature and regulating water flow from the spout. If you have ample space on the countertop, then it is the best choice for you. Since it has more lines, the installation process must be done by a professional. The double lever faucet maintains a more accurate water temperature than the single-handle faucets. Dual handle one requires both of your hands to operate or twice the amount of time you are operating it with a single hand. A dual-handle faucet may consume a lot of water when trying to get a precise temperature of your choice.
If you are having more counter space than the double handle faucet is a better choice. Besides, it will offer a vintage feel. These dual-handle faucets are compatible with pull-out or pull-down sprayers. Moreover, they are compatible with the high-arc spouts too. The double handle faucets are a little costlier than the single handle one.
Ball Type Faucet
The ball-type faucet is a washer-less faucet. Generally, the handle of the faucet rests on the dome-shaped body called a bonnet. And the handle is fixed by a set-screw. It can quickly identify with its single handle that revolves around a ball-shaped cap right above the spout base. The handle controls a metal or plastic ball inside the faucet body. This ball has slots in it. It has O rings and springs loaded with a rubber seal. The cam and cam washers, rubber valve seats, and water-tight seals protect the valve against the leak. The ball's position in the assembly controls the temperature of the water stream coming out of the spout. Since it has more moveable parts within it, it tends to leak very quickly. Delta is the best one of the primary manufacturers of this faucet type.
Disk Type
The disc-type faucets come with quarter-turn technology. It is more durable and long-lasting without any leaks. The ceramic disc cartridges are the latest addition to the faucet technology. The hot and cold water is mixed within the balance cartridge with the ceramic discs' help within the chamber. They are more reliable and of high quality.
The ceramic discs are hard, and they are further coated with high resistance carbon coating (DLC- Diamond-like Coating). The latest disc is made up of Zirconium.
The Delta Diamond seal technology uses a strong coating of diamond powder on the rotating disc to polish the fixed disc during rotation continuously. Diamond seal technology helps the discs scrub away any unwanted choking of minerals that may insinuate the discs' deposit of minerals.
This type of faucets have a pair of slotted discs arranged on top of one another, and the upper disc can be rotated and controlling the flow of and the temperature of the water jet coming out of the spout. The disc needs only 90-degree rotation. When the two discs are aligned, the water will flow through them. Since the discs are made up of ceramic, they are stand up to both extreme temperatures of the water. These discs protect the metal valve of the cartridge from erosion. Most of the ceramic discs are coated with a durable water-insoluble lubricant to ease the lever.
Every time you use the faucet, you need not turn the handle few times. Just a quarter of a complete turn can serve the purpose. Since it is easy to turn on and off with less effort, it is best suited for elderly peoples with physical disabilities. These types tend to cost more compared with the traditional ones. But they are maintenance-free.
Compression Washer Type:
The compression washer faucets are the old model, and it is an inexpensive one. These compression types have two separate handles. Turning on the handle pushes up or down the washer or the seal against the valve to regulate and control the water flow through the faucet. Most of the washer-type faucets use the washer and seal made up of rubber. Therefore it will wear out over a period of time.
This will lead to the leaking of the faucet. The valve is the essential part of the compression washer-type faucet. In the compression type, the valve consists of two parts, namely the stem and the seat. The moving stem is pressed against the seat and regulates the flow of water through the faucet.
The compression value uses the screw mechanism to regulate the water flow. Compression washer types are easy to find. They are very cheap when compared with other types. However, they tend to leak periodically. The washer inside the valve will wear over some time and need to be replaced over time.
Cartridge Faucet
The design of the cartridge of a faucet is a little more complex when compared with the compression type. The hot and cold water lines run-up to the base of the faucet, that feeds them via the cartridge's diverter mechanism. The cartridge Faucet has a hollow metal cartridge within the faucet.
These hollow cartridges have channels to regulate both hot and cold water flow from the plumbing lines. The cartridge faucets are washer-less. It regulates the water flow through the movement of the cartridge.
If you need to replace any of the leaking cartridges, it is advisable to replace both of the cartridges simultaneously. That will save money and labor involved in the single lever models; both hot and cold water is equally released through the spout when the lever is centered.
When moved lever to the left, the cartridge allows more hot water from the hot water line. And when it moved right, the cartridge allows more cold water to flow. The use of these types of faucets is suitable for people with arthritis and kids.
Touch Less Motion Deduction:
Touchless faucets are the latest arrival due to technological advancement. The touchless faucet employ motion sensors to activate the water flow. When you wave your hand before the faucet, the sensor picks up the signal and instantly activates the water flow.
Now a day's most of the public spaces are fitted with Touchless faucets.
Like the traditional models, touchless also come in different styles and sizes. They are varying in finish, special features, water flow, sensor type, and power source. Some touch-less faucets come with more than one sensor.
Not only is it a luxury, but it helps to avoid infections. They help you clean your hands without the worry of transferring bacteria or filth from the faucets' handles. The Touchless motion-activated faucets not only keep you hygienic it saves your time too. This hands-free activation is very much helping full when your hands are dirty.
Since no one is touching the handle or the spout, there is no need for frequent cleaning; due to their convenience and adaptability, most people prefer touchless faucets. Touchless is water-efficient when compared with the traditional one. Some models have the option of custom presets.
It limits the spread of germs or dirt and keeping the faucets more hygienic for everyone's use. They are very water efficient. Most of the standard type kitchen faucet's water flow rate is 2.2 gallons per minute. But it delivers lesser water, therefore more efficiency. The downside is they are more expensive.
Touch On
A simple touch; anywhere on the spout or the handle with your wrist or forearm activate the water flow at a preset temperature. It is very thoughtfully designed to respond precisely every time. With the help of the faucet handle, you can change the temperature settings. LED light at the base of the faucet indicates the temperature of the water. Touch on kitchen faucets are automatic and boost hygiene—the Touch On faucets are designed to fit a 1-hole or 3-hole configuration.
Type of Kitchen Faucet Based on Mounting
Deck Mount Faucets
If you mount your faucet directly to the countertop, then it is called a deck mount faucet. It is not fixed on the wall or the sink. Deck Mount can have single, double, triple, or quadruple holes on the deck. These deck mount faucets provide a pleasing look that is well-suited to any design style.
Deck mount faucet occupies more space on the countertop. Therefore the kitchen must have enough space to accommodate it. It is advisable to leave a minimum of an inch gap or one finger gap behind the cleaning faucet.
 Wall Mount
If you install your faucet on the wall, then it is a wall mount faucet. It needs plumbing lines pre-installed for installing your wall mount faucet. Since it needs professional plumbers for construction plumbing lines on the wall and fixing the sink, most people do not prefer it.
Even attending to a fault in the plumbing line or the wall mount faucet is a tedious job. Though wall mounts are old-fashioned, they give a fresh look to your kitchen. Installing them is not easy as the deck mount one. If it is not fixed professionally, then it will become prone to splashing.
If you wish to save countertop space and provide effortless cleaning, wall mount faucets are the best option. When selecting a wall mount, it is crucial to consider the distance the water spout projects.
A perfect alignment is more critical in fixing the wall mount faucet to avoid splashing and spatter.
CenterSet
It has three holes. Out of three, two for handles and one for fixing the spout. Centerset faucets do not have the adaptability as that of the widespread faucets has. Most of the Centerset faucets are designed for three-hole installation and have two handles four inches apart. The centerset faucets are compact and fit into any sinks and save more space than any other type. Therefore it is best suitable for small space. It is best suited for drop-in sinks and pedestal sinks.
Pull-Down:
Pull down have a high arc with a 360-degree swivel. Besides, Pull down faucet have a high-pressure sprayer.However, it has a tall arc faucet head that pull-down straight to the sink. It has a lengthy hose than the pull-down sprayer. It can be turned around to the side to fill the Pots on the countertop. Besides, tt offers little freedom to move away from your faucet to the other sinks. The pull-down is better for deeper sinks. It needs better clearance. Pull down is a little more expensive than the pull-out tap.
Pull-Out
The kitchen faucet spout will be straight in the pull-out faucet. Pull Out faucets have pull-out spray heads with spray functionality. In a pull-out tap, you need to pull the spray head towards you. It is advantageous to fill the Pots on the counter. Besides, it is less splashing than the pull-down faucet.
In addition, it has a lower profile; therefore, it can be used in a small area countertop or with limited height clearance. Since the spout and the sprayer are centrally placed, it is effortless to handle. And it can cover a wider area than the side sprayers.
Pot Filler
A Pot Filler or a Kettle Faucet is a kitchen faucet located on the cooktops. It has a long, jointed arm that can retract. Therefore, Pot-filler eases your work. You need not lift heavy water pots. Besides, It is convenient. It reduces the strain. But there is an excellent possibility of leaking.
Kitchen Faucet with Side Spray
The kitchen faucet without an integrated side spray is presented with a side spray. It looks like a small toy faucet. Always the side spray is fixed adjacent to the faucet. It is very much helpful in washing larger dishes.
Fusion Style
The fusion-style faucets are ideal if you want to show your kitchen faucet is distinctively different from other regular models. They are well designed to match the interior of the kitchen. Fusion Style faucets deliver quality performance. They offer the best guaranty for their products.
Faucet with Water Filter
Pollutants may contaminate your tap water, but a right Faucet with a water filter can help you to get clean water for drinking and cooking. There are various types of filters available. They are coming as faucet attachments, under sink mounts, and countertop models. Reverse Osmosis filters are better than carbon filters. Some water filters not only work as a filter; they work as a water purifier too. A faucet with a water filter can deliver clean water instantly. If any water filter is employed in your faucet, it will reduce the water flow from the spout. The water is passing through various stages of the filtration system, where the unwanted impurities are removed.
Basin Taps
Basin Taps are of two types Basin Mixer Taps and Basin Pillar Taps. Faucet is the common term in the United States and Tap in British English.
Coldwater Dispenser
Coldwater Dispenser is a gadget that cools the water and dispenses it. In a standard cold water dispenser, a small tank in the machine holds chilled water to deliver cold water instantly with a push of a button. The cold water dispenser needs a continuous power supply and water for refrigeration.
Hot Water Dispenser 
A hot water Dispenser or a boiling water faucet is an electrical gadget that dispenses hot water. The instant hot water dispenser delivers hot water straight from the tap. Hot water dispensers have a small heating element that can boil a small quantity of water very quickly.
For saving power consumption, they do not have any hot tank for boiled water. When the lever is pressed, the cool water flows into the heating chamber and displaces the near-boiling water through the spout. Their advanced filtering system can reduce chlorine taste and other impurities and also remove other dangerous pathogens.
It is mostly fitted in the kitchen to providing minimal quantities of hot water for cooking and warm drinks. The hot water dispenser dispenses instant hot water on demand. The hot water dispenser is ideal for people with limited mobility. They are energy efficient and consume less power than electric kettles.
Soap Dispenser
Soap Dispenser is an add-on device that dispenses soap liquid, power, or foam in small quantities when operated. Foam soap dispensers have double pumps to push both air and soap through minute openings to produce lather. Soap dispensers the add-ons to your faucet; that is available in both manual and automatic versions. An automatic soap dispenser is a hands-free soap dispenser.
Bar Faucet
Bar Faucet or Prep Faucet is smaller in size. It is a convenient addition to your home bar. It is a perfect fit for a smaller kitchen else, where the counter space is limited. Prep faucet usually serves as a workstation if more people are working in the kitchen.
The bar faucets come in a double or single handle, pull out or pull down model.
Based on Material:
Bronze
Copper
Zinc
Stainless Steel
Plastic
Top 12 Best Kitchen Faucets of 2021
Delta Faucet Leland Touch Kitchen Sink Faucet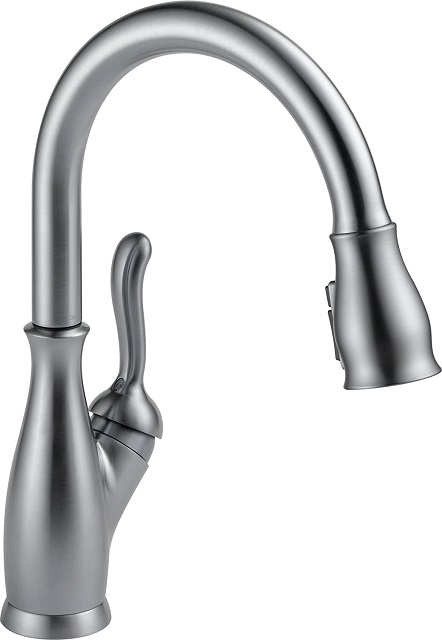 Delta Faucet Leland Touch Kitchen Sink Faucet is a single-handle pull-down kitchen faucet that comes with the latest Delta Touch2O and ShieldSpray Technologies. It is nothing but one more luxury kitchen gadget added. All your two full hands are with a messy finger, do not worry, touch it to ON or OFF anywhere on the Leland Touch kitchen tap.
This novel feature helps you to keep your faucet clean and tidy. Simple touches anywhere on the handle or the spout with the forearm or wrist enable your tap to activate. We can set the preferred temperature with the help of the handle. The LED light changes its color to alert the user to notify the water temperature, thanks to Delta TempSense technology.
Specification:
Leland uses MagnaTite Docking technology for magnetic Docking. Its powerful integrated magnet helps you to pull your faucet spray wand precisely and hold it at your convenience.It helps to hold it docked firmly when not in use. It cleans with perfect precision while controlling mess and splatter thanks to their ShieldSpray technology.
Its powerful jet streams spray out the stubborn messes. It clears off the messes quickly and easily, so you can spend little time in spending soaking, scrubbing, and shirt swapping. Their Diamond Seal Technology patented design reduces leaks considerably and extends the life of the faucet greatly. Its Touch-Clean Spray holes help you to clean the sediment deposits like calcium and lime easily. Delta offers a lifetime limited warranty for its products.
Also, they offer five years warranty for the electronic components. They strictly adhered to the Binational industry-standard laid down. They strictly follow the design guidelines for standard and test performance procedures laid by ASME A112.18.1 of 500,000 cycles. This powerful Leland Touch Kitchen Sink Faucet built by Delta lasts up to five million uses.
Finish: Artic Stainless
Mount: Deck Mount
Material: Zinc
Price: 400$
Flow Rate: 1.8 Gallons per Minute
Spout Reach: 9.2 Inches
Features:
Touch ON, Touch ON- latest Touch2O Technology
LED light – Glowing Blue indicate Touch mode is active, and the Red alerts the batteries are running low
Automatic Shutoff feature for water conservancy
Integrated TempSense LED lights temperature, from blue to magenta to red as temperature increases.
It needs six AA batteries, and the battery life varies from one year to three years.
Intuitive Touch2O technology can differentiate a touch and grab. Thereby avoid any accidental activation.
MagnaTite Docking uses a very powerful magnet to avoid any droop over time.
Double the lift time- patented with Diamond Seal Technology for long life.
Easy Installation- Pre designed to fit single-hole or three holes, 8-inch configuration, with deck plate
Additional Features:
Optional A/C adapter
Can operate manually using a handle with Touch2O functionality
Can adjust the temperature and flow rate with the handle above the deck
20- Inches hose reach
Pros:
Traditional look with the latest Technology
360-degree rotation
Cons:
Not 100% Hands-Free
Moen Arbor One handle Pulldown Kitchen Faucet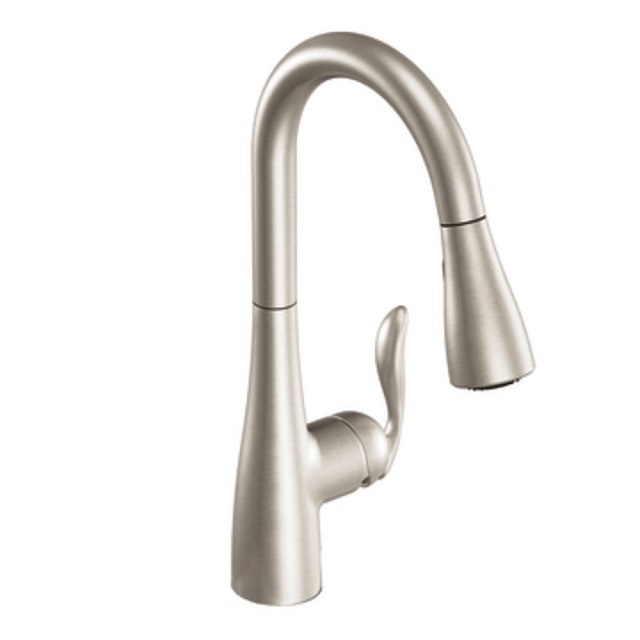 Arbor Spot resist stainless one-handle high arc pull-down kitchen faucet is tailored to perfection by Mohen. The slender flare of the handle and the spout's beautiful curve make a transitional look that matches the kitchen's variety of decorating styles.
It uses a Reflex pull-down system for smooth, friction-free easy movement. Reflex system ensures smooth operation as well as secured Docking. It comes in strong metal construction with various finishes. The suffix of the model name could identify these finishes. It comes with a Duralock Quick Connect water hose system for quick and easy installation. It comes with pullout spray with a long 68 inches braided hose.
Arbor's high arc spout provides maximum reach to fill or clean large pots. Its pullout wand provides good maneuverability for cleaning and rinsing. Arbor has a 360-degree spout with power boost spray technology. The arc of handle travel can control the temperature. It can be operated in stream or spray mode in the pullout or retracted position. The water jet maximum force is 5 lbs.
The backflow of protection in the device has two independent check valves which prevent backflow. Mohen Lifetime limited warranty against leaks, drips, finish defects and five years of limited warranty for commercial installation, and ten years of limited warranty when used in multifamily installations.
Finish: Stainless
Mount: Deck Mount
Material: Steel
Price: 525$
Flow Rate: 1.5 Gallons per Minute
Spout Reach: 7.78 Inches
Features:
Spot-resistant technology to resists fingerprints and water spots for a cleaner look.
Moen's exclusive Power Boost stream technology offers a faster clean and faster fill with the push of a button.
The retractable mechanism enables the Reflex system for smooth operation, easy movement and secure the Docking of the spray head.
The reflex hose automatically retracts from any distance and angle.
Faucet designed to be installed through 1 or 3 holes; escutcheon included.
Complies with California Proposition 65 and with the Federal Safe Drinking Water Act
Limited Lifetime Warranty
Additional Features:
ADA Compliant
Aerated stream for everyday cleaning
Powerful rinse for heavy-duty cleaning
360-degree rotating spout
Pros:
Compact
Long Flexible Hose
Cons:
Low Arc
No Hands-Free Technology
KOHLER Simplice Response Touchless Pull-Down Kitchen Faucet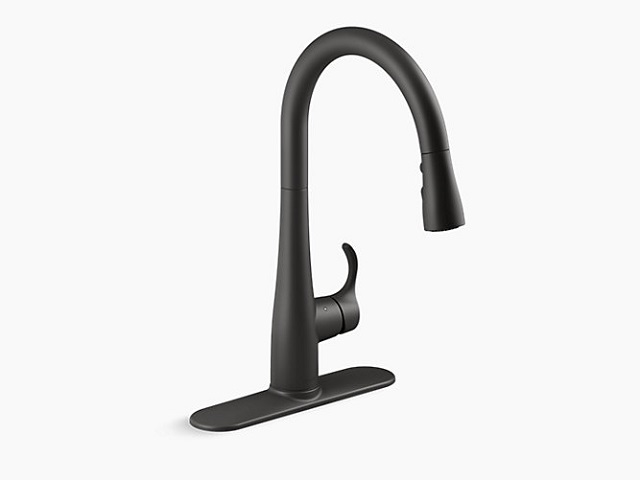 Simplice Response Touchless Pull-Down Kitchen Faucet is a state-of-the-art technology product from Kohler. Its Simplice Touchless faucet enables the speed process of cooking and cleaning in a most advanced hygienic kitchen atmosphere. Their Intuitive Response technologies activate your kitchen faucet with a simple movement of your hand. Its high-quality motion sensor is precision designed to prevent false activation of your faucet. Its Sweep Spray delivers a forceful water blade for easy cleaning, and Boost technology delivers increased water flow for filling pots and pitchers.
Finish: Polished Chrome
Mount: Deck Mount
Material: Chrome
Price: 729$
Flow Rate: 1.5 Gallons per Minute
Spout Reach: 7.78 Inches
Features:
Touchless ON/ OFF activation with the movement of the hand with the state-of-the-art Response Technology motion sensor
LED lights to Indicate, whether the faucet is ready to use
Three functions pull-down spray head
Sweep Spray technology features a powerful blade of water with a specially designed angled nozzle for easy cleaning.
Boost Technology increases the volume of water flow that helps quick filling of water.
Advanced DockNetik magnetic docking control system securely locks the Sprayhead into place.
Its ProMotion technology helps you to handle the braided hose of the pull-down spray head very comfortably.
The MaterClean technology employed withstands against mineral buildup.
Additional Features:
The handle can be rotated to 90 degrees, only not to collide with Backsplash.
Temperature memory allows the faucet to turn on at the prior set usage.
A/C Adopter needed an un-switched Power outlet
Use of Kohler ceramic disc valves durability of the faucet
Lifetime limited warranty.
No false activation
ADA, CSA B651 compliant
Pros:
Hands-Free, Full Touchless
Cons:
Talis S² HighArc Kitchen Faucet, 2-Spray Pull-Down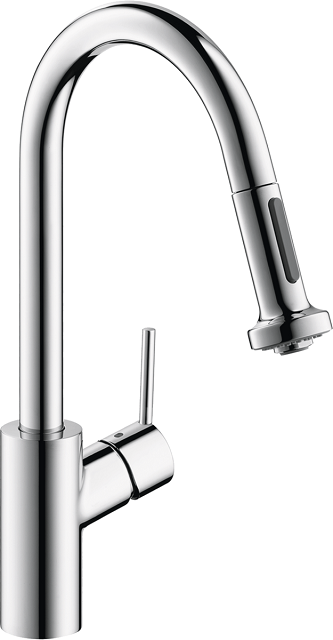 Hansgrohe is one of the leading sellers of innovative kitchen faucets. Talis S² HighArc Kitchen Faucet, 2-Spray Pull-Down faucet is one of the clever kitchen faucets. Its chick design matches the kitchen interior. Talis S² HighArc Kitchen Faucet has a greater operating radius at the sink and targets the water jet more precisely.
Hansgrohe leads in award-winning design with well-thought-out functionality and durability. The German engineering state of the technology has the advantage of lifetime maintenance-free durable operation.
Finish: Steel Optik
Mount: Deck Mount
Material: Steel
Price: 649$
Flow Rate: 1.75 Gallons per Minute
Spout Reach: 12″ Inches
Features:
Silicon aerator and spray nozzles optimize water flow
It can install over the existing multi-hole counter configuration
Pull out hose length 15 inches
Full and Needle spray Modes
150-degree swivel angle
Pros:
Cons:
Need some additional purchase like baseplate
Pfister Pfirst Series 1-Handle Pull-Out Kitchen Faucet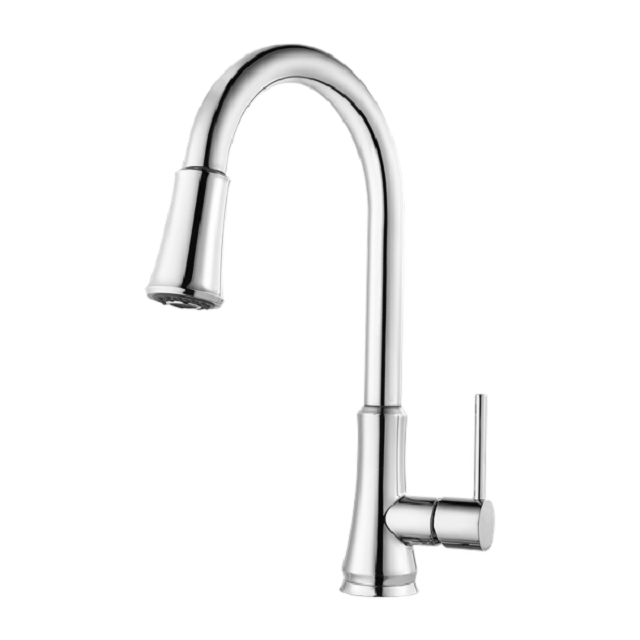 Pfister is a leading brand for the full lineup of faucets for the kitchen. Their Pfirst Series comes in superior design and great value for your money spent. Pfirst Series 1-Handle Pull-Out Kitchen Faucet with advanced ceramic disc valve with amazing never leak guarantee. Pfister faucets for the kitchen come in various finishes to suit any style of decor. Their product complies with NSF/ANSI 372. Pfirst Series 1-Handle Pull-Out Kitchen Faucet comes with a mid-arc spout. Besides, It complies with California Energy Commission (CEC) water-efficiency standards.
Finish: Steel
Mount: Deck Mount
Material: Steel
Price: 185$
Flow Rate: 1.80 Gallons per Minute
Features:
2 Function Spray head with Pull-Out Sprayhead with toggle button to select spray or stream modes
By rotating Lever Handle in a clockwise direction can increase the water temperature to fully hot
By lifting Lever Handle up, the valve will be activated to allow water to flow.
You can change between spray and stream mode by pressing the opposite sides of the Toggle Button
Advanced single control ceramic disc valve with a never leak guarantee
Spout swivels 360 degrees for easy maneuverability
Limited lifetime warranty
Pros:
Reasonably Priced
Lifetime warranty
Cons:
Kraus KPF-1650SS Nola Kitchen Faucet
Kraus Nola Single Handle Kitchen Faucet suits all kitchens from traditional to modern. Its high arc open coil spout and ergonomic Sprayhead create a specialized look with maximum visual attractions.
Sturdy construction and a streamlined shape make this kitchen faucet as stylish as it is durable.
Nola's slim handle adds to the minimalist design while providing the smooth temperature and flow control more efficiently. It comes with a water-saving Neoperl aerator and easy-to-clean rubber nozzles that resist hard water build-up for a long-lasting, powerful flow. It is a lead-free all-metal construction.
Make Kraus Nola Single Handle Kitchen Faucet uniquely yours with a choice of chrome or stainless steel finish. Its mounting deck plate included for 1 – 3 hole installation is optional.
Finish: Stainless
Mount: Deck Mount
Material: Brass
Price: 190$
Flow Rate: 1.8 Gallons per Minute
Spout Reach: 8.63 Inches
Features:
Smooth-Retract Hose and Magnetic Docking system to securely lock Sprayhead
High performance and low flow aerator reduces water usage without compromising pressure
Pull down sprayer with powerful spray and steady stream options
360-degree swivel for complete sink access
Single-Lever design with easy temperature and flow control
Limited lifetime warranty
Pros:
Cons:
Artesso Single Handle Articulating Arm Kitchen Faucet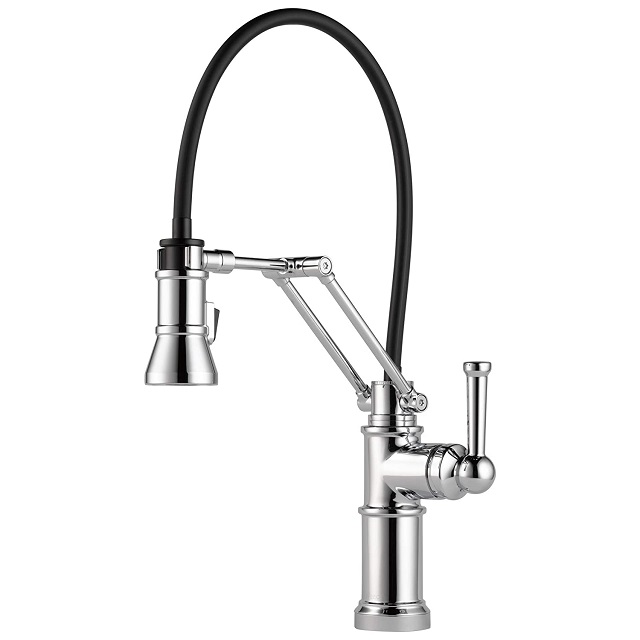 Brizo is a leading luxury fitting brand with more creative and distinctive designs that inspire spaces.
Artesso Single Handle Articulating Arm Kitchen Faucet is one of the high-end collections for the kitchen. Brizo is constantly pushing the limits on design, craftsmanship, and novelty. Artesso single handle articulating arm kitchen faucet is one of the thoughtfully designed and meticulously crafted kitchen faucet.
Finish: Stainless steel
Mount: Deck Mount
Material: Steel
Price: 809$
Flow Rate: 1.8 Gallons per Minute
Spout Reach: 23 Inches
Features:
Dual-jointed articulating arm with semi-flexible hose
Swivel up to 360 degrees
Spray and stream dual function wand
MagneDock Technology magnetic docking system
Pullout spray faucet head
Pros:
Cons:
Delta Faucet Metal Glass Rinser GR250-KS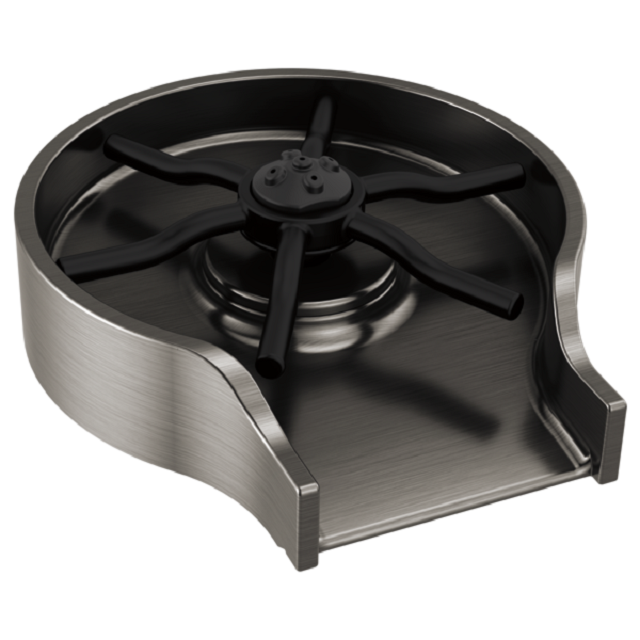 The Delta Metal Glass Rinser rinses residue very quickly, ultra-high-pressure water jets that can easily reach all places. It can rinse baby bottles, wine glasses, and travel cups very safely and perfectly. Metal glass rinser is a very sleek and low-profile one; therefore, it can coordinate with any faucet installed on the countertop.
Finish: Stainless steel
Mount: Deck Mount
Material: Brass
Price: 230$
Features: 
It can rinse all standard drink-wares
The minimum drink-ware opening size is 1 inch, and the maximum size is 3.6 inches in diameter.
Come with a matching finish cover as an accessory to prevent accidental water spray.
Pair with most of the branded kitchen faucets
Lifetime warranty against manufacturing defects
Delta Linden Single-Handle Kitchen Sink Faucet with Pull-Out Sprayer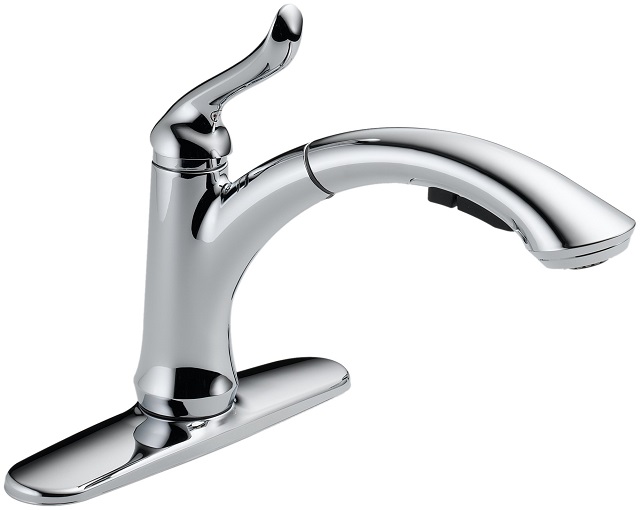 Delta Linden Single-Handle Kitchen Sink Faucet with Pull-Out Sprayer has Multi-Flow Spray Wand which can be toggle from spray or stream at user's convenience.
Finish: Chrome
Mount: Deck Mount
Material: Brass
Price: 286$
Flow Rate: 1.5 Gallons per Minute
Spout Reach: 9.89 Inches
Features:
3 Spray Option
Lifetime limited warranty
Pros:
Cons:
Moen S7170 90-Degree One-Handle High Arc Kitchen Faucet
Moen 90-Degree One-Handle High Arc Kitchen Faucet is ultra-modern styled with a 90-degree bar faucet. Its squared corners and straight lines finish creating an urban focal point to the modern-day kitchen. You need to register at their website to get this product.
Finish: Chrome
Mount: Deck Mount
Material: Brass
Price: 492$
Flow Rate: 1.5 Gallons per Minute
Spout Reach: 8.38 Inches
Features:
Single handle, High-arch gooseneck spout design
Highly reflective mirror finish
The spout can rotate 360 degrees
With the movement of the Lever, can adjust the water flow
Aerated water stream for cleaning
Complies with ADA specifications
Limited lifetime warranty
Delta Faucet Kate Single-Handle Kitchen Sink Faucet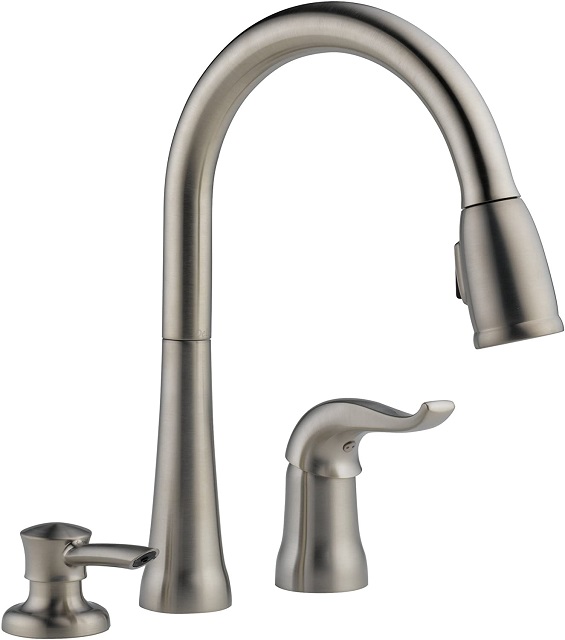 Kate Single Handle Pull-Down Kitchen Faucet with Soap Dispenser is another addition by Delta. Its pull-down moves out freely, which offers total flexibility. As you raise the want towards the dock, the embedded magnet in the spout automatically pulls and fixes the want more precisely at the place.Besides, the diamond seal technology offers touch diamond coating to the valve to reduce the leak. It comes with a matching soap dispenser.Moreover, the soap dispenser of Kate single-handle faucet is easy to fill and easy to clean.
Finish: Brilliance Stainless
Mount: Deck Mount
Material: Brass
Price: 331$
Flow Rate: 1.5 Gallons per Minute
Spout Reach: 9.25 Inches
Features:
The spout is of high-arc, gooseneck design swivels 360 degrees
20 inches tractable hose attached to the wand add more convenience to everyday kitchen tasks
Delta Magntite holding places the wand more securely
Includes matching soap dispenser
Met the Standard set by ADA
Lifetime limited warranty
Pros: 
Cons:
Kraus Bolden Single-Handle, Pull-Down Sprayer Kitchen Faucet Water Filtration System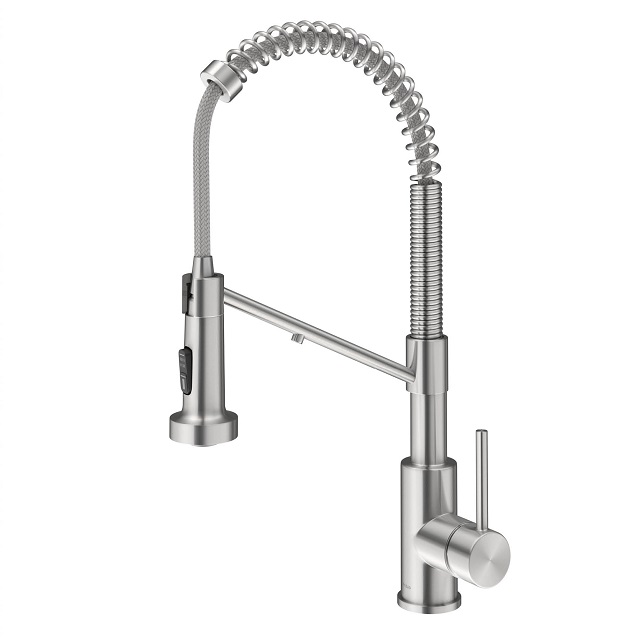 Kraus KFF-1610CH Bolden 2-in-1 Commercial-Style Pull-Down Single Handle Filter Kitchen Faucet for Reverse Osmosis or Water Filtration System eliminates the need for a separate water purifier system. It is designed with Duropure technology. This innovative faucet has two independent lines for regular and filtered water to prevent the possibility of cross-contamination of drinking water. It has under counter water filtration system with reverse osmosis—the rotation of single-handle control both tap and filter water. Bolden creates an eye-catching look with a high arc open coil spout. It offers compact height. In addition, the pull-down sprayer with a swivel adapter provides easy maneuverability. The spray head comes with dual systems of the aerated stream and powerful spray. Bolden has a heavy-duty construction with premium components for long-lasting durability.
Finish: Chrome
Mount: Deck Mount
Material: Brass
Price: 337$
Flow Rate: 1.8 Gallons per Minute
Spout Reach: 9.62 Inches
Features:
2-in-1 Water Filter Faucet
Separate water lines ensure the risk of cross-contamination of filtered water.
Industrial standard open-coil spout
Premium ceramic cartridge tested over 500,000 cycles.
Three functions spout- aerated stream, powerful spray, and filtered water dispenser
Smart handle design
Independent Docking Arm
Wear resistance finish
Easy clean nozzles
Pros:
Cons:
Best Kitchen faucets Buying Guide:
Tips for Choosing the Right Kitchen Faucet:
Before constructing, remodeling, or upgrading your kitchen, you must know most of the popular brands deliver world-class state-of-the-art technology kitchen faucets. Most of them come with a better price with a warranty that covers the manufacturing defects. Nowadays, most brands manufacture unique products; therefore, you need to focus on your need and each model's pros and cons. Select the best one that suits and matches the aesthetic look of the kitchen. But it is necessary but not sufficient condition.
Mounting Holes are What:
Every kitchen sinks come with pre-drilled mounting holes. If you are going to keep your original sink, then go far a faucet match with your sink. If you like to have, you can go with a base plate cover the extra holes for fitting your new faucet. But it is not advisable to buy a faucet that needs more sinkholes than your sink has. Drilling additional holes with the existing one is a bad idea, and it will hamper the aesthetic design.
Spout Styles and Shapes: 
Most of the faucets with straight spouts are compact and cheap. If you need to move a pot to fit within your tap, then you need higher clearance. Therefore you need to select the right faucet for your kitchen sink. Most of the Gooseneck models have high clearance, and the water stream could easily reach the middle.
Keep in mind while selecting the faucet with a gooseneck spout, your sink must be deep enough to avoid flashing. The water stream from the spout must reach the entire sink. Select the right faucet that matches your sink. A small sink with a bigger faucet or a bigger sink with a larger faucet may dilute your kitchen's aesthetic look.
Installation and Repair:
Your fixture design must be easily accessible by a plumber in case of repairing your kitchen faucet. As far as possible, all the hoses and connections must be within the sink cabinet for each reach.
Ceramic Valves:
I prefer ceramic valves. They are reliable and drip-free for years together. However, the faucet with ceramic valves cost the same as that of other type, the long lost.
Finishes:
First and foremost is the finish of the faucet must match with the other fixtures and interior design of the kitchen. Most of the market faucets are of Polished Chrome, Satin, or Brushed Nickel and Bronze finish.
Chrome Finish
Chrome plating is nothing but gives a thin coating of chromium on the faucet through electroplating. Besides, Chrome plating gives a bluish tint. It provides a cool look. Chrome is a most durable finish and very easy to clean. It delivers long-term toughness. It is durable and non-corrosive.
Most people prefer the cool and bluish tint of chrome plating. Those who choose to add a touch of sophistication prefer it. Chrome is preferred for its versatility and durability. It is easy to clean. Some of the faucet manufacturers offer a lifetime warranty to their chrome-finished fixtures. Natural cleaners like vinegar and lemon can clean your chrome faucets very efficiently and effectively.
Nickel Finish
The Nickel gives a yellow or whitish tint and gives a warmer look. Besides, Nickel finish is mainly labeled as a brushed or satin finish. They are harder to clean and have a dull finish. It is not as durable as the chrome finish. They are tending to show the watermarks and fingerprints on the faucets. Nickel plating is also durable and non-corrosive. Nickel finishes give a most traditional and historic look to the fixtures.
Brushed nickel-plated faucet is slightly costlier than chrome faucet. Nickel can tarnish very easily. Cleaning with white vinegar can remove the tarnish on the faucets very easily. Brushed nickel gives a more durable look better than chrome. Polished nickel faucet is very costly when compared to chrome finished and brushed nickel finish faucet.
Bronze and Copper Finish
Bronze faucets are attractive with their warm brownish tone. Since bronze is an alloy of copper, it is antimicrobial. They can kill live bacteria and harmful micro pathogens in the water. Therefore it is clinically better than chrome and nickel faucets.
Bronze faucet has a brownish tone and that often called "oiled" or "rubbed" bronze. The surface of the faucet is having a special coating with epoxy rather than metal. This coating is tough stuff but can be chipped or scratched more easily than metal. Though the bronze and brass faucets are durable, they are also costly. They are also tending to show watermarks and fingerprints on them.
Matte Black Finish
Now a day's matte black finishes are trendy among the kitchen and bathroom fixtures and faucets. These are tending to offer unique metal finishes to the contemporarily designed faucets. Matte Black Finish is versatile and matches the kitchen interior and the fixtures. It is effortless to clean. Matte Black Finish won't show any watermarks or fingerprints on them. They are very costly.
PVD Finished Kitchen Faucets:
PVD means physical vapor deposition. It means the material of the finish directly applies to the faucet using physical vapor deposition. It is a complex process when compared with other traditional finishes. The entire process of offering finish to the faucet undergo in a vacuum chamber in high-temperature plasma. Therefore it is very costly. The PVD finished faucets are scratch resistance, including corrosion. It is long-lasting than any other finishes.
Single Handle Faucet: 
If you are going to buy a single handle, you need to check the wall clearance between the handle and the wall. Since the handle needs complete rotation, the handle may hit the wall behind it. If your sink has multiple holes, then you can fit the spray nozzle and soap dispenser besides.
Single lever faucet is easy to install
Cheap compared to other models
Occupy lesser space than the double handle faucet
They cannot make the temperature adjustments as that of the multi-lever faucet accurately.
Dual-Handle Faucet:
In this type of faucet, separate levers for hot (left) and cold (right) water management. The handle is connected with the Baseplate or separately fixed.
With two handles, you can manage the temperature adjustments more accurately.
The two-handle faucet needs more artistry for installation and repair.
Pull-Out and Pull-Down faucets:
In this faucet type, the spout can be pulled out or pulled down from the faucet head.
These spouts are very convenient and helpful to clean the vegetables and clean the sink itself.
If your sink working space is significantly less than it is not a must one feature for your faucet
Hands-Free Faucets: 
The touch-less, hands-free faucets have a sensor in the front. Hands-free faucet can be used manually by disabling the sensor switch. They have auto-shutoff features. It will automatically shut off after running for a specific time. New touchless faucets have an advanced sensor to eliminate accidental activation.
Very easy to operate
Need not pull the lever
Convenient and clean when your hands are messy
It is not advisable if you have a pet in your home
Some touchless faucets have a complicated design
Pot-Filler Faucets:
Most of the kitchens of hotels have pot filler faucets. Pot-fillers are either wall-mounted or deck-mounted ones. Usually, it is installed nearer to the stove area, and its foldable arms can be folded when not used.
Very helpful in filling the heavy pots without lifting them from the work area
Most of the domestic kitchens do not need it
Bar Faucets:
Most of the high-end kitchens have secondary sinks to free up space at the primary sinks. It will make the kitchen work easier if more than one person is working in the kitchen at the same time. The smaller sink faucet matches with the main faucet and makes the kitchen an elegant look.
More than one person may cook at a time
The kitchen area must be a spacious one
Price:
Most of the traditional faucet and side spray ones can cover the sink deck or the counter. You can get a basic functional tap or the simple one for less than 50$, and you can buy a faucet made up of plastic for less than this price. The high-quality metal one with sophisticated designed faucet is less prone to leak.
Therefore the price range starts from 50$ and very high-end designs are more than 500$ maximum. The middle-ranged popular models can satisfy yourself with more outstanding durability, unique designs with state-of-the-art technology like touchless sensors, magnetic docking for the head sprayer.
If you are ready to spend more money, you can opt for innovative features like voice activation and other intelligent functions. The advanced models come with shield spray mode, LED Light to notify water temperature, auto-off functions, commercial grade heavy duty one with a lifetime warranty against any leaking. Cast brass faucet is crafted from a single piece, and they are costly.
Conclusion:
The kitchen faucets are not only a kitchen fixture but a chance to exhibit your style of living.  Cooking space is often a showpiece that needs some right accessories for the kitchen's feel and functionality. You'll almost certainly live with your new faucet for a long time, so you must love to work with it. Here are some best things to consider before buying the best kitchen faucet for your home.  The work area around the kitchen sink is one of the most used in the kitchen. Therefore a new faucet must be economical, but it must complement the interior of the kitchen. Therefore, be smart and follow the guidelines to find the best fit for your kitchen.
Please contact us if you have any questions or to help you get started with.
About author