Best Electric Chainsaw- Top-Rated & Best-Selling
Best Electric Chainsaw- Top-Rated & Best-Selling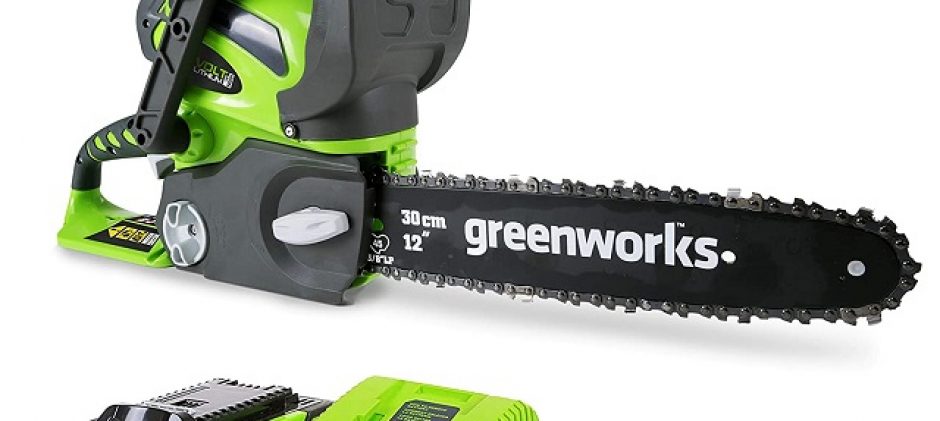 Chainsaw is an portable hand-operated tool. They mostly run on gasoline, or electric powered saw. Latest electric chainsaws are far from the old model in terms of safety and efficiency. Here let us discuss about the best electric chainsaw.
What is an electric chainsaw? 
If you want to finish your yard work, such as cutting the fallen tree limbs or trimming a few fence posts in the proper size in a more comfortable way, you definitely need an electric chainsaw. These products are both lightweight and come in a compact design. And that's why you can carry it easily. These products don't leave any smell of gas. While using this machine, there remains no risk of mixing oil and gas in this case.
How Does an Electric Chainsaw Work?
Mainly an electric outlet or lithium battery gives power to the machine. These ones are powerful enough and can easily handle the tasks. As soon as you plug in the battery, the engine will get the electric current. It helps the rotor to turn at high speed. As a result, it feeds both the chain and the gear to run.
You can operate this machine easily. Oiling or lubricating the chain is the only maintenance you need to do. When you lubricate the chain, it will move smoothly. Lubrication helps the machine from getting overheated. A few models are there that come with an auto-lubrication facility.
Types of Electric Chainsaws
There are two types of chainsaws – corded and cordless. Each of these models comes with specific benefits and drawbacks. It entirely depends upon you which type you will choose and for which purpose you will use it. Here, we have given different types of electric chainsaws. Let's have a look.
Corded
These models have a cord or power cable that you need to connect to at least a 110-volt outlet. These ones are more robust compared to the battery-operated or cordless ones. Corded ones help to cut down trees, small branches, trees, and shrubs. Whether it is a light task or a medium one, these models can offer enough power to complete the task. You can do works like trimming, pruning and cutting firewood by using it. As these models remain attached to a power outlet, you can use these products continuously. You don't need to stop the working process again and again to charge the batteries. These are less expensive compared to other models.
Features:
These models come with 8 to 14.5 amp motors.
You can reach 100 feet maximum from the outlet by using an extension cord.
When you buy a model with an automatic bar oiler, you don't need to worry about the maintenance.
Usually, these ones weigh around 6 to 17lbs.
You can use these as long as you need.
Cordless
As these models come with rechargeable batteries, you can carry these models easily wherever you want. These ones are useful for small tasks. Although the latest models are powerful than the older versions. You can handle moderate tasks by using it. You can use it for light firewood cutting tasks, cutting shrubs, pruning, and trimming. Besides, you can't run these models indefinitely because these ones are battery-operated. However, you can use extra recharged batteries for continuing the task.
Hence, voltage and horsepower are used to represent the motor power. The batteries can run up to two continuous hours after getting fully charged. However, the running time of the battery differs from brand to brand. If you want, you can use many battery sets also. These models are a little bit expensive as these ones are equipped with high-quality batteries. A lot of people prefer to use the cordless ones for mobility.
Features:
It usually offers between 24 to 84volts of power.
The upgraded models come with lithium-ion batteries. But the older ones have nickel-cadmium batteries.
Lithium-ion batteries don't lose power quickly. Due to this reason, most of the users prefer to buy these models. By using these products, you will get high performance while cutting.
The Lithium-ion batteries get fully charged within only one hour.
These models come with a button option that helps you to tighten the chain.
The weight of these models is between 5 to 15lb range.
Advantages of an Electric Chainsaw
The benefits you can get from:-
Easy to Start and Operate
You can operate very easily. First, you need to plug the machine into a power source. And then, check the chain. After checking it, you have to press the 'ON' button. As soon as you press it, the machine starts working. But the gas worked models need motors. These models need the motor preparing and pulling a cord to kick the machine on. The electric ones don't require such things, which is an excellent advantage of it.
Financially Savvy
Those models that use gas need regular maintenance. In this case, you need to buy fuel and spend money again and again. But you don't need to maintain the electric ones.
Lightweight
They are usually very lightweight. And it doesn't become heavy, as there is no need to put away gas or some other fuel.
Less Noisy
Electric model make less noise compared to petrol models. As a result, you can work for a long time without disturbing your neighbors by using it.
Safer
If you are using a gas-powered one, then it can give you kickbacks. It usually happens when you run the blade tip into an object forcing the machine to kick back the operator. These can cause you serious injury. But when it comes to the electric one, you don't need to worry about that. It is because these models come with safety chains that give you the ultimate safety. You need to take a few safety precautions while working with this machine.
Environment Friendly
The gas-powered ones transmit multiple toxic fumes. These are very poisonous to the environment. But the electric ones don't emit any gas. As a result, Best Electric Chainsaw are safe for the environment.
Disadvantages of Electric Chainsaw
This machine has a few drawbacks also along with a lot of benefits.
Less power is the main disadvantage of these ones. Gasoline ones come with two-cycle motors. As a result, this one can exert more power. But these electric ones have merely single powered engine.
As these tools have extreme security measurement, you may face problems while cleaning them.
Top Six Best Electric Chainsaws
The most-demanding and best electric chainsaws are:
DeWalt DCCS620P1 20V Max: Best Electric Chainsaw Cordless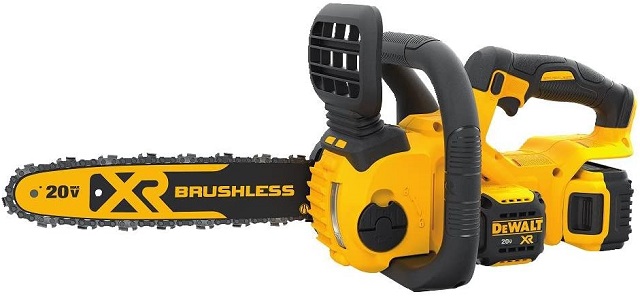 Description: If you need an electric chainsaw for occasional purpose or limited use, it is an excellent option. The dimension of the product is 25 x 9 x 9 inches. The weight of the item is 8.8 pounds.
The chain speed of the tool is 25.2 feet per second. It comes with a highly-manageable 12-inch bar and chain and lithium-ion batteries.
Awesome Features:
Auto Oiling System: This auto oiling system helps to keep the guide bar and chain constantly lubricated. There is an oil level indicator that lets you know about the level of the oil. When the oil level becomes less than a quarter full, remove the battery from the machine. And then, you need to refill it with oil. In this case, you need to use a high-quality bar, bar lubrication, and chain oil. You can use non-detergent SAE30 weight motor oil as a temporary substitute. You can use a vegetable-based bar and chain oil while pruning trees.
Low Kickback: This machine has a 12″ Oregon Bar and chain. This one is beneficial in construction and outdoor cutting applications.
High-Efficiency Motor: This best battery powered chainsaw comes with a high-efficient brushless motor that increases both the run time and motor life.
Chain Tensioning: It has a tool-free chain tensioning and Bar tightening knob. These are advantageous for the proper Bar clamping force.
Compact Design: Most people prefer to use it because of its lightweight design.
Pros:
Lightweight and Compact design
High-efficient brushless motor
Auto oiling system
Cons:
Working speed is very slow.
Makita UC 3530A / UC3551A: Best Electric Chainsaw Corded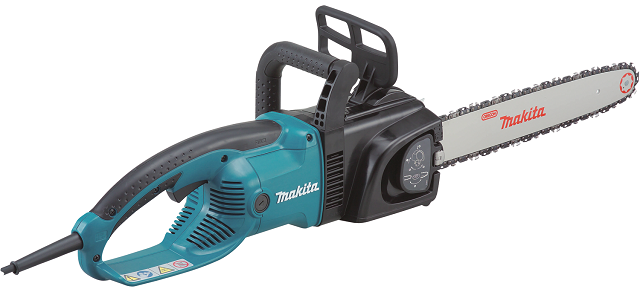 Description: It is suitable for fast and efficient cutting. The corded ones are very easy to maintain. Also, these ones don't need gas to run. The chain speed of the model is 2,900 FPM that can offer efficient cutting and trimming.
The motor of this product contains a built-in current limiter. It is designed in such a way so that the product can protect the motor from burnout. It comes with an electric chain brake that offers the highest productivity. There exists an automatic chain oiler that helps you to do heavy cutting tasks. It has a large oil reservoir along with a view window also. With the help of it, you can check the oil level easily.
Awesome Features: 
Motor: The powerful 14.5 AMP motor of the product offers improved maneuverability.
Superior Oil Pump Design: This outstanding oil pump design will keep the chain oil's delivery constant. Besides, these have One-touch tool-less blade and chain adjustments. You can operate and maintain the machine with ease.
These ones come with a new adjustment lever.
Handles: The model comes with rubberized grip handles. And these have a large trigger switch. The ergonomic design of the product can give you the ultimate comfort.
Automatic Chain Oiler: The product comes with an automatic chain oiler. It makes the product perfect for performing heavy tasks and continuous cutting. These ones come with double insulated that offers protection to the user. The big metal spikes make a stable pivot on the wood.
Pros:
Rubberized grip handles
Auto chain oiler
Cons:
Gets overheated and have a risk of catching fire
Worx 16-Inch 14.5 Amp: Best Budget Electric Chainsaws
Description: The 16-inch cutting reach, a patented automatic tension adjustment, and chain lubrication system make the model exceptional. It is equipped with a powerful 14.5 Amp motor. These ones help you to cut trees that are 14-inches in diameter. The weight of the product is 11 lbs.
It features a no-tip kick. It will stop working when it detects improper contact. Thus, it helps to prevent a kickback and save the user from getting injuries.
Awesome Features: 
Auto-Tension: The patented system mainly prevents the over-tightening process. It boosts the life span of the motor, bar, and chain.
Auto-Lubrication: The process helps to run the chain smoothly. It has an oil-level indicator that notifies you when it needs to be refilled.
Chain Brake: The quick-stop chain brake prevents accidental cuttings.
Handle: It has a full-wrap ergonomic front handle. This handle provides you leverage for both horizontal and vertical cutting.
Modern Technology: The machine comes with cutting-edge technology. It comes in an affordable price range.
Grip: The rubberized rear handle, along with the grip, offers you superb control.
Pros:
Cutting-edge technology
Quick-stop chain break
Auto-lubrication
Full-wrap ergonomic front handle
Cons:
Chain tension mechanism is not so good
Greenworks 12 Inch 40V: Best Light-Duty Chainsaws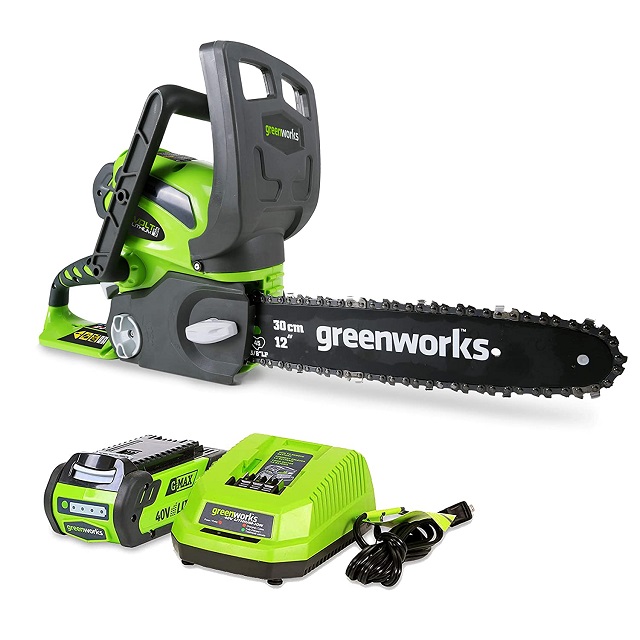 Description: Compared to this brand's previous models, this one gives you 30% more torque. It can reduce up to 70% vibration that is helpful for long-duration tasks. This machine comes with a 12-inch cutting reach.
The weight of the model is 6 lbs. It comes with a sturdy plastic body and a rubberized wrap-around handle. This model comes with a 12-inch steel chain and bar that helps to cut trees from different angles. It is equipped with a 2.0 Ah battery. This machine offers about 75 cuts after getting full charged. The battery can run for two hours.
Awesome Features: 
Lithium-ion Battery: The lithium ion battery offers fade-free power. It doesn't lose any memory after getting charged.
Easy to Use: These ones have a powerful 12-inch steel chain and bar along with a tool-less chain tensioning. You can use this machine easily.
Chain Patch: The 3/8-inch chain pitch helps to trim limbs and cut these with minimal kickback.
Automatic Oiler: This system provides oil to the bar and chain. There is a translucent oil tank so that the users can see the oil level clearly. You can wrap around the handle for multiple cutting positions.
Pros:
Easy to use
Variable speed trigger
Adjustable handle
Cons:
The chain comes off repeatedly
EGO 18-Inch Cordless Chainsaw CS1800: Best 18- Inches Chainsaw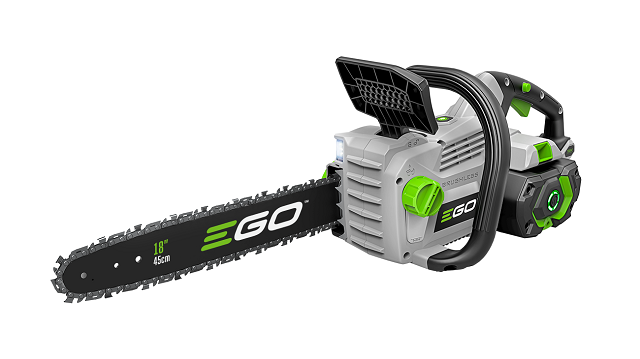 Description: This one is an absolute game-changer in the recent market. It offers superb and efficient cutting.
The dimension of the model is 34 x 9.9 x 9.5 inches. And the weight of the product is 33.4 pounds. The 11000 RPM speed offers the users fast and smooth cutting.
Awesome Features: 
Chain Tensioning System: With the help of the system, you can tighten the chain only by twisting a dial.
Bar and Chain: The 18″ bar and chain help to cut down large branches, stumps, and tall trees.
LED Lights: It comes with bright LED headlights. These can illuminate the area while you are cutting at dusk. Besides, it doesn't make any noises and emits any fuss and fumes.
Pros:
LED lights.
Auto-tensioning chain system
Brushless motor
Cons:
The chain comes off repeatedly.
Batteries are not long-lasting
Oregon Corded Electric Chainsaw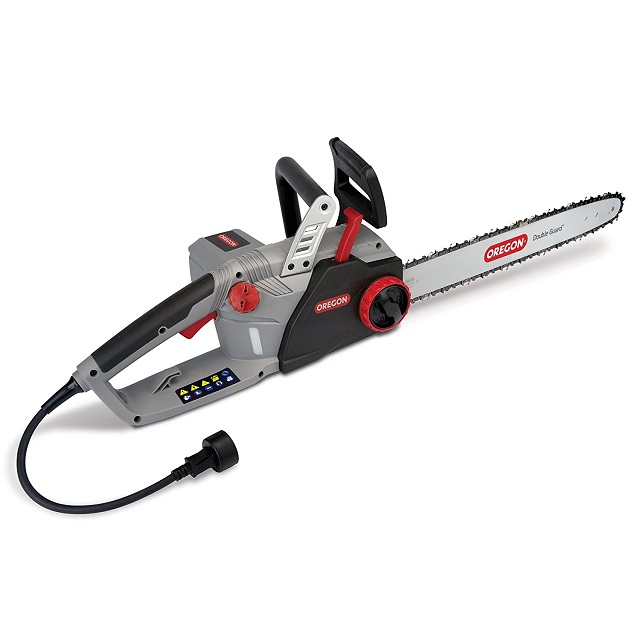 Description: This model comes with a chain brake that gives you safety while cutting. The dimension of the product is 34 x 11 x 10 inches. These ones have an auto oiler and an adjustable tool-less chain tensioner. It has a motor of power 15-amp that allows you to tear through thick hardwoods. There is a handy cord-hook available inside of the handle. It helps to keep the plug apart from pulling out of the extension cord.
It is ideal for those who want a high-power and low-noise model. This one helps you to trim branches and limbs. The machine comes with a 16 inches chain that contains a built-in tensioning ring.
Awesome Features:
Automatic Oiler: The machine distributes oil on the bar and chain using the automatic oiler. By doing so, it helps to keep the machine lubricated and protected from premature wear.
Chain Brake: The chain brake gives you additional safety. It is quite easy to assemble. You only need to put the tensioner on the guide bar. And then, put the bar and chain on the machine.
Lubrication: You need to lubricate the bar and chain. The machine can deliver you an optimal performance. However, you have to prime the oiler before using the machine for the first time. You need to unplug the machine and then remove the bar and chain. After that, you have to plug it into the machine and then use the tool for two to three minutes. The machine stores the oil on the bar pad.
Additional Features: 
This machine creates very low noise. The chain of the product remains oiled always. The built-in Lubri-Tec oiling system helps in this case by decreasing the chain friction. It boosts the run time also. You don't need to take the help of any other tool to tighten the chain.
Kickback: It gives you a reduced kickback to the guide bar. The motor of the product has a 15 amp rating, and the voltage rating is 120 Volt – 60 Hz. The chain speed of the item is 2888 FPM. The product weighs 13.2 lbs ( attaching the guide bar).
Perfect for Professionals: These ones are ideal for professionals who prefer to use lightweight models. The low vibration system gives the machine an aggressive cutting edge. The blued Cutters offer top-quality safety against corrosion.
Pros:
Ideal for professionals
Offers safety against corrosion
Automatic oiling facility
Cons: 
Only after a few minutes of usages, the engine gets overheated.
Hard to assemble.
No proper guidance is given.
Things to Consider Before Buying an Electric Chainsaw
This machine is handy when it comes to cutting down trees or trim branches. But if the trees are too big, a hand saw can't do the job. An electric chainsaw is beneficial in this case. It helps to trim the limbs into small chunks. Here we have given a few points that you need to consider before buying an electric chainsaw.
Guide Bar Length 
Blade size is a vital thing that you need to look for while buying. Different models have different sizes of blades. Large size blades are more useful for cutting large trees. The ideal bar length of an electric chainsaw usually relies on the user experience and the cutting task. Those models that come with 14 inches or below the bar are ideal for lightweight tasks.
For medium-duty jobs, 16 to 20 inches are better. For heavy-duty tasks, 22 to 36 inches are preferable. Make sure that the blade is 2 inches longer than the wood you are cutting. These will prevent you from any kickbacks and injuries.
Blade Speed
You need to look for the blade speed also. RPM means rotation per minute. This unit measures this speed. Blades having faster speed enables you to cut quickly. It gives you a much cleaner cut when you cut trees and tree branches.
You need to choose those ones that have blade speed like 2000 RPM or 3000 RPM. If you are doing any small task, then 2000 RPM is enough. But for the medium-duty tasks, you can choose blades having 3000 RPM speed. However, a few models are thereof which the speed of the blades is measured in FPM.
Oiler Type
It doesn't matter which type of chainsaw it is. Lubrication is a crucial factor that every model needs. When you do oiling frequently, it prevents the model from overheating and damaging. The lubrication procedure depends on the type of model you choose. Usually, there are three types of oiling methods.
Manual Oiler: Here, you can oil both chain and bar. You only need to push a button in this case.
Automatic Oiler (Fixed Flow): This one is a self-oiling system that offers you constant oiling to the components.
Automatic Oiler (Adjustable flow):  It is also a self-oiling system. But this one has an adjusting capability.
Chain Brake System
When the blade hits any hard object, it causes a kickback. You should choose such a model that contains a chain brake system. These prevent the model from spinning. There are two types available – manual and activated.
Manual – The manual ones stop turning as soon as it comes in a touch of physical contact.
Inertia-Activated – In this case, the activated ones stop from spinning while the upward force is encountered. The internal mechanism of this type doesn't need any physical contact.
Chain Tensioner Type
You need to adjust this kind of chain from time to time. It is even more essential for new machines. There have different ways to adjust the chain tension. In these cases, two are famous— one is scrench, and another one is tool-less.
Scrench Chain Tensioner – In this case, you need to use a scrench. It is the combination of both wrench and screwdriver. You will be able to adjust the chain tension by using this tool.
Tool-Less Chain Tensioner – These don't have any special tools. In this case, you can get a knob. The knob allows you to adjust the tension by turning it with ease. 
Buckling Spikes
Buckling spikes are the sharp metal spikes attached to the body of the machine. These are available at the bottom of the guide bar. You can dig the spikes into the tree trunk for support while cutting. With the help of these spikes, you can cut thick trees easily.
Handles
Two types of handles are there – top and rear. You can choose any of these as your preferences.
Rear Handle – You can use these ones when you cut, cutting anything while standing on the ground. It helps cut logs, trim shrubs, small trees, and so on.
Top Handle – The top handle comes to its use while climbing up a tall tree or any elevated platform for cutting. However, you should use these ones only if you have proper training.
Anti-Vibration Feature
When you are going to choose an electric saw, you should check this factor also. The machine allows you to feel the vibration while operating it. This feature helps to operate the unit for a long time.
Quicker Storage
These are far easier to store compared to petrol ones. You need to clean out the machine only. And then, you can return it to the storage container. But for the petrol ones, you need to empty the fuel and oil. After that, you need to remove the spark plug that requires a lot of labor.
Throttle Lock
You should remember to unlock the throttle before going to use these.
Weight
You have to lift the machine while cutting. You should check first how much the machine weighs. And, you should also know how much time the machine will take to complete the task. Depending on these factors, you can choose the one that is suitable for you. These machines usually weigh from 9 pounds to 15 pounds.
Build Quality:
It is also one of the dependable factors that you need to consider. Products constructed with heavy-duty materials such as iron and steel need to last for a long time. Machines consist of carbide tipped chains or blades that offer a much cleaner cut. These allow you to cut trees for a prolonged period.
Safety Features:
When it comes to safety features, several features are there that you need to consider. The electric ones weigh lighter than the gas-powered models. These ones don't emit any harmful toxic emissions. Moreover, these models don't make any noise while working.
Easier Maintenance
You only need to add oil to the chain. And then, it starts cutting timber. This one doesn't come with any engine, and you don't need to use fuel to run this machine. That's why oiling the chain is the only maintenance you need to do. For the battery-powered ones, you just need to charge the battery and then pull the trigger. As soon as you do it, these will start working immediately. Usually, the weight of both the engines and petrol tank make a chainsaw very heavy. But the electric ones don't come with these accessories. As a result, these ones become lighter and easy to use.
Less Kickback
When the moving chain is pinched in the cut, it will cause a kickback. In this case, the contract can trigger a reverse reaction that can cause harm to the user. Therefore, you can lose control of the machine. The electric ones are good in this case. These come with safety chains that reduce the risk of kickbacks.
No Fuel Needed
These ones are run by electricity, and that's why the recovery time of the model is much quicker than the petrol chainsaws. Usually, you need to turn off a petrol chainsaw first. And then, you need to keep it cool before refueling it. But for the electric ones, you need to plug them into a socket. And, these ones emit fewer contaminants also that make it better for the environment.
Quiet Operation
It is also a factor that you should consider while buying. These machines make less sound compared to their petrol-powered counterparts. When you measure it, you will see that the sound range of the electric one starts from 90 up to 102 dB, But for the petrol ones, the range will be between 106 dB to 117 dB. You can use the electric ones in your home to cut wood.
Electric Chainsaw Care
When you use an electric chainsaw, the most important thing you need to keep in mind is that you need to set the chain properly. In most cases, the machines come with an easily adjustable tension knob. You can use a tool also to do it. If you tighten a chain too much, it will get overhead too fast. On the other hand, these may fall off if you don't tighten them properly.
If you are using the machine, you need to give oil to the chain directly. Or you can use a reservoir. These help the chain to lubricate and prevent overheating or binding. You need to check the sharpness of the chain after every use, mainly when you feel that it is not cutting as well as it should.
When you cut wood, it creates dust that can accumulate in the sprocket. That's why you need to keep your saw neat and clean. To do this, you have to remove the cover of the guide bar. And then, clean out the machine after every use.
Why Buy an Electric Chainsaw?
It is not so challenging to select the best electric chainsaw like the gas-powered ones. These don't have diversity and size variations, whereas the gas-powered ones come with size and diversity variations. The corded ones have a limitation of 15 amps. But the gas-powered model comes with larger engines compared to another one.
Choosing the Right Extension Cord and Length for an Electric Chainsaw
Do you have an extension cord? But are you not sure whether it is suitable or not? Then, the first thing you need to do is checking its length in feet. After that, you need to check the gauge that you will mold into the body of the cord. It will look like 10/3 or 12/3. It indicated the gauge and the number of wires that are present inside it. A 10/3 cord indicates a ten gauge. You need to make sure that the cord must have the gauge printed on it. If it is not there, then you must not buy it. Sometimes, manufacturers recommend the maximum cord length of either 50 or 100 feet. But before buying, do confirm that you have checked the user's guide appropriately.
Types
When you buy an outdoor extension cord, there are three types that you need to consider.
Occasional use cord: If you are doing any small projects, then these are perfect.
Frequent use cord:These can handle larger tools. This type of cords is designed especially for heavier use.
Rugged cords: If you are looking for a cord to use in all weather conditions, then these are ideal. These can run high amperage devices.
If you want to run your saw, you have to take the help of an occasional or frequent use cord. It will depend on the amperage and how often you are going to use these.
Other Considerations
You can use a large wire that can offer better performance. Always keep in mind that a lower number of gauge means the size of the gauge is large.
You must not buy smaller than a 16 gauge while using your machine. You should avoid the long extension leads. While using these ones, there remains the risk of danger, as these ones get overheated.
You should never assume that a lead may look large for its diameter that this one has a large gauge. Always try to check the rating first.
Chainsaw Size Differences-
The size of the tool depends on which object you are going to apply it to. For pruning limbs, the size should be 6″ to 10″, whereas for removing branches, you need 8″-12″ size. Those having sizes from 12″-14″ are ideal for cutting small trees and splitting firewood; 14″-16″ size is perfect. You should use 16″-18″ saws to cut medium trees. And for cutting the larger trees, you can use 20 inches and larger chainsaws.
Corded-Electric vs. Battery-Power
Here we are going to discuss corded vs. cordless chainsaws. Let's check out.
Corded Electric Chainsaws
It mainly indicates the electric ones that contain special cords. And you need to plug the cords into a power outlet to start the working process. Homeowners who need to cut firewood, trimming tasks can use this type.
Battery-Powered Electric Chainsaws
It is known as cordless also. These come with rechargeable batteries.
Difference: 
Power:
When it comes to corded ones, you can get better performance for doing heavier cutting tasks. These have more power compared to the battery-powered ones. Usually, people use the corded ones to cut thick branches and small trees. But a few corded ones are there that can cut bigger and tougher trees.
On the other hand, Battery-powered ones have less power. You can use these for light to medium sawing tasks only. Even you should not use those ones for cutting trees. You must not use even the sharpest or best chainsaw for cutting the softwoods that are more than 12 inches in diameter and the hardwoods that are more than 9 inches. These are ideal for trimming and pruning trees. You can use these to cut small trees for firewood.
Interruptions:
When you plug the corded ones into a power source, it runs easily. And in this case, you don't need to refuel or recharge it. This feature makes this machine very convenient to use. These allow you to cut trees as long as you prefer.
But the battery-powered ones have such batteries that can run for one to two hours after running out of charge. You should not use these for multiple cutting jobs. In this case, you need to recharge the batteries every one or two hours. And these will take a lot of time to complete the task as you need to charge the machine.
Price:
The corded ones come at a very pocket-friendly price. On the other hand, the battery-powered ones are more expensive than the corded ones. In most cases, the price depends on the quality of the battery.
Portable:
You need to plug the corded ones into a power source. And that's you can use it in a limited space. These allow you to use the machine and do tasks within 100 feet. But the battery-powered ones don't use power cords. As a result, you can carry this one wherever you want.
Control:
The corded ones have extension cords that make the machine very tough to control. The battery-powered ones don't have power cords that make them easy to operate.
Conclusion:
The electric ones help you to cut trees and tree branches with ease. Also, these are very reliable and don't make too much noise comparing with gas-powered ones. In this article, we have listed the top 6 best electric chainsaws. Check this entire article and pick your desired one.
Frequently Asked Questions:
Are electric chainsaws any good?
These weigh light, and they have a compact design. Besides, these ones don't leave any smell harmful to the environment.
What is the number of amps does an electric chainsaw use?
Amps are used as a unit of power. People use an 8-amp machine for light tasks whereas, for medium tasks, 12-amp is ideal. You should use machines having 15-amp ratings for heavy tasks.
How long can electric chainsaws last?
You can use the corded ones as long as you plug in them. But for the cordless ones, you will be able to use it until the battery remains charged.
Does an electric chainsaw need oil?
No, these ones don't need any oil. However, there is a process by following which you can use oil with your saw. The chainsaw bar and chain need oil to get lubricated.
Are electric chainsaws as effective as gas-powered ones?
People who have plenty of cutting works in a wooded area can use the gas-powered ones. However, the electric ones weigh light. These don't need any fuel. What these models need are the extension cords.
About author