Best Digital Photo Frames in 2022
Best Digital Photo Frames in 2022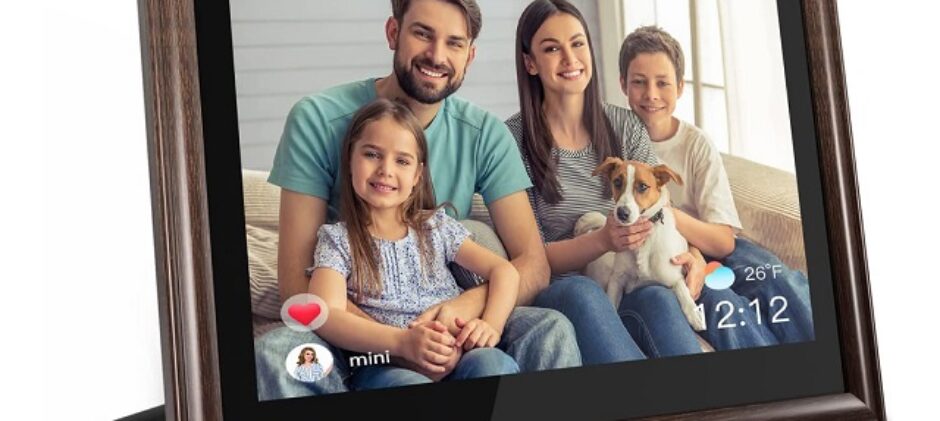 Generally, a digital photo frames comes at a higher price than a standard one. Therefore, it may seem to you that these are less beneficial. But honestly, it can save you a lot of money in the long run. Earlier, these used a USB stick or an SD card to display pictures. But in recent times, the latest models can sync to the best cloud storage platforms or social media. As a result, it becomes easier to import pictures.
These display your favorite snaps immediately, and you don't have to wait to get images printed. Besides, there is no need to purchase a new gadget, and it comes in multiple designs like other classic picture models. Therefore, if you are searching for a traditional-looking gadget or something that looks more modern, it is the best option. However, if you want to buy an electronic photo frame, you need to consider the internal storage required to play sound and video or have WiFi connectivity.
You can use these as a gift. A few gadgets allow you to set up images without taking them out of the box. Besides, a few devices come with large buttons making them simple to use. There is a touchscreen helping you to swipe through images.
In this gadget reviewed article, we have given details of the five best gadgets to help you to decide the style suitable for you. The review includes a few high-end products and affordable choices.
What is a digital photo frame?
A digital photo frame is a type of picture frame that enables you to see images digitally without using a computer or printer. Sometimes, tablet computers can work like these digital media frames.
However, these are designed especially for the stationary, aesthetic display of photographs, etc. In addition, these offer a good-looking frame and a power system to use continuously.
Advantages of Digital Picture Frames:
Each gadget can hold thousands of images, and you can set it up to display your favorite images continuously. Besides, it enables you to make and showcase an animated slideshow to show your favorite pictures.
A few models can automatically adjust the brightness based on the ambient light in the room. Besides, a few ones allow you to turn them off at night. As a result, you can sleep in your bedroom peacefully.
While loading up a gadget with pictures of your loved ones, pets, friends, and your life's memorable moments, you will keep smiling throughout the day. You can use them for your living room, TV room, bedroom, or home office.
Using these frames to display multiple images is easier than making and having to flip through the pages of traditional photo albums, photo books, or scrapbooks.
How to make the most of digital photo frames:
Mind your storage:
If you want to put images, you should check the memory input of your device. It can display only JPEG images on a card, taking the help of a memory card reader. Besides, it can depend on a flash drive connected to a USB port for pictures.
You need to know which one the frame needs before purchasing a model. Whether you don't have additional memory cards or USB port devices, you need to invest more money. If you are willing to save space, you should compress the images. As a result, it will shrink the file sizes resulting in which you can store and display more pictures.
Modern products enable these to sync directly to a computer through a WiFi connection. When it syncs the PC or cloud storage, you will get more space in its internal memory, which is more costly than others. However, you should check the WiFi connectivity options to view if it is possible to sync the selected model with JPEG images on the PC.
Convert your family photos to a universal format:
A few devices can not read the file extensions of PSD and other software. Whether your device does not specify the file extension it supports, you should save pictures on your USB thumb drive in a JPG format or any other universal format like JPG. It ensures that these will display images stored on a USB flash drive or memory cards accurately on different digital frames.
Get benefits of the slideshow feature:
Multiple gadgets come with a slide show feature, and it can change the pictures automatically after a while. Besides, the transitions for images depend on frames. A few models use a simple dissolve effect, whereas a few ones come with dynamic changes between pictures.
You need to see the device instructions to get the interval to display image files. It is possible to customize some slideshow features with the help of remote control feature (if available).
Verify orientation and aspect ratio:
You must see the built-in orientation. A few have only a horizontal landscape orientation, whereas others have a vertical orientation for pictures. It is one of the important buying factors you should consider before purchasing.
In this case, you can go with a keychain-sized model. If you are willing, you can use smaller size models as these provide more detailed images. However, you can use a larger model like a computer monitor. But the issue is that a larger display can make lower-quality pictures look grainy. Therefore, it depends on the size. You should select wisely, relying on the work you will do.
Look for stereo speakers and audio options, if any:
Next, you should see whether your device has options for audio files. A few devices enable you to play music while the slide show progresses, and you should know the audio files supported by its memory card or USB reader.
You can use a universal file extension such as MPEG, WMA, and AVI for audio files on your memory card. Besides, you can place them on USB flash drives or SD cards.
Take care while cleaning:
You should use specific cleaning tools to clean the LCD screen of these gadgets. Go through the care instructions before selecting a cleaning material.
If you don't find names of any materials, you should use one that is suitable for a laptop screen or LCD monitor. You can take the help of dry cotton cloth or a partially dampened electrostatic wipe.
Use a damp cloth to remove the fingerprints of different people. While cleaning, ensure that you should apply water to the cloth directly rather than applying it on the device screen.
Resize and restore images:
You can gift it to someone who prefers to reminisce, and it is a nice gift for someone for its several options for display, music, and photo transition. Besides, if you are willing, it is possible to restore and resize images at the Image Restoration Center. They help to enhance, crop, and recolor the photos and make your pictures best in each size.
How to test digital photo frames:
These are available in a range of specific factors to test. First, you should place them in a series of the same viewing scenarios to assess the sharpness and brightness of their display. In this case, you will need a dark environment, a daylit room, and a bright spot in direct sunlight. After that, use an identical set of pictures and check the accuracy of color reproduction, the clarity of each photograph, and the viewing angles. Finally, you have to consider the proportions of the display and if any cropping affects standard-sized digital images.
You should add a few images to every frame. Hence, you can take the help of an app, memory card support, etc. After that, you should assess the processes to check how it is easy to upload images. Next, you need to know how easy it is to operate and how you can customize the settings. Next, you must find commonly desired options, including customizable slideshow intervals, sleep timers, and color adjustment sliders.
In addition, you need to review the physical design of every frame in some ways. First, you have to unbox it and try every potential orientation & mounting option. After that, it helps you to assess how easy it is to assemble and switch between different positions. After that, you should place them in different locations, including a shelf, desk, and wall. Now, check the footprint & dimensions, and focus mainly on the shape, size, and stand angle, making it simple to position and arrange.
Top Five Digital Photo Frames Products:
Dragon Touch Classic 10: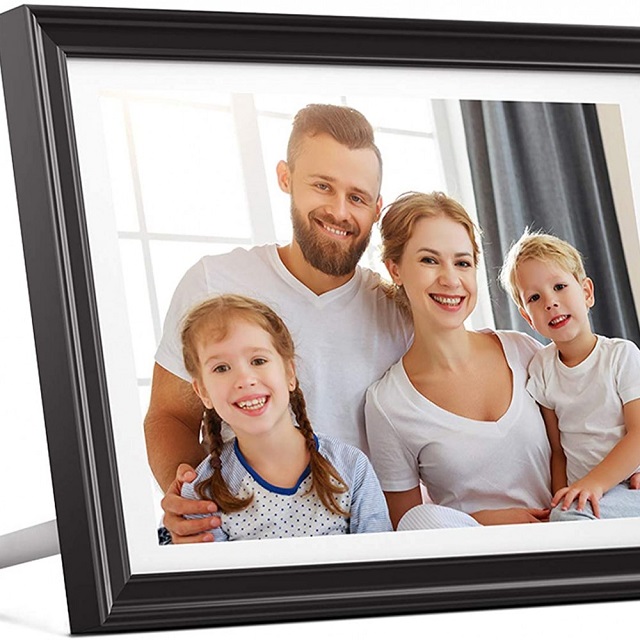 Description: What makes it unique is that the product features a touchscreen, email, FTP and WiFi, USB and SD card slots, and everything you may require. It comes with a 10-inch touchscreen interface enabling you to swipe through images easily. Besides, you can share pictures through its email address, the smartphone app, WiFi, and FTP server or from a USB/SD Card.
You can use its 16GB of internal storage, which is sufficient to store pictures and videos. It will not look out of the office desk, living room, mounted to the wall, etc.
Features:
Keep the bond strong with family: The product can quickly update the life moments with your loved ones. In addition, it keeps you closer to your family members. You can use it as a gift for elders as they feel connected with the young generation.
Fast Wireless sharing: It allows you to receive photos and videos via a WiFi network immediately. But the product supports 2.4 GHz. Several easy-to-use methods are available, which you can use to share moments to the frame. For example, you, your friends, and family members can share images via a phone App, send an email, or turn the frame to a local FTP server.
Excellent screen quality: The product has a top-quality 10.1″ touch screen display offering 1280*800 resolution and a 16: 10 aspect ratio. These features are enough to recall your valuable memories. In addition, it comes with a customized sleep mode and auto-rotate setting that improve your viewing experience. Besides, it allows you to keep itself in either portrait or landscape mode or mount it on the wall.
Simple to use: Its user-friendly interface design is simple to use, and you have to follow a few steps only to complete the setup process. Besides, it has an intuitive touch screen making the usage very simple.
Store multiple pictures: This model has a massive storage capacity with a default 16GB memory. It allows you to store around 40,000 photos of 300KB/pc. Besides, the product is compatible with the SD card and USB drive connectivity, enabling you to read the files. In addition, these let you export the received images and videos for better album management. You should know that it is essential to remove all external devices while resetting the product.
Pros:
Easy-to-use
Touchscreen interface
16GB internal storage
Store over 40,000 photos
Cons:
Video is a maximum of 30 seconds
Facebook Portal:
Description: Whether you are willing to have a product that can provide a good video calling feature, you must go with Facebook Portal. You can invite your entire family to join the video call using the product.
It not only acts as a digital photo frame but also works as a video calling device using your Facebook or Whatsapp contacts. As a result, you can easily contact your beloved ones like family and friends in different parts of the world. This one is simply the perfect option for you.
Features:
Camera: It contains a smart camera that tracks whenever you move around the room. The camera can zoom and pan to ensure you are always in shot. Besides, it enables you to see images on the Portal directly from Facebook or Instagram. In addition, it is possible to load photos onto it from an SD card or USB drive. If you are willing, turn off the camera by pressing the switch while not using it. If you want, remove any recordings that it has heard.
Display: The product comes with a 10-inch display that is responsive also. Besides, it offers good detail and color reproduction. Moreover, its panel is reflective, but sufficient brightness exists to counter glare.
Support Alexa & other apps: It doesn't require a Facebook or WhatsApp account for activation. But the product is compatible with Alexa, Spotify, and family apps.
Simple setup: The polished partner app supports its slick touchscreen interface. Besides, you can download images from Facebook, Instagram, or other smart devices. After that, you need to sort it into albums that you can enable individually.
Pros:
Video calls through Facebook & Whatsapp
Displays images from Facebook and Instagram
Support Alexa, Spotify, etc
Cons:
Smars Digital Photo Frame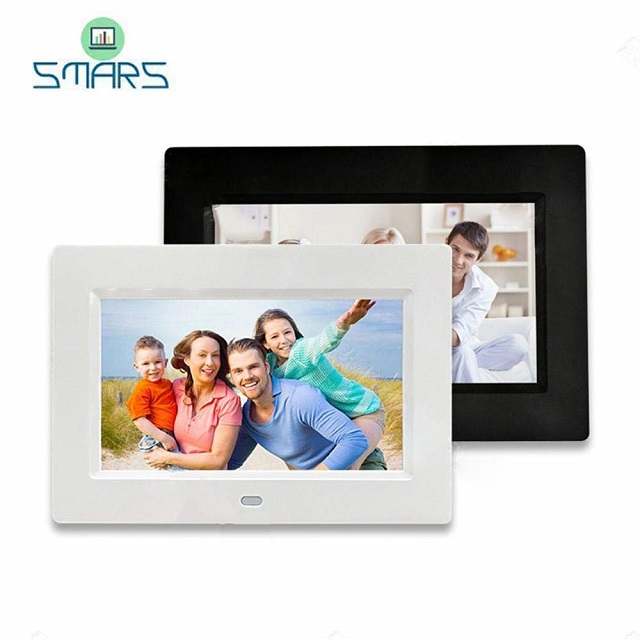 Description: This Smart photo frame is very stylish, and it can keep your images alive. It has default storage that enables you to store favorite pictures and videos in this frame. Besides, it offers a memory card reader and USB support, which help to share your files. In addition, it enables you to play in different display modes.
A high-resolution LED-backlit screen exists, which helps to see images and videos of the highest quality. You can manage the screen as you need using the brightness, contrast, and hue adjustments.
Moreover, it provides four modes to play music and three modes to play videos and pictures. Thus, the product can give a completely personalized experience.
Features:
Ideal to use: It is suitable for your office desk. Besides, if you want, you can use it as a holiday gift for your family members and friends for its Ultra slim design. The product supports images (JPEG) up to a maximum resolution of 8000 x 8000 pixels.
High-definition picture: The product has an 800 X 600 LCD screen that can showcase pictures in top-quality and vibrant color. Besides, it can play MPEG1/2/4, AVI (Divx and Xvid), and M-JPEG video files.
Support different memory devices: You can connect your flash drive to the USB port. Besides, it allows you to slip the SD card into the card slot. Thus, you can enjoy images without sharing any files. In addition, it comes with a 7″ high resolution LED backlight screen.
Multiple display choices: There are plenty of viewing options from where you can select the one you like. The options include slide shows, transition effects, interval time options, zoom in/out, and photo rotation.
Support memory cards: You can use the gadget for SD/MMC/SDHC (up to 32 Gb). It can also provide easy-to-use features and functions such as a calendar and clock and display favorite images.
Pros:
Compatible with memory cards
Simple to use features
Many display options
Cons:
Aeezo 9-inch digital photo frame: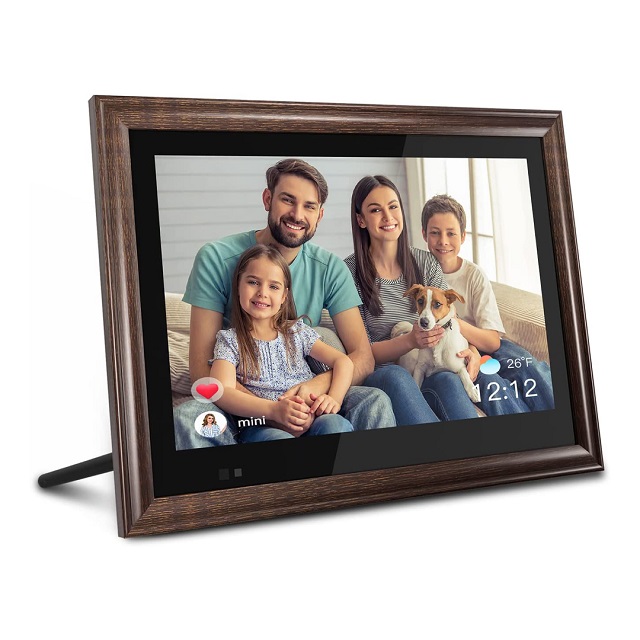 Description: The product comes with 16 GB of internal storage. Besides, you can share images easily using the model. Its default speakers make this an excellent all-rounder. If you are looking for a simple model to set up that comes with plenty of internal storage, go with the product.
It contains default speakers. In addition, you can load images quickly. The product takes a maximum of 60 seconds to unpack from the box and set it up. Besides, you can add pictures either using a USB stick or a memory card. You can download the Frameo app and choose images from your mobile to add pictures.
Features:
Access of code: Anyone can send images to the gadget till they have its access code. It indicates that your friends and family members can share images easily wherever they are, and they have to download the app only.
Touch screen: It has a reactive touchscreen. Besides, it allows you to manage images to ensure that they can fit correctly. In addition, the product will enable you to add videos up to 15 seconds long. Finally, it lets you use its internal speakers to play sound.
Pros:
Fast setup
Add photos using a code
16 GB internal storage
Add up to 15 seconds of videos
Cons:
Add only ten photos at a time
Meural WiFi Photo Frame:
Description: It is a big model that allows you to use it on your office desk or mantelpiece. Netgear, which is famous for WiFi routers, offers this unique idea. They provide large-sized models, available in 29×19 inches and 24×16 inches sizes to hang on your wall. However, this digital photo frame WiFi is smaller than those models but still looks bigger for its 15.6 inches screen.
The product offers a stand enabling it to showcase in landscape or portrait format. Moreover, if you are willing to mount the model in the box, you can do so. Hence, you can also show off your photos, famous paintings, and artworks, making the model unique.
You can get here multiple default pictures like leading museums, artists, and different collections worldwide. In addition, there is an option to subscribe to the Meural Art Library with more than 30,000 artworks.
Features:
Easy to use: The model allows you to upload, crop easily, and showcase your pictures. It offers 15-sec video clips from mobile to frame via the Meural App.
Connect Album: You have to link any image album of your Apple or Android device to this model. After that, you can enjoy new pictures because these are automatically synced to your Meural.
Fast sharing: This product allows you to instantly invite other people to link and share. You can share images automatically with other Meural models.
Secure: It enables you to skip social media and keep your memories private. You can control only and allow those to see your content whom you want.
Schedule viewing: You can schedule images into personalized playlists and play them at different times or on other occasions.
Pros:
WiFi-enabled
Gesture controls
Optional art subscription service
Cons:
Buying guide for the best digital photo frame:
Location:
In most cases, these models come with a stand. But all types of models are not wall-mounted. Besides, a few models support one orientation only, whereas other models are capable of switching from portrait to landscape. Therefore, you should consider the location factor.
Screen size:
It is one of the essential aspects you need to consider before buying a model. The size can vary substantially, from 8 to 13 inches. If you want to place your model easily, you should choose models with smaller displays. However, if you are willing, you can go with more extensive options to get more space for your snaps. But these will not offer high resolutions always. You should select a model around a 9-inch Full HD display.
Control:
A few models provide seamless simplicity, whereas others enable you to manage settings like brightness, sleep schedules, etc. You need to check if your model allows for tweaking, mainly when you are specific about color balance or slideshow transitions.
Smart:
The frames in recent times are usually fully-fledged smart displays. It indicates that these feature voice control, media streaming, and smart home integration. If you want this, additional functionality will rely on other devices already.
Input:
These work the same as a basic media player on a PC. Usually, this model comes with a processor which can read pictures in JPG, BMP, TIFF, and other picture formats. Therefore, it becomes possible to feed pictures into it through different means via internal or external storage.
This gadget comes with internal storage. But if you want, you can store more pictures through external storage input. There are many external storage options like a memory card reader, syncing folders through a WiFi or Bluetooth connection, or a USB memory stick. Depending on picture size and quality, you can use external storage to store hundreds of pictures.
Output:
Ensure that you consider the aspect as it determines how it will showcase and set up the audio & video files. Besides, you need to consider display orientation and transition effects also.
The basic models are simple to set up as you don't have to take the help of external input from the PC. However, if you get output from WiFi syncing, you can edit playback, slideshow, and transition features on the PC. In this case, you should check the model you have selected to see if it enables you to customize displays with the help of installed software.
Orientation is one of the output features that you should consider before buying. All of these have a default orientation, whereas other models have an orientation sensor. It changes how these display pictures relying on how you hold them.
A few models come with a built-in image resizing feature for your pictures. Using the feature, you can transform them into the proper size and aspect ratios, and it enables you to fit the picture without compromising image quality.
Battery:
It can run solely on AC power or batteries. While buying a battery may seem to you an expensive option. But it helps to save your money a lot in the long run, especially while traveling a lot or wanting to have more flexibility in where you can display pictures. So whether you have to consider the portability feature, choose a model that comes with a battery option.
Resize and crop to fit:
While optimizing images, the first thing you have to check is this factor. It is essential to ensure that these are suitable for you. For example, suppose its resolution is 1920×1080, but the images are in 2048×1536. In this case, whether you showcase them similar to this, these will appear stretched or distorted.
If you are willing to fix the issue, your job is to resize and crop the pictures to fit their resolution. While you manage images properly, these will fit better into the frames. You can also save storage space, enabling you to store and display more images.
Additional Features:
Try to buy the best model as it can protect extra bells and whistles, including clock and calendar options. Besides, a few of them offer default cameras allowing you to take images stored onto their memory card to display immediately.
There are a few chosen models which let you print your favorite pictures. Guests or visitors must only tap on the print feature to print the selected image. After that, cloud storage of your device sends it to print through a connected printer. However, you should know that you need to invest more money if you want to have these extra features. But if you are looking for an affordable option, consider the factors you need before purchasing.
The bottom line:
It is a major concern if it will become outdated in the future. But on the other hand, these digital photo frames are simple to set up. Besides, people can mount them on their walls or keep them on a flat surface.
Frequently Asked Questions:
In our world of total media, it is a great way to enjoy, appreciate, and reflect on your images without distraction. However, it is better to go with a dedicated model.
No, these are not outdated as many people use it still now.
Can you text pictures to a digital frame?
You can transfer snaps to picture frames using Google Photos. In addition, a few models like Aura and Nixplay enable you to access iCloud, and Google Drive through the companion app. These let you choose images and add them similarly to what you do in your mobile's camera roll.
About author