Best Thermal Curtains & Drapes Buying Guide
Best Thermal Curtains & Drapes Buying Guide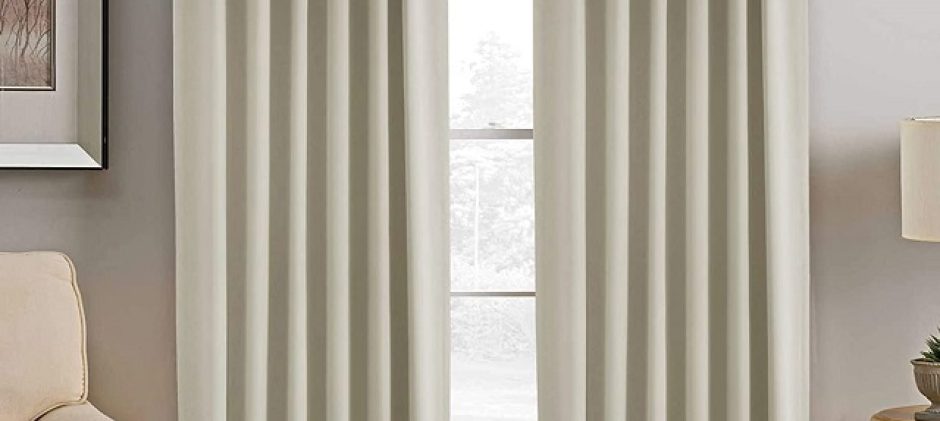 Thermal curtains are thermal insulated curtains. They are of aesthetically pleasing accents for your windows and home décor. It is made up of thick and heavy materials such as cotton or Polyester. The curtain prevents hot or cold air from entering or escaping through your window. Besides, it increases your privacy. Selecting suitable thermal curtains can complement your décor and elevate the look of your interior.
The curtains are made up of many fabric layers with thick padding. It helps to stop air from circulating from the window into the home. These items offer some extra benefits of dampening sound and blocking light along with the insulating effect.
Multiple styles and brands are available in the market, from cheap thermal curtains to top-quality ones. Therefore, you can easily choose the thermal curtains to include some efficiency in the home's heating and air conditioning system. In this article, we have given you the best products available in the market with their best features. You can hang these in bedrooms and test them during cold winter temperatures.
What is a Thermal Curtain?
If you are willing to warm up your home and don't want to break up the bank, a thermal curtain is a good choice. These work as an extra insulation layer in the house. This additional layer of insulation makes them more energy efficient.
When you install thermal curtains in your home, it helps to reduce the amount of money spent on energy bills every month. It also helps to decrease the heat amount lost in the winter and reflect the heat in Summer.
What Are These Thermal Curtains Made of?
These are made up of a double- or triple-layered heavy fabric. Besides, it has an extra backing of insulating material. You can find a polyester-film vapor barrier here.
The curtains are made of wool, polyester, or cotton.
And they are coated with aluminum or acrylic foam on the window side. This additional coating offers protection from UV rays.
Types of Thermal Curtains:
There are different styles of thermal curtains available.
Side-Draw Shades:
This type of product is suitable with big windows, French doors, or doors ( open & closed slide). These open from the left or right side, begin in the middle, etc. A shade seal helps to generate a magnetic seal within the side-draw shade along the side.
Classic Curtains:
These are such types of items that you envision. You can find these curtains with two drapes or fabric pieces connected with a rod. It allows you to open or close the curtains as you want. A few come with ties that contain the material. But it relies on the material and the thickness.
Balloon Shades:
These are given names after the resemblance to balloons. It comes with drapes that contain scallops at the bottom.
Roman Shades:
The window coverings are useful in keeping the sunlight out through the stacking mechanism. When you open these, it looks scrunched up. This type of curtain can easily offer a seamless and smooth appearance if these are down.
Hobbled Shades:
It is a variation of Roman shades, known as a teardrop shade. This type comes with a crinkled and zigzag look even while it is closed. It happens for the pleats that are installed horizontally along with the shade.
Advantages of Thermal Curtains:
You can get multiple advantages when you have a thermal curtain. Due to having many fabric layers, they can offer an additional insulation layer for your windows. Thus, you can save money easily on utility bills.
It has a similar triple-layer design that can help to keep the warm air in and cold air out. When it is Summer, it does vice versa. Besides, it helps to dampen outdoor noise. Thus, it can generate a more peaceful environment also in the house.
These can easily filter out light. If you use darker color curtains, it helps to block the full sunlight. The material can offer maximum privacy for bedrooms.
In addition, these are capable of insulating your windows and helping you to save energy.
Benefits of a Little Additional Insulation:
You can use insulated curtains to offer protection against chilly windows over the winter. These can decrease stress on the heating system and your necessity for heating. Thus, you are capable of keeping the home peaceful.
Greater comfort:
It helps decrease heat loss from your windows by 25 percent. Besides, using them, you are capable of blocking any chilly drafts that come from your windows.
Lower Heating Bills:
As the curtains help hold the temperature in your room, you don't have to run your furnace to adjust the temperature. You can find hotels using heavy, insulated thermal curtains. The reason is that these are very durable, but this also helps to keep the energy costs down.
Less Stress on the Heating System:
When your heating system runs excessively, it sustains more and collects debris.
Sound Insulation:
This helps to block heat loss and outside noise. These are indeed unable to provide you with total silence. But these can muffle the noise of a park or a busy road.
How Should Thermal Curtains be Installed?
Make sure that you have installed the curtains appropriately. When these become more air-tight, they can impede more heat. You should install these beside the window frame. That's why you need to ensure that you have sealed the top, sides, and bottom. Generating a proper seal near the window can decrease thermal transmittal by about 19%. To reduce air infiltration, you should install a cornice or valance on the drape.
Use magnetic tape, Velcro, or hooks to protect them from the adjacent walls and offer maximum effectiveness. You should overlap curtains in the center. It doesn't allow warm air to infiltrate gaps and flow out the window. If you are willing to increase the thermal effectiveness of the dead-air space, you need to take the help of two curtain layers or more than that. The layering enables you to control both air as well as light.
When it is winter, you should open curtains to enjoy the Sun heat during the day. You should do this, especially when you have windows on the west and south sides of a building. Besides, keeping the curtains open helps decrease the buildup of moisture from condensation on the window. As soon as the sun goes down, you should close them to enjoy their insulating properties.
You need to close them during the Summer because thermal curtains for Summer get plenty of sunshine at this time. Thus, you can keep the cooler things inside and secure the belongings from fading from sunlight.
Do Thermal Curtains Work in the Summer?
These are effective in both Summer and Winter. You can use medium- to light-colored curtains with a white, thermally reflective backing. These reflect solar radiation and thus help to decrease heat gain during the Summer.
When it comes to energy efficiency, it depends on the window's orientation. Windows facing towards West and South get the most solar gain. Besides, windows facing North get the least amount of heat.
While installing and using them properly, you can set the air conditioners back to increase energy savings.
Will Thermal Curtains Match Your Décor?
Multiple thermal curtains are there that you can get available in different styles, patterns, textures, and colors. You can easily choose a curtain that can fit your decor. Besides, you can hang them with sheers or other lightweight curtains to offer more decorative options.
There are many thermal drapes available like grommet-top, rod-pocket and pleated. These work with multiple interior styles and are available in different ranges. When you use thermal window coverings, it will keep the interior area comfortable and complement your décor.
How Do You Hang Thermal Curtains?
When you hang these, make sure that you are using the correct size. Besides, you should ensure that the curtains near the windows casing offer sufficient coverage. It helps block the passing air through the window and doesn't allow it to enter the room.
Ensure that you have hung curtains closer to the wall so that there should not be any gap between the curtains. As a result, air can not pass between them, due to which you are capable of mounting the curtain rod closer to the wall.
Do Blackout Curtains Insulate like Thermal Curtains?
In most cases, thermal types are also blackout ones. It indicates that these are insulated like typical thermal curtains, i.e., thermal insulated blackout curtains. If curtains are not thermal type, then the blackout ones will insulate. The main objective of the blackout curtains is to keep light out of the home instead of insulating. But the thermal ones are used for insulation purposes. However, these types insulate in one way or another.
If you are confused about which one you need to choose, then your issue is the dependent factor. Whether you are willing to keep the natural light out although your home is insulated, then you should choose blackout curtains. However, if your home has drafty windows, you need to use thermal types. Finally, you can say that thermal types will work like blackout ones, but not vice versa.
Top Five Best Thermal Curtains: 
Best Home Fashion Thermal Blackout Curtain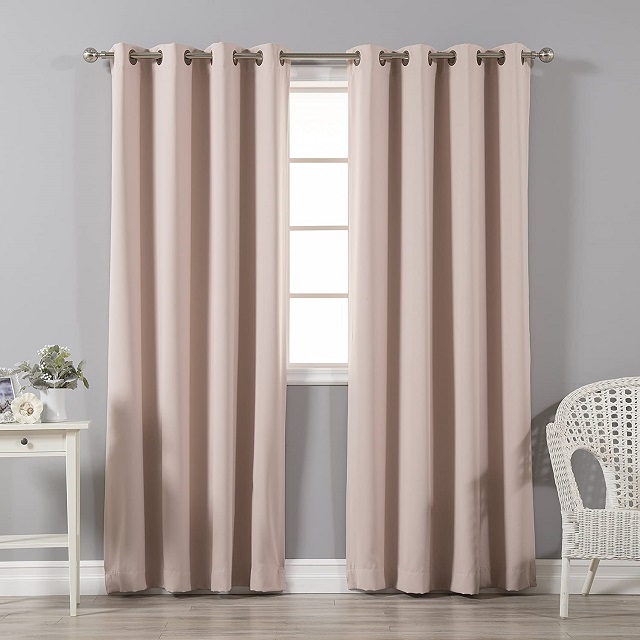 Description: This product is equipped with high insulating and light-blocking qualities. It offers an additional insulation layer to the windows. The blackout thermal curtain is made of triple-weave polyester construction. It consists of a layer of black yarn that helps to keep 99 percent of light out. The product is ideal for keeping the room warm in winter and Colson summer.
It contains panels with special antique bronze grommets with a diameter of 1.6 inches. Besides, the thermal lined curtains offer eighteen different color types like cardinal red, sky blue, etc. Thus, it helps to match the home's decor. You can wash them in the machine and maintain them with ease.
Features:
Design: The awesome triple-weave construction of the product doesn't allow light outside noise to enter. It helps to insulate against heat and cold.
Protective: According to the independent laboratory test, it can prevent the entry of 99% of light and 100% of UV rays. When you are going to block light, use darker colors.
Panels: The panels are available in three different sizes that are 80 inches by 96 inches, 100 inches by 96 inches, and 100 inches by 108 inches.
Pros:
Block 100% of UV ray
Triple-weave construction
Unique antique bronze grommets
Cons:
Fabric creases are hard to remove
Deconovo Grommet Blackout Curtains for Bedroom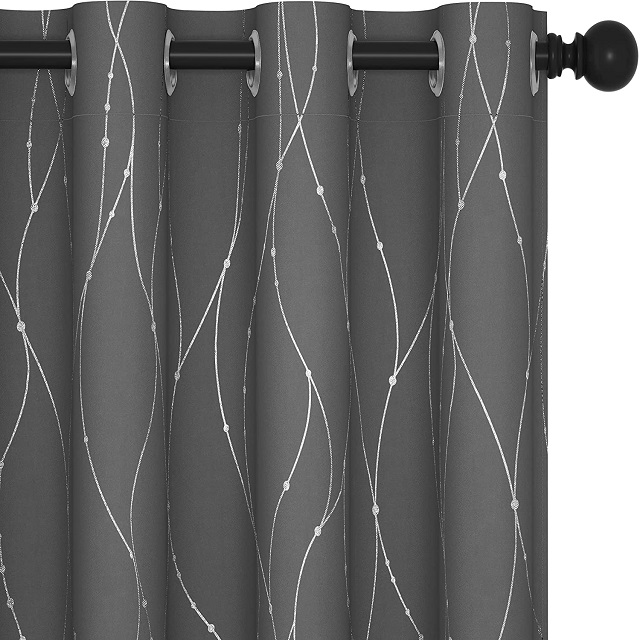 Description: It is one of the best energy-efficient thermal curtains ideal for home-usage. Use them for decorating your windows with an elegant surface. Besides, it can offer a comfortable atmosphere for both home and office.
These are capable of keeping the light out and cool inside in the hot summers. Similarly, it helps to keep the temperature inside and cold out in the Winter season. It comes with three layers of fabric that can offer the best blackout and insulation quality. Thus, you can easily cut the energy bills, and you don't need to invest so much money. You can get them available in 11 size options. Besides, these contain standard 1.6-inch grommets. It offers 29 colors to select so that you can choose your preferred one.
Features:
Design: The product has a smooth and elegant fabric that offers a silky touch. Besides, there is a beautiful drape that can easily bring charm.
Functional: It helps to block out sunlight. Besides, it can insulate against summer heat and winter chill to balance temperature. In addition, it is useful in decreasing noise coming from outside. Thus, it offers a decent area for enjoyment.
Multi-purpose: The curtain is machine washable and allowed to wash below 86°F. It doesn't bleach or tumble dry and offers a gentle cycle. These are perfect to use for bedroom, living room, baby, kids' nursery, kitchen, gaming rooms, school playroom, hotel, office, and restaurants.
Customer service: It can fulfill customer expectations easily. Just email us when you need it, and we will help you select the size.
Pros:
Used for many purposes
Reduce outside noise
Elegant fabric design
29 colors to select
Cons:
Sometimes, it is not blackout
ME Paris Paisley Thermal Insulated Curtain Panels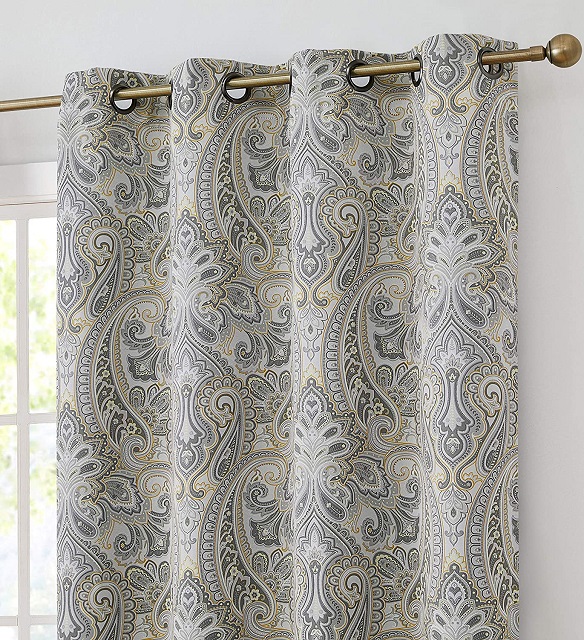 Description: It is famous for the vast, diverse collection of paisley patterns that help to include flair and visual interest. The product contains triple-weave polyester fabric for insulating the window. Thus, it allows you to save up to 30 percent on energy costs. It is machine washable and dryer-friendly. The width of the panels is 50 inches, whereas the length ranges from 54 inches to 96 inches. Every set has two panels.
It can filter out about 60 percent of light and the noise of such an amount. When any artificial light comes, the muted colors look faded. The silver light-blocking panel offers the paisley pattern if light shines via this curtain. It is an ideal option to use whether you like the pattern. But these don't help you to control temperature or light so much.
Features:
Design: It comes in a luxurious paisley damask design fabric and is very soft. The gorgeous printed design offers a lux, rich look to the product. Every panel comes with eight brushed nickel grommets.
Efficient: The room darkening curtains are designed as a triple weave innovation. It is capable of absorbing the heat and blocking the cold. It can help you to reduce the heat and cooling systems. Besides, it can save up to 30% money from the energy bill. Just buy this product and save money with ease.
Keep the privacy secret: You never want others to hear your conversation from outside. In this case, you are capable of using the blackout curtains in your living room whenever someone comes over for greetings. Your voice can be very loud, due to which you must not want pedestrians hearing your conversations.
Washable: If any dust is building upon the curtains, just put the panels into the washing machine. You should not use bleach hence. Make sure that you are using a mild detergent on this delicate cycle. You are capable of drying it in the dryer on a low setting.
Money-back guarantee: Each set of products comes with two thermal curtain panels. These offer a 100% money-back guarantee.
Pros:
Machine washable
100% money-back guarantee
Efficient
Protect the privacy
Cons:
It can be faded over time
NICETOWN 3 Pass Noise Reducing Thermal Curtains
Description: The heat reflective curtains come with insulating microfiber layers that offer insulation continuously. At that time, it also blocks out light. Every panel has a black yarn layer available between two microfiber layers. These layers help to offer insulation against both summer heat and winter cold. Besides, it can block up to 99 % of sunlight and decrease sound.
The 1.6-inch grommets of the product make it perfect to use for most standard curtain rods. It offers 37 solid colors of different styles, so you can quickly select your one. The size range varies from 29 × 45 inches to 55 × 96 inches. These different sizes are suitable for both modern and classic looks. It comes with a machine-washable fabric that enables you to clean them easily.
Features:
Size: The set contains two blackout panels that come with 42″ wide x 84″ length. Each panel has six grommets on its top. Use quality fabric without a liner because it feels heavy and soft.
Function: The curtains help impede from 85% to 99% light and UV rays. It reduces noise and offers improved TV viewing. The unique triple weave technology allows you to do so.
Protect the goods: It consists of Triple weave blackout fabric that helps balance the temperature in your room. To do this, the fabric insulates against summer heat and winter chill. With the help of this product, you can protect floors, furniture, artwork, etc., from the Sun ravages.
Wrinkle-free ring: There is a thread-trimmed ring of 1.6-inch inner diameter. It can meet the standard curtain rods with ease.
Simple to maintain: These are designed to use them for a long time. Wash in the washing machine in cold water. If necessary, then you can apply fast ironing or steam clean.
Pros:
Simple to maintain
Wrinkle-free ring
Balance temperature using fabric
Unique triple weave technology
Cons:
Colors become fade over time
VERSAILTEX Blackout Thermal Curtains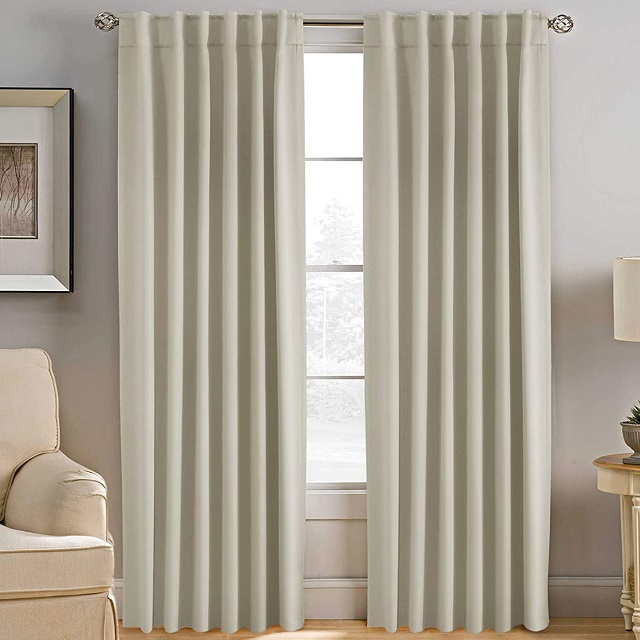 Description: The microfiber polyester available outside the product makes it perfect to use. It has a high-density layer of silk fabric that is available at the core. With the help of the H.VERSAILTEX's insulated curtains, you can easily keep the cold out on frigid winter days. The best thermal curtains for winter help keep the cool air away during the winter season while holding the warm air inside the room. It helps to keep the home toasty and reduce the energy bill. The sleek modern design with attractive grommets includes a form to function.
These thermal curtains for winter are available in twenty solid colors. They can block out up to 95 percent of sunlight which is one of the great insulating features. You can clean them in the machine. As these are available from 63 inches to 108 inches in length, you can use them for different purposes. The panels are available in two widths — 42 inches and 52 inches.
Features:
Size: Every set contains two panels. The measurement of every panel is 52″W x 63″L, whereas the measurement of a set is 104″W x 63″L. Every panel comes with eight elegant metal grommets. The inner part of the grommet's diameter is 1.6″. You can use the panels with standard or decorative curtain rods.
Protective: The solid panels can block out 95% sunlight and prevent 100% UV rays. According to an authoritative lab test, you can find them vinyl-free and environment friendly.
Used for different purposes: A unique technology makes soft curtains. These can last long and offer high performance in the darkroom. It is energy efficient and assists in decreasing sound.
Innovative decor for home: Use the panels to decorate the rooms and windows with new effects. It is ideal for those who want to use traditional, vintage rustic, Victorian home styles.
Customer service: The blackout thermal curtains provide you with a warranty for ten years. Besides, it offers a 30-day money-back guarantee as a return policy. You can clean them in the washing machine for easy care. If necessary, then you should use non-chlorine bleach. You can take the help of warm iron if required.
Pros:
30 days money-back guarantee
Ten years warranty
Unique decor for home
Multi-purpose
Cons:
Best Thermal Curtain Buying Guide:
Things you have to consider before selecting the best Curtains:
The fabric is indeed the vital dependent factor to create these. With this, you must consider some other aspects like the size, noise reduction, and aesthetics.
Type:
These are available as standard classic curtains, Roman shades, hobbled shades, balloon shades, side-draw shades, etc. It is equipped with insulated padding available between materials suspended by a curtain rod. This rod does not allow air to pass into the room from the window.
When it comes to Side-drawn shades, you should use these for large-sized windows, French doors, and sliding glass doors. The hobbled and Roman shades usually follow an open and close system through this classic stacking style. The balloon ones work similarly, but these collect the fabric. Roman and balloon shades come with thick padded material and are ideal for insulating.
Size:
These are available in different sizes, ranging from 36 inches up to 52 inches in width. For lengths, the range will be from 54 inches to 108 inches. Make sure that these come in larger sizes to cover the whole window casing.
However, the size relies on the look you are willing to get. If you want to have a traditional look, you need to mount the curtain rod to hang the curtain. It should be from 6 inches above the top of the window frame to about 3 inches under its bottom. If you are willing to have a modern style, you must mount the rod near the ceiling. Try to extend them to about 1 inch above the floor. If you want, keep it on the floor to generate a puddled effect. Whether you use blinds or shades, these should be fit inside the window casing. Thus, it allows you not to leak air around the edges of the blinds.
Fabric:
The insulated curtains are available in a wide variety of fabrics. Cotton, Polyester, silk, microfiber, and even velvet are some examples. Among the fabrics, the most useful ones are Polyester and microfiber. These can resist moisture and help make it in the air trapped between the curtain and the windowpane.
Aesthetic:
Due to the insulated curtains, you can think of tacky window treatments available in cheap hotel rooms. You can get these available in various stylish colors and patterns. They come with attractive grommets and cuts which offer traditional, modern, and classic looks.
Noise Reduction:
Using thick layers of material in the product prevents heat loss and absorbs sound waves. As a result, you don't need to hear the barking of your neighbor's dog or the screaming sound of children. Using the thermal curtain allows you to decrease the sound by 10 decibels.
Insulation:
These consist of many layers of material to insulate. Heat-resistant material is used for the middle layer of the product. These materials are foam, felt, thick cotton batting, or flannel. Make sure that a thermal curtain must have at least two layers. However, it is better to have three layers. If you want to get the maximum summer insulation, use the blackout technology. It can remove up to 90 percent of light.
If you consider the insulation in your home's walls or thermal curtains, it is the R-value used to measure the insulation. If the value increases, the insulation quality of the material will be better. This value usually ranges from 0 to attic insulation. Windows always come with an R-value. If you have Single-pane windows, the R-value is 1. On the flip side, the Energy Star–rated windows usually come with an R-value of 3. If you install it accurately, an insulated curtain can enhance a window's R-value to even 6.
Washing Machine vs. Dry Clean Only:
There are a few curtains available that are machine washable. It makes the product simple to maintain. Multiple thermal curtains are there that are safe to dry in your dryer. However, other curtains need the trip. You should ensure that you have followed the manufacturer's instructions to avoid damaging the curtains.
Curtain Header Styles:
When you are going to select your preferred one, ensure that it works accurately. Besides, it can add a look to your home. Different types of header styles are available in the market. Therefore, the product you will select needs to fit your requirements.
Rod Pocket: If you are looking for a versatile look for your thermal curtain, choose Rod pocket headers. These enable you to add rings yourself for a customized touch. This type of curtain offers a casual and simple look.
Grommet: It is widespread and seen in most curtains. The grommet allows you to open and close the curtain easily.
Tab Top: It comes with exposed loops (tabs) on the fabric, which you can draw via a curtain rod. Tab Top ones are very famous in country-style homes.
Pinch Pleat: Use this type of header style if you want to draw plenty of fabric for a fuller look. It is bound tightly and stitched at the top.
Conclusion:
If you are willing to keep your room warm in cooler weather, thermal curtains are beneficial. You can use them anytime as these are available for all seasons. These are available in various kinds of styles, colors, and fabrics. The features make these ideals for your home.
Frequently Asked Questions: 
Are thermal curtains worth it?
Yes, you can buy them. These help you to offer protection against chilly drafts that come from your windows. Besides, these also help to save money on energy bills during hot summers and cold winters.
Do thermal curtain keep cold out?
These are capable of keeping the cold out, but not completely. Using these, you can raise the insulation level of windows and trap the cold air between the window and the curtain. Thus, curtains don't allow air to enter the room.
Can you wash thermal curtain?
Most curtains allow you to wash them with cold water and a gentle cycle. A few of those can also handle a trip through the dryer. Ensure that you have read the manufacturer's instructions regarding care.
About author