Atari Introduces Speakerhat, Hat With Speakers
Atari Introduces Speakerhat, Hat With Speakers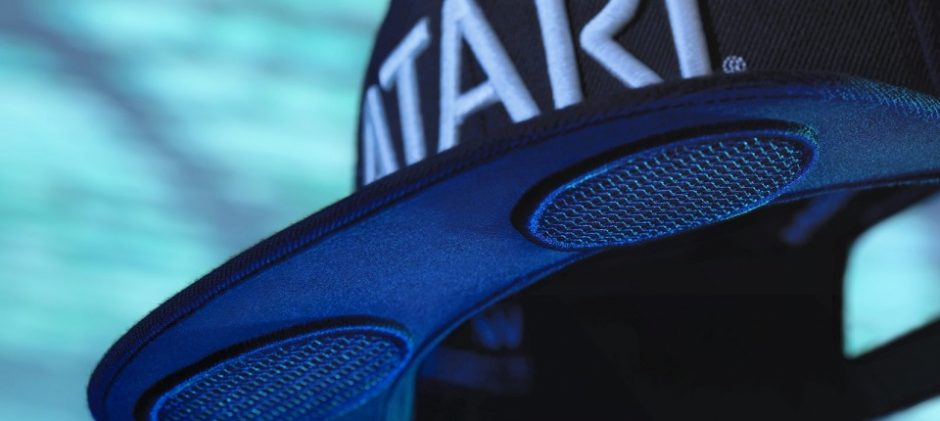 Atari who were famous for video gaming, have now ventured into the field of wearables. They have come out with the Atari SpeakerHat, developed by Audiowear.
The Atari SpeakerHat is a light weight, standard baseball style cap where all the electronics have been embedded into the fabric. It has high quality speakers embedded in the bill of the cap. They are high fidelity stereo speakers, designed to provide the highest audio standards, giving a high quality audio experience to its users. This can be experienced by various categories of users including gamers, sports fans, fitness enthusiasts, skaters and many more. The Atari SpeakerHat has a microphone within the fabric of the cap. The speakers and microphone can connect to any Bluetooth supported devices for phone calls, voice control and music. The Atari SpeakerHat is powered by an embedded lithium-ion battery.
The Atari SpeakerHat comes with a universal control button, an LED light indicator and a 'synchronized multiplayer mode'.
Atari SpeakerHat has a 'synchronized multiplayer mode', whereby multiple users can simultaneously listen to the same audio track via bluetooth. There is headphone jack, from where you can plug the headphones in and run it along the cap. The Atari SpeakerHat also has an LED indicator light and under it is the micro USB charger. TheLED light indicator and the control button are on the left side of the cap. When the Bluetooth is connected, the light at the back of the cap starts blinking. It has an adjustable buckle at the rear, to fit any size of the head.
There are three types of Atari SpeakerHats.
The 'Blade Runner 2049 Atari SpeakerHat' comes in a gift box with 'Blade Runner 2049' and 'Atari' stickers that can be placed anywhere you want on the cap. It is selling at $139.99. It comes with a neon teal Atari 'Kanji' logo. The Atari logo appeared when the trailer of 'Blade Runner 2049' was released. Unless the Blade Runner model of the Atari SpeakerHat is widely available, it is not sure whether it is only a movie promo or an actual wearable product. These caps are officially licensed and may be available only in LA.
The 'Fuji Blackout Atari SpeakerHat' is a cotton, black cap. It has a curved bill with the audiowear technology, giving it a unique style of its own. It is priced at $129.99
The 'Atari Snapback SpeakerHat' is available in royal blue or rich black with the Atari logo in white. This is a wool cap with a flat bill and the audiowear technology. It is also priced at $129.99
The Atari SpeakerHat has Bluetooth, you can listen to music, make phone calls and also multi users can come together to listen to the same track. It is has a comfortable fit and nice colour. If the price is not too much, then go ahead and buy this Atari SpeakerHat.
About author