Best Nail Gun | Nailers | Power Tools- Buying Guide
Best Nail Gun | Nailers | Power Tools- Buying Guide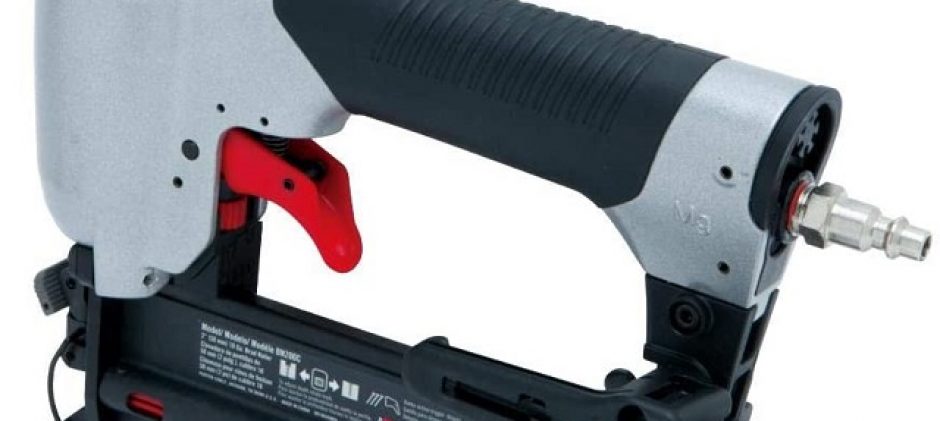 What is a Nail Gun?
Nail guns are also known as nailers since they drive nails into objects or workpieces using a handheld power tool. They are typically powered by electromagnetism, flammable gases, or compressed air. Rather than hammering nails, this power tool drives nails much more efficiently than its manual counterpart. The use of a nail gun is more efficient and convenient than traditional methods of nail installation.
Purpose of a Nail Gun
Nail guns are an efficient, consistent, and fast way of driving nails. With excellent accuracy, it can sink thousands of nails per day. The main purpose of a nail gun is to secure nails to a surface. Because of this, there is a common misconception amongst us: all nail guns work in the same way, so we can use one Nailers to do everything. The actual scenario is sometimes different because there is no perfect Nailers for every application. Single nail guns can be used for some similar tasks. In terms of maintaining flawless results, experts recommend using the most appropriate nail gun according to the task. Hence, knowing what nail gun would be best for your job is essential.
Types of Nail Guns
Coil Nailer
Various tasks can be accomplished with a coil nail gun. With practice, you can do framing with it. Roofing contractors commonly use coil nail guns because they can use them to complete a small roof without reloading them. You can use a coil Nailer for almost any job you need to accomplish.
Easy To Use
Coil guns are compact, lightweight tools.
It is therefore easy to use.
Additionally, it facilitates portability.
A small tool is easier to use in confined spaces since it is compact.
This tool eliminates the strain and effort associated with using a hammer.
Coil guns typically come with ergonomic handles.
Physically, you do not need to exert as much effort thus reducing fatigue. This way, you can work with the best grip possible.
Scope of Performance
A pneumatic roofing nailer is fueled by compressed air. Therefore, it can produce a high amount of power.
The tool makes it much easier to drive fasteners into shingles than a hammer.
In addition to being fast, it's also accurate.
A fastener is secure once it is installed.
In the meantime, you are unlikely to do any repair work with a coil gun.
A longer-lasting roof is the result of this.
When shingles are installed with a hammer, further time and effort are required, and they may not last as long as they should.
Adaptability
The depth of drive of most roofing nails can be adjusted using a dial, allowing the user to choose how deep to drive the nail.
Using the coil gun is easy whether you're countersinking fasteners, engaging shallow drives, or mounting flush.
The majority of models accept nails of various lengths.
You may find sizes between 12 inches and less than 2 inches.
As a result, you can work more independently.
There are also models with zero nail lockouts to prevent you from firing the magazine once it is empty.
Keeping the tool on the roof is easier with skid plates.
High Loading Capacity
Most tools can't hold fasteners as well as the coil gun.
This magazine has a capacity of 150 coil nails.
The site will no longer need to be reloaded frequently once it is fully loaded.
It is less disruptive to work in this manner.
It helps you maintain focus and reduces downtime.
You can use the tool to determine whether it's time to reload.
Reloading doesn't take a lot of effort or time. In this way, the workflows smoothly. As a result, your work will be completed faster.
Durability
Roofers rely on roofing nailers to install roofs.
Durability is increased by the fact that it requires minimal maintenance.
It can survive in good condition for several years if it is taken care of.
Metals such as magnesium or aluminum are used in the housing of roofing nailers, adding to their durability
Strip Nailer
A strip nailer uses nail magazines arranged on slender strips or cartridges that slide into the gun. A strip of paper, plastic, or wire holds the nails together. Nail guns with this configuration are easier to handle than coil nail guns since the nails are distributed over a wider surface area. They are used for assembling pallets and crates, framing, sheathing, decking, subflooring, truss assembly, siding, and fencing.
Strip-style nail guns work by inserting a long magazine into the bottom of the gun. A wire, a piece of paper, or a piece of plastic holds the nails together. A strip-style nail gun can hold only 20 to 40 nails at a time. They can be a bit unwieldy to operate in tight spaces since the magazine protrudes from the bottom of the gun.
If you have ever used coil-style nail guns, you would probably wonder why anyone would use these nail guns. Having said that, strip-style nail guns do have a few advantages.
First of all, they're much cheaper than coil-style nail guns, so budget-conscious people or people who use nail guns don't too often can use them.
Secondly, strip-style magazines ensure that nails are evenly distributed rather than front-loaded, as coil-style nail guns do.
Last but not least, you can drive nails in more accurately with an evenly distributed weight; handling them becomes much easier as well.
Framing Nail Guns
Every home building job requires the use of framing nailers (sometimes called framing guns or nail guns). In fact, it is faster to use a framing nailer than to use a hammer to drive one nail into a framing assembly. Those are the ones you use when working on heavy projects.
Framing Nail Guns Offer Five Advantages:
In addition to your collection of woodworking tools, you can buy framing nail guns. When it comes to framing nails, framing nail guns provide you with special features that justify their purchase above other nail guns that you may find while window shopping. You will learn about the benefits of owning and using a framing nail gun in the article that follows.
Efficiency and Accuracy
In the course of completing a framing job, you think a hammer is going to be easy to handle. As a framer, you think that a hammer will make your job easier. Using a hammer effectively is different from simply having one, but the basic concept is straightforward. You can strike a nail with a hammer by simply holding the nail in place and hitting the head. No matter how fast you are at hammering nails, you could end up striking one of your fingers instead. You may also need to pull and start over if the nail goes in crooked. It is best to use a framing nail gun for this purpose. With the nozzle, you strike the wood and a nail is released.
A Variety of Styles
There are several kinds and styles of nail guns available, so you can choose one that's right for you. It holds a large number of nails and is one of the more popular models. There are several hundred nails that can be stored in this type of nail gun instead of 30 or 60. In other styles, nails will be fired in different ways, like bumping, bursts of sound, and single shots.
As the nail gun's power varies, so does the price. Most nail guns work by compressing air, but there are also nail guns that use electricity or battery power. No matter which nails gun you choose, it will be suitable for any project you undertake.
It is Cost-Effective
You will be saving money by using framing nails instead of extra nails and manpower. As a result, multiple jobs can be taken on at once.
Excellent Speed
Using a framing nail gun is an ideal option for the homeowner who wants to complete a     task on his own. You can reduce the amount of time someone is spending on different tasks by making sure you have multiple workers on the job at the same time.
Durability
The tool is durable. Even if left out in the rain or dropped off of a roof, the product can withstand all kinds of situations. Due to this durability, roofing nail guns are not only a smart choice but also a perfect choice.
Staple Gun
It is a small hand-held device that is used to drive heavy metal staples into plastic, wood, or masonry. Many different applications and materials can adhere with staple guns, such as insulation, roofing, house wraps, carpeting, wiring, upholstery, and craft materials. Framing staplers are specialized instruments that drive "points" into frames.
Both the staple gun's handle and bottom loading channel simplify staple loading and make storage secure.
The nailer uses brad nails and 1/4″ narrow crown staples. It can accommodate nails from 3/8″ to 2″ and staples from 1/2″ to 1-5/8″. For best results, mix nails and brad nails.
In your toughest projects, staples can give you a better hold than nails due to their wide variety and variety of widths.
Using flexible points, the backing can be inserted into the rabbet, and then the backing can be held in place behind the artwork to hold the framed artwork within the frame
Using flexible points, the backing can be inserted into the rabbet, and then the backing can be held in place behind the artwork to hold the framed artwork within the frame
Tacker
The Heavy Duty Hammer Tacker makes driving fasteners easy, so you can complete any job in no time. Although hammer tackers are 50% lighter than the industry standard. This type of nailer is designed with a shock-absorbing grip that offers ultimate control and vibration reduction to prevent the after-effects of a long day at work.
It accepts both round and flat crown staples.
It is 30% easier to squeeze than the leading competitor.
Mechanism Patented to prevent jamming.
Power adjustment, high and low.
Handle and grip are soft and comfortable
Removable staplers with built-in remover
Easily accessible reload window on the bottom of the stapler
Brad Nailers
There are many uses for brad nails, including decorative trimming, frame trimming, paneling, birdhouses, and small trim around windows, quarter-round molding, and other thin woodcuts. Brad nails, which measure 18 gauge and are fine-wired, are driven by brad nailers. Any major home improvement project, such as a room addition, involving brads, requires a brad nailer due to the difficulty of driving these small nails by hand.
Furthermore, once they are driven into wood, brad nails become invisible. Generally speaking, you won't need a carpenter's putty for a brad nail driven into trim that has been concealed with a carpenter's putty. They are, however, insufficient for large, heavy projects, like crown moldings and baseboards.
The uniqueness is:
There is a swivel plug to prevent the air hose from twisting.
An accidental fire of the tool is avoided by the trigger lock.
An extended nose resists tar longer than conventional tools so it lasts 4x as long.
The unit is powered by an air source with a fast-firing trigger.
A single nail can be held in the Max USA CN5445R3 Roofing Coil Nailer. It works at 70-100 psi (50-7 bar).
The last nail is held in place by a magnetized cap.
In this manner, jammings and misfires are prevented after reloads.
Moreover, MAX has patented a maintenance-free end cap filter.
A foreign material cannot enter the nailer.
Therefore, roofing nailers are less complicated to maintain.
Nailing requires a great deal of depth control.
It comes with a depth control that has a dial, so it doesn't require a special tool.
Palm Nailers.
Designed to pick up where collated nailers stop, palm nailers continue where they left off. They are ideal for framing, decks, fencing, metal connector straps, pole barn construction, etc. Just think of them as pneumatic nailers specially designed for tight spaces. It is ergonomically designed. This nose is hardened steel and magnetic. Insulation and vibration reduction are provided by the rubber grip handle.
It is ergonomically designed.
A magnetized steel nose.
This product features three separate noses: a standard nose, a nail noise, and a large-bore nose.
Insulation and vibration reduction are provided by the rubber grip handle.
An exhaust that is placed on the front of the hand.
This is a swivel fitting that can be rotated 360 degrees.
How to Choose the Nails for Firing
Sizing Nails.
A thumb rule to avoid hitting one's thumb. So, that being said, now that size does count, what else should I say? So, that being said, now that size does count, what else should I say? Here's some advice to help you do your best work each time!
The thumb rule for nails. To choose a nail that can hold three times as much material as its thickness, you should choose a nail three times as long as it is thick.
It is recommended that nails used to hold 1/2″ drywall to stud walls be at least 1 1/2″ long. Generally, this guide is reasonable.
Each type of nail has its size code: common nails, box nails, and finishing nails. Symbolically, the length of a nail is measured in pennies, with the letter "d" as the symbol. Neither am I particularly interested in remembering penny sizes nor do I have any trouble remembering them. In any case, here they are for posterity:
2d = 1 inch
3d = 1 1/4 inches
4d = 1 1/2 inches
5d = 1 3/4 inches
6d = 2 inches
7d = 2 1/4 inches
8d = 2 1/2 inches
9d = 2 3/4 inches
10d = 3 inches
12d = 3 1/4 inches
16d = 3 1/2 inches
20d = 4 inches
30d = 4 1/2 inches
40d = 5 inches
If you're trying to find logic in this, don't bother. The "foot" is the nail equivalent of dividing a yard into three feet, and a foot is equal to 12 inches. The logic isn't there… That's the way it is!
Specialized Nails:
Different nails are available for different materials. There is a nail for every drywall. Vinyl siding, roofing shingles, and pressure-t. A nail can be coated with rosin, or it can be twisted or have rings in it to enhance gripping. Nails can have very wide heads, such as Styrofoam boards, or very small heads, for filling under the surface of the wood and hiding the heads behind a finish coat. It is possible to have nails that have rosin coatings, or that have rings or twists to provide better grip.
There are all kinds of metals used in nails. Stainless steel is rustproof and made from aluminum, iron, and steel. Zinc is sometimes applied as a coating so that nails are more resistant to rust, known as galvanized nails. To make them usable as cement nails, they are hardened by heating. The duplex nail has a double-head for ease of removal when working on temporary structures. Among the options are hardwood flooring nails, upholstery nails, and nails for concrete.
For power nailing guns, there is an entire category of nails. Utilizing strips of nails, these guns use air or electricity to drive them. In terms of technology, staples are similar, but with more versatility and power. Installing a roof, putting up moldings, or even constructing a house frame all can be done with nail guns. They emit a tremendous amount of force, so they must be treated with respect and caution.
The Process of Drilling for Nails:
Drilling a hole for nails or screws before installation is called pre-drilling. There is a slight gap between the hole and the nail body or screw thread diameter. People often mistakenly believe that predrilling is only for screws. This is not true.
To carpenters' advantage, rough framing does not generally need predrilling. Whenever there is a chance of cracking, and it will affect the wood structurally or aesthetically, you should consider predrilling.
Early recognition will save you time and money on patching and wasted wood! There are certain boards (even "new" wood) that split easily.
Nails Firing Methods:

Nail Gun Firing
A few of the firing mechanisms described above are found in the nailers described above. Here is a quick look at how each of these types of fires works without going into too much detail and including technical terms.
SPRING LOADED
Two rotating drive axles are powered by the motor in spring-loaded designs. During the trigger pull, a triangular cam turns and exerts pressure on a lever. You can control this by moving one of the axles and turning the gear train. After pushing against a hammer, a lever compresses two springs. In turn, the scooper plate holds the hammer, which is then released. A compressed spring forces it back down at a high speed, which then 'fires' the nail.
ELECTROMAGNETIC
The electromagnetic field is generated by an electrical current in nails that depend on electromagnetic design. Solenoid wires in nail guns contain a magnetic piston and are referred to as solenoid wires. A piston that acts as a hammer forces the piston downwards when an electric current is passed through it. It is through this downward motion that the nail can be fired. The electrical current is then reversed, allowing the switch to move back into a place where it is ready for the next trigger pull.
PNEUMATIC
Powerful pneumatic nailers often require a compressor to operate and are more expensive. Another popular type of nailer employs a piston driven by a blade that fires the nail, similar to a solenoid. Using the trigger, air pressure is compressed to move this sliding piston. Above the piston, there is a great deal of pressure that causes it to push downward. Upon releasing the trigger, the piston is driven back into place, ready for the next nail.
COMBUSTION
In combustion nailers, a fuel canister and a battery are used to create internal combustion to drive the nail. The fuel canister is sealed within a design that allows a valve to control the release of small amounts of gas that mixes with the air. Spark plugs are lit by the battery, which sends a small spark to the battery. The nail is propelled forward by the piston.
Power Sources
Pneumatic, cordless, and electric nail guns can be classified by the kind of power source they use. Pneumatic nail guns shoot nails into material using the power of compressed air. Nail guns powered by batteries are cordless, and those powered by electricity use a mains current. Depending on its type, each has its advantages and disadvantages.
Air compressors are necessary for pneumatic nail guns to work. While the nail gun is connected to the compressor, their range of movement is limited since they are the most powerful and reliable type. Nail guns that are cordless use gas that is ignited by the battery. With this nail gun, you can move around more easily than with a pneumatic gun.
In some cases, you do need to charge the battery (which happens frequently). There are backup batteries and chargers available that can recharge within 60 minutes. However, you still have to purchase fuel when the tank empties. Nail guns made of electric power are only suitable for smaller jobs and can be used with standard electrical outlets. Due to their corded design, they are not portable. Having an air compressor, recharging batteries, or purchasing fuel canisters is not required.
Nailer Features
Once you've chosen the type of nailer that works best for your project, consider these nailer features and air compressor tools and accessories that can make your work more efficient.
You can channel the exhaust of nail guns with directional exhaust systems. Having this feature is useful if you work in dusty conditions.
Nails will not jam up in the mechanism, thanks to jam-clearing systems.
It is possible to adjust the depth of the nail drive when using a depth adjustment tool. Nails do not protrude too much or sink too deep if this is done. In some nailers, depth adjustment is done with tools, while in others it's done by hand.
The tool is easier to operate with gloves on due to the large triggers.
Nailers are protected during transport by carrying cases.
A protective guard keeps your tool safe from damage and keeps flying debris from harming you. It is important to choose a guard that is easy to replace as it can wear out over time.
Changing your nail sizes as you switch tasks is possible with Nail Size Adjustment.
A built-in work light enhances the visibility of the work surface.
A work light external to the laptop could also be used.
If you want to fire the nails in sequential order, you have to press the safety tip and then pull the trigger. When both the safety tip and trigger are pulled at the same time, nails are released simultaneously. You can drive nails with the gun by pressing the trigger down, or by pulling the trigger manually.
Nail Gun Safety:
Nailers are no different from other tools when it comes to safety. Below is some basic safety information, but find out how to use, maintain, and use your nailer according to the manufacturer's instructions.
Make sure the nailer is in good working order and replace any damaged parts before using it.
Nailers should never be modified.
Use the nailer according to the manual according to the safety instructions.
Do not put your hands, feet, or other body parts in the shooting area.
Workpieces need to be secured with clamps.
Before performing maintenance, making adjustments, or trying to clear a jam, disengage the tool from the compressor and power supply.
Be careful when operating a nailer.
Pre-Caution
The nails and fasteners each nailer uses have specific requirements. The nails and fasteners each nailer uses have specific requirements.
Best 4  Nail Guns | Nailers | Power Tools | Review:
Ridgid 18-Volt Brushless Nailer

Design: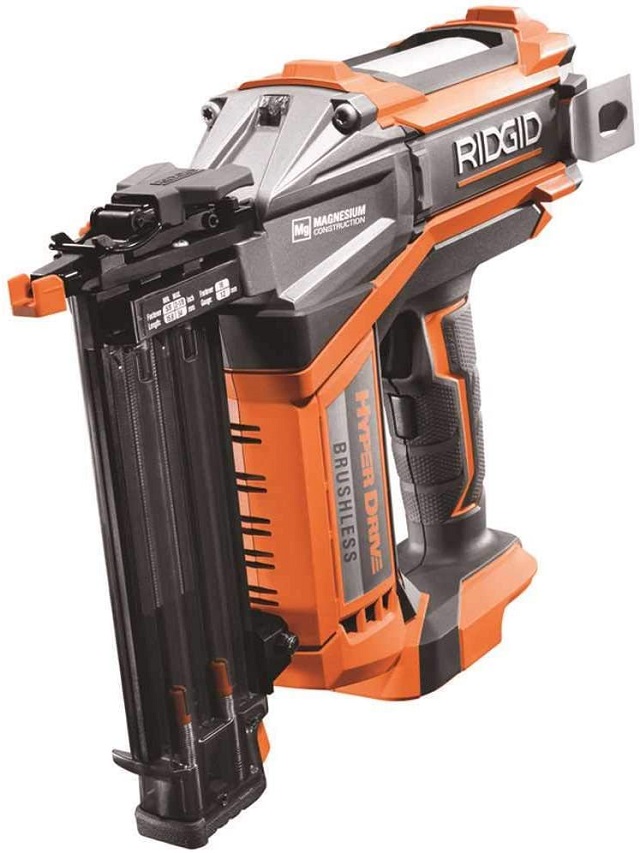 There is no denying that the Ridgid Nailer does feel heavier when first picked up with the box. The nailer alone weighs 3.8 Lbs which is three pounds heavier compared to the pneumatic Brad Nailer.
With the battery loaded, the device weighs more but all these concerns are put to rest when you hold it in the right position to fire nails. The perfectly balanced gun has an aesthetic touch added with the orange mark which has always been the trademark of Ridgid. Problems may arise if you fire nails holding it overhead.
Apart from the batteries, the machine has only one attachment which is good to notice. The detached metal clip can be fastened on either side of the gun.
The bail loading is very basic and can be easily done. The durability of the nail gun is ensured due to the magnesium-constructed body and thus restricts the weight. Gripping it is a pleasure thanks to the Hex- Grip rubberized material.
Specification:
A new RIDGID 18-Volt Brushless Nailer family is now available with no compressor, hose, or gas cartridge required.
A rubber-less motor.
Faster run time, longer life.
Magnesium TM construction.
The switch can be selected between various modes.
A lockshield for dry-fire.
The power can be adjusted without the use of a tool.
Cost is $249.
Features:
Thanks to the casing which is in magnesium the gadget weighs not only lesser but are reliable for construction works.
Alternating between modes:
The tool-free trigger when selected allows you to alternate between two firing modes which are Contact and Sequential.
The two-step reloading process is quickened due to the presence of a bypass pusher for rear loading.
Generally, if framing nails can penetrate 3 and a half inches by .148 inches the motor has to be powerful which Ridgid has.
– rule out misfires
– ensure the longevity of motor life
– ensure prevention of damage to work surfaces
The protective handle and the trigger can
– Ensure firm grip and not allowing twisting
– Ensure Durability
– The exhaust is directed away from the user thanks to the interlocks which are rubber molded.
– Due to the clearing door which gains access to the tool-free which clears jams.
Angled nailing is made possible due to the Toe- nailing claw
A pad that is mar-free keeps the work surface free of tool marks.
PROS & CONS:
Pros:
The battery is enough to operate the device.
Transition from bump to sequential firing is smooth
Depth adjustment made easier
Height adjustment is easy
Additional lights provided by extra LED lights
Good capacity and it can hold 500 nails
Prevents arm fatigue
Battery can be charged in less than 20 minutes
A 3.0 does ensure longevity
Cons:
Battery has to be removed whenever the device is not in use. The charge seeps away
The plastic magazine would crack if a device falls accidentally to the floor
The plastic magazine does not allow the nails to flow down easily.
The on-off switch is not consistently smooth.
The gun does not pull off to an automatic stop when the nails are exhausted. Thus the dry-lockout feature does mislead the user.
The gun does take an extra second to fire nails due to the Battery is driven feature.
Inconsistencies are experienced when firing nails continuously.
Makita Nailer
Design: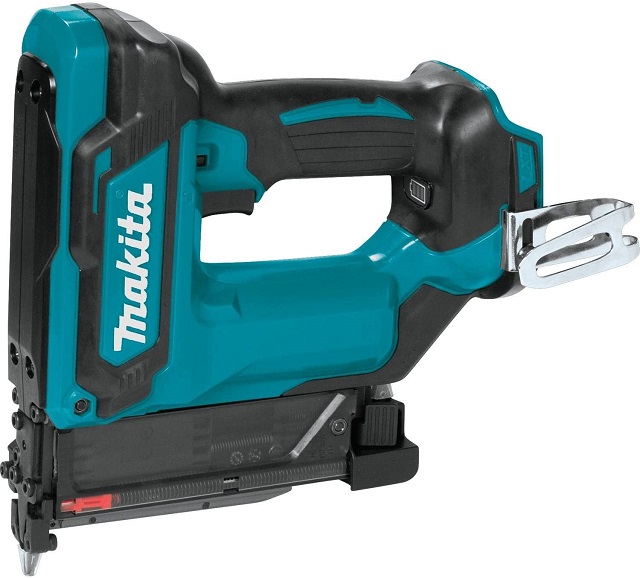 The basic strength of a nail gun should at least possess two characteristics. One is lightweight and the other is its reliability. Makita qualifies hands down on both of these features. The icing on the cake however was the magazine made of Aluminum. The nail capacity does differ from model to model, and Makita holds no less than 73. Other models go up to 84. The joy in this is simple.  There would be fewer reloads. It can fire up to 3.5 inches nail capacity and is not lost in the race of nail guns.
The belt hook comes in as attachable and makes it very convenient to sling by. The Dry-Fire features prevent misfires and at the same point ensure longevity.
The adjustable exhaust is the big minus and the exhaust cannot be directed away.
Specifications:
It is easy to adjust the depth
Makita has opted for an unusual placement of their depth adjustment dial.
It is possible to change single fire or bump fire settings on some trigger models by switching the trigger completely.
Fire lockout with no smoke
The belt hook and the rafter hook
Cost is $249.
Features:
Heavy Pneumatic Nailer:
The Makita weighs nothing less than 9.26 lbs and that cannot be considered the lowest. If the work involved does not consume much time, Makita does not burden itself upon you unless the work involved takes hours to finish. The Makita may not score much in the weight category but it makes up with the balance. It nestles comfortably in the hands. It allows us to nail corners that cannot be attributed to many other nail guns.  The length runs up to 14.25 inches from the tip to the exhaust. Ergonomics is fine due to the design of the solid handle.
Firing Performance:
The Makita nailer handles tough material with ease when setting even a single fire mode. The same cannot be said for the firing strength when set in the mode ' Bump – Fire ' mode. It is certainly not good on tough materials. Therefore it is best to slow down and shoot the nailer at 120 PSI for better results.
Recoil:
It is the control over solid vibration that in turn controls the recoil. Makita excels at this as the machine does not jump around in your hands. Recoil's make workmanship sloppy and Makita users will never face this issue.
Toenailing:
If any feature stands out with the Makita it has to be the Toenailing. Framing nailers in general have the barbs angling out from the nose point and not all of them perform equal to the Makita.
Visibility:
It is the same nose design that aids the Makita in visibility. Framing does not accurate as a high point. If such accuracy is available so be it.
Cost to Value Ratio:
It is available at $229 .00. The lower range is at $177.00 and the higher at 329.00
PROS & CONS:
Pros:
Arguably the best toenailer
Nose visibility is best
Control over Recoil
The maximum nail capacity it accepts is 0.162 inches
The mode changes are easier and swift
Depth adjustments are easier to make.
Cons:
It is quite heavy for its class
The firing strength warrants improvement.
Conclusion:
Makita is heavy for sure and the firing strength is low. The other advantages outweigh the weaknesses.
MILWAUKEE FUEL CORDLESS FRAMING NAILER

Design: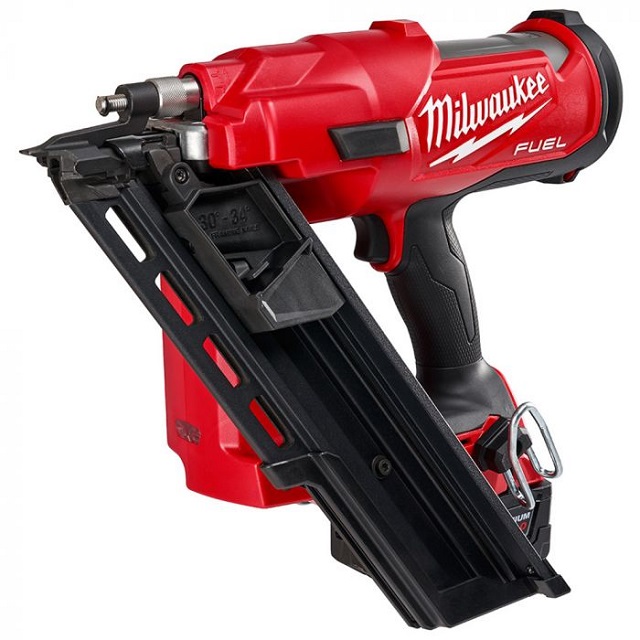 The Milwaukee Framing Nailer is battery-powered. It supports nails that are three inches thick and you can fire three Nails in a second too. The expectation from Pneumatic framing nailers is just that much. You experience a zero-second delay while shooting the nails. The Battery chambers are there, and in addition to it, there is the extended capacity to accommodate more nails. Milwaukee stands alone in the pack here too by offering this extra space as it is uncommon among framing nailers which depend upon batteries. With magazine exchanges, both 30 degree and 21-degree nail models can be used independently. The 21-degree nail can be loaded up to 45 nails whereas the magazine can accommodate 51 nails of the 30-degree type.
Two full strips would be 83 nails in two magazines allowing you to save time on reloading. It is noteworthy to mention that magazines cannot be interchanged between the angles.
Specifications:
Nails can be sunk in engineered lumber.
Three nails are fired per second.
No gas cartridge is required.
Rapid ramp-up without any ramp-up time.
Adjustment of drive depth is tool-free.
A sequence of firing modes is available as well as contacts actuation.
Lockout in case of dry fire.
Hook included for rafters.
Cost is $262.00
Features:
Battery Life:
You can use a fully charged 5.0AH battery to shoot a minimum of 500 nails and a maximum of 700 nails.
It's best to have two sets of batteries which can last the whole day.
Not Light Weight:
One cannot deny that the Milwaukee is on the heavier side considering it's only a framing nailer. The weight does go up to 11.3 pounds with the battery fitted in with the stock magazine.
The concern arises on how to use the tool overhead for a long duration. The comfort is that it is ergonomic and fits well in your hands.
Power/Mode:
Both, power button and mode switch are located on the backside. Both have to be pressed for an extra second to activate them.
Toe Nailing:
In this feature, Milwaukee is second to none. Angles can be of convenience and firing can be done It does fit into studs nicely. Visibility is great due to the nose angle. Nose spurs do slip occasionally.
Jam Clearance:
The occasional problem of Jamming does arise with Milwaukee. Clearance of the obstructing nail can be removed with a pair of pliers.
LED lights:
There is an LED light provided at the bottom of the tool. It comes on automatically.
Rafter Hooks:
Strong but large in Design, it serves its purpose well. It can also be used to hang it from the rung of a ladder.
PROS AND CONS:
Pros:
Not a second is lost, be it whichever firing mode.
There are no failures since every shot sinks in perfectly.
Thanks to the extra magazine which is anyway an option, the large number of nails in 2 capacities can be held.
Depth adjustments can be made easily as the knob can be easily accessed.
The firing is perfect, be it clipped head nails or full head offset.
The shifting from either sequential to bump Firing or vice – versa is smooth due to the electronic switch.
Belt clip comes with the product along with a folding rafter.
Cons:
It becomes more fragile due to the plastic used in the construction of it.
Relatively bulkier when compared with pneumatic framing nailers in the same class
It is heavy.
Conclusion:
The Milwaukee is outstanding in both categories which are nailing speed and driving power. The weight of the tool is a deterrent. It's best to use it for repair, remodeling, and a few other jobs. It does save time as you did not have to tug along hose pipes and compressors.
PORTER-CABLE 18 GAUGE BRAD NAILER
Design: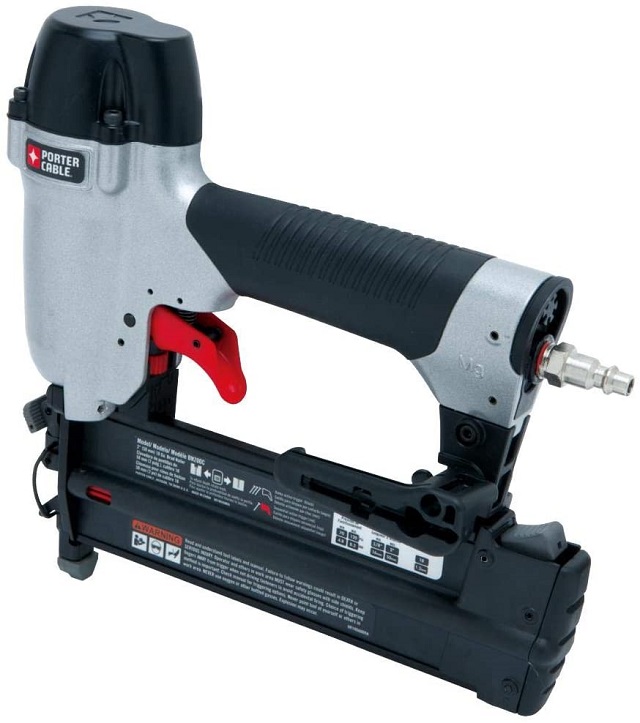 It is the weight which grabs your attention at first. It weighs just 5.9 lbs combined with the 1.5 Ah batteries. The head looks deceptively bigger but it is not. The motor is wonderfully designed and it is consistent in its firing power irrespective of climatic conditions. The LED lights do play their role efficiently through their illumination along with indicating errors.
Specifications:

283 Watts are delivered by the high-performance motor
With its two speeds (0.350/1.500 RPMs), this motor delivers the power needed for tasks to be accomplished easily and quickly
Quickly change bits with the 1/2″ keyless chuck
Work areas in the dark are brightened by LED lights
Tool allows users to work in tight areas and minimizes fatigue with its small size (8.25″) and lightweight (3.5lbs)
With 1.3 amp/hour Lithium-Ion cells, the 20V MAX* Lithium-Ion battery delivers greater power and runtime
Features:
Nail Firing:
The range of nails varies from 5/8 inches to two inches. To load or unload you just need to press a button then pull away the magazine to fill in the nails. You need to slide up the filled magazine up.
Depth Adjustments:
The indicator comes in handy while adjusting depth and even the drive dial is simple to handle.
Jam Clearance:
There is nothing much to comment about Jam Clearance as far as the Porter-Cable is concerned. The reason is simple. The tool does not jam up at all.
Endurance more than usual:
Many Brad Nailers start shooting nails shallower as the battery weakens. Since the battery is Lithium-Ion here, the performance remains the same till the full charge is used away.
PROS AND CONS:
 Pros:
Light Weight
Endurance of battery despite weakening
The grip is rubberized and stable.
No or very negligible cases of Jamming
 Cons:
Maybe lightweight but does look bulky
Few complaints of recoil
Conclusion: 
With many stand-out features which have been mentioned above, the Porter-Cable is a device to be owned. The reason can grow stronger as it is backed up by a three-year warranty.
The  Best Nail Gun Buying Guide:
If you are spotted in the depot which sells Nail Guns, it can be surmised that you know the basics of it and its application. Yet, it's best to choose a Nail Gun which will serve the purpose you are shopping for. The choices or options are many but you need to make sure that certain features are a must to qualify for whatever purpose you are buying it for.
Here are the essential features you should ascertain are present in the Nail Gun.
Nail Gun- Select the Best Type to Match Your Need:

The largest nail gun you would find is the Framing Nailer. These are used in jobs such as building or repairing fences, framing, etc. They are mandatory for large jobs. Therefore your choice for heavy-duty work is Framing Nailers only.
Roofing shingles fastening cannot be done by every nail gun as the expertise lies with the Roofing Nailer.
Nail Guns are required for both heavy-duty and less intense jobs too. The windows, doors, cupboards, etc find themselves placed in the less intense category. The right choice would be the Finish Nailers which can be used for the casing, floor paneling, etc.
Close to its heels would be the Brad Nailers which has similar functions to that of the Finish Nailers. In case of furniture repair or trimming works, the Brad Nailers come in handy. It is also noteworthy to mention that the job should be less intense when compared to what the Finish Nailers can accomplish.
At the bottom of the list lie two more varieties. The Pin Nailer is useful to craft projects or even trim. A good example of where they can be used is in the construction of Bird Houses. The Floor Nailers are for floor installations be it hardwood or lamination.
From the above, it can be inferred that the purpose decides the type of nail gun you wish to purchase.
Power Sources:
A tool's capacity to handle work and its mobility can be determined by the power source it is capable of handling.
It is the pressurized air that is used to drive the nails by using a compressor. The requirement of pressure and volume of the job in hand should be exceeded by the compressor. Some people combine air tools along with the nailer but such decisions should be taken only if the compressor can handle the joint load.
The pneumatic nailer leaves no doubts that it is fit for heavy-duty tasks but the mobility is hampered by the air hose.
The battery-powered ones are the fastest to be initiated into action but they do not possess the driving power which the Pneumatic ones do.
Nail Firing- Triggers:
Here are the various Nail Gun Triggers:
Full Sequential Firing
The action here takes place only when it happens in a series that takes place in the following manner.
Press the safety tip
Pull the trigger
This action results in the single fastener being released.
Full sequential firing is safe. It is ideal for carpentry, framing, etc.
Bump Firing:
Also popularly known as Contact Firing, the events need not happen in a series. The main objective is to rapidly shoot the nails.
Watch out for Nail Guns that come with two triggers. These are available in two colors which are orange or black. Choose the silver or grey machine if you wish to engage in Sequential firing.
Single-Sequential Firing
There is not much to distinguish between Full Sequential and Single Sequential. The controls in the series have to be actuated by the user. The tool can be dragged along the floor.
Single-Actuation Firing
It is only the first real shot that makes the difference between this machine and Single-Actuation Firing. It is noteworthy mentioning that bump guns should be chosen only by the experienced due to Safety Issues.
About author