Samsung M8 Monitor — Gadget Reviewed
Samsung M8 Monitor — Gadget Reviewed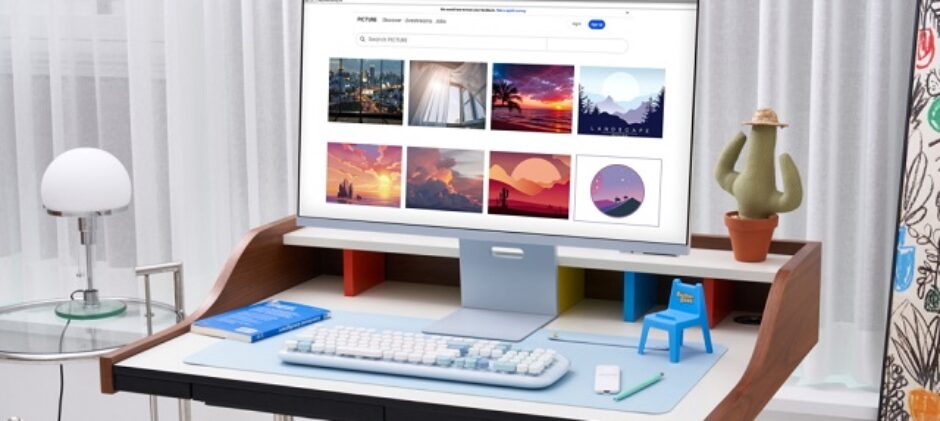 Today, Samsung Electronics announced its new Smart Monitor series, the M8. It comes in an upgraded, stylish design in four new colors — Warm White, Sunset Pink, Daylight Blue, and Spring Green. The model has a 32-inches display with UHD resolution and a SlimFit Cam. It was released first in November 2020.
Samsung  M8 Monitor Description:
Its design can offer you both functionality and entertainment at home. The model can help you to enjoy a variety of OTT services, like Netflix, Amazon Prime Video, Disney+, and Apple TV via WiFi.
The product can provide you with both space and work efficiency in an ultra-stylish design. Its thinness is 11.4mm, about three-quarters slimmer than the earlier models. Along with having a sophisticated flat-back design, the model ranges in various colors. According to Kyounghoon Kim, Executive Vice President and Head of Design Team, Visual Display Business, Samsung Electronics, they had made it to meet the lifestyles of all kinds of people and preferences.
Features of Samsung M8 Monitor :
Watch, Play, and Live in Style:
You can have all the things in your hand, which enables you to do without connecting a separate PC using only the Smart Monitor. It has default content, productivity, video call apps, and a more stylish desk setup.
Smart TV Experience:
You can enjoy different devices like Netflix, YouTube, and other streaming services only by attaching the monitor to WiFi. With the help of Samsung TV Plus, you can get free live & on-demand content, and you don't need to download or sign up for it.
App availability varies by nation, and it may ask you for subscriptions. You don't get here internet connection and TV tuner. Besides, in some regions, users will not get the benefits of Samsung TV Plus and Universal Guide. The product color availability can vary by nation.
Flavorful Color Options:
It can offer a pop of your favorite color to highlight the room design quickly. You can select colors like white, pink, blue, or green.
Iconic Slim Design:
The monitor is made keeping in mind the lifestyle, a result of which it can offer a more cutting-edge design than ever. You can enjoy a minimalist look suitable for any environment with an ultra-slim flat back, neat camera design, and beautiful colors. It can increase your setup with super style.
Workspace:
You will not need any separate pc to edit documents, browse the web, and work on projects. The New Workmode allows you to access another PC remotely, use Microsoft 365 programs and connect to Samsung phones with Samsung DeX. If you are willing to use Microsoft 365, you should have a Microsoft account. The Wireless DeX is compatible with some chosen Galaxy, Note, and Tab devices. You need Windows 10 Pro, Mac OS 10.5 or higher, and compatible network settings.
SlimFit Camera:
The SlimFit camera with tilt function enables you to make an ideal angle while using favorite video call apps such as Google Duo. You can access it directly through the monitor. The model has features like the camera cover and the option to detach for protecting your privacy fully.
Used As Control Center:
As soon as you connect it to the IoT home products with SmartThings, you can use the monitor as a control center for your home. Disable lights, pull down blinds, and set the thermostat to an ideal temperature to have a relaxed evening. You should know that the technology, functions, and features vary by nation, service provider, network environment, or product. Besides, you will need a WiFi, Bluetooth, or other wireless network connection and apps compatible with the SmartThings app. You can get the connected devices available in the market.
Many Voice Assistants:
Its Far-Field Voice feature allows you to turn on the voice assistant merely by speaking. Give commands to the monitor, even at a distance. Just say those that you need. It is compatible with both Bixby and Amazon Alexa. The Bixby voice commands can identify English (US/UK/IN), French, Spanish, German, Italian, Portuguese(BR), Chinese (in China mainland only), and Korean.
SmartThings Hub:
You can have an IoT hub called SmartThings Hub in the product. You can connect here all the IoT devices wirelessly. With the app's help, you can track IoT devices throughout the house using the intuitive control panel. It helps to highlight the details offered by other devices like a light switch and plug power.
The model comes with a high-sensitivity Far-Field Voice microphone. Its microphone can use an Always-On Voice function, enabling you to showcase conversation information on the display while Bixby is turning on, even if the device remains deactivated.
Display:
The display part of the model can provide adaptive picture technology used to boost viewer comfort. It has a height-adjustable stand (HAS) and tilts functionality, which enables you to look out of the ideal position for each project.
Mobile Connectivity:
The AirPlay integration lets you connect the Apple devices to the Smart Monitor and see it on a large display. You can enjoy the experience from an iPhone, iPad, and Mac.
UHD & HDR 10+:
It features HDR 10+ support and supports different pictures. With the help of the USB Type-C port, it is possible to power up, transmit data, and even send display signals between devices with others. A single connection offers both a clutter-free and stress-free experience.
Auto Source Switch +:
The new model allows you to connect the devices you have logged in to. You don't see the No more searching option for the right input on the menu.
The Bottom Line:
Samsung M8 Monitor received CES Innovation Awards Honoree from Consumer Technology Association or CTA to detect multiple display technologies. It enables you to order previously in a variety of colors and specifications. You can have a more stylish desk setup. If you are willing to order the model in advance, you have to start at $699.99. If you are willing to have the model, and order it before April 17th, a $100 Samsung credit is available for future purchases.
About author