Best Anti Theft Bag in 2022
Best Anti Theft Bag in 2022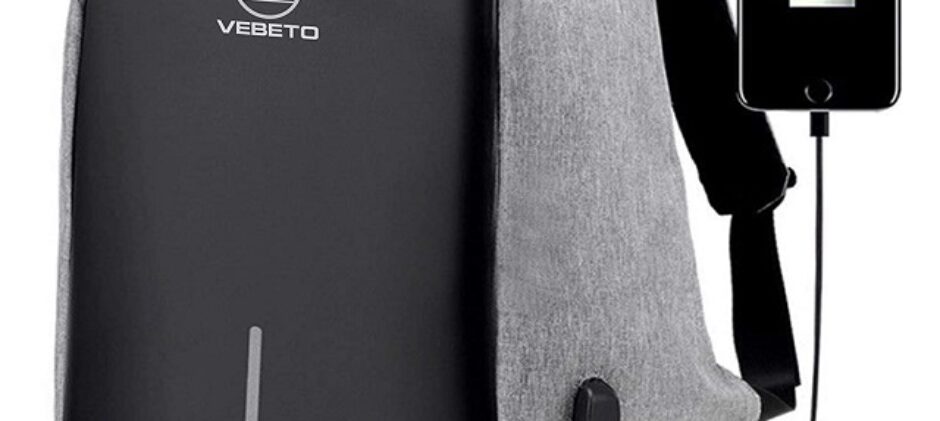 Do you prefer to travel very frequently? Do you want a commute to work by cycling or using public transport? In these cases, it is better to use an anti theft bag.
Using the backpack, you can keep your belongings safe. Nowadays, people use it as one of their essential cycling accessories. This article will inform you about the top five products and buying guide.
What is an Anti Theft Bag?
An anti theft bag can protect you from loss due to burglaries. Thus, you can keep yourself protected while on a trip or outdoors. It is designed uniquely to make stealing hard for thieves to slash or open and grab important/expensive objects from it.
Anti-theft Backpacks Vs. Normal Backpacks
These are some features that are different from regular backpacks. It lets you know how vital these are to us and how you can make your journey safer.
Secret Pockets:
These have hidden pockets where you can keep your valuable belongings, including your wallet, mobile, or passport. Thus, you can save them from pickpockets. In addition, the hidden pockets have hidden zippers that are not traceable.
Water-Resistant:
The best models are water-resistant and ready to be used in all-weather. Therefore, you can enjoy yourself without a worry about snow, rain, or other adverse conditions.
Locking Zippers:
You can open the zippers only by a secret combination set by you. As a result, you can access your stuff instantly and keep your articles protected from thieves.
Slash-Proof Fabric:
These don't consist of the regular backpack fabric; instead, use a unique hardened fabric. This fabric helps prevent your stuff from thieves who want to slash the bag and steal, and it is a must-have feature for these bags.
Strong Zippers:
You can not open these from the outside easily, and these are sturdy and won't get stuck. Thus, you can keep your valuable items secured.
RFID Protected:
Keep your stuff secure from thieves and pickpockets while traveling. However, you must be careful about digital thieves who can steal your credit card and passport data. Some models have an internal pocket, and RFID blocking fabric protects it. In addition, you can use these to keep your cards, which helps secure them from skimming-related risks.
Inbuilt Locking Cable:
A few backpacks have a built-in locking cable. You can use them to tie to the table or seat of the bus, train, etc. It is an outstanding feature that can allow you to sit and sleep peacefully while traveling. In addition, these enable you to tie all your travel bags. Thus, you can keep the luggage secured while waiting at the railway station or airport.
Anti Theft Bag Advantages:
The benefits of these are as follows:-
Peace of mind: These come with secret compartments and lock-enabled zippers. The features assure you that your belongings remain safe.
Comfort: You can find the backpacks designed ergonomically. Therefore, you don't need to face any burden while you carry for long hours.
More space: These have multiple storage compartments with sturdy zippers. As a result, carrying way more items than normal backpacks is possible.
Value for money: The products have water-resistant, weather-resistant, and slash-resistant materials. These are long-lasting and can provide you with good returns on your investment.
Best Anti Theft Bags:
Gods Ghost 22 Litre anti-theft Laptop Backpack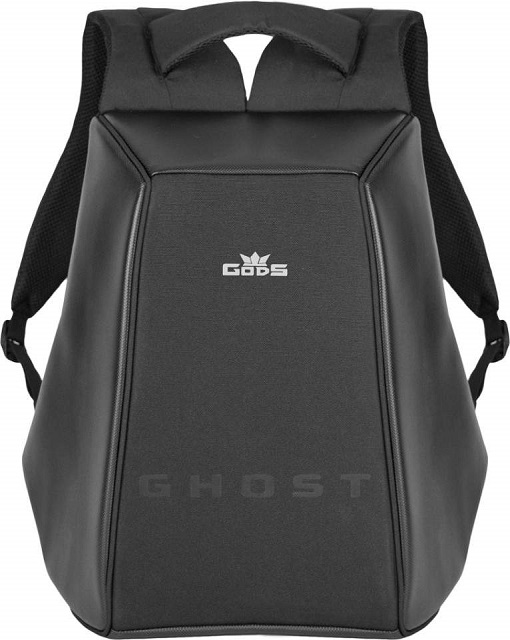 Description:
It has a snug-fit laptop compartment that supports up to 15.6-inch laptops. You can get the model available in two different variants Daring Texture and Premium Smooth.
It comes in a minimalistic design, and mobile Packets allow you to access them quickly to keep the phone, wallets, and chargers safe. In addition, it is uniquely designed and suitable for laptops with up to 15.6 inches display screen.
Features:
Abrasive: Its bottom base consists of abrasion-resistant material, allowing you to brush it freely on all terrain.
Zippers: The quality of zippers is essential for a backpack, and these features are crucial if you want to perform every day. In addition, these ensure high durability performance. Moreover, these can offer protection against pickpockets.
Water Resistant: This product is 100% waterproof.
Pros:
Waterproof
Zippers are of good quality
Minimalistic design
Cons:
The material should be strong
Gods Akura Anti Theft Design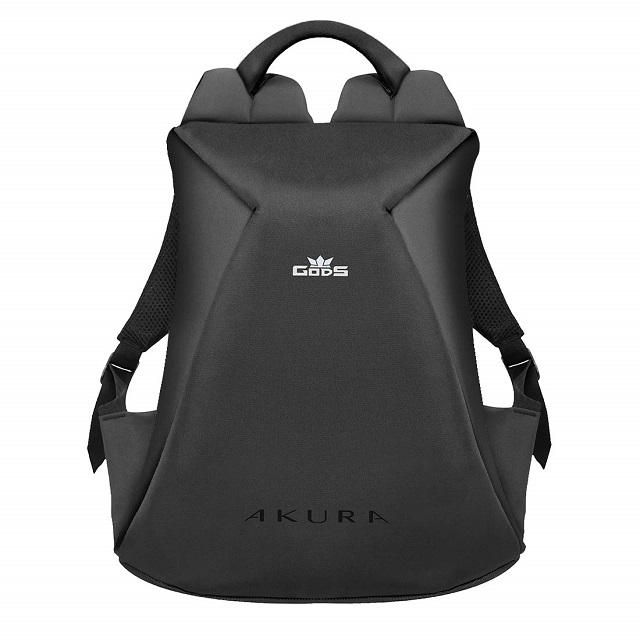 Description:
There do not exist any zippers in the front. Therefore, these are safe in the rear opening. You can get different tablet organizers, Hard drives, laptop chargers, Pens, Phones, cables, and sunglasses here.
You can access the pockets two times quicker and easier. In addition, you can access to power bank, wallets, keys, water bottles, etc. However, the charging ports are dangerous as these can short-circuit power banks in the rain. Moreover, these are not easy to use and charge very slowly.
Features:
Simple to use: You can use the model easily. In this case, your job is to pull your wire out and charge. You are not required to make many connections.
Quick charging: It allows you to enjoy total Charging current with a direct cable connection to the power bank.
Secure: Its minimal design ensures you can stand out in the crowd. Besides, it is designed uniquely to organize and protect belongings efficiently.
Simple to access: Its ergonomic shoulder straps allow you to access the pocket for your cards and cash. You can open it like a suitcase enabling you to organize efficiently, and the 180-degree opening helps you to do so. Its snug-fit laptop compartment supports up to 15.6-inch laptops.
Abrasive: Its bottom base consists of abrasion-resistant material, allowing you to brush it freely on all terrain. In addition, the heavy-duty YKK zippers can make sure that you will get excellent durability performance.
Pros:
Water Resistant surface
Two different styles to select
Two different variants are Melange and Camouflage.
Cons:
Customer service is not so good
F Gear Stealth Anti Theft Backpack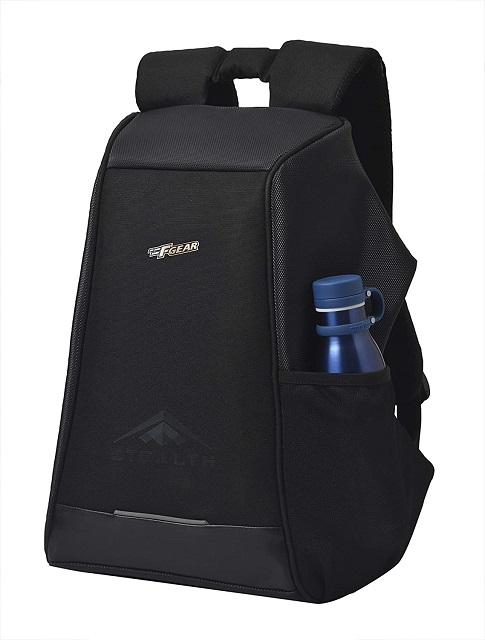 Description:
The company's products are more costly than Fur Jarden above, and it weighs light and can offer comfort on the shoulders. In addition, the product has many compartments to store multiple items easily.
This one is the most stylish, durable & lightweight model. It consists of high-performance fabrics reinforced with polymers. Thus, it can offer great strength and durability.
Features:
Zippers: The zippers are locked strategically on the back rather than the top or front of the bag. The zips are concealed from view when you wear the bag because they lie between your back and the bag.
Design: Its design ensures that your belongings remain safe from theft while wearing the bag. Besides, you can keep it safe while traveling in public transport, standing in a queue, or walking around. As soon as you wear it, nobody can access the backpack.
Great control: The product allows you to be in total control. In addition, you can get many layers of protective padding on the laptop stow compartment to offer a valuable laptop.
Construction: You can find a 20mm polyethylene sponge layer at the model's back, and it can offer comfortable contact with your back. The unique design ensures that the loaded bag feels at least 20-25% lighter.
Pros:
Uses water-resistant and wear-resistant polyester fabric
Holds a laptop of a maximum size of 45.7cm
Hidden zipper on the shoulder straps
Shock-proof design
Cons:
Vebeto anti-theft Unisex Backpack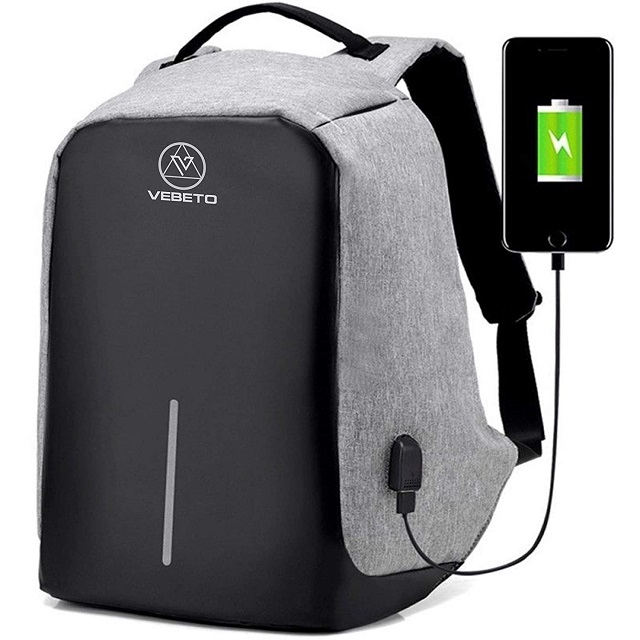 Description:
The product has a USB charging port to charge your electronic gadgets. It consists of waterproof, dust-proof, and cut-proof polyester material. Besides, it comes with a nylon sponge with a 6-layer mesh back padding.
You can see multiple hidden compartments as well as one flexible main compartment. It helps to hold a laptop of a maximum of 15.6 inches. The ergonomic design with cushioning and padding makes it ideal for use. As a result, it never makes you uncomfortable while carrying the bag for long hours.
Features:
Two-in-one: You can use it as a travel backpack and an office briefcase. It allows you to open 360 degrees on three sides. This feature allows you to make a flatbed. Thus, you can store the items easily. Besides, the product is very secure because it can keep the laptop and other belongings extremely safe. Moreover, the model is large and enjoys to hold 15.6 Inch laptop and tablet computer.
Water repellent: The model consists of tear-resistant durable oxford nylon fabric. Besides, this product has a dual-access zipper with an anti theft design, enabling you to access it easily. Thus, you will get more safety.
Multi-compartment: This model contains one large packing compartment, a separate laptop compartment, an iPad computer holder, and a front pocket organizer.
Additional: It has padded shoulder straps and back padding, which can offer extra comfort and support. The top loop handle is helpful for a secure hold while picking up the model. With the help of the luggage trolley strap on the backside, you can keep it on the trolley suitcase handle. Thus, you can carry the suitcase and product simultaneously.
Pros:
Padded shoulder straps
Top loop handle
Water repellent
Cons:
Backpack OZOY Fabric Anti Theft Backpack
Description:
It is the cheapest one on the list. It is great to consider if you want to buy a model that can last temporarily. You can see a reflective stripe on the front side, making it more conspicuous at night. It consists of dust-proof nylon and oxford fabric so that it can secure your belongings from rain.
Features:
Water-resistant: It uses a 600d fabric 6mm anti-collision sponge layer.
Material: It uses soft and sturdy nylon, making it ideal for bags. These bags are available in different designs and colors, and the soft material and easy lining make them ideal for kids or grownups.
Zipper: The model comes with a hidden zipper entirely covered at the back. Thus, it becomes hard to access quickly.
USB Charging: It has a USB charging port to charge your phone or tablet. In addition, there exists an External micro-USB with a set-in charging cable. You can use it easily for your electronic device. In this case, you won't get a battery. Therefore, you need to use a power bank to charge it.
Elastic belt & night safety: The Back elastic belt allows you to insert your model into carry-on luggage and travel hands-free. Due to the design, your belongings remain safe.
Suitable for 15.6-inch Laptops: It offers comfort and excellent functions. Therefore, you can use the model for backpacks.
Pros:
A hidden compartment at the back
Uses water-resistant and dust-proof nylon fabric
Durable
A black elastic belt is available
External micro- USB charging wire
Cons:
Best Anti Theft Bag Buying Guide:
If you buy a model without proper research, investing in it is not good. So consider these aspects before purchasing an anti theft bag.
Type and Number of Compartments:
Check how many storage compartments are in your backpack. Then, you should know how many of these are hidden? In addition, you should know if the compartments come with any alert or shock-proof technologies for your gadgets. Besides, you should ensure that the hidden zippers are visible outside. These are a few points you need to look into it.
Material:
You must thoroughly check your fabric material before investing in a backpack. Choose bags that use slash-resistant and water-resistant material. If you prefer to travel frequently, you need to purchase bags consisting of fabric, and this one is resistant to damage from harsh weather conditions.
Size:
You will find an anti-theft and regular ones same while purchasing. A few are suitable for carry-on luggage, whereas a few are better for everyday use. Besides, a few models are ideal for hiking. Therefore, you must ensure which size you require. Using around 15 liters is a good capacity for regular use.
On the other hand, you can go with 45 liters for a backpack, which can work as a luggage piece. You should consider the interior organization features also. In addition, you must find the fundamental properties, including hidden and lockable zippers, slash-proof exterior, hidden compartments, etc.
Prioritize Comfort:
Ensure that your item is comfortable enough. Hence, you should find options with padded straps and adjustability. With bigger models, chest and hip straps decrease your back and shoulders strains. In addition, it has almost all security features worldwide. Check whether it hurts you or not, as you can't use it when it hurts.
Don't Pay Up for RFID-Blocking:
You should choose a bag with RFID-blocking. Never fret if it doesn't; you should not pay more only for the feature. You can find thieves using RFID skimming very rare. If you buy a model with RFID-blocking, it is not so necessary.
Features:
Do you love to travel very frequently? If yes, then what are the modes of travel? Can you carry expensive items, contactless credit cards, etc.? These are some questions you need to ask yourself with these features, including a slash-proof backpack, RFID pocket, a laptop compartment, a locking cable, locking zippers, hidden compartments, GPS enabled, etc.
Pockets:
Want to have external pockets? Or you are OK with the internal pockets, a secret pocket, an RFID pocket, multiple pockets, separate pockets with zippers, & hidden pockets on the strap. These are available with different types of pocket layouts, and check them to know which are suitable for your requirements while buying the backpack.
The Bottom Line:
We have given here the top five products. You can choose whatever you wish to have, and the article contains both affordable and cheapest items for different users. You can go with a higher-budget anti theft bag or have remote tracking, Bluetooth connectivity, etc.
Frequently Asked Questions:
These work in a team having well-designed plans. Besides, these will not eradicate the crime syndicates. But you can use them to prevent theft and keep valuable items safe within them.
Do you need an anti theft bag?
It is a famous item that travelers use while visiting destinations, and these are safe from pickpocketing. If you travel to tourist areas in Europe, you can find many pickpockets in crowded attractions.
Are anti theft backpacks worth the higher prices?
Compared to the regular ones, these are a bit costly, and you need to invest a little extra for slash-proof material and some additional hardware.
About author