Best Rotary Tool Review & Buying Guide 2022
Best Rotary Tool Review & Buying Guide 2022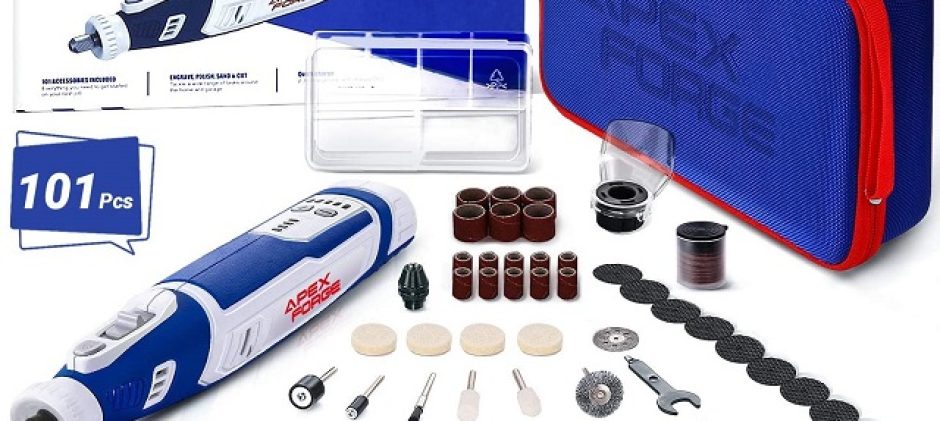 Rotary tools are small handheld devices that come with spinning motor. These power tools are designed in such a way so that they can accept a vast range of bits and attachments. The feature makes this ideal for different types of household tasks (repairs and maintenance), crafting and hobbies, etc. Even, you can find the attachments specially made for the caring purpose of pets' toenails.
The use of these items and attachments rely on the type you use. These can be used for various purposes like cutting, grinding, sanding, buffing, etching, drilling, polishing, etc. You can polish other materials like tile, wood, plastic, glass, and metal.
You can find both corded and cordless options when you choose such a device. DIYers generally like to use cordless types as they can carry them anywhere. However, the corded rotary types always have some extra power.
Before purchasing, you need to consider the speed of the device also. It is the number of times rotated by the tip per minute. Most devices have variable speed settings, i.e., up to 25,000 to 35,000 rpm. However, a few devices are there; that work quicker, whereas a few work slower.
What is a Rotary Tool?
A rotary tool is also known as a power tool. It comes with different uses like cutting, polishing, sanding, sharpening, grinding, carving, engraving, routing, and honing materials.
The device has versatile uses, due to which it is not like others. You can use this powerful device on metal, glass, plastic, wood, etc.
How does Rotary Tool Work?
It contains a spindle that spins. This part of the device is connected to the motor, the collet, and the collet nut.
The device comes with an on and off switch located at the lower part of it. Besides, the speed control is available on the upper portion so that you can access it with ease.
Applications of Rotary Tool:
The device is used in grinding, cutting, carving, engraving, drilling, sanding, polishing, and cleaning.
Attachments and Accessories: 
Sanding:
It comes with attachments like sanding discs, sanding bands, and flap wheels. In this case, you also need to use attachments like abrasive brushes, abrasive buffs, carbide shaping wheels, and many others.
Cleaning & Polishing:
You can clean the workpiece with the help of the rubber polishing point, bristle brush, carbon steel brushes, and stainless steel brushes. Some devices have
brass brushes, nylon brushes, felt polishing wheels, and polishing cloth. However, some machines also have impregnated wheels and a polishing compound.
Cutting Wheels:
These come with regular and fiberglass-reinforced cutting wheels, carbide cutting wheels, and diamond wheels. If you want, you can purchase crosscut blades and cutting bits also.
Grinding and Sharpening:
Abrasive wheels, grinding wheels, and grinding stones should be used for grinding and sharpening. These consist of aluminum oxide or silicon carbide. A few devices are there; they come with a chain saw sharpening stones & finishing abrasive points.
Carving and Engraving:
The device allows you to carve or engrave designs on wood or glass, taking the help of its assorted cutters. These come with high-speed cutters, engraving cutters, and diamond wheel points. Besides, these have Tungsten carbide cutters and structured tooth carbide cutters.
Drilling:
A few machines are there that come with drill bit sets, brad joint drill bit sets, and glass drilling bits.
Routing:
The device enables you to use it for routing also. Some machines are equipped with routing attachments like straight, V-grove, chamfer, corner rounding, etc.
Other Attachments:
When you buy a device, you can get many other attachments like mandrels, a Dremel chuck, a collet nut kit, and a dressing stone.
You should know that you will not get all attachments in all brands. These can be available separately in the market. You can get this available in the local hardware or online.
What are some Standard Rotary Tool Accessories and Kits?
Multiple accessories are there which enable you to use the machine for different purposes. We have given a few here.
Buffing/Polishing Bits: You need to polish the bits or add wax to make the surface shine.
Carbide Bits: These are ideal for etching and carving.
Carbide Metal Cutting Wheel: Just add a little cutting oil to the surface, and thus you can easily cut the attachment.
Drill Bits: People use many fine-gauge drill bits to drill windows or wire access holes in plastic model kits.
Sharpening Wheel: It can help you to turn the machine into an effective machine sharpener.
Wire Wheel: You can use the device for erasing rust from metal surfaces.
Parts of Rotary Tool:
The power device is also called a dye grinder. It consists of 3 major parts that are:
Collet: It is at the front of the machine. Collet helps to secure the drill in place so that these won't fly off from the place during working.
Locking pin: This button is available at the side of your device. Hit the button while you are going to insert any bit or remove it.
Speed dial: The function of this part is to manage the spinning speed of the bit. These machines come with high and low settings, whereas other devices have 1-6 number-based settings.
Before purchasing the device, you need to think about the materials you will use. Whether the device is going to be used for engraving only, you should use a two-speed tool. However, if you want more versatility devices, you need machines with more speed. For example, you can use it to cut metal sheets, write names on glass beads, etc.
Bit Types of the Tool:
The types are as follows:
Engraving/Carving Bits:
These come with pointy ends and abrasive surfaces. If you want to use glass and metal, diamond-tipped bits are perfect. On the other hand, you can use softer bits of wood or plastic so that it won't cause damage to the working surface.
Sanding Bits:
The drum-shaped or sanding bits have a coating of sandpaper. You have to change it regularly as these wear out quickly. These allow you to use plastic & wood and don't cause harm to metal.
Cutting Bits:
This type of bit has thin discs or wheels and a sharp cutting edge. The available disks can be broken, due to which you need to angle them. People who are looking for bits of plastic and wood should use them. You should take the help of reinforced plexiglass cutting discs for metal or ceramics.
Sharpening / grinding Bits:
The orange bits are useful for glass and metal. These consist of aluminum oxide, whereas the green bits consist of silicon carbide. The green bits are for plastic.
Polishing/cleaning Bits:
You can use the bits with felt polishing wheels, polishing mandrels, polishing compounds, etc.
Rotary Tool- Safety Tips:
These machines can indeed increase your work speed. But on another side, these may cause lethal injuries. As you are working with a motor with sharp bits, there always presents a risk. So, you have to take safety precautions so that it won't damage anything or hurt you.
Safety Advice:
The bits generate small particles of metal, glass, or plastic dust. Therefore, if the dust gets into your eyes, it can be harmful. Consequently, you should put on a dust mask and protective goggles to keep yourself safe.
The fine dust might block the passage of the vents. Therefore, it is necessary to inspect them regularly and remove blockages.
Your hand may slip while using sharp bits at high speeds. So, you should wear gloves to improve your grip.
The working surface should be anchored down to stop the surface from moving around. In this case, what you can do is to use a vice. Whether you are thinking of holding a piece in your hands, the force of the device could wobble or twitch.
You should always work in a well-ventilated space. As a result, the dust will exit safely from the area and won't cause respiratory illnesses.
If possible, then you should try to install a dust collection system or an air purification system. These help to keep the air fresh and clean.
Intense amounts of heat are produced due to the speed and friction of bits. That's why you must not touch it after work. Wait for a while till it is not cooling down.
Whether you are working for many hours, a cooling system may be required for your workshop. The reason is that the heat can build up over time.
It is an electrical device; you must not use it with wet hands or near damp surfaces. Besides, make sure that your power outlets come with surge protection devices.
Follow these safety protocols to enjoy convenience except the wrong side.
Why Rotary Tool is Required?
If you compare the device with non-rotary devices, you will find especially two significant benefits: speed and precision. When you are going to cut a metal bar by hand, it will take ages. Besides, the manual process requires plenty of elbow grease. You can make this job done within seconds effortlessly.
The power device enables you to maneuver in tight areas. It can make patterns like writing messages on jewelry, cutting holes in ceramics, etc. A right-angle bit extension can be used for tight corners.
How to cut with Rotary Tool?
These machines are perfect if you want to make minor cuts. However, you can use a different saw type to make long, straight cuts.
If you want to cut drywall, wood, plasterboard, or other light materials, then you should take the help of a straight router bit.
Whether you are willing to cut metal or plastic, take the assistance of a cutting wheel bit. Besides, a carbide cutter can be used to cut thicker metal and hard materials.
You should draw an outline before cutting.
For thicker materials, the process can take a while. When you are going to cut metal, you should take the help of cutting oil to reduce friction and heat.
These devices are suitable for plumbing projects also. These are simple to maneuver also. Besides, the machines may cut through metal and PVC piping.
How to carve with Rotary Tool?
These devices always offer extreme control, due to which it becomes excellent for carving and etching. People use this on wooden furniture for detailing work.
The carbide rotary bits and router bits are the first choices always for carving and etching. These are available in multiple different sizes so that it is suitable for any project.
If you see smoke or material discoloration, then ensure that the device's speed is breakneck. Hence, you should reduce the speed setting.
Sometimes, the motor may slow, slutter, or generate an unusual grinding noise. It happens due to applying extreme pressure on the device.
How to Sand or Polish with Rotary Tool?
A corded rotary device contains a sanding drum bit. These are useful both in sharpening knives or polishing jewelry. You can even use this type of device to file your pet nails at a low speed.
A sanding drum bit is beneficial for sanding or filing projects. If you want to sand tough materials, then you should use Coarser bits. On the flip side, softer bits are useful for finer sanding jobs.
When you polish, you need to use a wire brush. You can use a polishing point or polishing wheel that comes with wax or compound
if you wish.
It would help if you started using this at low speed and then increased speed gently as and when needed.
If you are looking for bits that suit big jobs, then use softer bits.
Sharpen a Chainsaw:
Now, the device allows you to save both energy and time to sharpen the cutters of the chainsaw. Usually, a chain sharpener contains three grinding wheels with famous diameters. Ensure that you must wear safety glasses.
Best Five Rotary Tools
TECCPO Rotary Tool Kit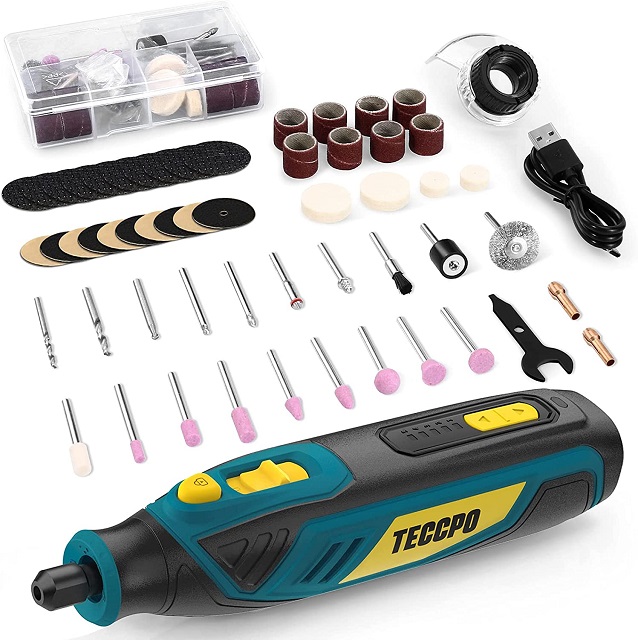 Description: This kit has a hold hanger stand clamp and a universal chuck. However, if you want to buy these separately, you can.
It comes with six attachments that are a Flex Shaft, a Universal Keyless Chuck ( 0.8 mm to 3.2 mm ), a Hold Hanger Stand, a Desktop holder, and a Cutting Guide.
Features: 
Motor: The device contains a 200W/1.8Amp motor that is capable of boosting efficiency by 30% than other conventional machines. Using the machine, you can complete your work quickly and efficiently. Therefore, you can save your precious time. It allows you to sculpt, cut, polish, refine, drill, or simply smooth parts.
Speed: It allows you to adjust speed by offering a 6-speed mode. The speed of the device is 40,000 rpm max with 5+ MAX mode. It enables you to adjust the speed of 10,000rpm to 40,000rpm maximum freely. However, it relies on the type of work and materials used for optimal Precision.
Design: The product is equipped with a flexible shaft that allows you to use it even in tight areas for easier use. It comes with an extendable practical rotary clamp holder. Besides, it has a Protective cover that keeps away dust, debris, etc., during cutting, grinding, & sanding. The device comes with an ergonomic shaped soft rubber grip that decreases vibration and offers optimal control. There exists a universal chuck also.
Sturdy Case: The kit is ideal and perfectly suitable for various uses. It offers 196 high-performance accessories that are enough to fulfill your requirements. The device is suitable enough to be applied in any project. There exists a perfect carrying case where you can keep the device safely. Besides, it also helps to keep the machine organized and simple to find. The lightweight and portability of this machine make it an effective product.
Included Things: It comes with accessories like a TECCPO 200W multi-tool, a Fixed rail, Extensible support, a Flexible shaft, a 3-jaw chuck, one Transparent protective plate, 196 Accessories, one Transparent accessory case, a Toolbox, and a User manual.
Pros:
Practical clamp holder.
Protective cover to keep dust away
196 accessories to meet different needs
Applicable in any project
Easy to carry and find
Lightweight
Soft rubber grip
Cons:
Dremel 8220-1/28 12-Volt Max Cordless Rotary Tool Kit

Description:
If you want to enjoy variable speed performance, then the machine is a perfect choice. It can offer excellent performance and versatility among users. This motor strength can deliver the best performance consistently at any speed level. The Dremel 8220 comes with different accessories and attachments that allow you to use it in different projects.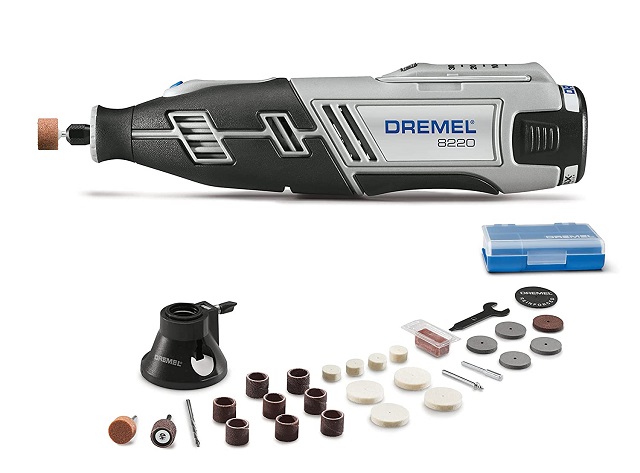 It comes with a slim ergonomic body that offers a 360-degree grip zone. Therefore, you will get control in any position. It is powered by 12VMAX Lithium-ion battery technology, providing a 33-percent longer run-time. The device comes with a speed range from 5,000rpm to 35,000 RPM. It has a total of 31 numbers of pieces.
Features: 
Battery: The machine comes with a 12V Lithium-Ion battery and offers enhanced performance, due to which it becomes special among others. The battery is removable. Besides, you can charge this in sixty minutes.
Versatile: The kit comes with a cordless machine, one attachment, 28 high-quality accessories, charger, plastic storage case, and accessory case.
Accessory changes: It contains a patented EZ twist nose cap that can help you change the accessories more quickly. You don't even need to use a wrench.
Ergonomic design: The 360-degree grip zone, along with the lightweight design, enables you to work in tight spaces.
Compatible attachment: It can support all Dremel accessories & attachments. However, the product comes with a versatile cutting guide attachment.
Pros:
Multi-purpose guide attachment
Ergonomic design
Lightweight
Patented EZ twist nose cap
28 top-quality accessories
Cons:
Cordless Rotary Tool, APEXFORGE 8V Power 2.0 Ah Li-ion Battery with 101 Accessories

Description:
The device contains a keyless 3-jaw chuck using which you can fix the accessories except taking the help of a wrench. It allows you to exchange accessories from 1/64" to 1/8" shank.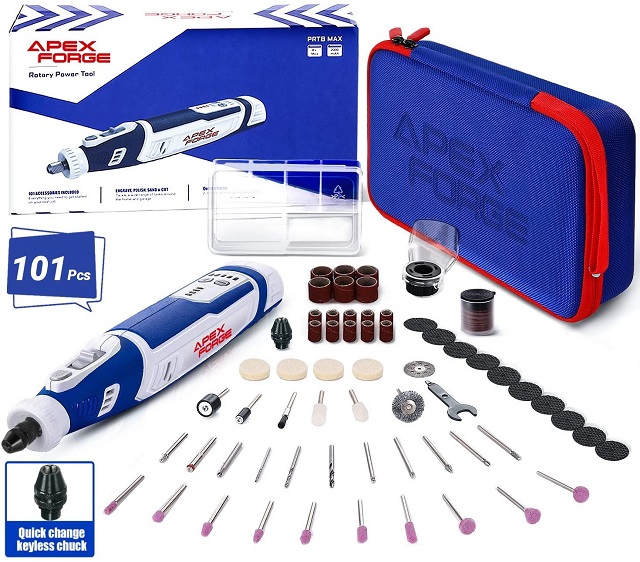 The 101 bits of the product enable you to complete multiple different projects such as grinding/sanding, carving/engraving, cutting, polishing, drilling, cleaning, etc. The shield attachment now offers protection and makes you feel more comfortable. 
Features:
 Speed: The speed of the device is 5,000 to 30,000 RPM, due to which it can work more prominently. It is equipped with five Speed gear selections that enable you to apply in various situations whenever required.
Battery Endurance: It has a 2.0 Ah battery capacity, and the idling time is up to an hour. The device comes with a battery indicator that displays the battery level precisely. Therefore, you don't need to always think about running out of power. This kit comes with a 1A quick charger also that helps to reduce the charging time.
Excellent Quality: The device contains a motor of awesome quality. It is cordless but strong enough. This product is capable enough to meet all the requirements of DIY and home improvement work.
Protection: The device is available in a high-quality fiber bag. It is used to offer extra machine protection to stop the device and from shock and moisture.
Pros:
Top-quality fiber bag for security purposes
Excellent quality
Powerful
1A quick charger is available
Five Speed gear selection
Cons:
DeWalt DW660 Cut-Out Rotary Tool
 Description:
The device is specialized in cutting. Therefore, if you are looking for a device for this purpose, then you have come here to the right place. When you apply the device, it offers 30,000 RPM to provide superior cutting power.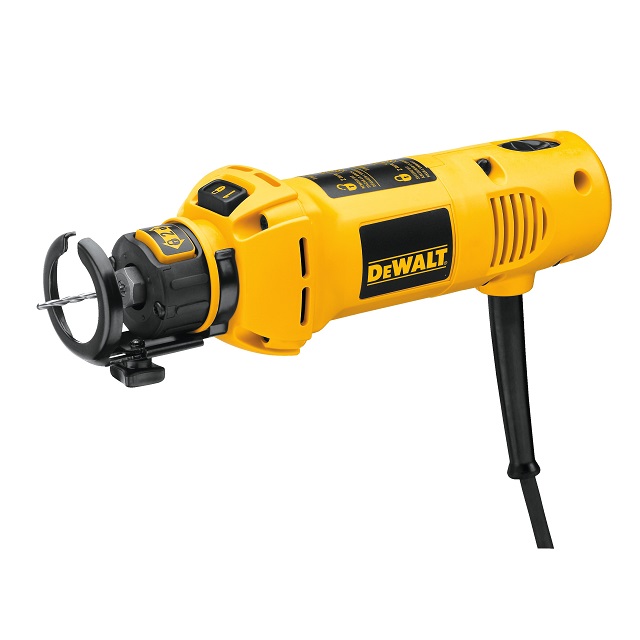 There is a dust-sealed turn-on/bump-off switch using which you can power off the device. Here, the exciting thing is that you are not required to expose the switch to dust and debris. It contains a 1/4 inch and 1/8 inch collet along with a drywall cutting bit. People who are searching for a power tool to cut drywall must go with this product. Besides, it is effective on wood, acrylic, and plastic also. Its speed enables you to compete with different cutting tools.
Features: 
Simple to change a bit: The device comes with a tool-free bit that is used to change without using a wrench.
More power: As you can turn off the switch easily, therefore the 30,000 rpm motor offers more cutting power.
Design: The device comes with a slim body design. Besides, its ergonomic design makes it perfect for prolonged use.
Switch: It offers a Dust-Sealed Switch that can offer protection against dust ingestion. Thus, the switch can last longer.
Durability: The DeWalt DW660 machine consists of Jam-pot construction, which makes it durable enough.
Motor: A durable 5 amp motor is ideal for professional drywallers, electricians, and carpenters. It is the most robust motor also in a cutout tool. The motor is sealed to protect the device from dust infiltration. This feature is a must-have feature for any drywall tool. Its bump-off switch is very attractive and is also used for shutting the machine quickly. In addition, the machine comes with an effective tool-free depth adjustment.
Pros:
Durable
Dust-Sealed Switch
Ergonomic design for prolonged use
Perfect for cutting drywall
Cons:
HARDELL Mini Cordless Rotary Tool

Description:
The machine has a USB power cord that allows you to charge your device quickly and more conveniently. It comes with an Onboard spindle lock using which you can change a bit quickly. The machine offers five different levels of RPM that you can manage among 5000 to 15000 RPM.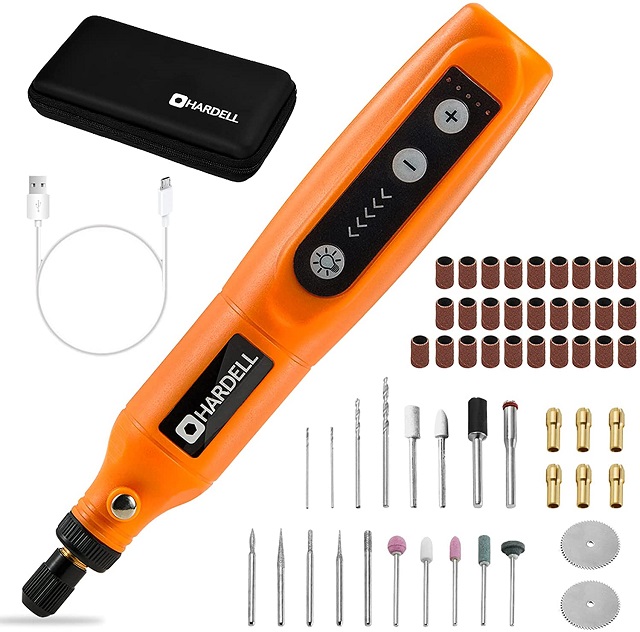 You can use the device easily and grip it under your full control. Therefore, when you use the device, it will make you feel comfortable. The ergonomic, streamlined design with over-load power-off protection enables you to operate your device safely.
Features: 
Versatile uses: It can deliver excellent performance and offer low noise. This product comes with 55 accessories that are ideal for DIY fine work. However, you are unable to use these for Heavy-duty Projects. The machine is a perfect choice for carving, sanding, grinding, polishing, or cutting.
Speed setting: This cordless model is capable of realizing 5-speed adjustment (5000 / 7000/ 9000/ 12000/ 15000 RPM). These five different speed levels allow you to manage to fulfill the power demand in various scenarios. The device enables you to sand in stages with care. People who are beginners can also use the machine and control the speed quickly.
Lightweight: The machine is strong enough but small in size. Besides, it weighs light also. When you use this, you can feel like using a pen. Thus, you will get ultimate control, precision, and comfort.
Long run time: HARDELL Mini Cordless machine contains a 3.7V 2.0Ah rechargeable lithium battery. It has the capability of working for 200 minutes continuously. After charging once, you can use the device many times. When the device's charging is completed, the indicator light will turn green.
LED design: This tiny upgraded device has a blind spotlighting LED design. It is equipped with a drill that decreases the backlight shadows and helps overcome the dark area's effects. Thus, you will get a better experience.
Pros:
LED design
Rechargeable lithium battery
Lightweight and powerful
Perfect for DIY fine work
Cons:
Things you need to consider before buying a Rotary Tool:
Power Source:
Two kinds of rotary machines are there in the market. The first type is powered by batteries, whereas the AC current of households powers the other ones.
Compared to cordless counterparts, corded machines offer more power.
Multiple cordless machines are sold in the market. But still, a corded device is the one that is used for lengthy sessions. This type of tool is useful for heavy cutting, grinding, or drilling.
Cordless tools are very famous as they enable people to work at any place they want. However, cordless machines don't have power like corded machines. Besides, these are not as quick as corded options.
Power Output:
Generally, a light-duty corded machine comes with a 1.8-amp motor. But a few powerful models have 2-amp to 5-amps of power. Whether you use it for heavy work frequently around your home or garage, then it is better to have a stronger motor. However, to use this for lightweight work, 1.8 amps should be sufficient.
The cordless machines generally run off lithium-ion batteries. A few devices are there that have 4-volt batteries. But in case you want to have more power, you should have an 8-volt or even a 12-volt machine.
Rotations per Minute:
Nowadays, most devices come with variable speed control. Therefore, you can tailor the rotations-per-minute as you prefer. The lowest speed setting is about 5,000 rpm, whereas the highest setting is between 25,000 to 35,000 rpm.
If you are willing to use the machine for lightweight tasks (buffing or polishing), it does not need the utmost rotations per minute. On the other hand, if you want to use the device to cut, carve, grind, and sand. Use a machine that can hit the highest speeds.
Conclusion:
This article has given an elaborated description of the rotary tool. Besides, we also offer the top five best rotary devices.
Frequently Asked Questions: 
What is some common rotary tool used?
These machines are used for different purposes. For example, you can use this for precision work. Besides, it is helpful in drilling, sanding, cutting, or polishing.
Rotary Tool vs. Oscillating Tool – What's the Difference?
Rotary devices employ a circular motion that allows you to work precisely.
On the flip side, the Oscillating machines do a back-and-forth movement. The best use of these machines is in heavy-duty industrial work.
What is a rotary tool used for?
This handheld power device is used to grind, sand, hone, different polish materials, etc.
About author