Best Soda Makers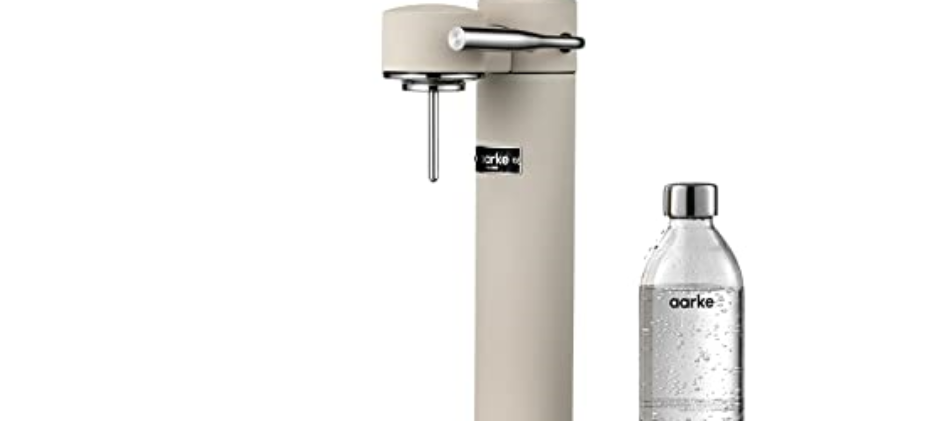 If you can make soft drinks at home, it can save a lot of money in the long run. Besides, you can control the use of ingredients. These machines inject carbon dioxide into plain water from a replaceable cartridge to make soft drinks. We can use soda makers to add fizz to other beverages, such as fresh juices & teas. To know more about soda makers, dig into this article.
What is a Soda Maker?
It is a machine or home appliance that carbonates tap water using CO2 from a pressurized cartridge. The maker is offered with flavourings that people can add later to the carbonated water for preparing soda. For example, you can make orange, lemon, or cola flavoured soda.
How do you clean and maintain your soda maker?
You can use a mild liquid dish soap & a soft damp cloth to clean the soda maker. You can wipe down your counter around the base to ensure that water does not damage the machine.
How to use a soda maker?
First, you need to insert a bottle first. Then, hit the soda maker's button. Otherwise, you can press down the pump for injecting CO2 into the water. A few machines come with buttons containing preset amounts of CO2 that need to be injected. On the other hand, some makers come with a pump to control the added amount of CO2 manually.
Best soda makers:
Aarke Carbonator III Premium Sparkling & Seltzer Water Maker
Description:
This product comes with a carbonating bottle & a sturdy stainless steel cap. However, this soda maker supports standard 60-litre carbonation canisters, which people can get in stores. While the product is cordless, it does not take up much space. As a result, it will get fit anywhere in the kitchen. Remember that the product doesn't have a canister. Therefore, users must purchase it separately from the market to get started. Although the model is expensive, it could be a great option if you are looking for a sleek designed model with high quality that may look elegant in the kitchen.
Features:
Newest Model/Generation 3: The soda maker comes in an excellent compact design along with user-friendly engineering. You can get this in several classic finishes to elevate any countertop.
Refreshing Carbonated Water:
Do you want to add some flavours?
Then, you can add a splash of lemon, lime, or soda syrup which can be enjoyed any time. You can use Aarke Essences, Syrups, and Six Barrel Soda syrups to get extra flavours that are natural and low in sugar.
Quality Design: The product is incomparable regarding performance, environmental impact, and so on. Its Carbonator 3 has a user-friendly design and is elegant.
Accessories: It is one of the best soda makers which comes with an Aarke sparkling water machine, a BPA-Free PET water bottle (nontoxic), dry cloth, and a drip tray. You should know that it does not support the pink cap Quick Connect Cylinder system. However, it can be easily paired with Renewable CO2 60L gas cylinders & other screw-in cylinder systems.
Pros:
Stylish design
Minimal countertop footprint
Cordless design
Cons:
Plastic bottles are only available
Drinkmate OmniFizz Special Bundle
Description:
Using this soda maker, you can carbonate water as well as any kind of drinks like juices, wine, cocktails, and even flat soda or beer. You can control the machine only just with the push of a button. The company works with all standard 60L CO2 threaded cartridges brands in North America.
Features:
Eliminate the waste of plastic bottles:
Using this soda maker, you will be able to avoid additional sugar & harmful chemicals while remaining hydrated. It also benefits the environment by carbonating drinks at home.
Simple to operate:
The patented Fizz Infuser technology makes this machine easy to use. It doesn't need any batteries or electricity. You can wash the parts of the machine only by hand.
Accessories: The package includes Drinkmate sparkling beverage maker, 2 BPA-Free Carbonating Quick-Connect Bottles, CO2 Cylinder, and Fizz Infuser.
Pros:
Eliminates waste of a plastic bottle
Simple to operate
Cons
Customer service is poor.
How To Make Soda In A Soda Maker
Several people like to have a carbonated drink with their meals. If you prefer soda too much, and buy soda cans almost daily, then you must go for a SodaStream machine instead of buying cans and bottles repeatedly. Although these machines seem challenging to use, once you insert the carbonator correctly & select the level of fizz, you are capable of drinking mouthwatering soda at home within seconds.
Part 1) Put the Carbonator in Soda Machine:
Step 1: First, set your soda maker on a sturdy surface like a table or kitchen countertop. Ensure that you have kept it on a flat surface, allowing your machine to sit upright. It is beneficial for setting up the maker near a sink as it lets you fill the bottle with water later.
Step 2: In this step, you need to remove the plastic seal & unscrew the cap from the carbonator in your machine. Carbonator is a metal canister. Now, your task is to remove the seal from the canister's top portion. Then, throw away this. After that, you should unscrew its plastic cap. Before setting up this, you must go through the manual for the specific soda machine.
Step 3: Now your task is to remove the back cover from the soda machine. When you hold the machine's rest part steady using your other hand, you will be able to pull the back cover from its backside. Then, you need to place the cover to the side. Whether you use the SodaStream Genesis or any tiny product of the SodaStream, it is essential to pull off the soda maker's top portion rather than its back cover.
Step 4: Inserting the carbonator into the soda maker is the next job. In that case, you should place this into the hold, during this time the cover will be on the machine.
Step 5: Screw the canister top into the machine's top. Hence, turn the carbonator clockwise about three times until it is screwed in all ways. Ensure that you hold them tightly in their places and don't wiggle around. Do you use a smaller SodaStream model? In that case, it is unnecessary to screw in the canister.
Step 6: You must lock the carbonator by putting this back cover onto your SodaStream. Ensure that you have put the cover  securely before starting to use the machine. Whatever model you use, the cover must click into place when you put this back on. You can see a CO2 meter warning you when the carbonator is running low. If anything happens, hold down the "reset" button for 5 seconds to reset the meter in a new canister.
Part 2) Carbonate Your Water:
Step 1: Make the carbonating bottle full with cold water to its fill line. Every soda maker usually has a clear plastic bottle. Fill it with cold water from the tap or a filter to the fill line. If you use cold water, you will be able to drink & enjoy your soda at that moment without needing to chill it first.
Step 2: Hence, you must snap or screw the bottle into your soda maker. But it depends on which SodaStream model you use. If you are willing to screw in this, you should turn this clockwise three times. To snap this in, you have to push the bottle top.
Step 3: Your task now is to push the bottle into a vertical position. As soon as your bottle is locked in, push it slowly into a vertical position to make it upright. A gap should exist between the machine's base and the bottle's bottom section.
Step 4: You need to press down on the product's full top block based on which model you use. Otherwise, you can hit a small black button so that the carbonation process gets started. Remember that you should hit these buttons only by taking a one-second break in between every process.
Step 5: You should see the LED lights indicating the carbonation level of your water. Soda makers have three carbonation levels— light fizz, medium fizz, and strong fizz. After adding carbonation, you can see the LED lights lightened up, through which you can understand its level. You need to decide how much you want your water to be carbonated. You should stop pressing the button as soon as it reaches the level. If necessary, try many levels of carbonation before finding the one you prefer most.
Step 6: Pull the water bottle out of the lock mechanism. Based on what mode you use, you need to twist the bottle or pull this out toward you to unlock it.
Part 3) Flavor Your Carbonated Water:
Step 1: You have to hold the bottle at a 15-degree angle. Then, add SodaMix to it. You must select your preferred soda flavor, which you will put in your carbonated water. It is possible to buy various SodaMix online or purchase SodaStream products for replicating several soda flavors. If you hold the bottle at an angle, it will ensure that the chance to overflow will be lesser when you pour. Peach tea, cola, and lemon-lime are some of the famous flavours of SodaMix.
Step 2: After screwing the cap on the bottle, you need to shake this gently for ten seconds. Ensure that you mix your SodaMix thoroughly when you put a cap on the bottle. Then, you should share this gently from side to side. Ensure that you are not shaking the bottle too vigorously. Otherwise, it can overflow. It is possible to turn the bottle upside down & right side up for mixing in the flavor.
Step 3: Once you mix it up, you can enjoy the soda. Then, your task is to pour it over ice or drink it from the bottle. The soda is cold, obviously, because you have used cold water. You must store additional soda in your refrigerator with the cap on for up to two days.
How Does Soda Makers Work? Carbonation & Mechanism Explained
Soda makers work only when you install a CO2 canister. After pressing the soda maker's button, the canister releases the gas, which travels into the carbonating bottle. Then, it begins the carbonation procedure. Let's know about the process in detail.
The Science Behind SodaStream's Carbonation:
A few Soda maker models do not need batteries or electricity. These only need a CO2 canister to work. The machines run due to the cylinder, which is the origin of carbon dioxide, making the liquid bubbly. These canisters are made of high-grade brass and aluminum. Whereas you can find odorless, incombustible gas in the 60-liter canister.
These are the two major factors— temperature and pressure, which plays a vital role in the soda maker carbonation procedure.
Temperature: It is recommended to use cold water to retain more bubbles and dissolve the CO2 faster. Water, about 45 degrees Fahrenheit, is capable of absorbing around 3 grams of CO2. But water at room temperature or 60 degrees Fahrenheit absorbs only 2 grams of carbon dioxide.
Pressure: Once carbon dioxide is incorporated into the water ( during this time, the bottle must be covered with the cap), you can see bubbles forming & pressure building up. No hole exists where gas gets the opportunity to run away. Some of the CO2 gets forcefully dissolved in the water, whereas the rest remains at the top of the bottle.
If you don't see any movement of the CO2 above and in the water, it is at equilibrium. If the bottle of sparkling water is not opened and it can decrease the temperature level, the capacity to absorb the amount of CO2 will also be reduced. But the equilibrium will be still intact now. CO2, which is in the water, will go nowhere unless you open the bottle.
After opening the bottle, equilibrium is lost. The reason is that CO2 in the water is more than the CO2 above the water. You will see your beverage flat from a sparkling state as soon as dissolved CO2 runs away via the bottle's mouth into the atmosphere or through bubbles.
Soda maker Internal Parts:
Although it appears simple, it has many smaller parts if broken down. Several nooks and crannies hold Soda makers together.
Battery: A few of the advanced Soda maker machines use 3V lithium batteries (CR123A batteries or CR2032 batteries) and work with LED lights indicating fizz level. It also signals when the carbonation procedure gets finished. The battery location depends on the model you use.
Carbonation Air Hose: It includes a tiny black tube that acts as the gateway of the carbon dioxide from the CO2 cylinder to the nozzle and into the SodaStream bottle later. But if it is damaged, it will create leaks. As a result, the water does not get fizzy enough.
Rubber Seal: This component is available in the nozzle's internal part. With the help of this, you can stop leaks and can stabilize the carbonating block. The seal may wear off because this one consists of rubber. You must replace this to prevent any mess when carbonating.
Loader Tab: Attached to the nozzle, its task is to hold the bottle in its place during carbonation. People call this also a lever, which needs to be pulled outward to insert the bottle.
Carbon Dioxide Cartridge: Soda makers come with default CO2 cartridges having a cap and a valve. The valve will get opened or closed when you hit the soda maker button.
Microchip: Its location is on the circuit board near the battery. If the model doesn't work instead of having a new battery, you should replace the microchip.
SodaStream External Parts:
Carbonating Bottle: Different Soda maker bottles support different Soda maker models. Usually, plastic is used as material for the bottles and their caps. So, these last for three years. Some bottles are made of metal.
Nozzle: It is the white stick-like component that remains at the front side of the soda maker. It needs to be mentioned that it is a part of the loader tab, and it can go through the bottle's opening to inject CO2 into the drink.
Casing: We call this the carbonating block that consists of durable plastic. You can find the exterior part of the soda maker as a sleek piece of equipment that will look elegant in your kitchen.
SodaStream Maintenance Tips:
Remember that each part of SodaStream is essential. Follow these below-mentioned tips to expand the soda maker's lifespan.
Replace damaged components: You should note down the names of the weak components that need replacements. Besides, remember how many times you have used the CO2 cartridge & make a fresh one.
Fill the bottle correctly: The fill lines guide people excellently to fill the right amount of water. Putting less causes the gas to disperse before it reaches the liquid. Whether you load excessively, the water will overflow & will not get carbonated properly.
Only carbonate water: You must use water only. Otherwise, when you use other drinks, these could cause damage while the liquid overflows. Although these machines can carbonate some alcohol and juices, you should not overdo it.
The machine and bottle are strictly hand wash only: Bottle & soda makers aren't dishwasher-safe. So, it is necessary to wipe down the SodaStream after regular usage. Then, you need to wash your bottle with water & mild soap. You must clean them daily to prevent dust buildup & store these in a cabinet.
Do not press the button too hard: You must be gentle when you hit the button as it might get loose or stuck. Ensure that you are not pushing this multiple times. Otherwise, the liquid will overflow, or the bottle might explode.
Carefully assemble the parts: You should take care of the components like you use them for the first time. If you don't tighten the cartridge or bottle correctly, you may experience leaks and overflows. These may damage electrical parts as well as pose hazards to your safety.
Best Soda Maker Buying guide:
If you are going to buy a soda maker, make sure that you have checked these below-mentioned factors.
Power Source:
Manual and electric are the two types of soda makers. As both offer good performance, you only need to decide where you want to use it. Suppose you have countertop space and get access to an electrical outlet. In that case, you should go with electric soda makers. These feature adjustable carbonation levels, unlike their counterparts. If you want to go with a no-fuss no-frills portable pick, you should choose a soda maker that needs a simple press-down. Or choose such one that can operate intuitively without manual force or electricity.
Carbonation Type:
These machines use carbon dioxide (CO2) cylinders to give flat liquid pressure and generate bubbles in carbonated beverages. While a few makers give big bubbles, a few machines finish with tiny as well as foamy ones. Whereas a few ones enable you to adjust the carbonation levels.
Versatility:
Although all these can carbonate water, all soda makers don't have more options. You should choose your model based on personal usage. Several models are capable of carbonating juices, wine, and alcoholic beverages. It is possible to use specific syrups to create a healthier copycat version of the soda.
Size:
However, most soda streamers are not so lengthy or wide. But height is an important factor to consider. Go with a soda maker which fits perfectly on your counter, tabletop, or a small bar cart in your dining room. Ensure that the bottle's height should be perfect for your refrigerator.
The Bottom Line:
In this article, we have covered the top two best soda makers. You can go for any of these two as per your preference and budget. But before purchasing, make sure that you have gone through the buying guide properly.
Frequently Asked Questions
How long do SodaStream cylinders last?
It relies on the use of your SodaStream. However, according to SodaStream, the carbonating cylinder lasts between 4 and 8 weeks.
What should you do with empty CO2 canisters?
While a few companies allow you to return empty canisters for money, a few retailers use a canister exchange program that permits you to get a new one at a discount rate while exchanging the old one.
Do all soda makers use CO2?
 Most soda makers take help of CO2 cartridges for giving the liquid fizz. Although to create the soda's signature bubbles, for a few ones, you need to use tablets. So, it is recommended to before buying, make sure that you have checked the instructions of manufacturers.
About author