Step Ladder: Things to Know to Choose Best Step Ladder
Step Ladder: Things to Know to Choose Best Step Ladder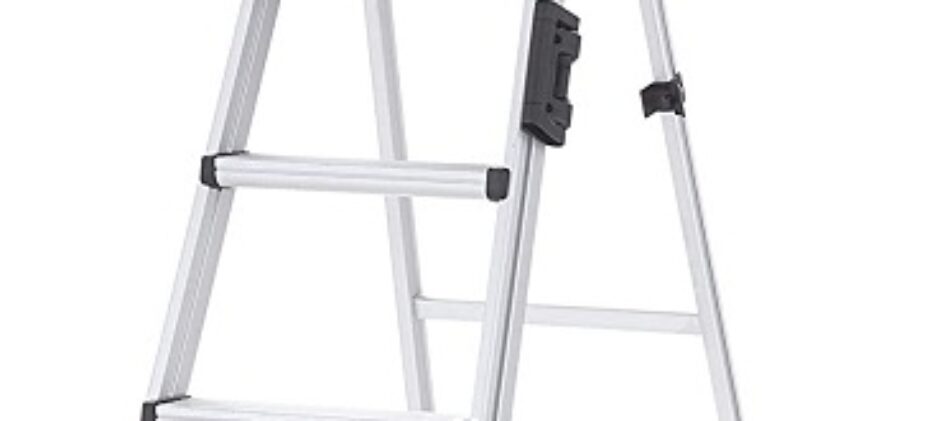 Are you working in your home where you can access hard-to-reach areas? Then, it is a step ladder that you can use hence. This tool can make your work easier. Use the tool to access those areas when you tuck away totes in the closet or cut paint edges along the wall top. However, you should know that all the ladders are not similar. Ladders with the best quality are long-lasting and should support the weight safely. The best one should be compatible with the tools and materials you carry. Besides, a good tool is always sturdy and doesn't allow you to slip, tilt, or waver. If you are searching for a practical step ladder, go through the article. We have given here the best five Step ladders available in the market and used for household use.
What is a Step Ladder?
A step ladder is a portable ladder that supports itself, and it is non-adjustable in length as there are flat steps available. Besides, a hinged design makes it handy for easy storage, and one person can use this at a time.
These are available from 4 ft. to 20 ft. in length. A ladder that comes in size shorter than four ft. is called a Step Stool. The highest standing level is more than two ft. from the top. It is better to mark the highest standing level based on the specifications label on the side rail of the product. As a result, you should fix the maximum work height by adding the user's height when you plan. Thus, you can reach the highest standing level.
What should you do while using a Step Ladder?
These are the things that you are required to do while using it.
Ensure that you have checked the load rating marked on it before use. The rating needs to cover the weight of both tools used and the person.
You should always use a shorter ~ 1 m (3 ft) tool than the highest point. Thus, you will get a more stable base and a perfect position to work.
Never use a ladder with cracks, defective braces, loose or corroded rivets, etc. Check if the parts of the ladder are in good condition. Ensure that the product should not have any grease, oil, or slippery substances.
You should open the spreaders and shelf completely. Ensure that you have locked the braces.
While using a ladder, you need to ensure that it should have good stability. All feet of this tool should exist on a firm, level, and non-slippery surface.
You should locate it at a proper angle to work. Ensure that you should not keep the front or back side of the tool facing towards the work.
You should keep your tool near the working place.
Make sure that no one pushes or pulls it from any side. If you move it sideways repeatedly, these can be less stable in those directions.
Face it while climbing up or down. Besides, your body position needs to be at the center between the side rails. If you are on the top of the ladder on your knees, you should be aware of it.
Try to use a firm grip for maintenance. You need to use both your hands while climbing.
What should you avoid while using a Step Ladder?
The things that you are required to avoid are as follows:
You should not overreach. If necessary, then you can move it.
Make sure that no one is shifting the ladder while you stand on it.
You must not stand, climb, or sit on the top part.
Never stand on the top of the two steps or above the tool.
Ensure that you have not kept too much load as these are for one person.
You need not use this as a brace or support for a work platform.
Never climb a tool leaning against a wall. Instead, you should use a straight ladder.
Ensure that you are not using these on slippery surfaces, soft groups, etc.
You must not keep these on boxes, barrels, unstable bases, or scaffolds for extra height.
Ensure that you are not climbing the backside of a ladder.
You should not push or pull them sideways.
Ensure that you are not using these in passageways, doorways, driveways, etc. Don't keep in a place where a vehicle can hit it.
Proper Use:
It needs the support of ground level for all four side rails. If the worksite condition is not available, it is not ideal for the chosen job.
You should use a ladder after opening it entirely. Keep the Spreaders locked. People should not use them as Single Ladders or in an open place.
If you are willing not to tip over the tool sideways for over-reaching, then try to work keeping your body near the intermediate steps. You should not keep the ladder near the working area. Ensure that you are not moving it without descending, relocating, and re-climbing. Try not to mount from the side of the tool. Besides, you should not mount one ladder from another one. Make sure that it is secured against sideways motion.
You should not stand higher than the step indicated on the label. Otherwise, you can lose your balance and fall off it. In addition, you should not stand on the top cap or bucket shelf, as we have said before.
You must not carry other objects while ascending or descending.
Users don't use the braces for climbing or standing purposes, and you should not use this for this purpose. However, a few ladders are available with steps on both sides— front and rear. Therefore, two users can use this at a time.
Before using the tool, check if the anti-slip feet at the bottom side rails are in good condition. You should not use this tool on ice, snow, or slippery surfaces.
Proper Care:
While buying a step ladder, it is better to perform a thorough inspection, and you should place this into service every time.
If you find oil, grease, or slippery materials on the gripping surfaces, clean them. In addition, you should check bolts, working parts, rivets, step-to-side rail connections, the condition of the anti-slip feet, etc.
Whether you find any parts missing, structural damage, or hazardous defect, you should not give it for service. The tool needs complete repairing, or you may discard it.
These can expose to high temperatures. Therefore, if a fire occurs, it can have decreased strength. Besides, these contact acids or alkali materials can experience chemical corrosion, and as a result, it can result in a reduction of strength. Therefore, you should remove the ladders from the service and never use ladders with broken side rails.
You should discard a ladder in a way so that you can render it useless. No one should use a ladder that is deemed unsafe.
Ensure that the vehicle supports the ladders while you transport them on vehicles. You need to reduce the overhang of the ladders, and the support points need to be made of wood or rubber-covered pipe. It helps reduce the effects of vibration, chafing, and road shock.
Keep it secured to every support point to decrease the damaging effects of road shock.
Storage racks that you don't use must have enough supporting points to prevent sagging. As a result, it can warp the ladder. Ensure that you are not placing other materials on the tool while in storage.
How much weight a Step Ladder Can Withstand?
Try to buy those that come with impactful color-coded duty rating icons. Extension ladders are equipped with matching color-coded end caps.
Light duty:
The uses of the light-duty ladder are as follows:-
Painting
Yard Work
Household Chores
Medium duty:
The uses of the medium-duty ladder are as follows:-
Light Commercial
Painting
Cleaning
Light Repair
Heavy duty:
The uses of Heavy-duty ladders are as follows:-
General Contracting
Building Maintenance
Drywall
Extra heavy-duty:
The uses of the extra heavy-duty ladders are as follows:-
Construction
Building
Roofing
General Contracting
Special duty:
The uses of special duty ladder are as follows:-
Typical Uses
Heavy Duty Industrial
Construction
Utilities
Heavy Duty MRO
Best Six Step Ladders:
1)Delxo Lightweight Aluminum Woodgrain 3 Step Ladder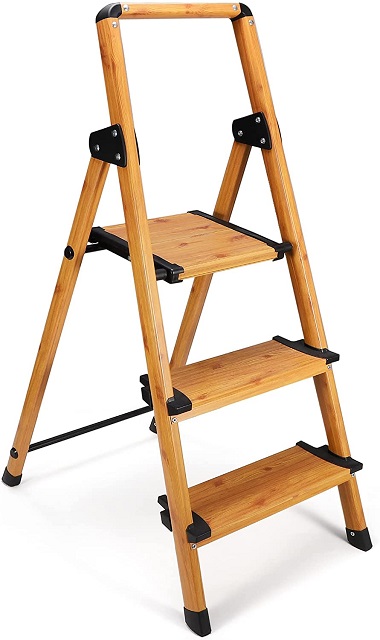 Description: It weighs only 8.3 pounds but can hold up to 300 pounds of weight. This model is a perfect option for most households. Its top step provides a 25-inch lift off the ground. This feature enables you to stand on both feet while bracing legs on the handgrip.
It has rubber feet that will not scratch the floor or wood. Rather than that, these provide superior anti-slip protection. The product consists of top-quality Aluminum wrapped in a woodgrain finish, and it offers 5.1 inches to store easily.
Features:
GS Certificate: It is approved by TUV with GS Certificate for safety purposes.
Lightweight: The product consists of Aluminum and weighs 9 pounds merely. Compared to steel ladders, the tool's weight is light, and however, it is simple to move and can load up to 330 pounds.
Design: It comes in a classic imitation wooden design that makes it more durable than wood. You can use this for your home decoration.
Security & Stability: The product comes in a design with a long handle and an oversized non-slip pattern top platform. These features make the model safer to use. 36″H X 17.5″L X 26.3″W is the dimension while opened whereas 38.2"H X 17.5″L X 1.65″W is the dimension while folded.
Warranty: It has a one-year warranty, 100% money-back guarantee, and 24-hours friendly customer service.
Pros:
100% money-back guarantee
Lightweight
24-hours customer service
Cons:
Can rust if you don't take care
2) HBTower 3 Step Ladder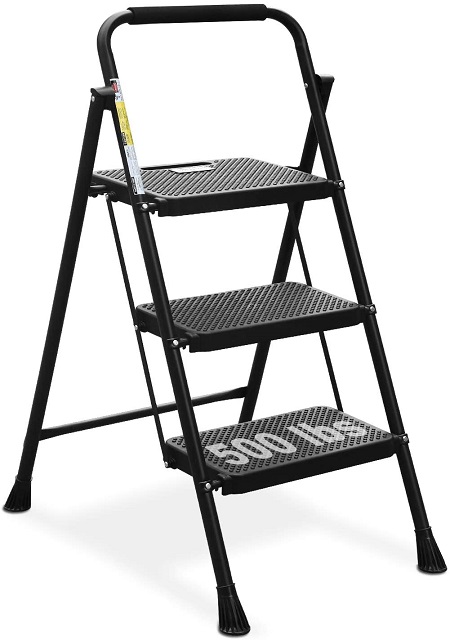 Description: The product offers 3 feet of height that allows you to reach on top shelves, clean ceiling fans, change light bulbs, etc. Its 500-pound duty limit makes sure that it has a sturdy platform while you use it with equipment. In addition, the under-$70 price tag of the tool can make it a bargain.
It has a lock-and-open system that enables you to open and close it easily. The model has a metal safety buckle that you can lock in place automatically while in use. Besides, it is equipped with cross bracing on the back, which reinforces its design for better support. The product comes with non-slip rubber treads that offer additional safety and comfort. When you keep the tool folded, the thickness becomes 1.6 inches. It indicates that the ladder needs minimal storage space. Due to the heavy-duty steel frame, the model becomes a bit heavier than others. However, it weighs merely 11.5 pounds.
Features:
Dimensions: When the tool is opened, the dimension is 20.1″ x 26.8″ x 40.9″. If you keep the tool folded, the measurement becomes 44.5″ X 20.1″ X 1.6″. It can load up to 500 pounds.
Easy to port: The folding tool is available in fully assembled. It has an open & lock system that enables you to open and fold easily. You can fold this to 1.6″ D for storage, and it is simple to carry to use indoors or outdoors.
Security: It consists of a High-grade steel frame that makes the model robust and reliable. There is a Metal safe buckle locked automatically while using.
Design: This model comes with a non-slip rubber handgrip to climb easily. The grip helps to carry it also. Its wide panels and non-slip rubber pattern provide heel-to-toe foot support. These big rubber feet touch the ground completely, and it helps to keep the floor away from scratches. However, the model can shake left and right if you misuse the rubber feet.
Warranty: The product offers a two-year warranty to the users and a 100% money-back guarantee. Besides, it provides 24-hours friendly customer service.
Pros:
High-grade steel frame
100% money-back guarantee
24-hours friendly customer service
Non-slip rubber handgrip
Easy to fold
Cons:
3) Little Giant Ladders, Jumbo Step, 3-Step Stool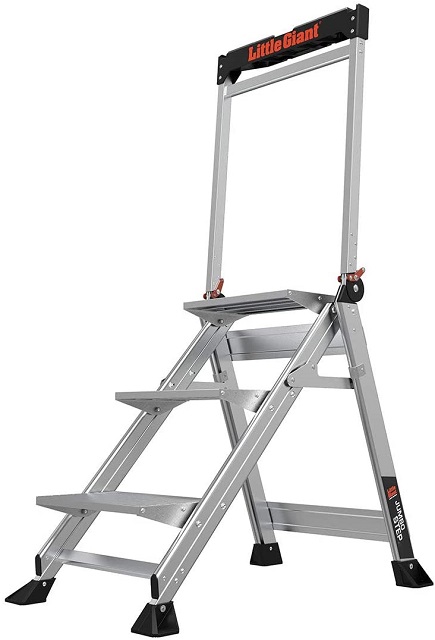 Description: If you are working on a project where you need to climb up or down often, you should go with this tool. It enables you to use it easily and safely. The stair-like steps are not steep like the traditional models. Besides, the non-slip treads of the product allow you to reach the top step 26½ inches above the ground safely while holding a paint can.
It comes in an extended tripod design that makes the model one of the most stable ladders around. The product is equipped with rubber-tipped feet. As a result, no scratches will be there on the floors. It can hold a maximum of 375 pounds. The product features an optional fold-up hand bar and a tool holder.
Features:
Lightweight: A lightweight aluminum stepladder comes in a non-slip staircase design. As a result, it can offer comfort to the product.
Adjustable: The safety handrail is adjustable and can boost stability when working on the top step.
Accessories: The unique Top Cap comes with a smartphone holder, hooks, portholes, and tray. You can keep your necessary items on hand while working, and its slip-resistant feet are ideal for working over grates.
Pros:
Slip-resistant feet
Long reach handle
Adjustable safety handrail
Lightweight
Cons:
Chance of catching fingers while opening and closing.
4) Rubbermaid RM-SLA3-T Ultra Light Aluminum Step Stool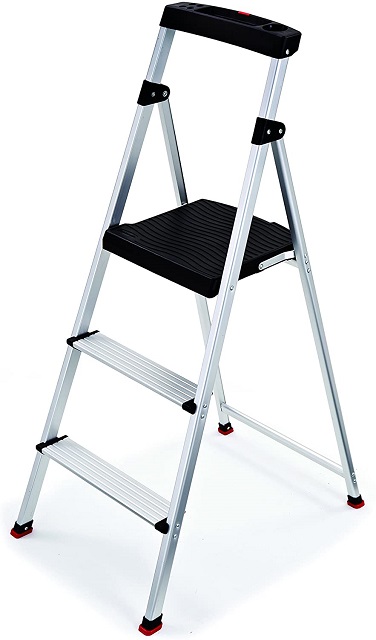 Description: The tool comes in an ideal size to paint in hard-to-reach areas. However, it cannot fill up storage space while not using this. Less than 7 pounds is the product's weight that allows you to transport easily, and it can hold weight up to 225 pounds. The dimension of the tool is 52.4 ×19.69 × 26.75 inches. Keep the tool folded to only 3.5 inches thick while not using. As a result, it doesn't consume any storage space.
Its ultra-light design offers a padded hand grip and a one-piece locking top platform. These provide support and extra comfort when in use. The Non-marring feet of the tool enable you to cover interior floor coverings. Besides, it has a project tray that is simple to use. The project tray can hold a Paint Can for home improvement projects.
Features:
Useful for hard-to-reach areas: The ultra-light design of the step stool is ideal to use in hard-to-reach areas. You can use the tool in the kitchen, bathroom, or garage.
Safe to use: Now, you will feel safe using the tool because of its plastic top step, heavy-duty Aluminum frame, and ANSI Type II 225-pound maximum load capacity. It is ideal for household work like hanging paintings and changing light bulbs.
Design: The ultra-light design is equipped with a locking top platform and a convenient project tray. You can hold your hardware on the tray. As a padded handgrip is there, you can easily carry the tool. The dimension of the ladder is 56″ × 19.69″ × 3.5″ when it remains folded. 8-pounds is the weight of the product. It comes in a grey finish and allows you to fold up for easy storage.
Warranty: The product offers a 1-year limited warranty that keeps the model safe against defects in materials and workmanship.
Pros:
Compact design
Simple to store
1-year limited warranty
Convenient project tray
Cons:
5) COSCO 2061AABLKE Signature Series Step Ladder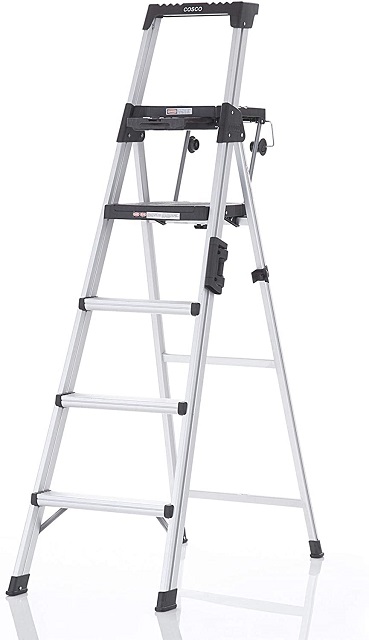 Description: If you are working on DIY projects that need 45″ of extra reaching ability, you should go with a top-quality step ladder. The product can help you trim out windows, hang shutters, prune fruit trees, etc. However, after seeing its different abilities, you must appreciate its height and sturdiness. 17.6 pounds is the weight of the steel frame that you can move easily, and the ladder can support a maximum of 300 pounds.
It comes with non-slip feet and two project trays that remain fold out for holding tools or paint cans. Therefore, it is an excellent option for DIYers who are willing to keep supplies within arm's reach while working. In addition, it can top out at 6 feet while opening. As a result, you can get all the height and stability required from the tool to complete projects safely.
Features:
Lightweight: It consists of an Aluminum boxed frame that weighs light.
Simple to use: Using one hand secure lock or releasing carry handle, you can easily fold it.
Convenient: It includes project trays containing slots for tools, paint, and other project materials. The package comes with a paper towel holder also. In addition, the tool helps you to move, paint, redecorate, host guests, relax outdoors, etc.
Stable and Secure: The product comes in a big platform step with a slip-resistant tread design. You find this model in a boxed frame to make it more stable.
Simple to Assemble cap: The model has two screws and a standard screwdriver.
Pros:
Sturdy design
Two trays
Convenient
Simple to assemble cap
Cons:
6) Youngman Shockproof (Fibreglass) 8 Step Ladder with Tool Tray (Load Capacity 150kg)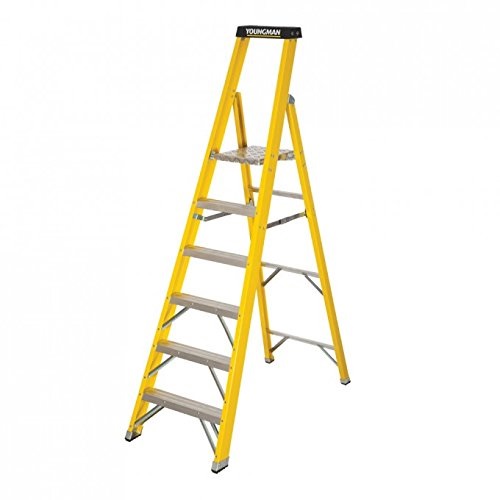 Description: The fiberglass ladder has deep treads, anti-skid rubber feet, and non-slip grooves. Besides, it features a sturdy platform and default knee guard to keep the user safe and secure while using. The default tool tray allows you to keep up with your essential tools while working without using a tool belt.
It consists of top-quality industrial-strength fiberglass that makes itself perfect for industrial use. In addition, the product offers a lifetime of service.
Features:
Dimensions: While you open, the measurement of the product is 87″×16″×63″. The closing dimension of the model is 94″ × 19″. 11 Kg is the weight of the model.
Platform: It has a big platform that offers a secure and comfortable work area. In addition, the model has an integrated tool tray used to hold equipment.
Use: You can use the tool for each household, office, warehouse, godown, or shop. It comes in a broad base design and
Corrosion Resistant Structure. The model is Shock Proof and Rust Proof. It doesn't get heated too.
Pros:
Shockproof
Corrosion Resistant Structure
Wide base design
Cons:
Best Step Ladder Buying Guide
Factors to consider Before Buying:
People generally use straight ladders to reach a roof or a gutter. But this type of ladder doesn't lean against a wall for support. Instead, you can open these to form a pyramid shape, and its four feet offer stability. In addition, these have broader and deeper steps than a straight ladder's rungs.
If you are willing to install a rack on the wall or retrieve something from a pantry shelf, use a step ladder. Before buying the best one, you should consider the following factors.
Type:
Choose the model that you can fold with ease. It helps to keep yourself safe while working. Ensure that the correct one is chosen for the specific conditions.
A-frame: It is a classic type of ladder looking like the letter "A" while you view from the side. Buy the specialized ones as these come with a telescoping frame used on stairs or ramps. These have twin steps that allow two people to work on the tool simultaneously.
Leaning: Mostly, these are unsafe to use until you don't open the frame. However, Lean-safe step ladders are a rare case. You can use them either open or closed. As a result, it offers this extra helpful flexibility.
Extension: Multi-position models are adjustable and can be used in various working heights. However, an extension ladder is not similar to this. These are adjustable leaning ladders but not freestanding. Therefore, use a multi-position model if you are willing to have a model with an adjustable height and freestanding capability.
Platform: This model has a wide standing surface and a safety rail at the top. The configuration provides additional working reach for painting or cleaning windows.
Material:
Step ladders usually consist of four primary materials that are as follows: Aluminum, fiberglass, steel, and wood. Each material has its unique advantages.
Aluminum: Models that consist of Aluminum weighs light. But these are powerful and long-lasting. As a result, these become simple to use and carry. You should know one thing that. Aluminum usually does not corrodes as fast as steel. However, the material is not impervious to moisture entirely. Therefore, you should not leave it out in the rain.
Fiberglass: Electricians prefer to use these ladders. The reason is that these won't conduct electricity like Aluminum or steel. As a result, these become safer to use while working near live wires. Fiberglass is more potent than Aluminum and nearly as lightweight. But the difference is that it is costlier. In addition, this material is very long-lasting that helps to resist rust and corrosion.
Steel: This type of model is long-lasting and heavier than either Aluminum or fiberglass. While using them, you find a sturdy base where you should climb. However, steel models can corrode and rust when it gets wet. Therefore, a steel ladder is more durable when people use it indoors. Besides, these become wiped dry while it gets wet.
Wood: It was the first-ever material used before using Aluminum, fiberglass, and steel. Ladders made of wood are still available in the market. These come at affordable prices also, but there are not compatible with the ladders. Hence, the models can not support weight like other step ladders. As wood ladders are not weather-resistant, these are less durable but purists. It is not so simple to beat the look of a wooden step ladder.
Height:
These are available from about 3 feet to 8 feet range of height. Generally, these come with three or more steps. A ladder with just one or two steps is called a step stool. These have a support handle at the top that you can use to hold up. They allow you to hold the ladder's sides for support while climbing up or down on.
Do you need to strain arms, stand on tiptoes, or exceed the tallest climbable step? It means that the model is concise and has potential consequences, such as minor discomfort or dangerous falls. Before buying, it will be better to consider the reach height or the highest point you can access while standing on the ladder. The reach height is the height of the tool plus 4 feet. For example, adults can reach to 8-foot ceiling with the help of a four-foot step ladder.
Weight Rating:
The American National Standards Institute (ANSI) gives weight rating to the models based on the amount of weight these can hold safely. You can see the weight capacity as "up to 250 pounds" in the description of the tool. Categorizing them as Type I, Type II, or Type III depends on the weight ratings.
Type I can hold a maximum of 250 pounds. Its design is helpful for contractor and commercial cases.
Type II can hold a maximum of 225 pounds, and it makes the model ideal for overhead painting projects and light commercial use.
Type III can hold a maximum of 200 pounds. Therefore, it is perfect for household uses.
Type IAA can hold a maximum of 375 pounds, whereas Type IA can hold up to 300 pounds.
Before buying or using this for a project, make sure the weight capacity or load capacity should be the user's weight plus the weight of the tools you carry.
Safety:
The models are designed to last for a long time and be used safely. Ensure that you have considered the listed duty rating shown in pounds. It is the combination of the user's weight and equipment that the tool supports.
Material is a factor that you should consider also. For example, models with slip-resistant treads are safe to use in wet conditions.
When you set up and climb the tool, make sure that you have made a plan before it. Set the ladder up on flat, and then level ground. It would be best not to work on it in severe weather, high winds, and wet or icy conditions. Check two times if you have locked all hinges and adjustments safely before climbing on it.
The bottom line:
The article contains the best five Step ladders. We have let you know the dos and don'ts while using the best step ladder. Follow the guide to use it correctly.
Frequently Asked Questions
What is the difference between a Type 1 and Type 2 ladder?
These two ladders have differences based on the maximum weight they can hold. For example, type 1 ladders may hold up to 250 pounds, whereas Type 2 ladders can safely hold a maximum of 225 pounds.
What is the highest rung you can go up on a step ladder?
You should ascend a maximum of two rungs down from the top on a conventional A-frame step ladder. The safe reach, on average, is about 4 feet above the top of it.
What angle should a ladder be when in use?
A straight or extension model must slope at a 75-degree angle while using. Thus, you can use it safely. But the rule is not applicable for step ladders, and the reason is that these do not lean against a wall.
About author